Looking for family friendly things to do while visiting Maui? I have a fantastic option for you… why not visit the Maui Ocean Center? It's perfect for families and here's why-
5 Reasons the Maui Ocean Center is Perfect for Families
It's Educational
Traveling with kids can be an enriching experience. You can take what you kids are learning in textbooks and really make it come to life right before their eyes. That is why we always look for museums and exhibits whenever we are researching a destination. I was super excited when I found Maui Ocean Center.
"The mission of Maui Ocean Center is to foster understanding, wonder and respect for Hawaii's marine life. Maui Ocean Center was named "Top 25 Best Aquariums in the U.S." and inducted into "Certificate of Excellence Hall of Fame 2015" by TripAdvisor, "Top-Rated Attraction in Hawaii" by Zagat Survey US Family Travel Guide, "Leader In Responsible Tourism" on the Top 100 Blue List by Islands Magazine, and "Best Land Activity" in 2008, 2009, 2011 by the readers of The Maui News."  Pretty impressive right?
These awards are for good reason. The Maui Ocean Center has 60… Yes 60 indoor/ outdoor exhibits staffed with some of the most friendly and knowledgeable professionals to make sure you get top notch information throughout your stay. The munchkins learned so much on our short visit. I was very pleased.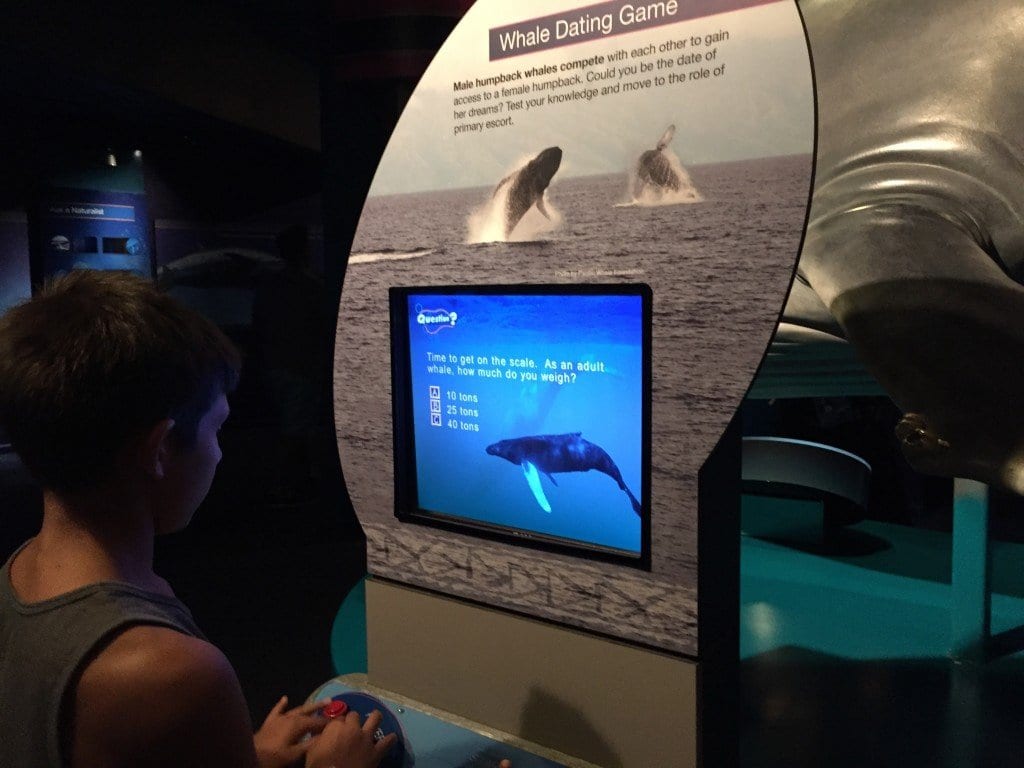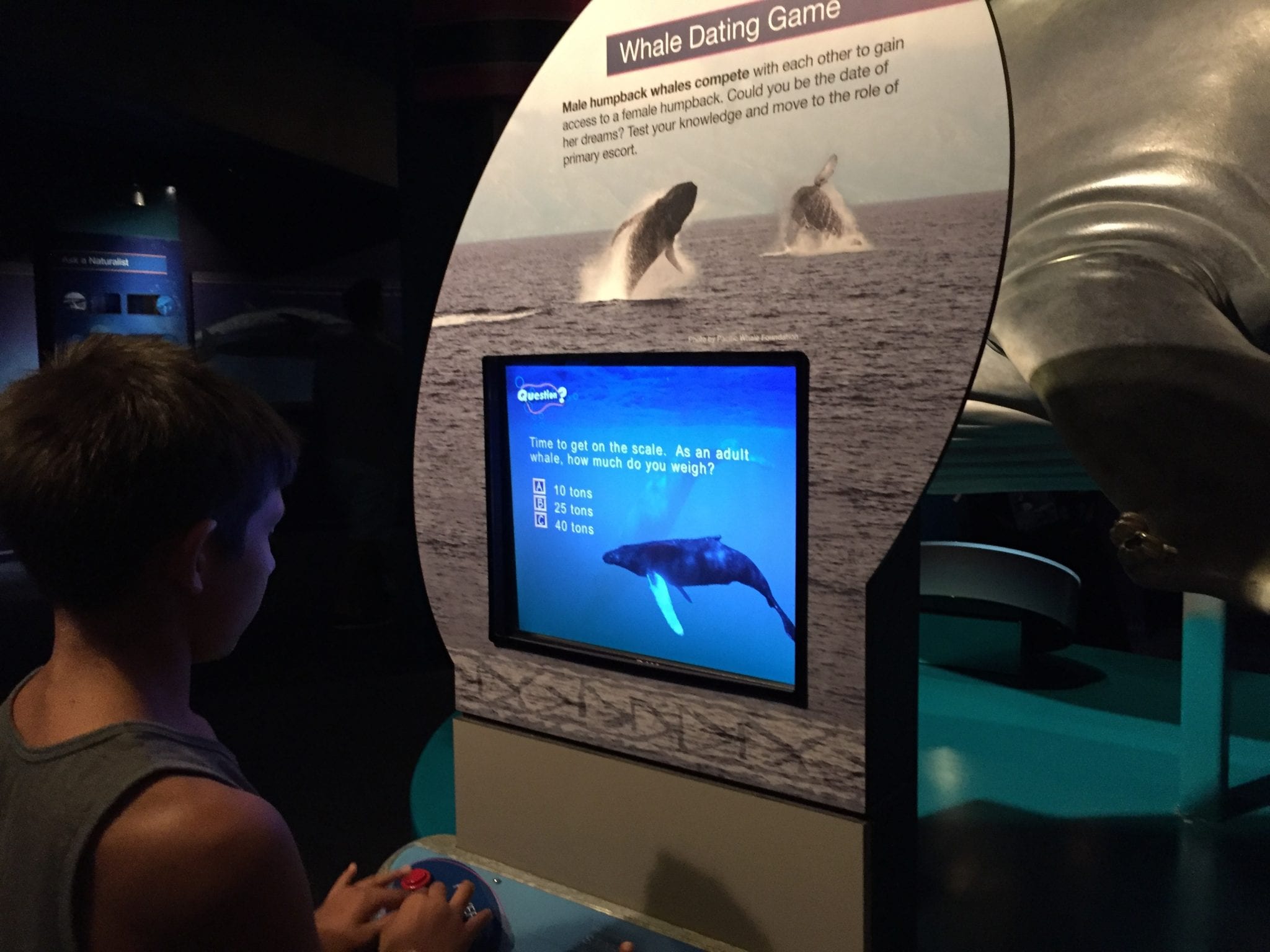 Very Interactive
Going along with the educational aspect Maui Ocean Center's exhibits are also highly interactive. Each exhibit features a variety of games, touchable displays, audio/ video features and more.
Plus, your kids will not only get to see the amazing animals with in the aquarium walls but they will be able to touch and feel many of them as well. My daughter could have stayed in the touch pools examining starfish and sea cucumbers all day if I let her. And, one of the highlights of our trip was getting up close and personal with a starfish. Did you know Starfish have 2 stomachs- one that they actually push outside of their body to engulf and digest their meal? Neither did we until one of the marine experts in a tidepool pulled out a starfish that was eating. As disgusting as it sounds getting to witness the starfish eating was actually super neat and something I know the kids will never forget!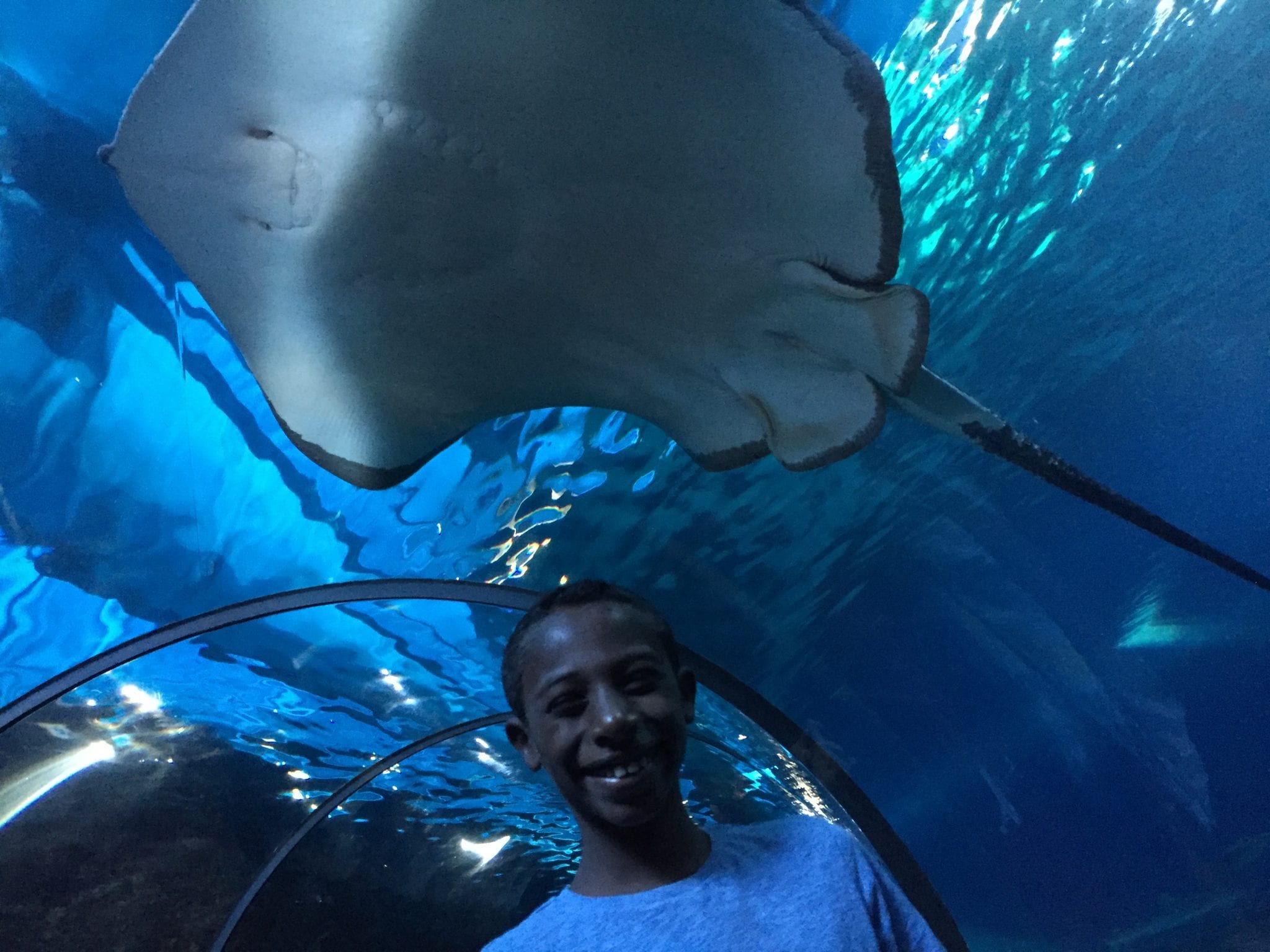 Plenty to See (for everyone)
Initially I only budgeted for two hours at the Maui Ocean Center. Truthfully, we could have spent much longer than that exploring in there. I actually felt like my time frame forced us to rush the kids. I was surprised because when you take a look at the aquarium it appears to be pretty small. Boy, was I wrong. There is a TON to see and do.
Check out some of the exhibit descriptions from the Maui Ocean Center Website:
Surge Zone: Pounding waves provide shelter from predators to juvenile fishes. Living Reef: Discover the astonishing beauty of Hawaii's coral reefs from the sunlit shallows to the calm, clear edge of the deep reef among 40 vibrant exhibits. Live corals on display are collected with special permits from the State of Hawaii.
Turtle Lagoon: Behold ancient mariners that survived for millions of years, the green sea turtles of Hawaii. Tide Pool: An unforgettable hands-on experience with marine invertebrates, including sea stars, helmet shells and other tide-pool animals.
Hammerhead Harbor: Come eye to eye with Hawaii's most unusual sharks. Marine Mammal Discovery Center: Life-size models and interactive displays explore monk seals, dolphins and whales found in Hawaiian waters.
Hawaiians and the Sea: This special exhibit features renderings of an ancient aquaculture system, fishing implements and tells the story of the Hawaiians' special connection to the sea.
Open Ocean: Glimpse into a part of Hawaii's pelagic realm from an acrylic tunnel presenting a 240-degree view of nearly 2,000 fishes, sharks and other marine creatures in a 750,000-gallon saltwater aquarium.
The munchkins loved the 54 foot walk-through tunnel located in the large aquarium mentioned above. Walking through the tunnel while sharks, turtles, stingrays and thousands of vibrant tropical fish swam over our heads was quite a treat!
Gorgeous Location
I LOVED walking around the outdoor exhibits and checking out the marina. It was absolutely beautiful. For us the Maui Ocean Center was also a great place to stop midway between Wailea and Lahaina. We often like to check out Lahaina at least once during our stay and it can be a long drive for the kids. Maui Ocean Center is sort of midway between those destinations so it makes the perfect afternoon activity if you wanted to do the same.
Photo Credit: Maui Ocean Center
I think the perfect itinerary would be to get to the aquarium around 11am and explore until everyone is hungry. Take a break and enjoy lunch at the Aquarium's award winning restaurant or open-air café. Then spend another hour or so finishing up the exhibits before heading to Lahaina to let the kids check out the Banyan Tree and chowing down on some delicious burgers while watching the sunset at Cheeseburger's in Paradise.
Photo Credit: Maui Ocean Center
Eco-Conscious
I have great respect for businesses that go out of their way to help our planet and the animals within it. The Maui Ocean center does a fantastic job with this. All of the animals displayed at the aquarium are indigenous to the Hawaiian Islands. Many are only there temporarily and will be successfully released in the future. They also participate in the Sea Life Aquarium's hatch-and-release Hawaiian Green Turtle Education Loan Program. The turtles they hatch are given a strong head start before being released in the wild increasing their chance of survival.
Maui Ocean Center's greatest contribution to our planet might be their extensive work on the removal and transport of live coral. They have helped repopulate quite a bit of coral so far and it was very interesting to learn exactly how they do it.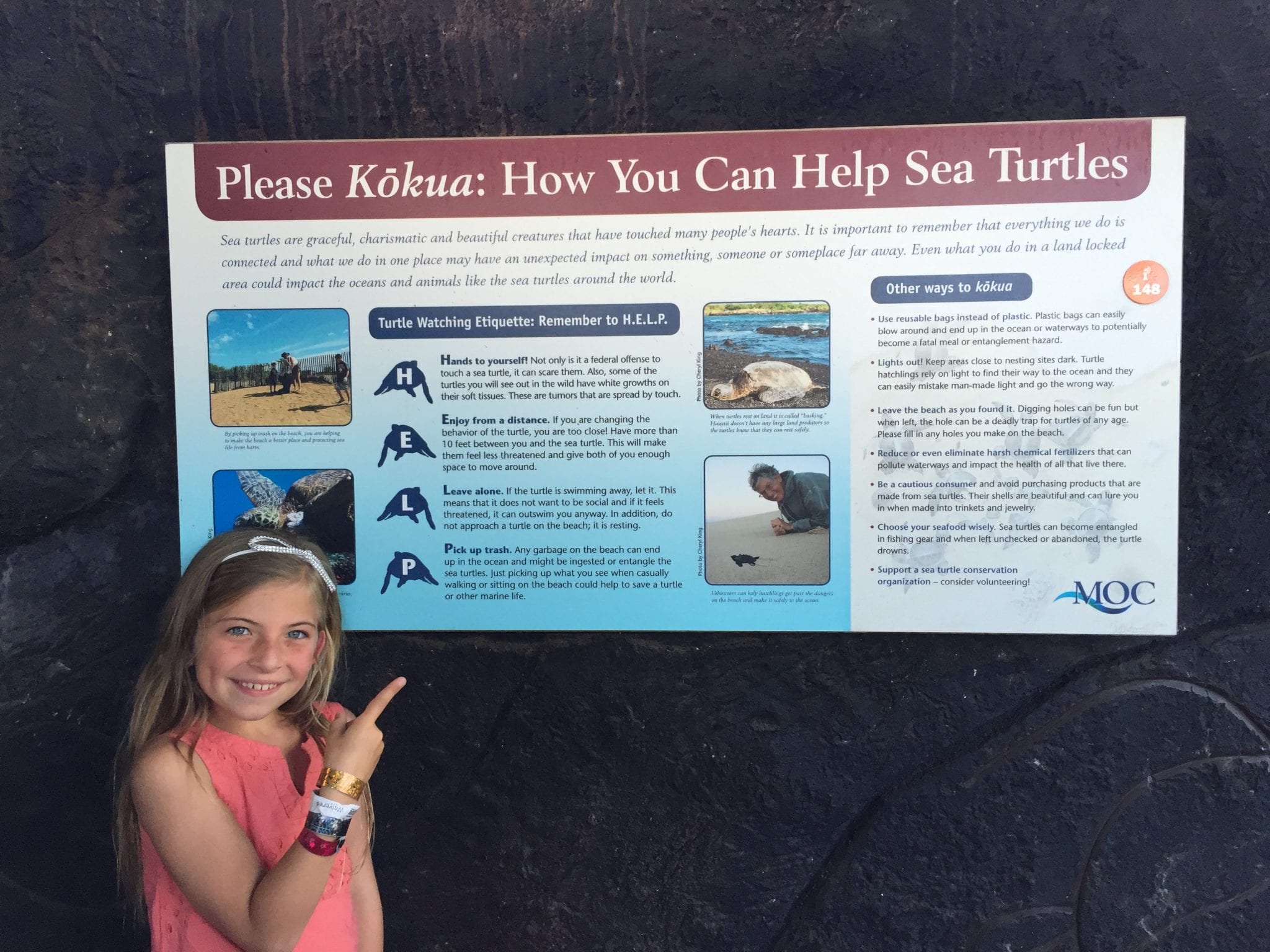 Ella is a hige Global Guardian… she noticed signs in almost every exhibit that detailed out how kids just like her could pitch in and help. She took this very personal and decided to be somewhat of an ambassador for the ocean the rest of our trip 😉
Overall
I think what impressed me most was how it appealed it everyone in our family. No easy task with the number of children we have and the variety of age groups. My older two (13 & 11) loved learning about how the Maui Ocean Center was repopulating the coral and they also loved playing the games in the mammal area. Shea and Ella (9 & 8) LOVED the touch pools and learning how they could save the turtles. Shea also really loved the walk through tunnel and checking out the rays and sharks. And, Olivia (2 years old) loved watching the fish in the aquariums and the hands on activity stations spaced throughout the aquarium. It truly was one of those rare occasions where everyone was engaged and having a good time together.
Pin for later-
Plan a Visit
Maui Ocean Center is open 365 days of the year, from 9am to 5pm (9am to 6pm in July and August). General admission is $25.95 for adults; $22.95 for seniors (age 65 and older); $18.95 for children (age 3-12); free admission for children under 3.
Special rates, packages and theme events are also available for groups.
For information or to purchase tickets visit
 Photo Credit- Joshua Blue
*Special thanks to Maui Ocean Center for hosting the munchkins. My opinion, as always, is my own.