I have been fortunate enough to have been to Maui many times. I've done my fair share of luaus, snorkeling, but the one thing I have never done is surf lessons. You know you have… its one of those childhood fantasies everyone seems to dream about. Well, if you are looking for some Maui Surf Lessons then you definitely need to take surf lessons with Royal Hawaiian Surf Academy. In a matter of an hour our instructor Ikaika, seamlessly taught all four of our older munchkins and dad how to surf. Everyone got up (most on their first try) and we all had an amazing time.
Ikaika showing off his skills
Maui Surf Lessons – What to Expect-
I wasn't sure how difficult surfing would be. Our munchkins are 8, 9, 11 & 13 and so I sat them down before leaving and talked to them about making sure they went out to have fun. That it didn't matter if they actually ever caught a wave. Boy, was I blown away when EVERY SINGLE one of them (and their dad) all were able to surf like pros. From their super convenient online booking to checking in and finally to viewing our pics when we were done the process couldn't have been simpler and the staff couldn't have been more welcoming or entertaining.
The day started by checking in and receiving rash guards and surf shoes to wear for the lesson (BIG PLUS because we own neither). Then we were introduced to our instructor Ikaika. We booked a private lesson and they allowed us to add additional family members to it. So, it was just our family- pretty cool!
Ikaika walked us to the beach, matched everybody up with a board (they use longboards). He then gave them an initial lesson about the ocean, its current, the surf lane and so on and so forth. He's incredibly knowledgeable in a very humble manner.
Maui Surf Lesson #2 – On the sand.
The instructor took the kids and dad on the sand for the next part of preparing to surf. They practiced board placement, paddling, getting onto their knees and how to stand on the board. My husband pointed out that this was surprisingly helpful for when they got out into the ocean, as he felt he already knew what to do when they got out there.
Surf Lesson #3 – Out to the Ocean
Then it was out to the ocean. I was nervous but the spot Ikaika took them was perfect. It was near the port in Lahaina (so I could watch with Liv from the shore), the waters were pretty mellow with nice slow rolling waves and it wasn't very deep.
Me and Liv looking super chic on the sidelines- hahaha
To my complete surprise, most of the kids popped up on their first wave. That look of accomplishment melted me!!!
Check out Shea popping up for the first time– so cool right??
They were out there for at least an hour and a half and they were all laughing, smiling and having a great time with Ikaika the ENTIRE time. In fact, they came home and immediately all asked for surfboards and rash guards for Christmas. So, would I recommend Royal Hawaiian Surf Academy for some Maui surf lessons? That's an ABSOLUTE YES!!!!!
BONUS
Upon arriving we were told we could have a photographer capture the lesson with no obligation to purchase if we wanted. The obvious choice is "Of Course!". As promised after the lesson they showed us a slideshow. It was SO fun for the kids to see themselves surfing. The photos were priceless (as seen above) and we purchased them as mementos. I loved that this service was included!!! The pricing is very reasonable too.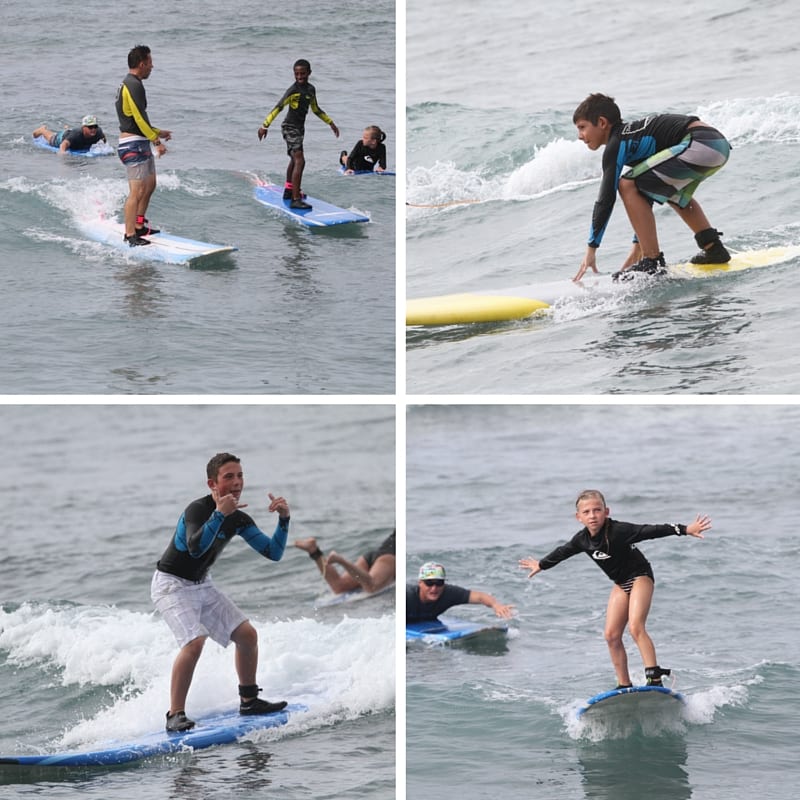 Surf Lessons Cost-
Lessons started at $75. See their website below for current pricing information. Worth EVERY penny!!
*Royal Hawaiian is NOT just for beginners, besides lessons they also offer Surfari's, lessons to maximize your skills and Island Safari's as well!!!
*photos are an additional price and completely optional (no pressure)
Maui Surf Lessons Location-
113 Prison Street Lahaina Maui, HI
Phone Number: +1 808-276-7873
Planning a trip to Maui – Start Here
---
Pin for later
Have you tried surfing? Where is the best place you ever surfed? Have questions? Leave them in the comments below 🙂
You Might Also Enjoy:
Top Things to do in Lahaina! One of the best little towns in Maui
Maui Luau – Your Guide to the 5 Best Luaus on Maui
Aloha! 5 Amazing Spots to enjoy Maui Snorkeling
*A special thanks to Royal Hawaiian Surf Academy for hosting the munchkins. My opinion is, as always, my own.