Looking for things to do with your family in Myrtle Beach? Well, lucky you because below is my ULTIMATE Guide including all the BEST Myrtle Beach activities, restaurants & more! In need of somewhere to stay? Check out the reasons we loved staying at the Baywatch Resort, a Wyndham Vacation Rental too.
The ULTIMATE Guide to Myrtle Beach- including the BEST Myrtle Beach Activities
Myrtle Beach is a fun and quirky beach town with tons of family-friendly activities not to mention a gorgeous coastline that spans across 60 miles wide. It's no wonder so many families choose to flock here when the weather starts warming up.
How to Get There:
You can reach Myrtle Beach by air, car or train. Travelers who choose to fly in directly will utilize the Myrtle Beach International Airport with flight services from well-known carriers such as Allegiant Air, Delta, Porter, Spirit, United, USAirways and WestJet. There is also an Amtrak station about 70 miles from Myrtle Beach so that may be an option for some people. But, most travelers choose to get to Myrtle Beach by car. You can find driving distances as well as directions on the Myrtle Beach Tourism website here.
Transportation:
Once you arrive in Myrtle Beach it's pretty easy to get around. If you do not have a car you can use services such as Uber or they have a great bus system called the Coast RTA as well. You can find more information on the busing system here.
Take a peek at where we stayed and played in Myrtle Beach below:
Where to Stay:
Planning your trip to Myrtle Beach starts by finding a place to stay. There are no shortages of options either. Choose from oceanfront resorts, hotels, campsites and vacation rentals. Lately, we have been really enjoying staying in vacation rentals. They work out wonderfully for our family because they offer much more space than a hotel room. Plus, vacation rentals also offer homelike amenities such as full kitchens, laundry, and separate bedrooms. The later is perfect for when you are traveling with a little one that still naps or kids with differing bedtimes.
We chose to stay with Wyndham Vacation Rentals at their Baywatch Resort & Conference Center on our recent trip to Myrtle Beach. If you remember we had an excellent experience the last time we stayed with Wyndham Vacation Rentals in Steamboat Springs, Colorado (read about that trip here). I love the fact that when you book through Wyndham Vacation Rentals you are backed by their Vacation Bill of Rights. And, unlike other vacation rental properties you also get access to customer service before, during and after your trip offering you peace of mind so you can go back to what you should be doing- RELAXING!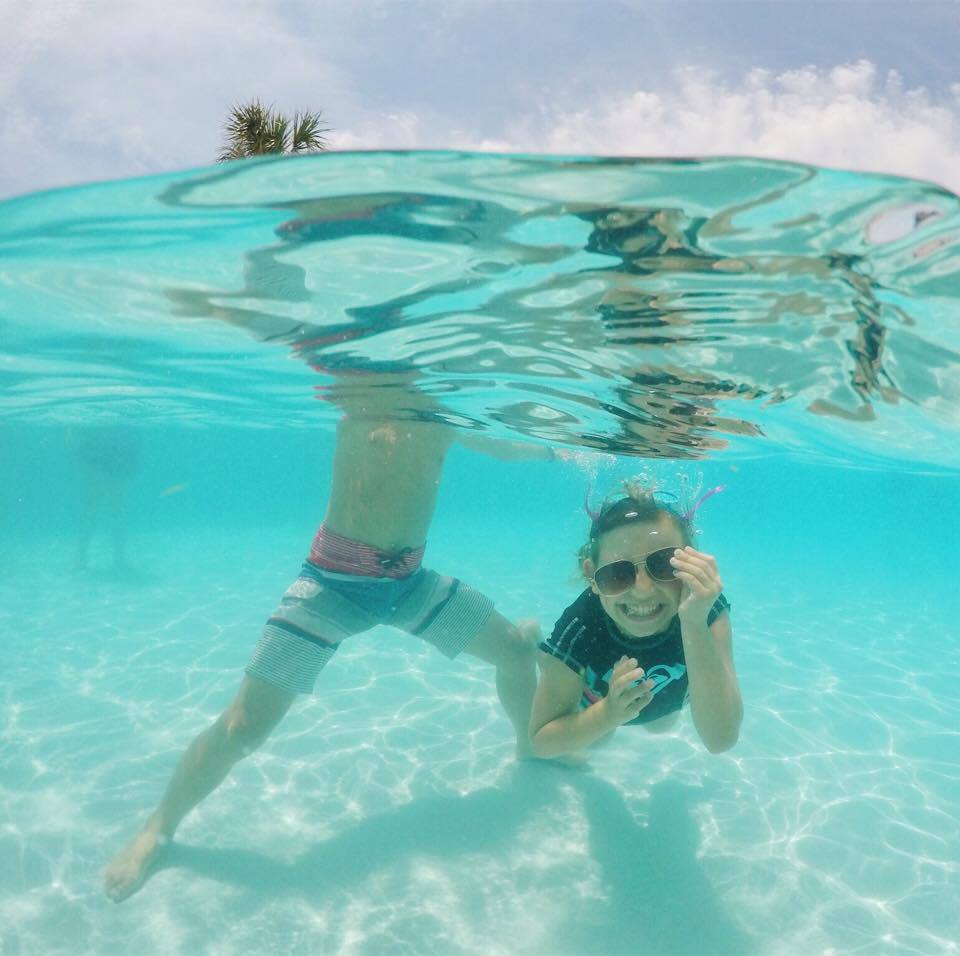 Speaking of relaxing the Baywatch Resort was a perfect spot to do just that with 9 indoor and outdoor pools, 7 whirlpools and 2 lazy rivers. Not to mention the fact that they are an oceanfront hotel. So, our kids were pretty much in the water (either pool or beach) the entire time we were there.
The kids LOVED the pools and I so did I, but I think it is this view from our 2-bedroom condo that I miss the most. We had an end unit and the balcony wrapped around the entire condo offering unparalleled views that stretched for miles.
Another really neat aspect of staying at this particular Wyndham Vacation Rental was the fact that it included so many additional privileges such as FREE admission to Wild Water & Wheels Water Park, FREE mini golf at Lost Mine and a discount card that gave us access to discounts all over town. They even have pet-friendly options!
When you book with Wyndham Vacation Rentals the actual units are individually owned but below are a few photos of our unit just to give you an idea of what staying with them is like.
We received the sweetest welcome to kick off our stay.
Our unit had a bunch of fun board games and you could also rent unlimited DVDs downstairs as well.
The full kitchen was so nice. We were able to save money by cooking breakfast in and I loved the fact that I could stock up on some of my meals too. I am a vegetarian/ occasional pescatarian so my meal options and need for protein intake can be difficult to manage when I go too long at a hotel without access to a full refrigerator and freezer.
Our unit had two full bedrooms each with two beds and then it also had a pull out sofa in the living room so there was plenty of space when it came time for bed. I will say that having a separate living area is really quite the treat when you are traveling with such a large family. It allowed us to lay Liv down in her room for the bed (she's only 3 and goes to bed before the other kids) and then still be able to play games or watch movies with the rest of our crew. The sheets were super crisp and clean which is also something I have come to expect from Wyndham Vacation Rentals. I think it has to do with their diligent inspections.
Of course, having multiple bathrooms is also a major plus when you are traveling with a family too.
Trip Planning:
One of the hardest things about going on vacation is the actual planning of one. Ahead of the summer travel season, Wyndham Vacation Rentals launched BeVacationReady.com to help travelers stress-less and enjoy more when it comes to vacation this year. Travelers are able to download actual itineraries with awesome recommendations from locals, vacation tips & deals. I found it incredibly helpful when we were trying to figure out what to do once we arrived.
Things To Do:
Speaking of things to do, it turns out there are a ton of family-friendly Myrtle Beach activities. Here are the BEST ones we found.
Myrtle Beach Boardwalk
The Myrtle Beach Boardwalk should be on every family's list. Here you will find a bunch of activities, restaurants, and shops that cater to kids and families. Head to the Myrtle Beach SkyWheel to get a birds-eye view of the city, visit the crazy exhibits at Ripley's Believe It or Not, or spend some time drooling over the deliciousness at the I Love Sugar candy store. I suggest heading to the boardwalk in the evening because it looks so beautiful all lit up at night.
Pirates Voyage Dinner Show
One of the BEST Myrtle Beach Activities that we did as a family was the Pirates Voyage Dinner and Show. The show itself totally exceeded our expectations. They had amazing acrobats, sea lions and even mermaids in the show!
The audience was divided into two different teams which totally engaged the kids (they love a competition), plus they had a ton of audience participation acts which had us busting at the seams. Why is it so funny to embarrass your family?? It was all in good fun though no worries.
During the show, you are served a 4-course pirate meal. I was worried initially because it was a fixed menu and I don't eat meat. But, turns out they had a vegetarian option for me which was nice. Make sure to save room for dessert because the apple turnover was amazing!
Take a sneak peek at what the show entails:

Broadway Grand Prix
Another favorite was the Broadway Grand Prix. The kids were amazed by the seven go-kart tracks, rock wall, mini golf courses, and arcade! They even had kiddie rides for Miss Olivia.
Plus, smaller kids were able to ride with older/ taller kids on the actual go-kart tracks too. We learned that Liv is actually a little speed demon. That girl is too much. The only negative thing about the Broadway Grand Prix is how hard it is to get your kid to leave- ha!
Radical Ropes Adventure Park
If your kids love to climb and swing as much as mine do then they will love the Radical Ropes Adventure Park. Here you can choose from a variety of activities including a ropes course, zip lining, free climbing and they even have kid zips (ages 4-8) for younger munchkins. Prices start at just $19.
Wild Waters & Wheels Park
Staying at the Baywatch Resort gave us FREE access to Wild Waters & Wheels Park which is like a mini amusement park. It has a full water park with body slides, tube slides, mat slides and more, plus a go-kart track, mini golf course, bumper boats, and kiddie rides. If you are not staying at a resort that includes the admission price you can find great deals on their website.
Wonderworks
If you are looking for something a little more educational Wonderworks has tons of hands-on exhibits that teach kids about natural disasters, space discovery and more.
Plus, kids will get a kick out of the upside-down building that houses the museum. Once you finish up the educational aspects make sure you check out their laser tag arena, indoor ropes course and a 6D motion ride too!
Myrtle Beach Water Sports
If you are looking to get out on the water Myrtle Beach Watersports offers a ton of water activities such as jet ski rentals, dolphin tours, boat rentals and even a pirate cruise. Be sure to check out their website prior to booking as they often run specials on there 😉
*For more amazing things to do in Myrtle Beach with kids check out this article on Y Travel Blog or this one from my friends at Crazy Family Adventure. Or, if you are looking for more fun things to do in South Carolina I suggest you check out this article from 365AtlantaFamily on the fun things to do in Charleston.
Places to Eat:
We were only in Myrtle Beach for a few days but being the food lovers we are, we were still able to find plenty of excellent places to dine. Here are our picks for the tastiest family-friendly restaurants in Myrtle Beach.
Breakfast
Krispy Kreme- I don't care what anyone says, the best doughnut is a piping hot fresh one from Krispy Kreme. YUMMY! They open early too which made it an easy 6 am stop on our way to Hilton Head.
Hot Stacks– Myrtle Beach just might have the most pancake houses in the nation. You notice it as you pass by at least a dozen on your way in. But, we think they really only need one- Hot Stacks. If you are a pancake lover you have to check this place out for the most incredible fluffy buttermilk pancakes you've ever had. Don't feel like pancakes? Try their Greek-Cado Roll a spin on the classic breakfast burrito or one of their delicious omelets.
Crepe Creations Cafe- Ella loves all things Parisian so if she spots a creperie or macaron bakery you can be sure we are going to have to go check it out. Lucky for you because she discovered this adorable NEW creperie in Myrtle Beach's trendy Market Commons. We recommend trying their French Toast Crepe filled with strawberries or heading there for their dessert crepes after dinner 😉
Lunch/ Dinner
*Looking for more kid-friendly SC fun? Check out this article on Crazy Family Adventure about exploring Lake Murray Country right here.
Overall:
Myrtle Beach is a wonderful family-friendly area with tons of affordable attractions catering to kids of all ages. The beaches are beautiful restaurant options are a plenty and you can be sure you will not fall short on things to do.
Looking for more fun beach activities to do on the East Coast? Check out Crazy Family Adventure's Guide to Key West.
Also, check out Myrtle Beach for toddlers or babies from Rookie Moms
WHAT ARE YOUR FAVORITE MYRTLE BEACH ACTIVITIES?
Pin for Later – the BEST Myrtle Beach Activities
You may also like this article:
*At times, Global Munchkins may receive special discounts or complimentary services and/ or products to have the chance to experience certain brands, for purpose of a possible review or inclusion in one of our articles. However, all thoughts and opinions expressed above, as always, are 100% our own. We only write about the things we feel are deserving enough to be featured here on our blog.