Looking for things to do at the Steamboat Springs Ski Resort in Colorado?
Well, look no further because I have created an amazing guide full of things to do in and around the Steamboat Springs Ski Resort both on and off the slopes. Plus, if you haven't found a Steamboat hotel yet read why we prefer to stay at a Wyndham Vacation Rental. You can have all the amenities of a condo for a fraction of the hotel price.
The ULTIMATE Guide to Steamboat Springs Ski Resort [CO]
The Steamboat Springs Ski Resort is one of my absolute favorite ski resorts for families. You are hard-pressed to find a friendlier town with powder as fresh as Steamboat, with world-class eateries, fantastic FREE transportation, and tons of activities both on and off the slopes. So, pack your ski bags, grab your boots and book a ticket to Steamboat pronto before the secret gets out!
Check out our video to see an inside peek at our Steamboat Springs Ski Resort Experience:

How to Get There:
Getting to Steamboat is pretty easy you can fly directly into the Hayden (Yampa Valley Regional) airport (which is my recommendation) or you can fly into Denver, rent a car and drive into Steamboat Springs.
Hayden offers nonstop flights from 11 major airports including: Chicago, Los Angeles, Minneapolis/St. Paul, Newark, Seattle, and Washington DC (winter 2015-16). Major US carriers such as Alaska, American, Delta and United offer connections to tons or airports nationwide making it easy to find a flight from an airport near you.
For more on getting to Steamboat click here.
Transportation:
If you fly into Hayden you can grab a shuttle directly from the airport to Steamboat with Go Alpine or the Storm Mountain Express. You can also rent a car at the airport through Hertz. All options can be viewed in greater detail here.
Once in Steamboat transportation is easy around town via the Steamboat Springs Transit System. And, depending on where you stay you may also have FREE shuttle service with door to door transportation around town. We did at the Torian Plum through Wyndham Vacation Rentals and I can't tell you what a fantastic service that was. We used it to get to restaurants, the grocery store, Howelsen Ice Arena and to get to the shops downtown.
*TIP- make sure to check to see if your Steamboat Hotel has a free shuttle service before you book.
Where to Stay:

There are many options for lodging when it comes to Steamboat Spring. Many choose one of the Steamboat hotels, but if you want something truly exceptional you should take a look at booking Wyndham Vacation Rentals. I mean check out the view from our balcony above. It couldn't have been better!
We stayed at the Torian Plum in the Creekside Tower in a condo managed by Wyndham Vacation Rentals.
I highly recommend you book them for the following reasons.
Wyndham Vacation Rentals is the world's largest professional manner of vacation rental properties.
They are backed by one of the world's largest hospitality companies with access to over 105,000 properties in more than 550 unique destinations including some of the best ski towns such as Steamboat Springs CO, Park City UT, Whistler BC, Keystone CO, Vail Co, Aspen CO, Beaver Creek CO & Breckenridge CO just to name a few.
Plus, when you book through Wyndham Vacation Rentals you can have peace of mind knowing that Wyndham backs every booking with their Vacation Rental Bill of Rights!
Instead of working with some stranger, Wyndham Vacation Rentals allows you to deal with a travel professional before, during and after your stay.
Many Wyndham Vacation Rental properties offer hotel-like amenities. Ours included: heated pool and spas, door to door shuttle service and a concierge team to help us.
When you are traveling with a family vacation rental properties (like Wyndham Vacation Rentals) is such a better way to travel. You get way-way more space than a hotel room including individual rooms and bathrooms, fully equipped kitchens, living room space, in-room laundry and at Torian Plum, we even had our own fireplace!
These details make your vacation run so much more smoothly. All the extra space keeps bickering to a minimum and the ability to dry wet mittens and whip up a quick snack or meal keeps everyone in a great mood! Not to mention saves you cash! And, they don't skimp on the details… check it out AVEDA!!
To learn more about Wyndham Vacation Rentals check out their website and don't forget to check out their seasonal deals.
The FUN Stuff
I was AMAZED at all the activities Steamboat Springs had to offer. The slopes were amazing but I expected that. What I did not anticipate was how many awesome activities I could find off the mountain. See for yourself!!!
Hit the Slopes:
Ski & Snowboard:
Steamboat Springs has the BEST snow we have ever skied on. I know they are known for "champagne soft snow" but this year I think its better than ever. I am talking fresh powder almost every day we were there and several inches at that. You almost feel guilty as you glide down the mountain. You think everyone deserves to ski these incredible runs… but at the same time, you aren't sure that you want to let the secret out.
There are 18 total lifts and 150 trails ranging from Beginner (easier) all the way to Extreme Terrain. Steamboat also offers night skiing and features a handful of terrain parks too!
They also have fantastic ski schools for all experience level (including awesome kids programs). And, they even have kids ski FREE package. Click here for more on that!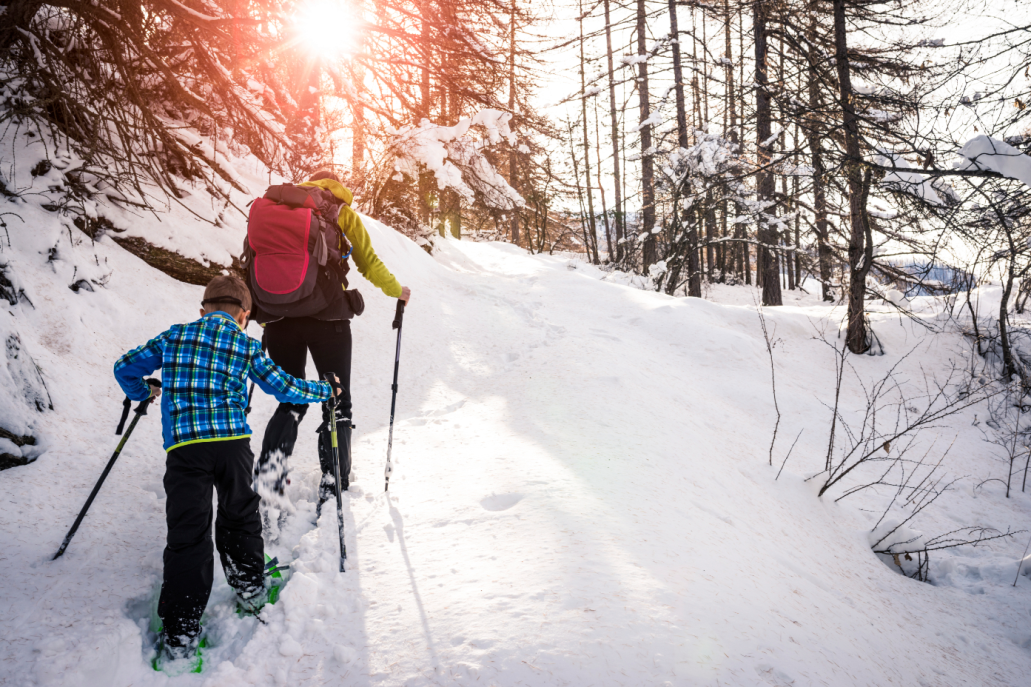 Snowshoeing:
Love to hike? Well, then snowshoeing may be your new favorite sport. Such a peaceful and serene way to take advantage of the gorgeous wintery wonderland around you. There are guided snowshoe tours or you can rent some snowshoes and check out the trails yourself. Snowshoeing is easy enough that even kids will love it! There is even a FREE guided snowshoe tour offered through Steamboat Resort. See more info here.
See here or here for more details about the trails.
Off the Mountain:
Dog Sledding:
Okay… I am NOT going to lie. T-Grizzle Dog & Sled Works was the highlight of our trip! The kids have not stopped talking about how incredible it was to be pulled by a team of amazing dog athletes. This is one experience you will want on your bucket list for sure!
Picture the most insanely gorgeous backcountry views, sparkling white powder soft snow, bluest of blue skies and visibility for miles. Imagine being pulled through the mountains and valleys by an incredible team of dogs racing around the corners, the wind in your face and the freshest mountain air filling your lungs. I can tell you it knocks your socks off exciting and kids as young as 2 can join in on the fun.
Check out details on T Grizzle Dog & Sled Works here.
Tubing:
On those days you want to take a break from the skis and snowboards you can hop over to Saddleback Ranch and test out your tubing skills.
Their YeeHaw Tubing hills are gorgeously groomed with a state of the art lift system making this a relaxing and easy way to go down the mountain. All you have to do is get your tube to the lift, plop down and it carries you up the mountain.
From there you choose from three different slopes: The first track is pretty slow but great for beginners who are a little nervous. The middle hill you are allowed to connect with your fellow tubers and go down together. Did you check out the clip above of the 6 of us connecting tubes!!! It was awesome! Then the last track is where you get the adrenaline rush. If you give yourself a good start you will even catch some air on the bump about half way down. It was spectacular!!!
Saddleback Ranch picks you up for no additional charge and they have a little lodge with the necessities like hot cocoa, nachos, hot dogs, soda and candy to make sure you have enough energy on the mountain 😉
Saddleback actually offers much more than just tubing. Check out their Snowmobile Tours, Mini Snowmobiles, Horseback Tours and their Evening Sleigh Rides here.
Ice Skating & Bumper Cars on Ice:
Yes, you read that right, bumper cars on the ice pretty much take the stage here at the Howelsen Arena. Kids of all ages will enjoy bumping and sliding all over the ice. We were laughing hysterically.
Then once you are done you can enjoy the rest of your time ice skating. Howelsen arena offers skate rentals (both hockey and figure skates are available), they have pushable strollers that go on the ice for the little ones and trainers that help you with your balance in different sizes making sure everyone feels comfortable on the ice.
Check out more about Howelsen Ice Arena here.
Horseback Riding:
I LOVE horseback riding and I had no idea ranches were open in the winter months in places like Steamboat that were covered in snow. This is something I will definitely be back for. There are multiple ranches that offer horseback tours. From what I could find kids as young as 8 can go out on the trails.
We did have the good fortune of passing by a ranch and watching some gorgeous draft horses playing in the snow and I can tell being on one of them would be an amazing experience. They seemed to love the feeling of the snow.
Check out Saddleback's Horseback riding here.
Dinner Sleigh Rides:
How enchanting would it be to hop on a horse-drawn sleigh, be covered in wool blankets and handed a hot cocoa as you glided through the billows of fresh white powder to your dinner? A.M.A.Z.I.N.G.!!! Am I right??
Well, there are several fantastic options available for dinner sleigh rides when you are at Steamboat. You can choose from a buffet style meal to a complete 5-course dinner. This is another experience I am looking back at returning for.
See here & here for more details.
Snowmobiling:
With all the incredible terrain Steamboat has to offer you might as well take part in just as many ways as there are to see it. Snowmobiling is a fantastically fun way to take in the views and see the backcountry. There are plenty of trails and free flat area for you to play around in. Snowmobiling is for adults and kids alike, however, you must be 16+ to drive. See more here.
Scenic Gondola Rides:

Gondolas aren't just for taking up skiers. Parents and kids alike will enjoy taking in the gorgeous views on a scenic gondola ride. While you are up there hop off and enjoy a delicious meal. Make sure to bring the camera because these are views that you will want to remember!
See more info here.
Cross Country Skiing:
Did you know cross-country skiing was the very first type of skiing? Born out of a necessity to travel over snow-covered fields this sport came to be. It was almost completely abandoned until it began its revival in the 60's. You can find snowshoeing available at many snow-covered destinations. I have yet to try this one out but from the look of the number of trails, Steamboat seems like a great place to start!
Find info on rentals and trails here.
Photography Tours:
How cool is this? A photography class that takes you outside of the confines of a classroom and into the wintery forest. You learn techniques to help you capture the majestic scenes that surround you in stunning Steamboat Springs. Classes are from beginner to advanced and you can choose to snowshoe or take a driving tour.
For more info simply click here.
Fishing:
Ever wanted to learn how to go fly-fishing or ice-fishing? Steamboat has that too. There are fly-fishing lessons provided by Yampa Valley Anglers that include all your gear at no additional fee besides the daily fishing license.
Click here for more info.
Hot Air Balloon Tours:
You get a glimpse of the glorious beauty that is Steamboat from the sky when you fly over and land in your airplane but nothing compares to seeing it from a hot air balloons perspective. You can book a hot air balloon adventure even in the winter… imagine the viewpoints you will have. Talk about being on top of the world!
Learn more here.
Steamboat Springs Hot Springs:
Ever wondered where Steamboat Springs Hot Springs got its name? Well turns out they have over 150 natural mineral hot springs in the area. When the Ute Natives settled there they thought the hot springs had healing powers and so they used them to help rejuvenate their strength and spirit. Today you can use the same healing powers by visiting the hot springs yourself! There are several options including Strawberry Park Hot Springs, Steamboat Hot Springs and Old Town Hot Springs for starters.
Snowbiking: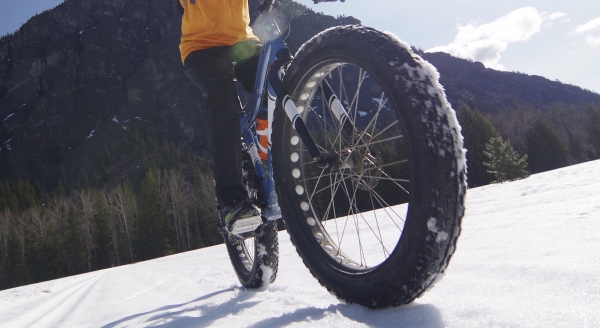 For those of you who enjoy trying out the latest and greatest fad you might want to try the different types of biking, Steamboat has to offer in the winter months. You can cruise fat tire style or in one of the newer snow bikes that basically let you ski sitting down. Don't believe me? Click here and see for yourself!
Main Street:
Downtown Steamboat is the heart of this quaint Colorado town. With 40 shops, 35+ restaurants, art galleries & museums there is plenty to do and see on Main Street. My kids especially loved Rocket Fizz (seen above) & Fuzziwig's Candy Store. No surprise there 😉
For more info on Downtown Steamboat visit them here.
Where to Eat: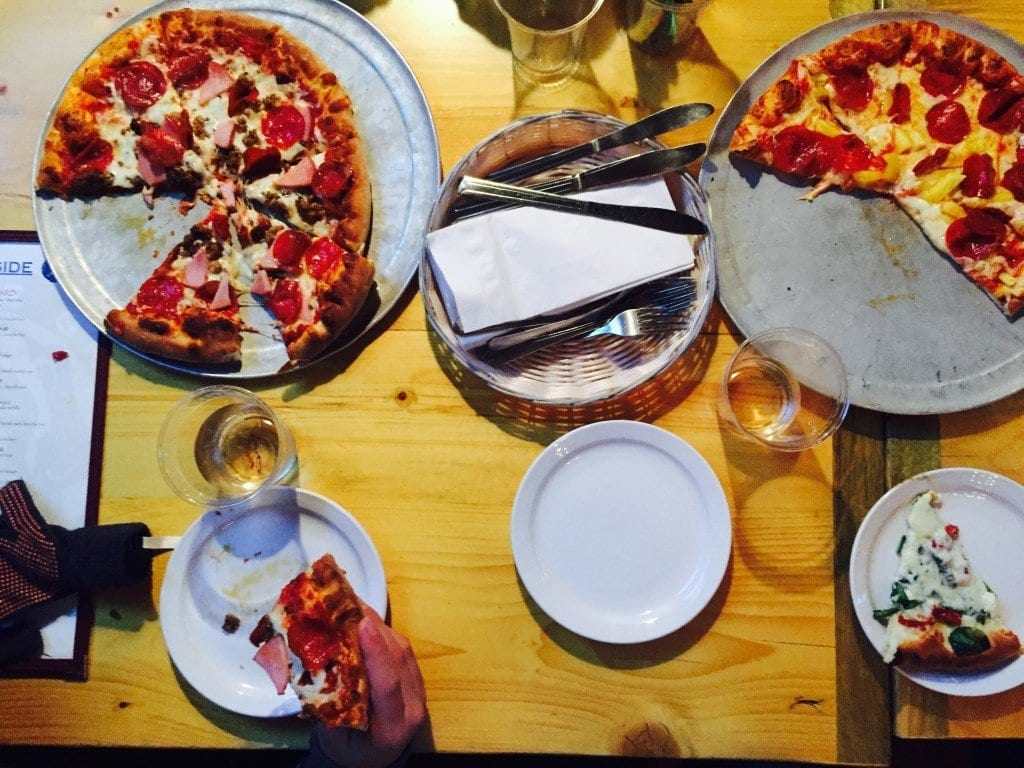 I have, to be honest… I did NOT expect much of a culinary scene way up in the mountains of Steamboat Springs CO. So, you can bet I was excited (I Heart Food) when we devoured so much deliciousness on our trip. We found organic, farm fresh ingredients and unique pairings throughout the restaurants we visited. Here are our Top 3!
Paramount-
If you want to hit the trails early you will want somewhere tasty and quick right on the mountainside and that is what Paramount delivers. This walk up and order eatery has tons of goodness like this GIANT Green Chile Egg Burrito with the best bacon I have ever tasted. Feeling sweet you have to try their Stuffed Ciabatta French Toast with Ricotta, Lemon, and White Chocolate Chips. Plus, a cup of hot joe (or cocoa) and you are ready for a full day on the slopes!
Paramount also has a fantastic quick lunch… view their menu here. Their Pesto Chicken Salad was delish.
Slopeside-
Every great ski town has an awesome pizza place/ bar to rest your weary body, grab a cold beer and watch a game. Slopeside nails this! We ate here twice and enjoyed their delicious pizzas, nachos, and wings. They had some great local craft beers that my hubby enjoyed and I LOVED their mountain mule!
That's their pizzas in the photo up top! Fantastic flavor combinations and delicious crust!! View more about Slopeside here.
Mahogany Ridge Brewery & Grill-
Looking for something a little more classy? Head down to Main Street/ Downtown Steamboat and check out Mahogany Ridge. This brewery offers everything from hand-packed Angus burgers to tuna ceviche and it's ALL amazing. They are also known for their award-winning house-brewed beers and distinctive wines.
The atmosphere is inviting and intimate at the same time and the staff couldn't be more friendly and helpful. Check out more about Mahogany here.
Events:

One thing that is super impressive about Steamboat Resort is ALL the amazing events that take place there throughout the year. I mean check out the event calendar here. Impressive right?
We were fortunate enough to be there during the 42nd Annual Cowboy Downhill. The event kicked off with a Hot Air Balloon Glow and party. It was spectacular!!! To see the balloons, blown up, and glowing, in person was pretty special. The kids loved being able to talk to the balloon pilots and learn a little bit about how the balloons operate too!
The next morning the festivities continued with roping lessons, petting zoo and more! The kids loved taking turns with the lasso and Owen even roped the fake steer by the end. Of course, the goats, bunnies, dogs, and chickens held the kid's attention for quite some time too.
It was pretty funny watching all the cowboys and girls walk around the Steamboat Resort in chaps and boots too! But, the highlight was definitely the event itself. It kicked off with a bang as skydivers flew down from the sky (wearing chaps of course). Next, up we watched the cowboys compete, one on one, down the hill. I think the Cowboys should stick to their day job… but watching them eat snow on the slopes it pretty awesome for us spectators.

Then lastly they all raced down the mountain. What a sight… we laughed so hard watching them. It was an awesome and fun event. Definitely, something you won't see anywhere else!
Overall:
I am head over heels in LOVE with Steamboat Springs. We will definitely be returning for more skiing and snowboarding and we also want to come back to try out their summer activities as well. You just can't find a friendlier town, with as many fantastic options for family fun and family dining + get the FREE door to door shuttle service like you do in Steamboat. This is one destination families need to put on their travel list!
Pin for later-
Have you ever visited the Steamboat Springs Ski Resort? Leave me a message in the comments. I love chatting with you!
You may also like these posts picked just for you-
*Special thanks to Wyndham Vacation Rentals for hosting the munchkins. My opinion is, as always 100% my own.