Great Wolf Lodge Southern California opened their doors in 2016 and has been an incredibly popular resort for families ever since. Great Wolf Lodge has the only waterpark in Southern California that is open 365 days a year. Let's check out the 7 reasons you'll love Great Wolf Lodge – Southern California
*** Currently, Great Wolf Lodge is up to 25% OFF – Use Promo Code ASUMMER21***
7 Reasons you'll Love Great Wolf Lodge Southern California [+ 2 You Did Not Know]
1) The Unique Rooms
There are plenty of options when it comes to choosing a room that will work best for your family. Great Wolf offers:
Traditional Rooms like their Family Suites (sleeps up to 6) and Double Queen or King Suites (sleeps up to 4).
Themed Suites including my favorite- the KidCabin Suite (sleeps up to 7) and includes a queen bed, full sofa sleeper and a Great Wolf Kids-themed KidCabin complete with bunk beds and a twin bed.
Multi-Room Suites similar to the room shown above with separate living room and bedroom space (sleeps up to 8 guests) and multiple bathrooms. Perfect for larger parties or sharing with friends!
*Our kids LOVED our KidCabin Suite. The room was spacious enough to sleep all 7 of us which doesn't happen often. The kids had their own wooden cabin within our room. It was wallpapered inside with the adorable Great Wolf characters plus had animated animals that came to life when the kids interacted with them using their MagiQuest wands (also works with the stuffed animals you make at the Creation Station too…).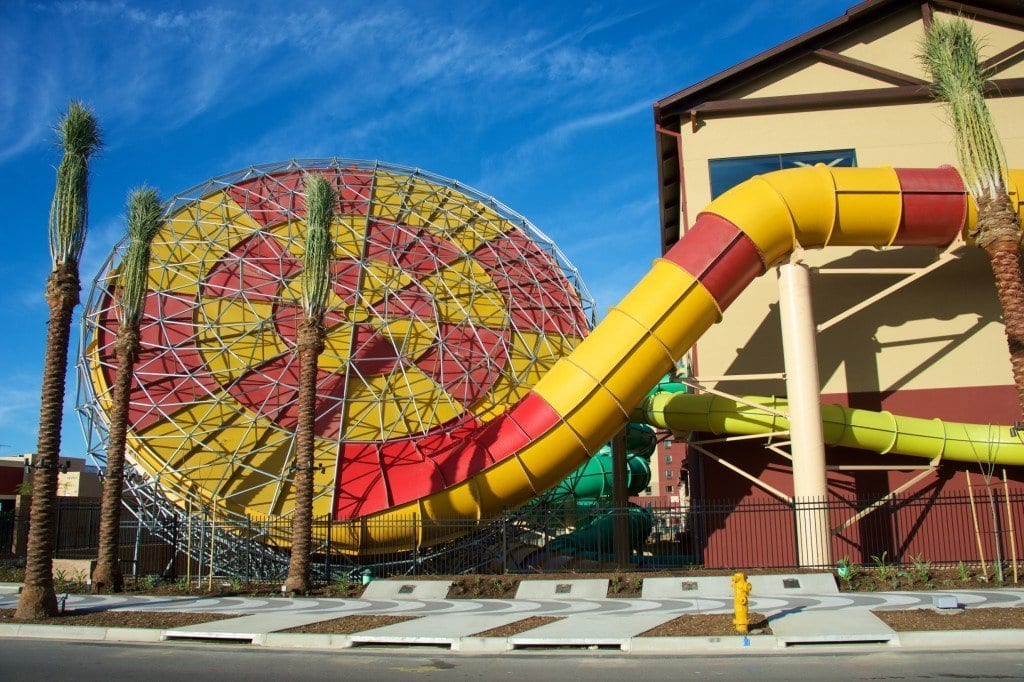 2) The Water Park is Never Over-Crowded.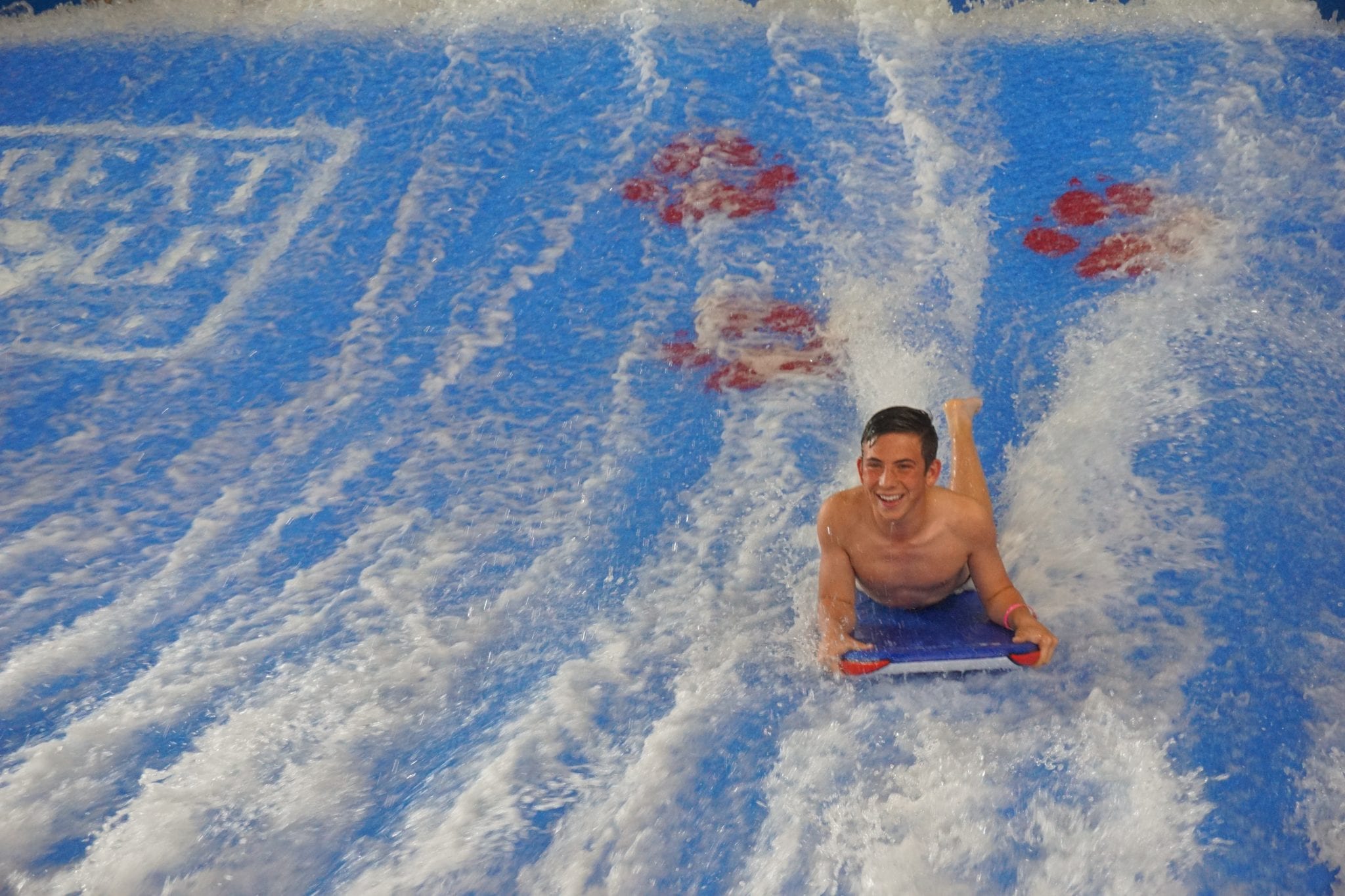 Clearly, the water park is a HUGE selling point. I mean the fact that you can enjoy perfect weather year round + stay away from the dangers of the sun and never even leave the resort… pretty AMAZING!!! One of the best features of the water park is it is never too crowded. That is because the only people who are allowed into the water park are resort guests. We went on 4th of July weekend and the longest wait was 20 minutes for a slide
The water park includes:
Fort Mackenzie- a multi-level splash park with suspension bridges, slides and spray stations. It also holds the park's signature tipping bucket dumping hundreds of gallons of water every 4 minutes!
Mountain Edge Raceway- Four-story water slide where you can race your buddies down the hills.
Slap Tail Pond- a massive wave pool with waves reaching up to 3 feet.
Wolf Rider Wipeout- double indoor surf simulator with waves reaching 5 feet.
Chinook Cove- a water playground for all ages featuring floating obstacles and basketball.
Wolf Tail- vertical thrill ride that plunges you through a trapdoor and into an enclosed tunnel.
Crooked Creek– a lazy river.
Howlin Tornado- a six-story family funnel slide (pictured above in red and yellow).
River Canyon Run- 476 foot long family raft ride.
Alberta Falls- two four-story enclosed tube slides.
Coyote Canyon- spiral flume slide with a 40′ drop.
*I was totally impressed with the water park area. It is large enough for a full day (but small enough that you can easily keep track of your kids), there are plenty of slides for all thrill levels, the temperature is perfect and not having to sunscreen your kids is so nice!!
***Bonus Tip*** Puddle Jumpers and life vests are available so no need to pack those in your suitcase.
3) A lot is included!
What's included in your stay?
Water Park Passes (exclusive to resort guests)
Kids Activities (games and fun for all)
Story Time (with character appearances)
Morning Yoga with you kids.
Forest Friends (lobby show)
Unlimited Wi-Fi (resort wide)
Fitness Center (open 24/7)
Bonus Tip * If you are staying in a room at Great Wolf Lodge Southern California that has a bigger occupancy than the number of people you have in the room, you can purchase a day pass for friends who might want to come to the water park for the day. So if you are staying in a room that sleeps 6 and you have a family of 4, you can purchase 2 days passes for the Water Park
4) A Bunch of Activities on top of the incredible Water Park
So, if you are water parked out, and need a little break, there is a ton of other activities to do at Great Wolf Lodge, Southern California.
Howl at the Moon (mini golf),
Ten Paw Alley (bowling),
Northern Lights Arcade
Howly Wood XD Theater – which is a 4-d interactive theater where you earn points as you go. My kids played the alien game and loved it.
Scoops Kid Spa (this one was my daughter's favorite as she got her toes done and had a blast.
* These activities do cost extra, but Great Wolf Lodge does sell some packages to make them more affordable.
5 ) Dining options that will satisfy everyone in the family
*all photos courtesy of Great Wolf Lodge
As I mentioned the resort has 7 onsite dining options to keep everyone in the family well fed. They range from signature dining at Lodge Wood Fired Grill, to buffet style family meals at Loose Moose Family Kitchen, down to grab n go pizza, sandwiches, and pasta at Hungry as a Wolf (pictured above) and even a Dunkin' Donuts for an all-day stop for coffee and baked goods.
*I recommend the Gazpacho & Agave Pineapple Ginger Margarita at Grizzly Jacks and dinner at the Lodge Wood Fired Grill if you are looking for healthier, organic and locally sourced options!!
Plus, two casual fare options including a bar & grill located inside the water-park and a dessert shop whipping up lodge-made fudge, ice cream, baked pastries, and treats!! **Don't miss out on the Tipping Bucket Sundae available at Buckets inside the water park… a big hit with the munchkins!!!

*I have also heard that they are excellent at helping those with allergies and sensitivities enjoy their meals as well.
6) Magiquest – Interactive Magic Wands
So, when we arrived at Great Wolf Lodge Southern California, we saw all these kids running around with wands and we really had no idea what was going on. It turns out that the entire resort is completely interactive with some Magic Wands you can purchase at their Magiquest store. The Magiquest is a live action role game that the kids can play throughout the hotel, they will light up different things in the hotel, make things magically move or shake, or blow smoke. It was a pretty fun experience although this is more suited for kids ages 7 and up I would say, so if you have little ones, have no fears, check out #7
7) Interactive Animals from Great Wolf Lodge Creation Station
If you have little ones who want the fun of the magic wands but the game seems a bit too complicated for them. You can get an interactive stuffed animal from their creation station where your kids can build the animal of their choice. The animal has similar powers to the magic wands and there are special games just for the little ones throughout the hotel that they can play with their stuffed animals. Plus, the stuffed animals (like the wands) will make things light up and move around inside your room if you got the kids cabin or wolf den room. (Have no fear parents the system does turn off at night so you will be able to get some much-needed rest)
*Bonus, the animals are great for snuggling on the way home from a fun vacation.

2 tips you might not know about Great Wolf Lodge Southern California
1) Eco-Friendly and Not Very Chlorine Smelling Water Park -Project Green Wolf
My least favorite part of an indoor water park is the overwhelming smell of chlorine that hits you as soon as you walk into the water park. I can feel my eyes burning just thinking about it. Well, with Great Wolf Lodge, they have a proprietary filtering system that makes it nearly impossible to smell any whiff of chlorine. It is pretty incredible. We have gone numerous times, and not once have we had red-eyes from the water, it's a really nice feature.
Plus, on top of that, the water park is super eco-friendly. In fact, their massive water park runs on just 565,000 gallons of water. That is less than one Olympic sized swimming pool thanks to their water re-circulation process as detailed below.
2) Special Holiday Events + Close to Disneyland
If you are heading to the Great Wolf Lodge in October and December you can enjoy some super fun special themed events at the lodge. In October is Howl-o-ween at the lodge, where the characters are dressed up, there is trick or treat trail, spooktacular story time, and a Howl-o-ween dance party. In December, your kids will love snow land, with a life-size gingerbread house, visits from Santa, the kids can graduate from North Pole University. It is truly a lot of fun.
And if you are craving a little Disney Magic, Great Wolf Lodge Southern California is just a few miles from Disneyland. We think it is the perfect way to go to Disneyland because there are days you can stay back and enjoy the waterpark and other days you can head off to the happiest place on earth in just a couple minutes.
Heading to Great Wolf Lodge? Check out My Top 10 things to do in Anaheim, besides Disneyland Article
You may also want to check out Trekaroo's Tips for Staying at Great Wolf Lodge here.
Pin for Later-
Have you visited a Great Wolf Lodge Resort before?? Tell me all about it in the comments below.
*A special thanks to Great Wolf Lodge for hosting us. As always my thoughts and opinions are 100% my own.