"This is a post in partnership with Expedia.com. All thoughts are my own."
Iconic tourist attractions, incredible food, and fun for every age- Seattle is packed with plenty of options for travelers of every type including us Starbuck's latte lovin folk. One of the best parts? It is all located around the Seattle Marina making it super easy to knock out a big list within a few days. Below are my suggestions for the best things to do and see + tips on where to stay and the best places to eat.
Seattle Marina- 8 Amazing Things To Do With or Without Kids in Tow
1 Pike Place Market
You cannot visit Seattle and not head down to the marina to visit the popular Pike Place Market. I know it is on every list but it really is for good reason there are unique shops, the most delicious fresh fruit (the peaches are to die for), tons of delicious food stalls and restaurants, lots of photo opportunities, and interesting street performers. It also has an incredible history. The market was established back in 1907 and it has been bringing people and local farmers together ever since.
Some "Must Sees" in the Market
Snap a fun photo in front of the quirky Post Alley Gum Wall (located on Lower Post Alley by the Theater Box Office)

Watch the Fishmongers at the Pike Place Fish Market in action (see below)

Pop a quarter into the Pike Place Market Mascot Rachel the Piggy Bank (a 550 lb bronze sculpture)

Soak Up the views at the rooftop garden- Pike Place Urban Garden (gorgeous views of Elliot Bay)

Get a behind the scenes look by watching the "Donut Robot" at the Daily Dozen Doughnut Company or by peering into the windows at Beecher's Handmade Cheese
Flying Fish in Action (see below or you can view the video here)
You can get to Pike Place Market easily by foot, public transportation or car/ uber. You can find tips on transportation options here.
2 Waterfront Park
The Waterfront Park is another must when visiting the Seattle. Here you can find a host of family-friendly activities like the Seattle Great Wheel, the Aquarium, and the vintage indoor carousel plus tons of eats and treats.
The Seattle Great Wheel is a great way to soak up the beautiful views of West Seattle and Puget Sound. If you are feeling fancy you can opt for the VIP gondola which has four leather seats, a stereo system, and a glass floor. It's pretty awesome!
Seattle has an incredible Aquarium that is home to some incredible sea animals like moon jellies, octopus, otters, salmon, and seahorse. Kids will love the hands-on tidepool exhibit that allows them to touch sea stars and anemones. You also won't want to miss their Window on Washington Waters show which takes place in a massive 120,000-gallon tank. Here divers wear special masks which allow them to answer audience questions. The Seattle Aquarium is also an excellent spot to escape the rain.
3 Columbia Center Sky View Observatory
I am a sucker for views and so I am always scouting out the best spot to soak up a destination. The Columbia Center Sky View Observatory is definitely a feast for the eyes.
Standing at 902' the Skyview Observatory is the tallest building in Seattle and it's viewing allows you a 360-degree view of all of Seattle including Mt. Rainier, Bellevue, Cascade Mountains, Safeco Field and the Space Needle. If it's clear enough you may even get a glimpse of Canada.
You can save a few bucks by ordering your tickets online.
4 Seattle Center
The Seattle Center is a sort of one stop shop with museums, fountains, art displays, delicious food, and gardens.
If you love unique art exhibits you won't want to miss Chihuly Garden and Glass where you can view vibrant glass art displays from David Chihuly displayed alongside gorgeous greenery.
Have kids in tow? No problem the Children's Museum will keep them entertained for hours.
You also won't want to miss the KEXP Radio Building with revolving coffee roasters and a spot where kids can see and interact with DJs in action.
5 Seattle Space Needle
I told you I am a sucker for views, the truth is I also love checking off some of those iconic attractions off my bucket list and so to me no visit to Seattle would be complete without visiting the Space Needle.
New this summer (2018) the Observation Deck now features floor to ceiling windows and the world's first rotating glass floor.
source
I highly recommend opting for the ticket that allows you to view the Seattle skyline both during the day and again (even separately) at night. The views are completely different and each has its own unique beauty. Last time I checked you can score this ticket plus tickets to several other awesome attractions and skip the queue lines by purchasing a Seattle CityPASS.
6 Original Starbucks and/ or Starbucks Reserve Roastery & Tasting Room
If you are a coffee lover like me you might enjoy stopping by the very first Starbucks that opened in 1971 located at 102 Pike St. at the corner of Pike Place Market. It is at least worth a photo with the Starbucks Mermaid logo- it is the only store in the US that bears the mermaid.
If you really love coffee you might also enjoy visiting the Starbucks Reserve Roastery where you can watch master roasters at their craft as they roast and package rare, small-lot Starbucks Reserve Coffees to be shipped worldwide.
Here you can also taste some of these unique coffee flavors and sample some of their delicious concoctions. My recommendation is the Cold Brew Malt, an ultra-thick milkshake made with small-lot cold brew, a locally made vanilla ice cream and barrel-aged bourbon bitters. YUM!! The Roastery is located near the Seattle Marina about nine blocks from the Pike Place Market.
*I also liked this post from Stuffed Suitcase about visiting the First Starbuck's in Seattle.
7 Hop on Bikes and Head to the Olympic Sculpture Park
One of my favorite ways to enjoy a new destination is by bike. Luckily, Seattle is home to several different bike share companies so it is super easy to hop on one of them and go.
A fun public park you can easily bike to is the Olympic Sculpture Park. This gorgeous park features some incredible giant art displays and it is conveniently located on the waterfront of the Seattle Marina.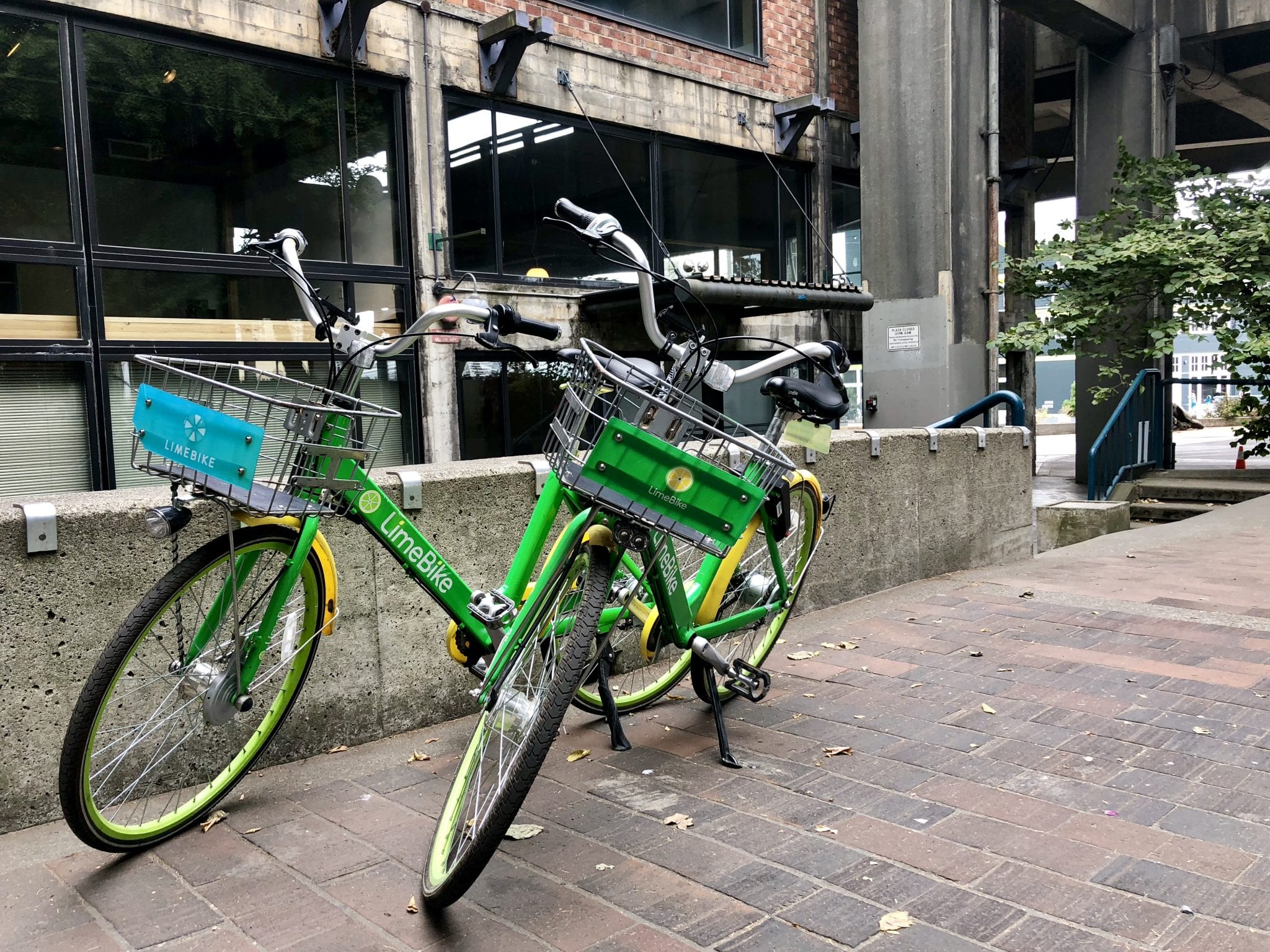 This is a wonderful place to take Instagram-worthy photos. Or if you are interested in learning about the park's sculptures, landscape design and information about the site's history there are FREE daily tours as well. You can get more info about the tours including times here.
8 Ride the Ducks
Did you know amphibious cars were a real thing? I sure didn't until I experienced a similar tour in Washington D.C. a few years back. In our experience, the Ducks are a super fun way for kids of all ages to explore a city.
In Seattle, the odd-looking vehicles take you from the historic Pioneer Square to the quirky Fremont area feeding you with fun facts and jokes along the way. Your tour finishes with a splash into Lake Union. It's definitely a unique experience.
Where to Stay near the Seattle Marina
With so many attractions located around the marina, you will want to stay nearby. Here are some of my recommendations. For more hotels in Seattle, visit Expedia.com.
Paramount Hotel- located near the Convention Center and Paramount Theater and home of the award-winning Dragonfish Asian Cafe..
Motif Seattle- this hotel screams Seattle with art, music, fashion and good food.
Pan Pacific Hotel- 5-star luxury with a great location.
Renaissance Seattle Hotel- conveniently located the stylish hotel with excellent service.
Best Places to Eat in & around the Seattle Marina
One thing Seattle is not lacking on is delicious food. There are so many amazing restaurants located downtown that the most difficult choice is deciding which one to eat at. In case you are overwhelmed by all of the great options here are a few of my favorites.
Pike Place Chowder- touted as the #1 chowder in America and Seattle's Best too! They serve up 8 varieties daily but you will want to arrive early, as you see in the photo below the secret is out!
Red Mill Burger- a Seattle native and good friend recommended Red Mill Burger. It was also listed as one of the Oprah Show's "one of the 20 hamburgers you must eat before you die!" Don't love burgers? Try their Chicken Sandwiches or the Blueberry Milkshake- it's amazing!
Mama Melina- okay, this one is located outside of the downtown Seattle area but only by a few minutes and it is where I had the best salmon I've ever eaten so I think it is worth a mention.
La Isla- for Puerto Rican food and the best mojitos! They also have a great Happy Hour with half-off appetizers (perfect for kids to eat too!).
Cupcake Royale- looking for a unique tasty treat? Cupcake Royale has a Lavender Cupcake that will make your taste buds dance. It was voted "Top 10 Cupcakes in the US" by MSN.com. They also offer noteworthy gluten-free varieties.
Have you visited Seattle? Did you enjoy the marina?
*Disclaimer- this is a sponsored post in partnership with Expedia. All thoughts are my own.
You may also like the following article from my friend at We3Travel
Latest posts by Mama Munchkin
(see all)