Have you ever wondered if ziplining was right for your family? If your kids would be safe strapped in high above cliffs and mountainsides? If your mama heart can take it?
I know those are the things that ran through my head the first time we let the kids zip in Costa Rica. After ziplining with Skyline Eco-Adventures in Maui on our recent trip I can tell you its AWESOME, SAFE and you will LOVE IT! The Haleakala Tour is for ages 8+ and I think it is the PERFECT tour for first timers. Here's why:
Why Skyline Eco-Adventures Haleakala Tour is Perfect for Beginners

Experience
One thing is certain- Skyline Eco-Adventures has tons of experience under their belt. The Haleakala lines were the very first zipline course in the U.S.!
Short Zips
Let's face it… the shorter amount of time your child is in the air (at least the first time around) the better right? Then you will appreciate the 4 short lines that work you up to the last line which is a bit longer and has a pendulum (back and forth) type ride.
Don't Have to Learn to Break Yourself
This is HUGE!!! My kids in Costa Rica wore gloves and had to slow themselves down and break themselves. It was frightening and dangerous looking back. Skyline Eco-Adventures takes all the stress out of it. Their amazing guides safely slow you down and break you so all you have to do is enjoy the ride. Adults too!
Safety
Most importantly Skyline-Eco Adventures is incredibly safe. They have safely conducted over 2,000,000 guest zipline crossings since 2002. They use top notch equipment that is checked regularly internally and by third parties. They also have a rigorous training that every guide must go through to ensure all of their guests enjoy ziplining in a safe environment.
Fun Swinging Bridge
Whats cooler than crossing a bridge that looks like something out of an Indiana Jones movie? Its super awesome!!! You are strapped onto a cable so you can safely walk across although it still gives you the freedom to feel like you are doing it on your own. Your kids will love it!!
Great Guides
Guides can make or break a tour- trust me I have been on enough tours to know. Matt and Kalani were F.A.N.T.A.S.T.I.C.!!! Not only were they super well informed, kept everyone incredibly safe but they also educated us (more below) AND had us laughing the entire tour. They were also really great with the kids. They were patient, answered all of their million questions and when Shea got scared they calmly reassured him and he went on happily afterwards.
Educational & Eco Friendly
To top off their fantastic service, hilarious guides and gorgeous setting Skyline Eco-Adventures is also a "carbon neutral" company and they are eco-friendly. Plus, throughout the tour the guides educate you on the local flora and fauna as well as endangered local birds. I had no idea that Maui only had 10% of their native forests left. I also wasn't aware that Eucalyptus trees were brought over from Austrailia or that the Nene (local Hawaiian Goose) was endangered. Love when you can learn while having fun!!!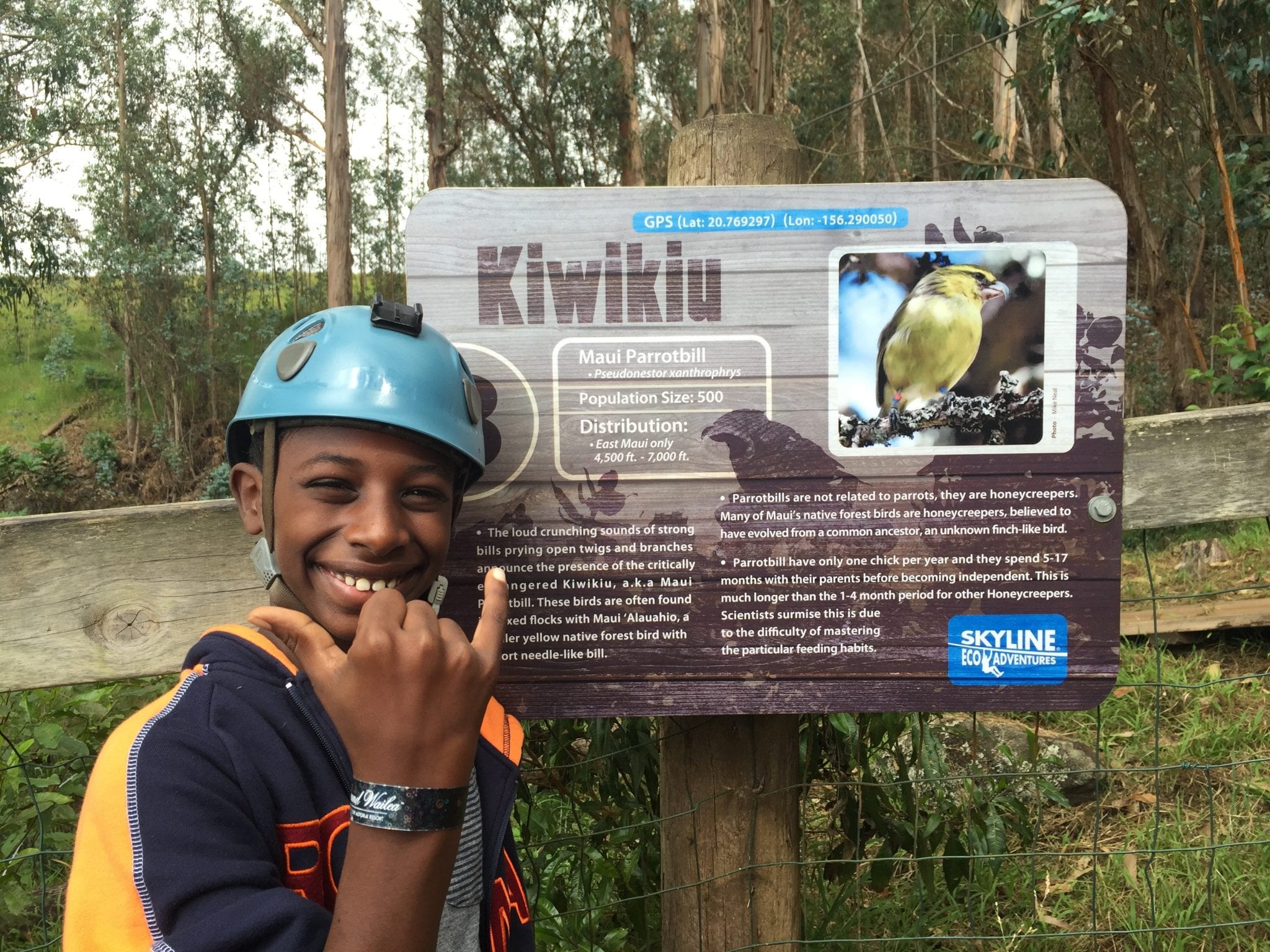 Overall
Overall I think that the Haleakala Tour from Skyline Eco-Adventures is an amazing tour for beginners. It would also be the perfect tour for a family (kids 8+ and 60lbs+ can zip). I know that my kids thought it was absolutely amazing. They especially loved the pendulum zip at the end where you zip back and forth a few times. As for me I enjoy something a little more advanced. I'm a thrill-seeker I guess? Crazy how you change because the first time I zipped I was scared to death the entire time for my life and my kids- ha!!
Want to learn more about Skyline Eco-Adventures visit their
Pin it for later
 
Have you gone ziplining before? Where did you go?
Have questions?? Leave me a comment
*Special Thanks to Skyline Eco-Adventures for hosting the munchkins. My opinion is, as always, my own.
Latest posts by Mama Munchkin
(see all)