I remember in 2000, I was lucky enough to be able to go to the Super Bowl in Atlanta. A few days before we went to the big game, we got tickets to this thing called the NFL Experience. We had no idea what it was, but it turned out to be an incredible event, that now 20 years later, I have found myself taking my boys every year for the past 6 years. While we never actually have tickets to the Super Bowl, we have created some amazing memories that my kids are sure to remember for a lifetime. If you are in the area, or planning a fun sports trip with the kids, I highly recommend the NFL Experience in Miami (now called Super Bowl Experience).
What happens at the NFL Experience
Compete in Real NFL Drills
The NFL Experience is a pretty unique event where kids and adults get to act like NFL athletes. You get to do all the fun drills that NFL athletes get to do including events like the:
40 yard dash
Vertical & Horizontal leap
Agility drills
Passing drills
Sled Push
Field Goal Kick
Punting and more.
There are over 15 different events you can take part in. Each year my boys and I love to compete at the different stations. Dad has slowly started to lose at more and more of the competitions but is planning on making a comeback this year. Our personal favorite competitions are the field goal kick where you get to kick a 30-yard field goal and the 40-yard dash.
Sometimes NFL athletes will be at these different stations, so your kid can play with them. My kids have run routes for Teddy Bridgewater, received handoffs from Amari Cooper, caught passes from Kyle Rudolph.
Check the daily program to see where the athletes will be and arrive 30-45 minutes before they get there.
NFL Play60 Area
The NFL Play60 Area is geared towards younger kids. My kids have aged out of this area but used to have so much fun. It is many of the same drills just geared towards a younger audience. The best feature of the NFL Play60 is there is a full field where kids get to drills with trainers and if lucky participate in some with NFL stars.
My kids have caught passes from Troy Aikman, played on the same team as Atlanta Falcon's receiver Mohammed Sanu. It is a really neat event and great for kids ages 3-11
Autograph Sessions from NFL Stars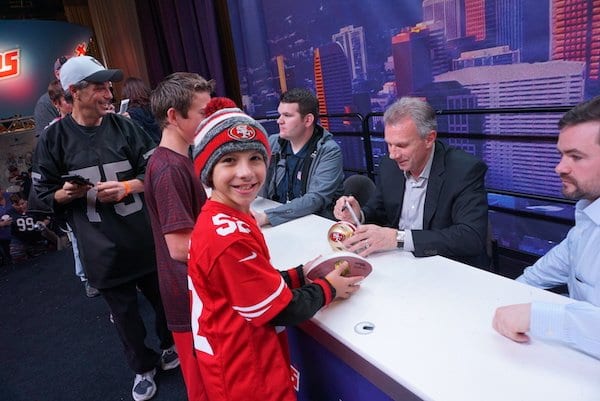 Another highlight is the autograph stations at the Super Bowl Experience. There are several different autograph areas where players will sign autographs and take pictures. Each player does have different things they are allowed to sign and do, some players can only sign a photo they provide, some players will sign anything, some will take pictures with you and others will not, it really depends.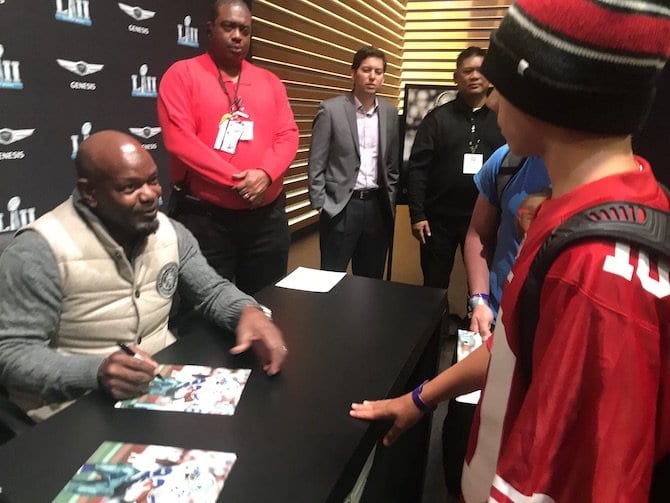 You will be amazed by the athletes that show up for this event to sign autographs. We have met Joes Montana, as a lifelong Niners fan, that was big deal. Also, some of our favorites were Todd Gurley (incredibly nice), Barry Sanders, Emmitt Smith, Eric Dickerson (he actually let our kids put on his Hall of Fame Ring) Jason Witten and Terrell Davis.
Other NFL Star Interactions
Not only can you interact with NFL Players on the field and at autograph sessions, but there are also often times where you can attend a q&a session with NFL Players. We had a very entertaining conversation with NY Giants Wide Receiver Victor Cruz along with a referee about topics such as the catch rule and celebration rules. Another memorable Q&A was with Rob Gronkowski who claimed he would retire when Brady does (clearly he lied).
Take a Picture with the Lombardi Trophy & More!
Another fun interactive element you can do at the NFL Experience is taking a picture with the Lombardi Trophy, check out every year's championship rings. Enjoy player locker rooms, experience a virtual reality game sequence and so much more.
Your kids will also love the free snacks and food they can get at the different booths throughout the event. We probably found ourselves hitting up the snickers and skittle booth way too many times.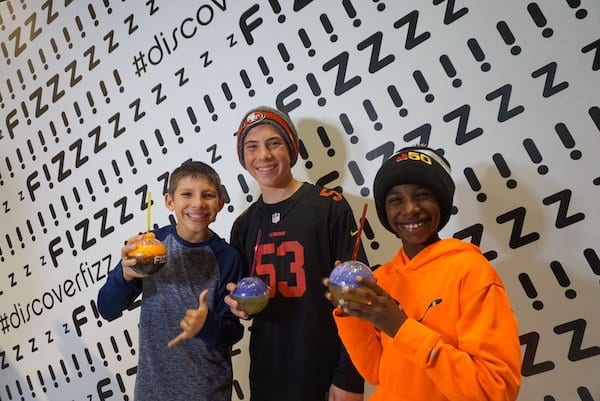 Shop at the Super Bowl Store!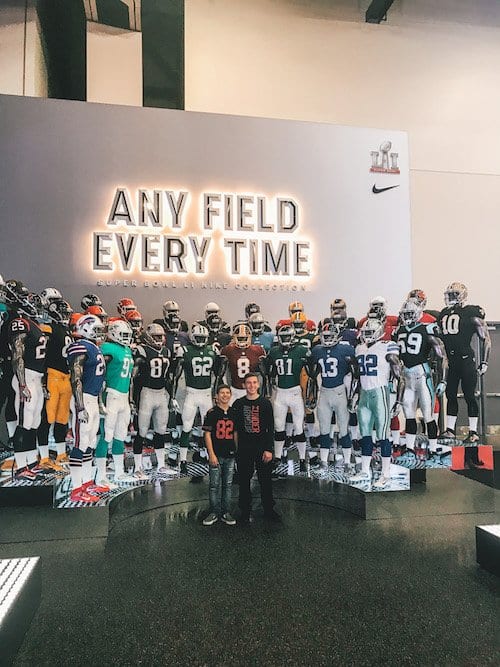 The largest Super Bowl store is located next to the NFL Experience, this is the only area that allows in and out privileges into the NFL Experience. You can grab pretty much any Super Bowl Item you are looking for from t-shirts, sweatshirts, jerseys, socks, pens, memorabilia and more.
How much does it cost?
The NFL Experience in Miami costs $20 and is FREE for kids under the age of 12. If you want to skip the lines, and they do get long, especially the weekend before the big game, get the SBXTRA ticket. It is $60, and enables you unlimited front of the line access to all the NFL drills, one front of the line for the autograph stage and one front of the line for the Lombardi trophy picture.
You can get tickets at Ticketmaster and if the Front of the Line Tickets are sold out you might be able to finds them on Stubhub.
Pro Tips/ Things you should know
No Outside Food or Drinks – The NFL Experience does not allow any outside food or drinks, so leave your snacks back at home or the hotel room. They do a very thorough bag check. The food inside isn't too glorious, so have a nice meal before you arrive.
Arrive Early
This place gets very busy (especially on the weekends) if you get in right when they open, do as many activities as possible. The field goal kick and the 40-yard dash tend to get the longest lines.
Autograph Signing Tricks
Many players sign autographs at particular booths which might have you get a ticket to get access to the autograph line later in the day. If you see a player signing at a booth sponsored by a company, stop by that booth early in the day to see if you need to do something to get an autograph.
Choose a couple players you truly want to see and take some extra time to wait for them. Rather than scrambling around to get as many autographs, find the players you and your kids truly love. There is a decent amount so take your pick and go for it.
No In & Out Privileges
Once you leave the NFL Experience you can not get back in, so I recommend you go at a time where you know you will have the most amount of time to enjoy the event.
Get the XTRA Pass if you visit on Friday & Saturday
If you have the means, the XTRA pass is so worth it. You can accomplish every single event plus get some incredible autographs in one day. Otherwise, the lines on the weekend before the Super Bowl are pretty long, so be prepared for some waits.
Overall
Overall, the NFL's Super Bowl Experience is something your kids will remember for a lifetime. Meeting players they watch on TV every Sunday and getting to do some pro-style drills creates such a lasting memory. I highly recommend checking out the NFL Experience in Miami, it is definitely worth the visit. You can find out more about all the events and activities at the Super Bowl Experience Here!
If you have any questions about the NFL Experience feel free to leave a comment below or send us a message on Instagram
You Might Also Enjoy:
20 Incredible Spring Break Ideas for Families in 2020 [Luxury & Affordable]
30 Things To Do In San Francisco with Kids + 5 Absolute Musts