Hawaii is a destination my munchkins always look forward to. It is the perfect place for families to relax, bond and play together. We have visited Maui, Oahu, and Kona many times but this will be our first visit to the island of Kauai. I thought I would share some of the top things to do in Kauai with Kids!
Top 10 Amazingly Fun Things to do in Kauai with Kids!

Koloa Zipline – Our favorite Kauai with Kids Activity
One of our favorite things to do in Kauai with kids is zipline. I am not typically the adrenaline junkie type and I totally freaked out the first time I saw my kids not only strapped on a zip line but doing it upside down. However, I too have grown to love the amazing feeling of soaring above some of the most beautiful scenery in the world. Kauai may very well be the most beautiful place on Earth so this one is at the tip-top of our list. Koloa Zipline is by far the best zip line we have ever done!
Before we booked I have heard wonderful things about Koloa Zipline from personal friends. Judging by their 5 star Tripadvisor Rating I'm guessing we are in for a real treat! They offer snacks and juice after the 4th line, that the guides are hilarious and that you see some amazing scenery where both Jurassic Park and Jurassic World were filmed. My kids got a kick out of that!! They also have the island's longest zip line (1/2 a mile long)!!
To book a tour and get the best prices I recommend Tripadvisor's website
Aulii Luau
I love a good luau and I am seriously considering checking this one out as I hear they are the only ocean front luau in Kauai. Their website description sounds enchanting-
"Experience new and tempting tastes of Polynesia while you behold the hula dancers of award-winning Urahutia as they bring to life the storied past of old Hawaii. Thrill as the pahu drums throb to the pulse of the surf only yards away as the Aulii's Fire-Knife Dancers take the stage and electrify the night with their whirling torches, as you sip a delicious cocktail and savor the finale and say to yourself, "This is why I came to the Islands."
Check out more info here
Kauai Tubing
Another adventure we loved is the Kauai Backcountry Adventure Tubing Tour. This looks absolutely amazing and is available for children 5+. The tour starts in a 4wd vehicle that takes you to the launch site. There you grab a tube and a headlamp and hop in the gently flowing waters. You will witness Kauai's spectacular, historical engineering feats as you float down the open canals, through several amazing tunnels and flumes engineered and hand dug circa 1870. Pretty awesome right?
Book a tour here
Waimea Canyon
Mark Twain called this canyon "the Grand Canyon of the Pacific" and although he never visited Hawaii many would agree with his statement. The canyon is the largest in the Pacific, at over 10 miles long, 1 mile wide and 3500ft deep. I have read that it is relatively easy to get to by car. There are various trails from novice to experienced hikes. The pictures all look absolutely stunning. I am thinking of packing a picnic lunch and trying out one of the more mellow hikes with the kids.
You can find more info here
[bctt tweet="Top 10 Things to do in Kauai with kids to have the best vacation ever!!!"]
Hang Out at Poipu Beach Park
We stayed at the Villas at Poipu Kai so we definitely hit up this amazing beach during our stay. The water was beautiful and warm. The beach can get quite busy as well. Monk seals can be seen here and the snorkeling is great as well. This beach is great for kids as there are clean bathrooms which is always fantastic news. The views are absolutely breathtaking
More info here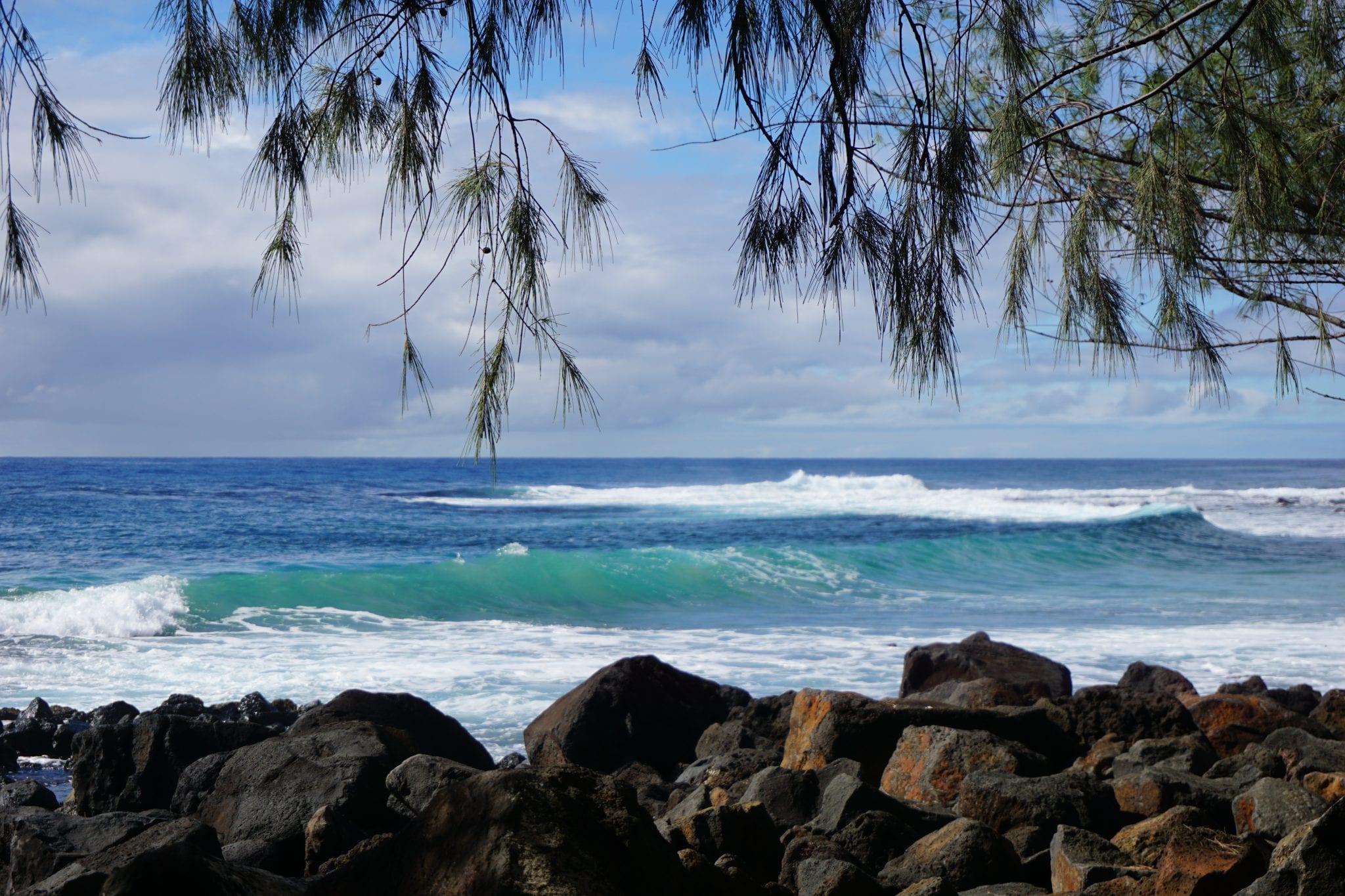 JOIN US ON

FACEBOOK

TO POST QUESTIONS AND GET ANSWERS FAST!
Visit Kilauea Point National Wildlife Refuge
I love educating our kids while we are traveling to different destinations. Learning becomes so much more concrete when it is experienced versus read about in a book.
This refuge is said to be home to some endangered bird species and for the $5 admission fee it definitely is worth a visit. Besides the endangered bird species, you might also catch glimpses of sea lions, spinner dolphins and sea turtles too. They have tours hourly and offer free binoculars to use which is one less thing for me to pack 😉 It is located on the north shore and you can also tour the lighthouse while you are there.
Get more info here
Visit the Spouting Horn
One of our kids surprisingly favorite thing to do in Kauai is the spouting horn. The spouting horn is a natural blowhole located on the south side of the island. The Poipu surf funnels into a natural lava tube here and releases a huge spout of water during large swells. The hissing noise that occurs has been said to be the Kaikapu lizard who guards the coastline (according to ancient Hawaiian legend).
Visit Secret Beach
What is it about the word "Secret"? It immediately makes this beach irresistible to me. The Hawaiian's call this beach- Kauapea and it is supposed to be less crowded (I assume do to the fact you have to hike down to the beach) and the views are supposed to be splendid. I hear there are some lava pools which would make for another great teaching moment.
Learn more about the "Secret Beach" here

Makauwahi Cave Reserve
Did you know they have caves on Kauai? I didn't but it sounds super interesting. The cave is located near Poipu and is about a 1/2 mile hike. There are tours on Sundays, Wednesdays and Fridays from 10am to 2pm for free. Although, I believe if you tip it goes towards their conservation efforts.
If you want to enter the cave you have to crawl through a small opening but that it is worth the hassle. I know the kids would feel like they did something really cool if we have the chance to visit this site. Although, I'm not loving the fact that it is home to blind cave wolf spiders– that sounds a little freaky to me.
Learn more here
Na Pali Coast State Park
Voted #1 of 51 things to do in Kapaa caught my radar. You can experience all that Na Pali has to offer by helicopter tour, hiking (although it isn't the easiest of trails) or hopping on a boat tour. I am leaning towards the later. Boating is always fun with kids. They are entertained, there is plenty to see and most of the time you get the chance to jump in and swim too!
Check out some tour options here
Don't forget to pin for later-
Have you visited Kauai?
If so, comment with any additional recommendations. I would love to hear 'em!
What are your favorite things to do in Kauai with Kids?
You may also like these great posts about Kauai-
*Disclosure- at times Global Munchkins receives discounted prices or services gratis for purpose of review. However, that does not influence our opinions. All thoughts expressed above are, as always, 100% my own.