I hope you arrived with an appetite! From fresh seafood to fusion fare, I've broken down the best Kauai restaurants. I even divided my list up into different regions of the island so you can find a bite wherever you are.
We're talking everything from cozy beachside cafes that serve up warm fluffy pancakes to fine dining restaurants and beachside shacks. Kauai truly has it all, and I have definitely enjoyed trying all the yummy food so that I could report back to you!
21 Best Kauai Restaurants
North Shore Favorites – Hanalei, Kilauea, and Princeville Restaurants
Kilauea Bakery & Pizza
Kilauea Bakery & Pizza is a local favorite known for its yummy baked goods and mouthwatering pizzas. This charming spot in Kilauea offers a cozy atmosphere where you can savor freshly baked pastries, hearty sandwiches, and creative pizza combinations made with quality ingredients.
The bakery's commitment to using locally sourced products resonates well with visitors who appreciate the authentic flavors.
Healthy Hut Market and Cafe
The Healthy Hut Market and Cafe is a health-conscious hub offering a selection of organic and natural products. With a commitment to sustainable and eco-friendly choices, this spot provides everything from groceries to prepared meals.
I love grabbing a bite from the cafe section where you can find smoothies, salads, and sandwiches.
The Spot North Shore
The Spot is a beloved eatery that offers a mix of healthy and indulgent options. With a focus on fresh ingredients, their menu includes a variety of smoothie bowls, acai creations, sandwiches, and more.
Visitors rave about the vibrant atmosphere and the refreshing dishes that perfectly complement the island vibe.
Kilauea Market + Cafe
Kilauea Market + Cafe is a community-oriented establishment that caters to both locals and visitors seeking a wholesome dining experience. Combining a market and a cafe, it provides an array of fresh produce, gourmet deli items, and ready-to-eat dishes.
I enjoy the convenience of grabbing organic and locally sourced ingredients while also having the option to enjoy made-to-order sandwiches, salads, and more at the cafe.
---
Eastside Eateries – Wailua and Kapaa Restaurants
Sam's Ocean View
Sam's Ocean View offers a picturesque dining experience with oceanfront views and a menu featuring fresh seafood and Hawaiian-inspired dishes, creating a memorable and scenic dining atmosphere.
My husband and I don't drink much, but the cocktails at Sam's are truly great!
Kauai Juice
Kauai Juice specializes in cold-pressed, organic juices and smoothies made from locally sourced ingredients, catering to health-conscious customers looking for refreshing and nutritious options.
Island Craves Kauai
Island Craves Kauai is a popular food truck serving donuts, icecream, burgers and pizza. A wild combination but I am not complaining about it! I recommend sticking to the sweeter side of the menu here, the donuts are delicious.
Papaya's Natural Foods
Papaya's Natural Foods is a health-focused establishment offering a range of organic groceries, supplements, and a deli with nutritious, made-to-order options for conscious eaters.
Oasis on the Beach
Oasis on the Beach offers beachfront dining with a menu featuring local ingredients, combining traditional Hawaiian flavors with contemporary culinary techniques for a delightful seaside meal.
Lava Lava Beach Club
Lava Lava Beach Club is one of my favorite Kauai restaurants. It has a beachfront dining setting with a blend of island-style cuisine and cocktails, making it a popular destination for relaxed, tropical dining.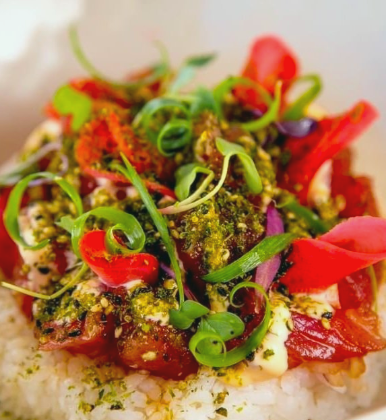 Mamahune's Tiki Bar
Mamahune's is a family-friendly restaurant offering a mix of Hawaiian and American comfort foods, making it a go-to for those looking for hearty, home-style dishes.
Passion Bakery Cafe
Passion Bakery Cafe is a cozy spot known for its baked goods, offering a variety of pastries, sandwiches, and coffee creations. They have many delicious sweet and savory options.
Duke's Kauai
Duke's Kauai provides an oceanfront dining experience with Hawaiian-inspired dishes, a family-friendly atmosphere, and live music, giving visitors a taste of the island's laid-back charm. Their menu has everything from seafood to steaks to burgers.
Split the Hula Pie for dessert, you won't regret it!
Kauai Bakery
Kauai Bakery is a local gem known for its baked treats, offering a variety of bread, pastries, and cakes that are popular among residents and visitors looking for freshly made delights.
---
South Shore Gems – Koloa and Poipu Restaurants
Merrimans
Merriman's offers a sophisticated dining experience with a focus on locally sourced ingredients (over 90% of what they serve is locally grown or caught!), showcasing upscale Hawaiian cuisine in a beautiful setting. It is my top recommendation for those seeking a farm to table eperience.
Their smoked taro hummus is my absolute favorite, and is included on their awesome Happy Hour Menu.
Kickshaws
Kickshaws is a charming eatery known for its creative small plates and handcrafted cocktails, providing a relaxed and trendy atmosphere for patrons who enjoy inventive and shareable dishes. The Awesome Burger is delicious and if you are vegan, you have to try the Jackfruit Sandwich. It is so flavorful.
It's the perfect spot for a casual date night!
Kalaheo Cafe & Coffee
Kalaheo Cafe & Coffee is a local favorite offering a diverse menu of breakfast and lunch items, along with quality coffee.
---
West Side Eats – Waimea and Hanapepe Restaurants
Midnight Bear Breads
Midnight Bear Breads is a bakery specializing in artisanal bread and pastries.
Porky's Kauai
Porky's Kauai is a barbecue joint cherished for its hearty portions of smoked meats and classic sides, catering to those looking for a satisfying, finger-licking barbecue experience.
Ku'ulei's Gourmet
Ku'ulei's Gourmet is a hidden gem offering gourmet takeout with a variety of creative and flavorful dishes.
---
Check Out All of Our Favorites on Yelp!
You Might Also Like:
Best Hawaiian Island for Kids by Age
Ultimate Hawaii Packing List + Printable!
The 5 Best & Gorgeous Airbnb Kauai Hawaii Rentals
Pin for Later – 21 Best Kauai Restaurants for Every Occassion