Despite our kids being avid travelers, I have to admit I was a little apprehensive about traveling to New York with little ones. Luckily, I quickly realized this is one of my favorite cities and we have returned numerous times!
There is an endless amount of things to do in New York with kids, amazing places to stay, and incredible food. New York City should be on every family's bucket list! Read on to plan your trip to New York with kids today using our Ultimate Guide to New York with Kids.
---
Here are the 18 B
est Things to do in New York with kids
*Quick Tip – Grab the New York City Pass – It will provide you with savings on most of the activities listed below!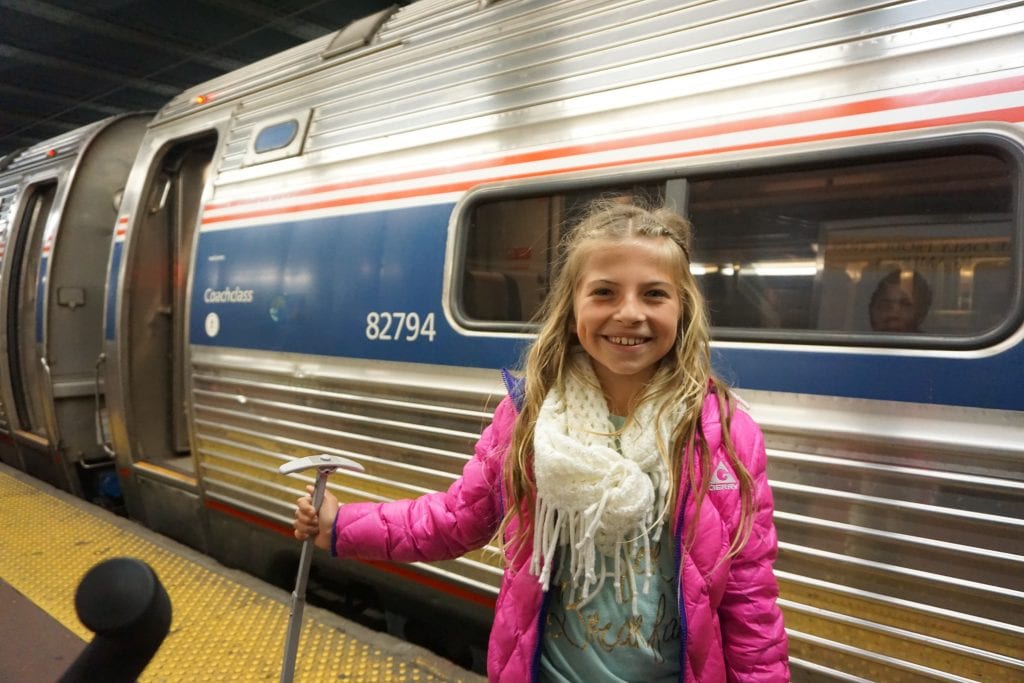 1. The Ride NYC
We have been on our fair share of bus tours throughout the years. HOWEVER… This is NOT your typical bus tour! In fact, it's rather the opposite. I will adamantly proclaim that this is THE BEST BUS TOUR EVER!!!
Picture a tricked-out bus complete with hydraulics, stadium seating, and a ton of gorgeous flat-screen TVs.
With a host that is funny enough to rival the likes of the best late-night television talk show hosts and then pour in some crazy surprise guests.
I'm talking about dancing, singing, laughter, and tears of joy. This is one tour you absolutely CANNOT miss! It was not only the best tour we took in New York… and the BEST BUS TOUR we have EVER taken!!!
---
2. Central Park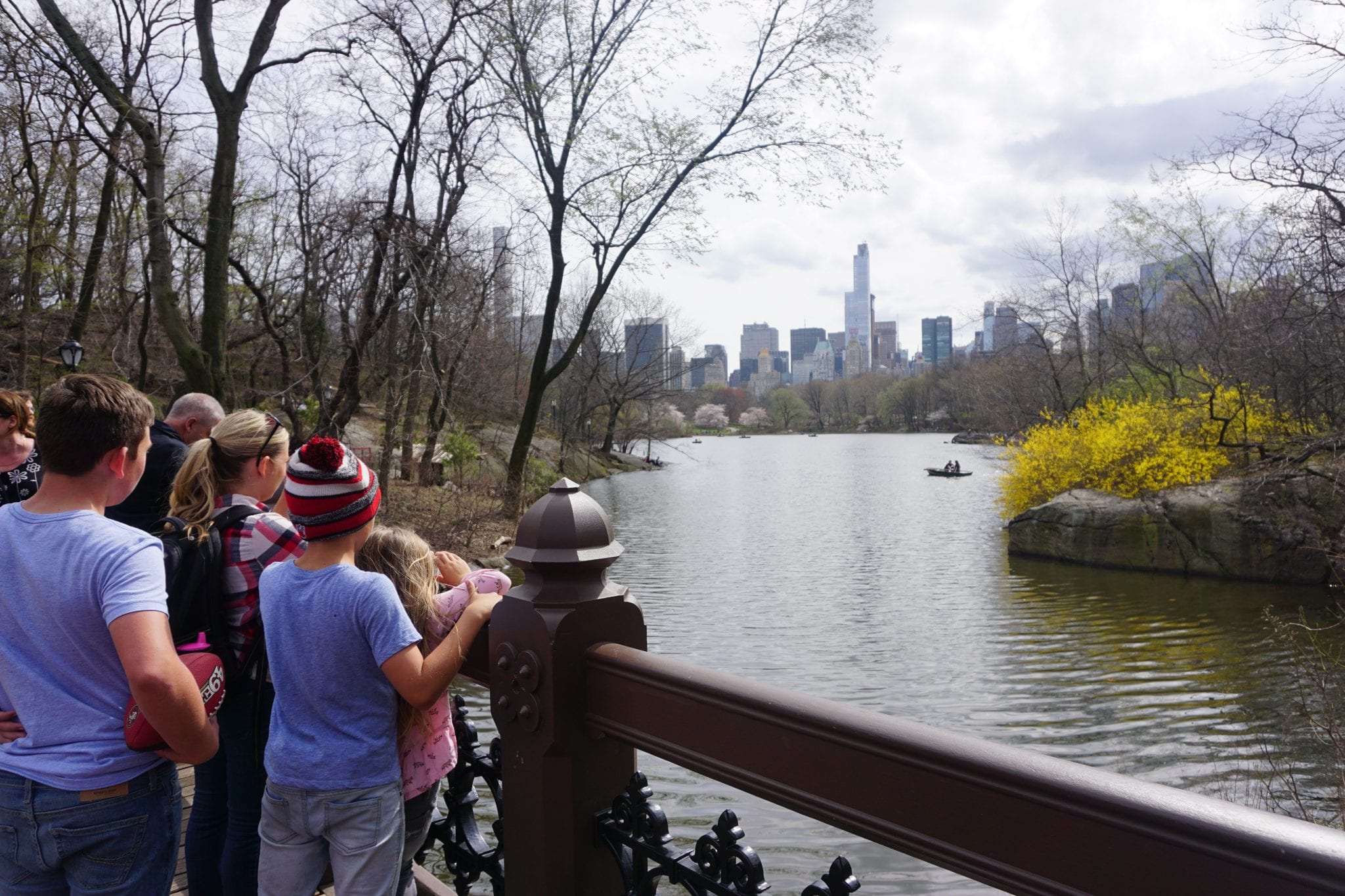 No visit to NYC is complete without a trip to America's first public park. Central Park is one of the most famous and beloved urban parks in the world. Central Park is massive.
Inside you can find a zoo, a conservatory garden, a castle, and a boathouse. There are amazing playgrounds and plenty of room for the kids to run wild. It's also the perfect place to escape the chaos of people, honking taxis, and cars that cover the city day and night.
As wonderful as this park is I think it would be best visited by families during the day. It is completely enormous and was meant for people to literally get lost in it. So… it may not be the best place to be after dark. Find more info on Central Park here.
---
3. 9/11 Memorial & Museum
I wasn't sure how the kids would react to the 9/11 memorials or the museum. The attacks occurred before they were born and even though we have talked to them about it (and they cover it a bit at school), I knew they would have lots of questions.
Standing at the base of where the World Trade Center fell on that tragic day was deeply saddening. To think of all the innocent lives lost, the first responders that never made it out… memories just came flooding back to my mind. I am not going to lie. It was HARD.
The kids could feel the mood and they grew somber. As expected the questions came pouring out. Thankfully the 9/11 museum was right there. What better way to give the kids the answers they needed than by visiting the exhibits?
The kids were able to view the television footage and stand before one of the fire trucks that were mangled and melted on that horrible day. It really helped them understand why all the adults around them were upset. They learned a lot that day and handled it incredibly well.
Olivia our 2-year-old was obviously too young but our four older munchkins range from 8-13 years old and I would totally recommend the museum for that age group.
The 9/11 Museum is part of the CityPass. Get more information on their discount services here.
You can get more information by visiting the museum website here, or if you are so inclined you can also make a donation here.
---
4. Empire State Building
The Empire State Building is world-famous! In fact, Cornell researchers analyzed millions of Flickr photos and concluded that the Empire State Building was the most photographed building in the world back in 2011!
The Empire State Building is located in the center of Midtown Manhattan. Their 86th and 102nd-floor observatories are open to visitors (for a fee) enabling anyone to score incredible 360° views of New York City and beyond.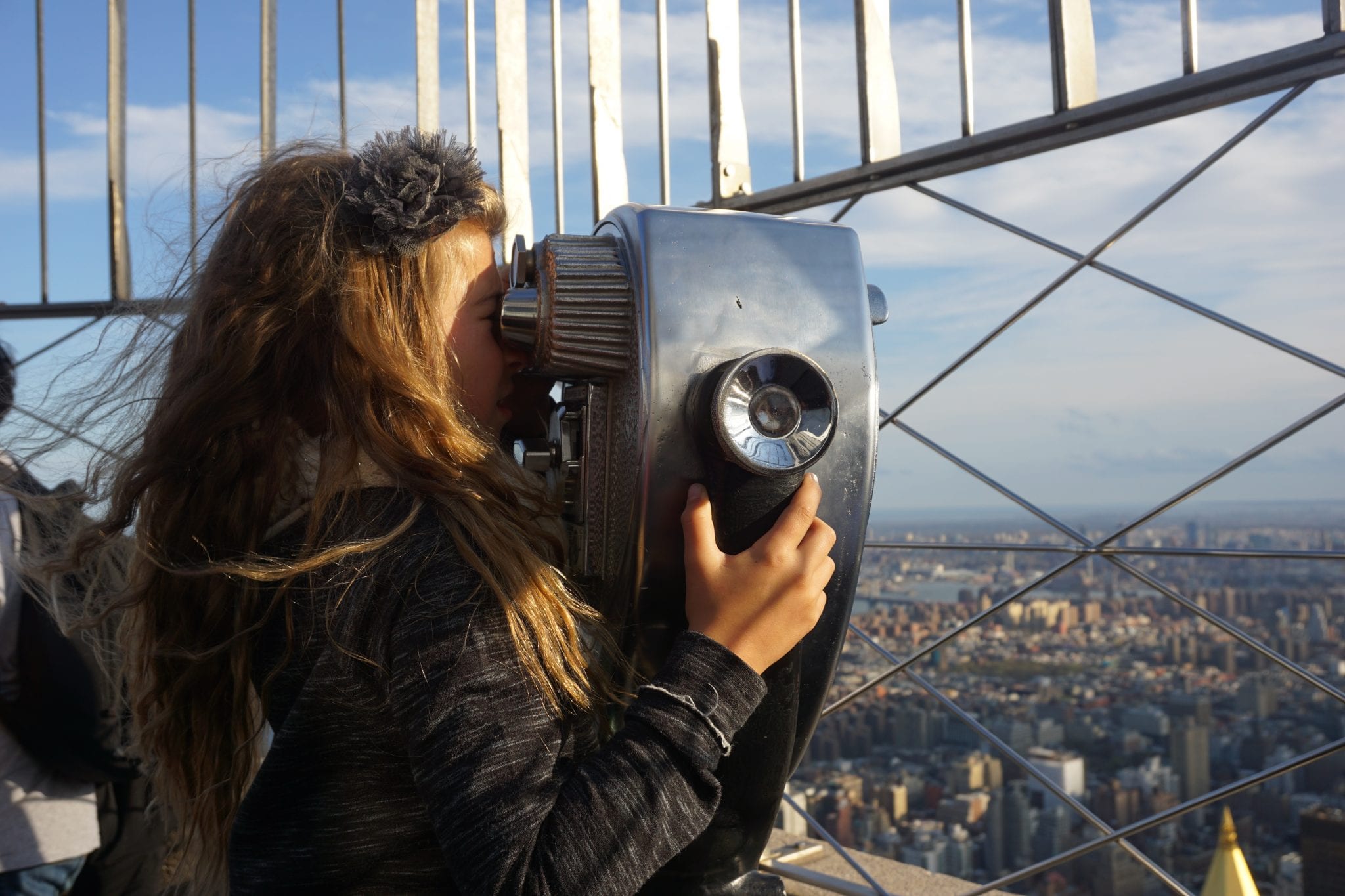 I enjoyed snapping some amazing skyline views of the city and the kids enjoyed taking an elevator up to the 86th floor and looking out. They were able to spot the Brooklyn Bridge, the Statue of Liberty, and more!
We visited late in the afternoon and we didn't have to queue for long. We were able to get our tickets, get up the elevator, and take pictures all within about an hour.
My only complaint is that $26 per kid adds up quickly especially when you have a big family. It might be hard to justify as the kids liked the building but not nearly as much as I did.
Tip- The Empire State Building is also part of the CityPass!
---
5. Rockefeller Center
An incredibly fun family-friendly thing to do in New York with kids is to visit Rockefeller Center. This iconic area of Manhattan is home to many NBC hit shows such as Saturday Night Live, The Today Show, and Jimmy Fallon.
Not to mention the awesome Radio City Music Hall, the rink at Rockefeller, the Channel Gardens, the Top of the Rock Observation Deck, and tons of dining and shopping too!
We enjoyed taking in the sights and strolling around the shops. We walked through the Lego store and were mesmerized by the Lego version of New York City – it's spectacular!
The kids also loved taking turns having their photo taken in the famous red chair from the hit show The Voice at the NBC Studio Store.
The area around Rockefeller is bustling and lively. There are plenty of great shops + places to sit down and eat, grab a coffee, or enjoy a sweet treat. It makes a great stop in the evening as the lights make this area feel somewhat magical!!!
We have visited during the winter and enjoyed the ice skating rink at Rockefeller Center as well. It's an absolute must for the colder months!
---
6. Legoland New York
Legoland New York just opened up and is just an hour outside the heart of the city. We have loved Legoland for years and it is an absolute blast for the kids, especially ages 3-9. There are rides, incredible Lego sculptures, and an entire city built out of Legos.
For Discounted Tickets to Legoland check out ARES Travel, they have the best discount ticket offers.
---
7. Big Bus Hop-On/ Hop-Off Tours
I have mentioned before how much we enjoy Hop-On/ Hop-Off Bus Tours. As per our usual routine the first full day we had in New York we hopped on a Big Bus. The tour took us all around the main sights.
We were able to get a peek at 5th Avenue, the Flat Iron District, The Empire State Building, and more. We rode the bus until we got to the 9/11 Memorial where we hopped off and visited the memorial and the museum (as I mentioned above).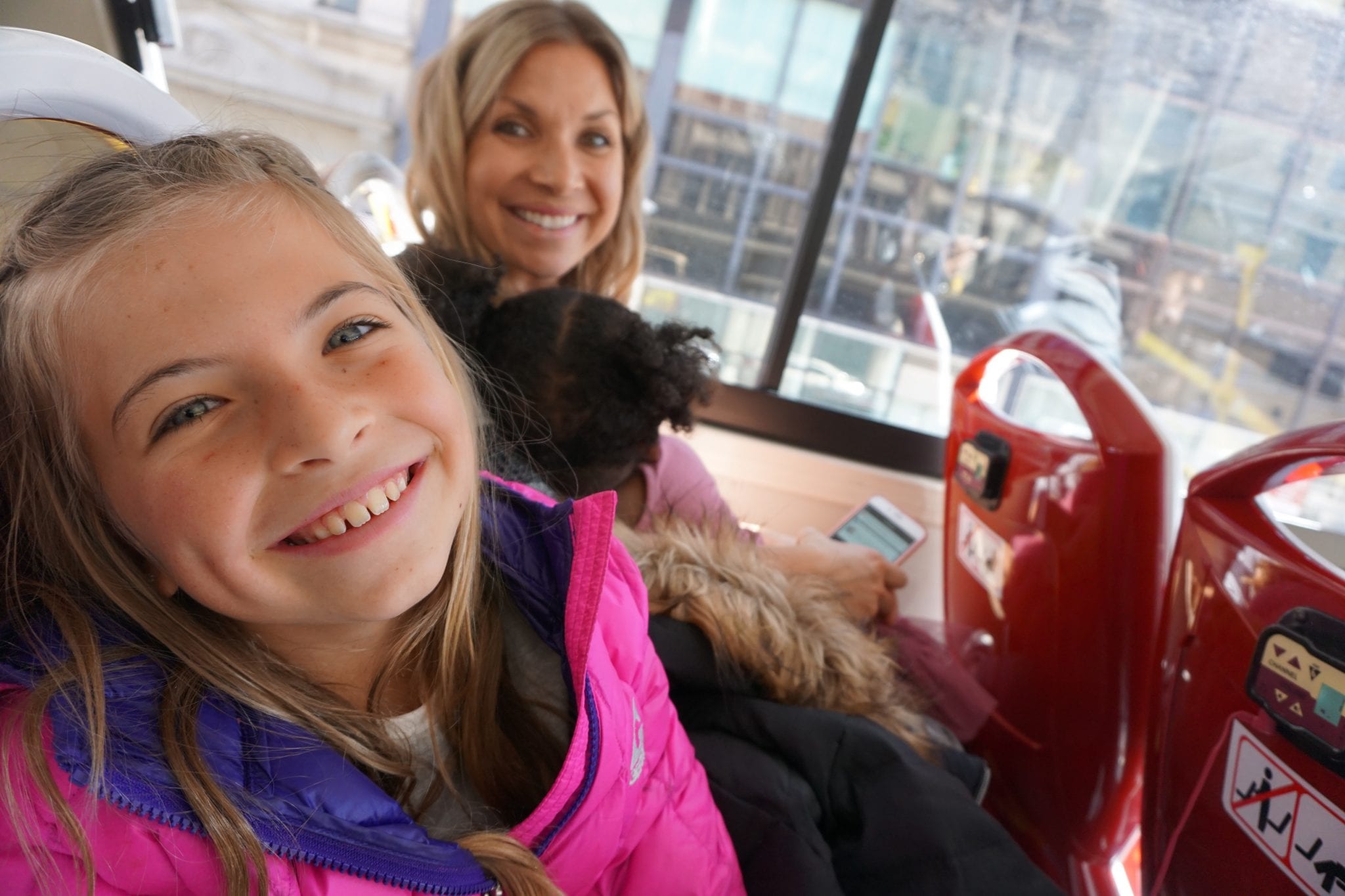 What I love about the Hop On/ Hop Off Bus Tours:
It is relaxing.
It helps us better understand the area and where things are located.
It gives us a chance to learn some fun facts about the area, its history + interesting stories about each of the main tourist sites from the live guide on board.
---
8. Statue of Liberty
A "MUST DO" for first-timers in New York no doubt is getting to see the Statue of Liberty. Now there are many expensive tours offering to take you to see our Lady Liberty. But, you can save a ton of money by skipping the expensive tours and instead of hopping on the FREE Staten Island Ferry.
This was excellent advice as the ferry runs 24 hours a day and drives right past Lady Liberty on its route to Staten Island. You simply take the subway to Bowling Green or South Ferry then hop on the ferry for a free ride across New York Harbor.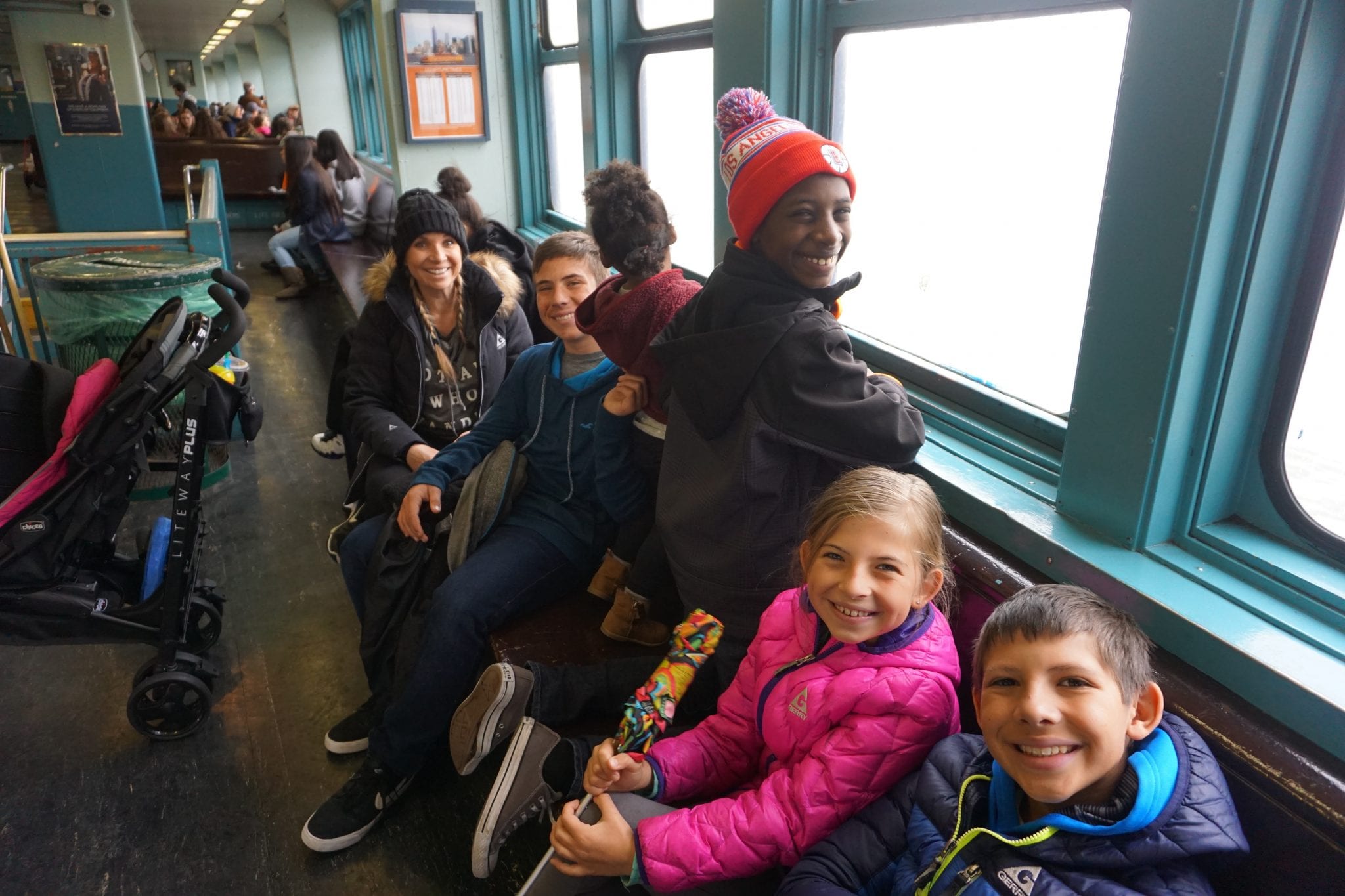 The ferry is massive so there are no long lines or tight spaces. We pushed the stroller right on the boat and Olivia was able to walk around the inside area the whole time. There are views from the inside spaces via large windows or you can opt to walk on the decks for a close-up.
Learn more about the Staten Island Ferry here.
---
9. Madame Tussaud's
Can you believe we have never been to the famous wax museum? It's kind of funny because we run into Madame Tussaud's on many of our travels but it has never made its way into our itinerary until we visited New York.
The kids had a blast taking pictures next to their favorite Hollywood stars (well… their replicas that is) they went back in time and onto movie sets like Wizard of Oz and ET, compared their heights to the likes of Lebron James and more.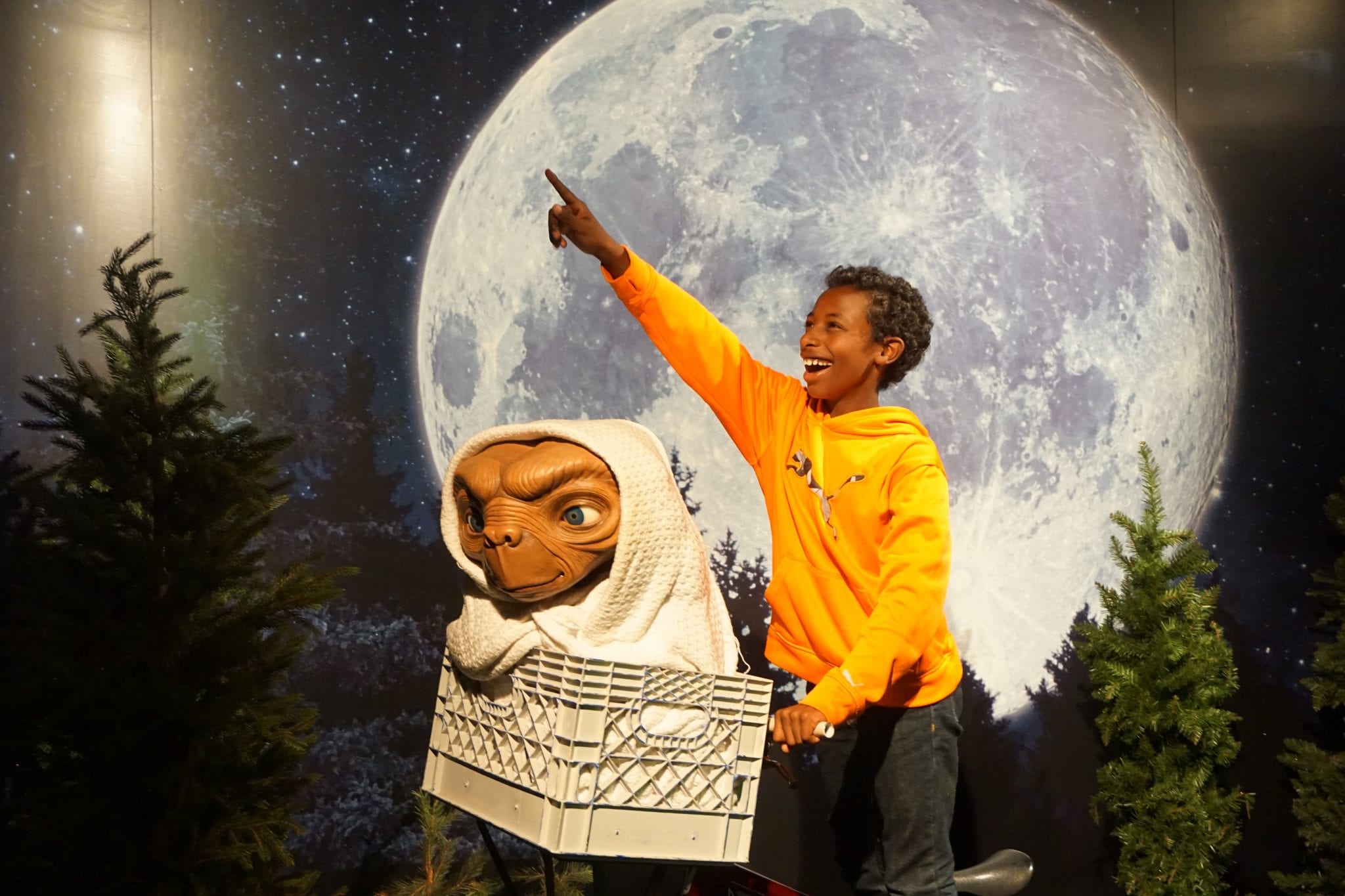 The kid's favorite thing about Madame Tussaud's though was the Marvel area. The figures in that section were by far the kid's favorites. They especially loved the enormous Hulk! After taking photos with their favorites we entered the 4D theater where we enjoyed an awesome Marvel show- with a few added thrills I might add 😉
We spent way more time in the wax museum than I would have ever expected to and for that reason, I would definitely urge you to put this one on your list!
For more information about Madame Tussaud's check out their website here.
---
10. American Natural History Museum
Want to meet Rexy and Dum Dum from Night at the Museum?? I bet your kids do! This is why the American Museum of Natural History is a super fun place to take the kids. Not to mention the obvious fact that this museum is also educational.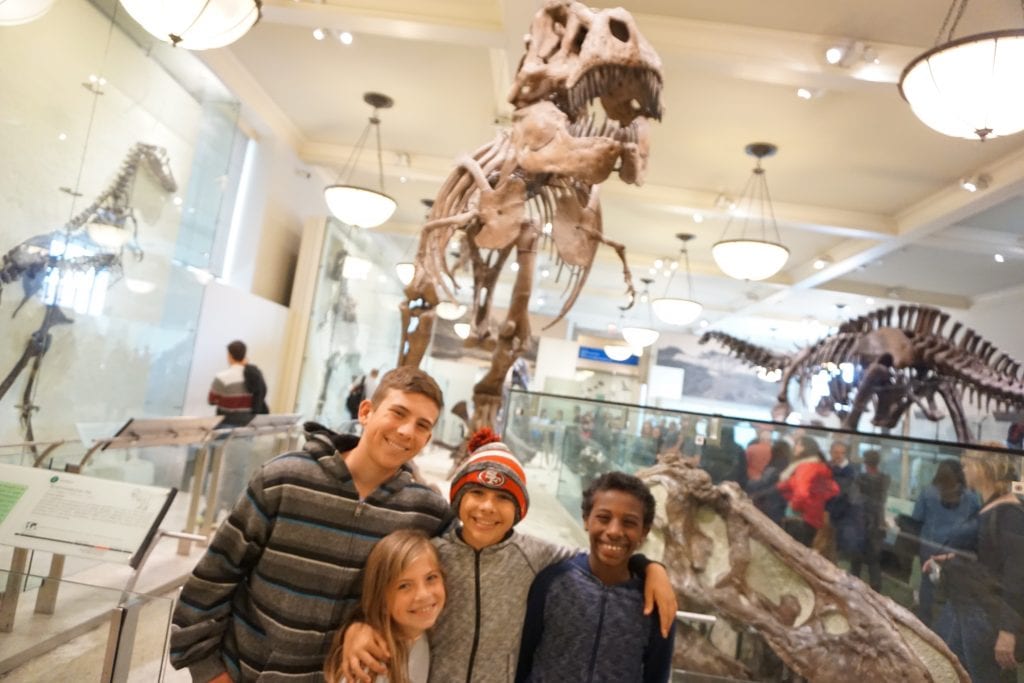 Plan several hours and pack snacks because this is one gigantic museum. Besides chasing down every display from the movie "Night at the Museum" the munchkins also enjoyed the space show- Dark Universe and the Dinosaurs Among Us exhibit.
After you finish up at the museum I recommend grabbing some street food and heading over to relax in Central Park across the street. There is a playground at the entrance of the park on the far left side of the museum. It is gated and has plenty of things for the kids to climb on as well as plenty of benches for parents to rest their tired bodies on. Perfect combo!
Tip- The American Natural History Museum is part of the CityPass. Get more information on their discount services here.
Learn more about the Natural History Museum here.
---
11. Times Square
Of course, Times Square has to be on the list of things to do in New York with kids. What used to be a place where no one would dream of taking a child, Times Square is now quite the mecca for kids and their wild imaginations.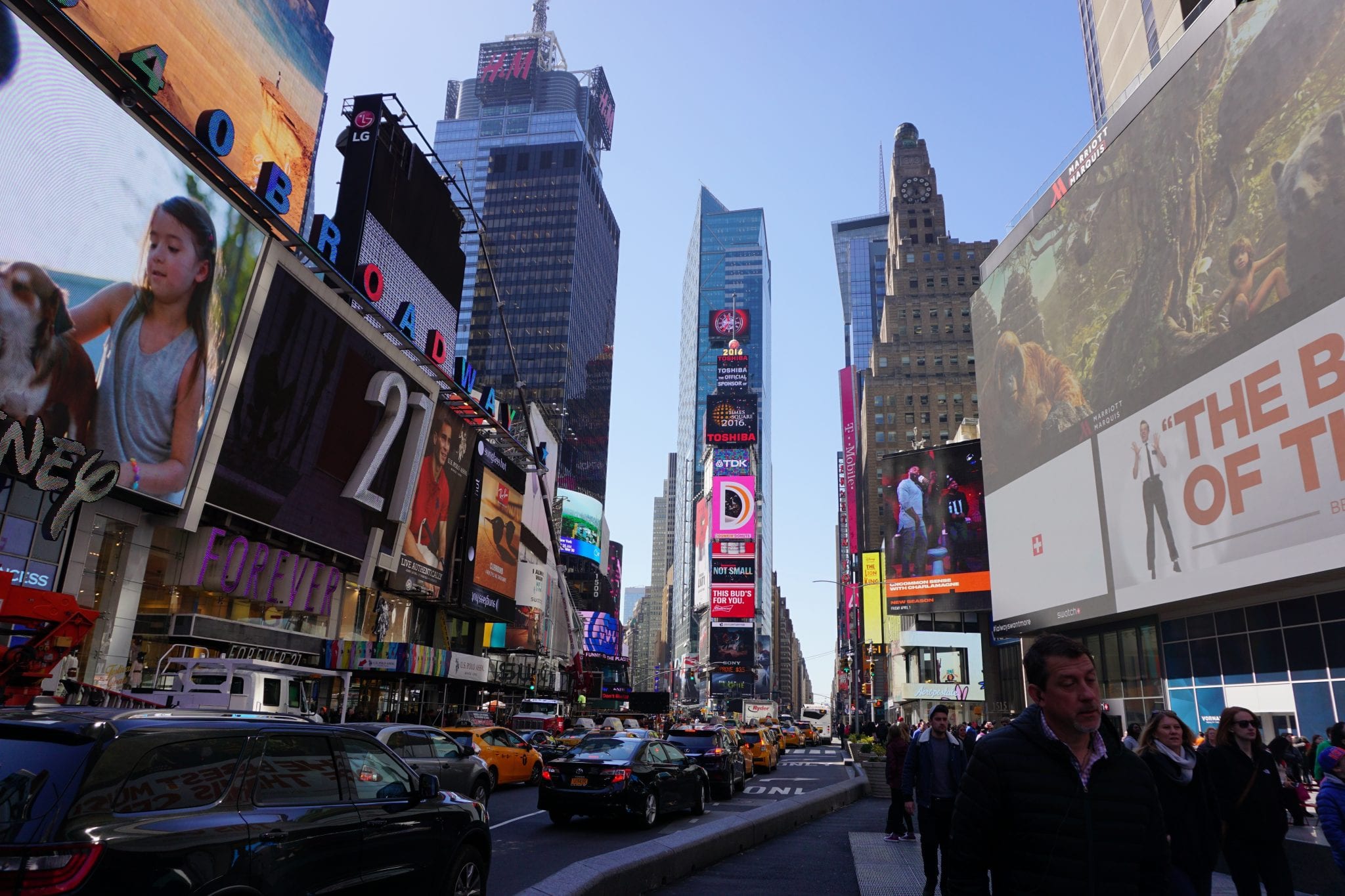 Here they will love checking out the giant M&M store where they can taste tons of varieties of M&M's, and find out what M&M personality they are with the "Color Mood Analyzer"- ha! And, take a photo with the candy-coated Statue of Liberty.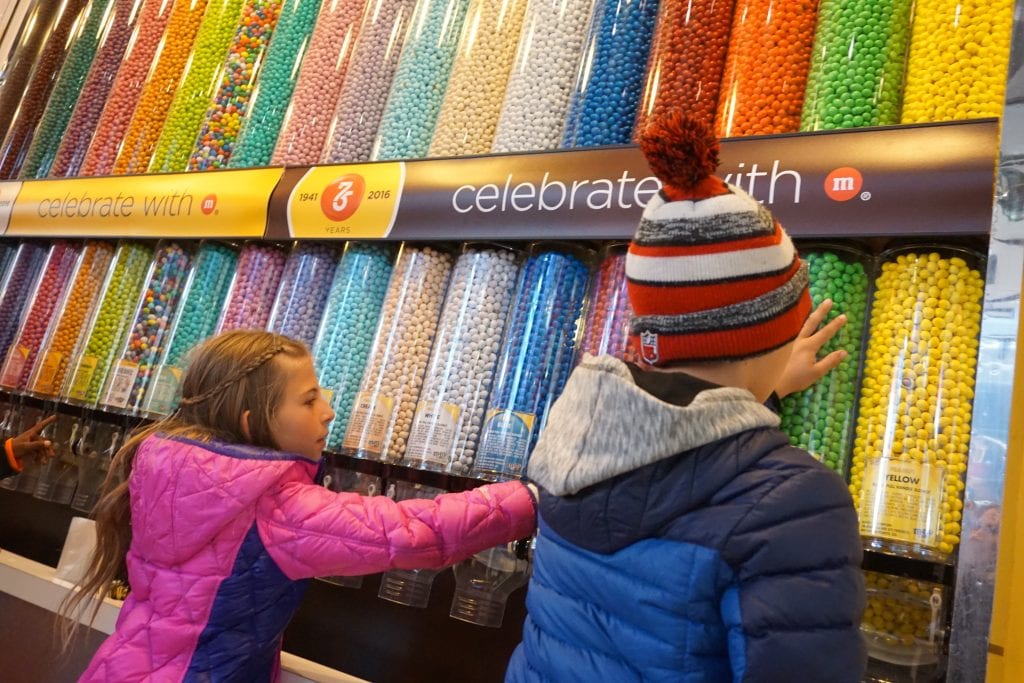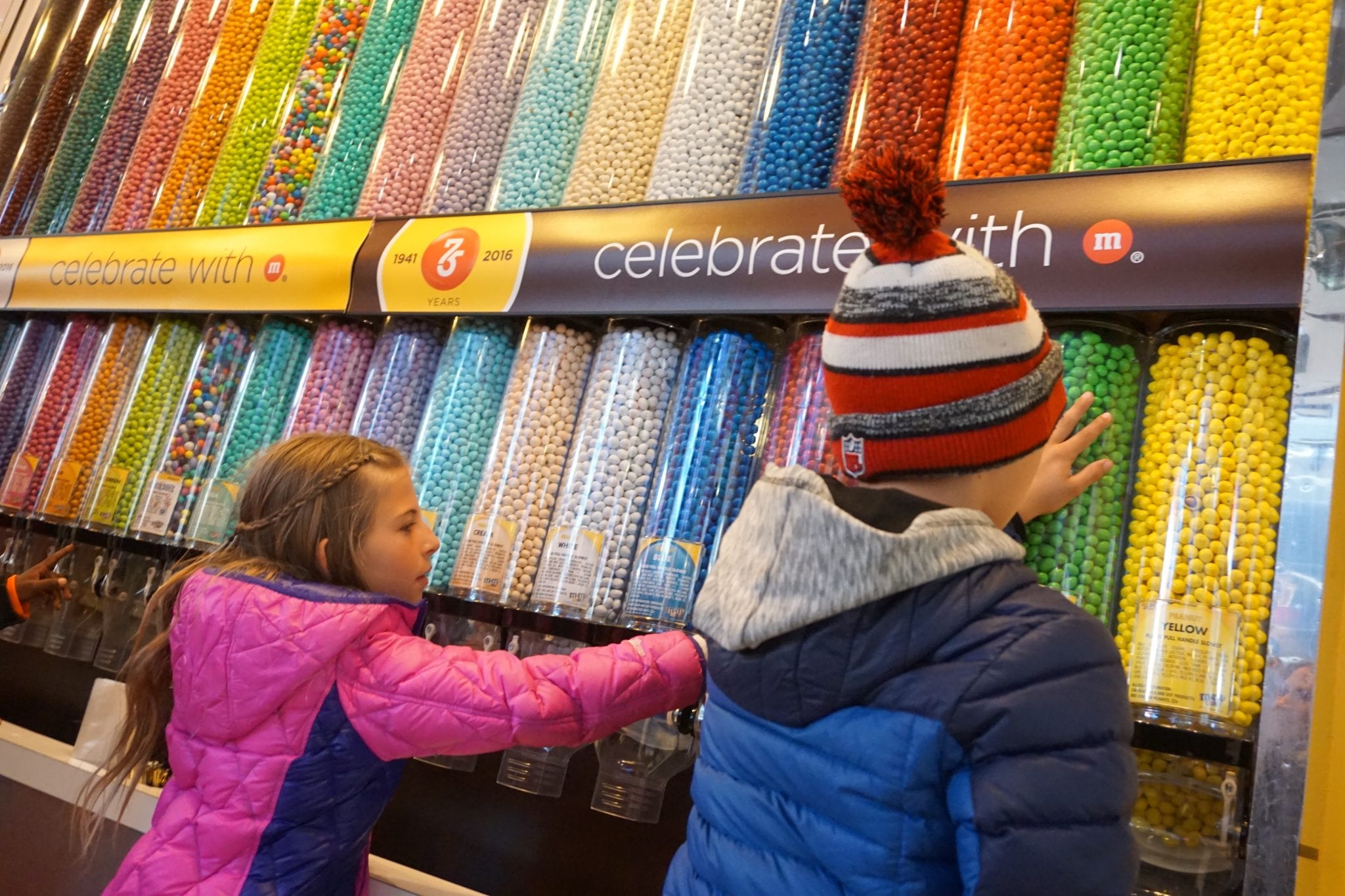 Other fun stops include the Hershey's Chocolate World store and the insanely huge Disney Store on 45th Street. The whole family will enjoy strolling around, enjoying the lights, and grabbing a bite to eat too!
Find more about visiting Times Square with Kids from NYC Go here.
---
12. Catch a Show on Broadway
Ella and I were lucky enough to see Matilda when we were in New York and it was absolutely amazing!!! The cast had tons of talented child actors that completely blew me away. Ella loved getting dolled up and sitting in the old theater. This was a highlight for sure and we would love to come back for more.
We also did an Adventures by Disney adventure in New York and saw Frozen. It is incredible. I recommend everyone check it out. Check Prices Here!
Tip- If you are looking for last-minute tickets. TKTS has discounted theater tickets and they are the only discounted tickets I would recommend purchasing. Their booths offer same-day evening appearances or next-day matinee show times.
---
13. Watch a Game at Madison Square Garden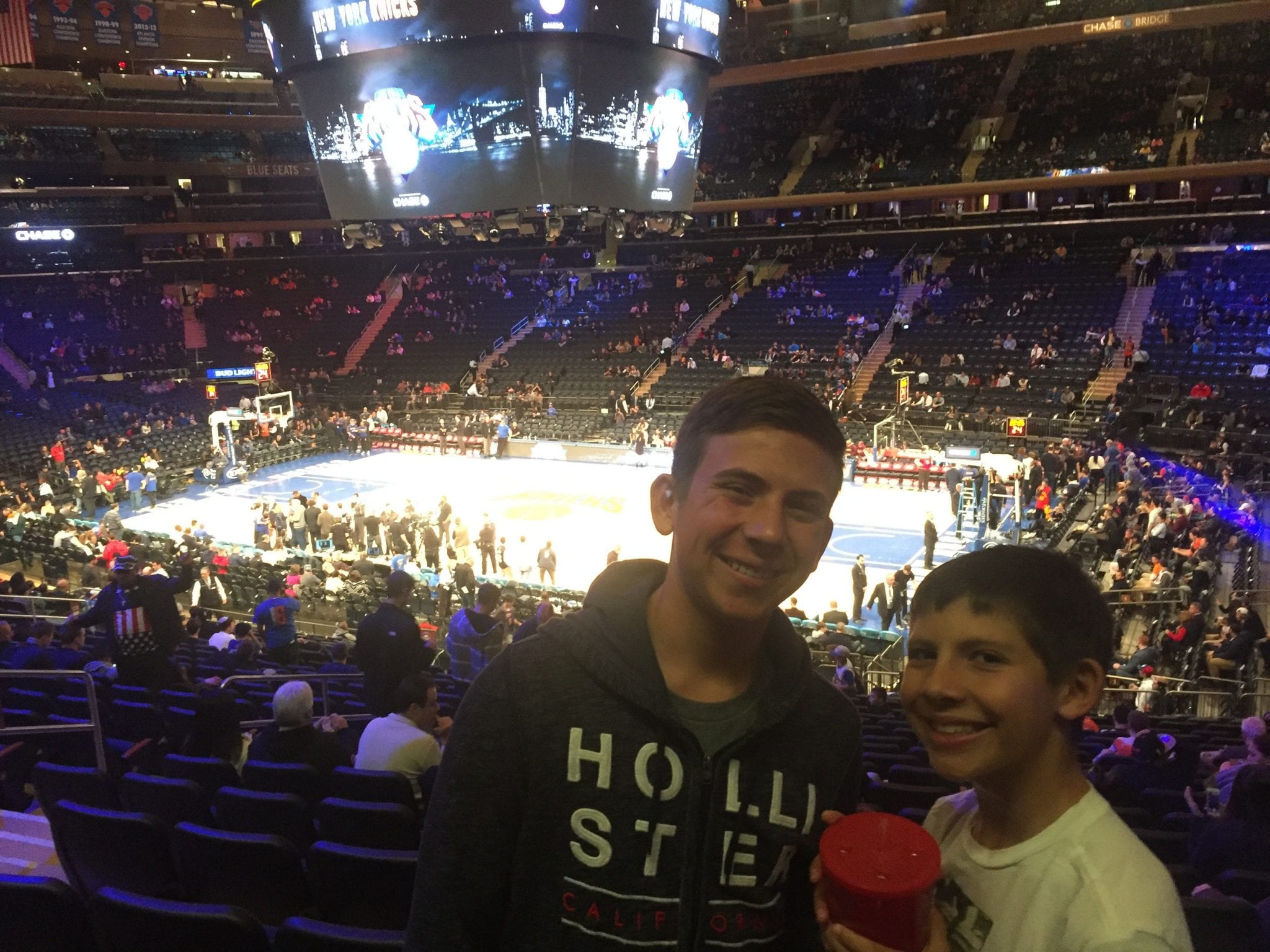 If you have sports fans Madison Square Garden is a must-do in NYC with kids. The boys went with their dad to a Knicks game at the Madison Square Gardens (also home of the New York Rangers).
They came back saying everyone should have the chance to see a game in that arena. Known as the "World's Most Famous Arena" located in the heart of New York City this place makes you feel alive!!!
Grab tickets over at Tickpick. It's my husband's go-to site for tickets cause they don't charge any service fees. Also, if there is no sports check out a Madison Square Garden Tour. I heard it's amazing but make sure to buy tickets in advance from the box office.
---
14. Walk the Brooklyn Bridge! [FREE]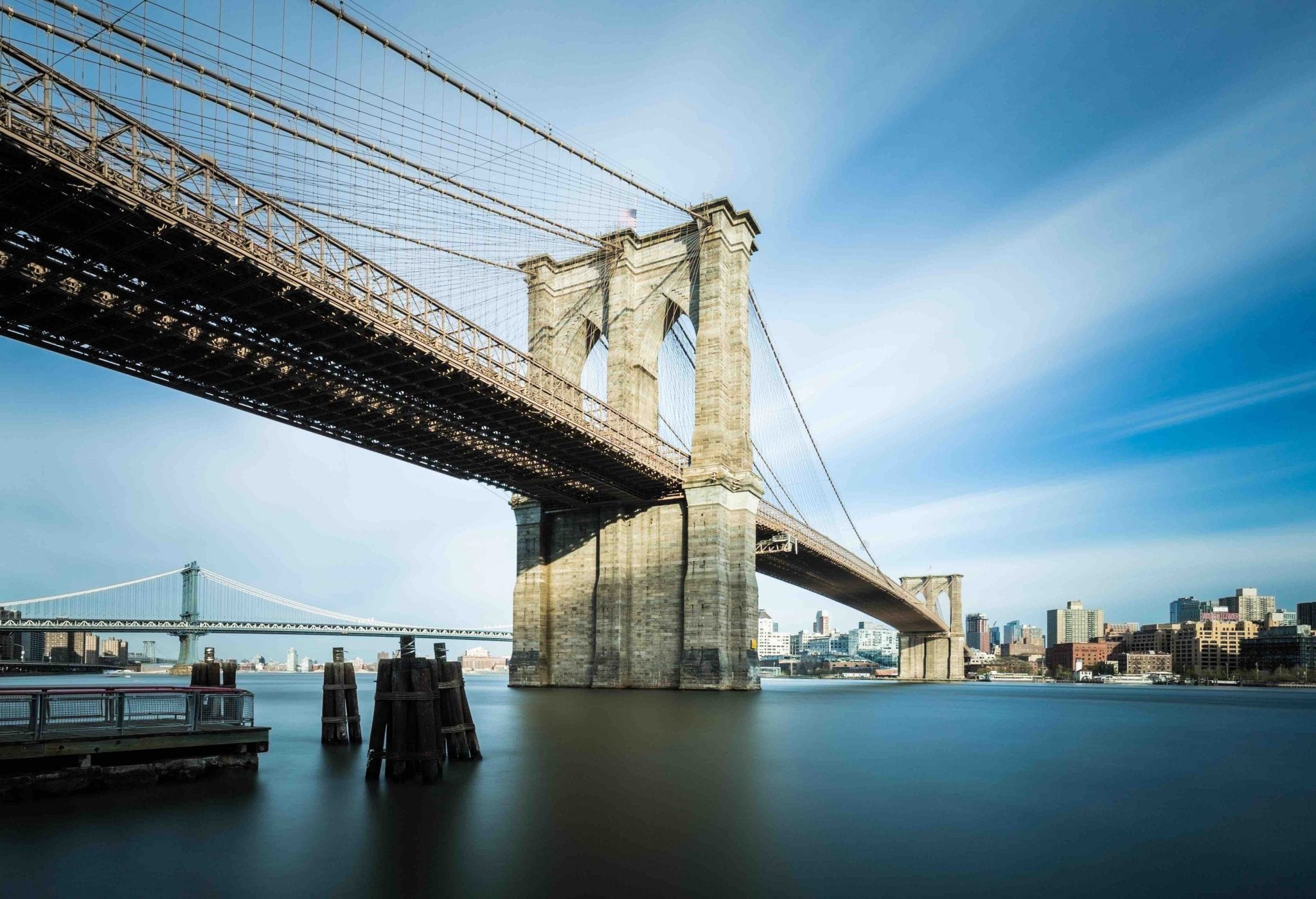 New York's most recognizable structure that connects Manhattan and Brooklyn is a great thing to do with the kids in New York. The bridge has a walking and cycling path along with the road for the cars.
The Bridge is open 24 hours a day, I highly recommend going right before sunset for some spectacular pictures. At the end of the walk grab enjoy Brooklyn Bridge Park and grab a bite of pizza at Grimaldi's, it's delicious.
---
15. Walk the Highline in Chelsea [FREE]
Want to get away from the hustle and bustle of New York? The Highline is a pretty amazing place to do so. It's an elevated pedestrian walkway that spans about 20 blocks and is lined with trees.
I would recommend going on a weekday as the weekend tends to get pretty crowded. Check game schedules and concert showing information here.
---
16. The Museum of Ice Cream
While experiencing New York with kids you will definitely want to check out the Museum of Ice Cream. The Museum of Ice Cream is a 3-level playground experience where you can learn about… you already guessed it… ICE CREAM!
If your kids love ice cream as much as mine does, you will NEED to add this to your list of activities while visiting New York with kids.
---
17. The Color Factory
Another amazing experience to add to your list while visiting New York with kids is the Color Factory! Located in Soho, this interactive museum invites you to experience the "joy of color" through its interactive installations, immersive rooms, and curated moments inspired by the City of New York!
---
18. Visit the New York Aquarium
The New York Aquarium is a popular attraction located in Coney Island, Brooklyn. It is the oldest continually operating aquarium in the United States and is home to over 350 species of aquatic animals, including sea lions, penguins, sharks, and many more.
The aquarium covers 14 acres and has several indoor and outdoor exhibits. It is a great place to bring the family during your vacation!
---
19. Visit The Bronx Zoo
The Bronx Zoo is home to over 4,000 animals representing 650 species from around the world. It is a popular destination for families, offering a fun and educational experience for visitors of all ages.
This is a great place to escape the hustle and bustle of the city for a bit, especially if you're on a longer vacation in NYC.
---
Where to Eat in New York with Kids:
Kids can obviously be picky eaters. Luckily there are some amazing places in NYC with kids to grab some delicious bites. Whether you are looking for something quick, something fancy or something sweet, this city has it all.
I rarely eat beef so hamburgers are clearly not my thing. However, Shake Shack blew me away. Their burger was cooked to perfection, their fries were delicious and their black and white shake was irresistible.
I recommend you go to their original location in Madison Square Park where you can order from the window and enjoy eating your delicious meal in the open air of the park.
---
We may or may not have force-fed episodes of Seinfeld (#FunniestShowEVER) to our kids before our trip to New York. So, you can bet they were excited when we showed up at the inspiration for the Soup Nazi episode, "The Original Soupman".
The trip was mostly based on being funny… however, the soups ended up being absolutely AMAZING!!!

With each soup, you also receive a piece of baguette, an orange, and a Lindt truffle. Sounds odd but it pairs perfectly with the soup creating the perfect little lunch or dinner.
Fun Fact- We heard that the cast of Seinfeld once visited "The Original Soupman" after the Soup Nazi episodes had become so popular. But, the man who the Soup Nazi was inspired by came out and yelled at Jerry Seinfeld for ruining his business (even though he gained incredible fame from it?) and kicked Seinfeld out of his store. Not sure if that is really true… but I sure hope it is. Hilarious!
---
This Indian version of Chipotle quickly became a favorite of ours while we were in New York. We couldn't get enough of their Chicken Tikka and homemade naan bread. The quality of this food is on par with any nice Indian restaurant I have been to + the prices can't be beaten!
---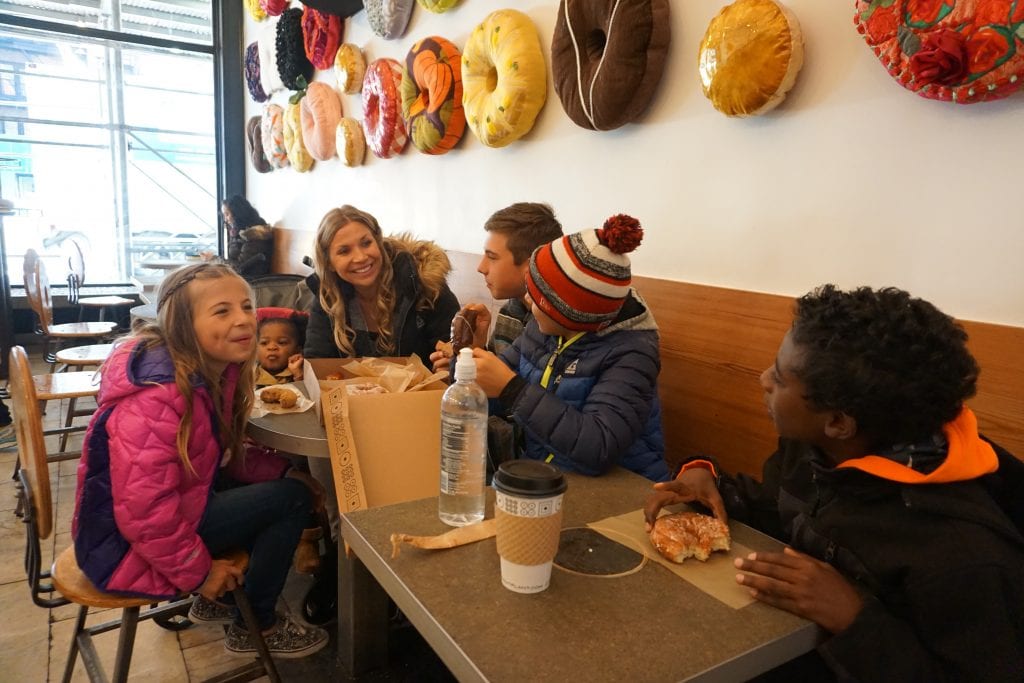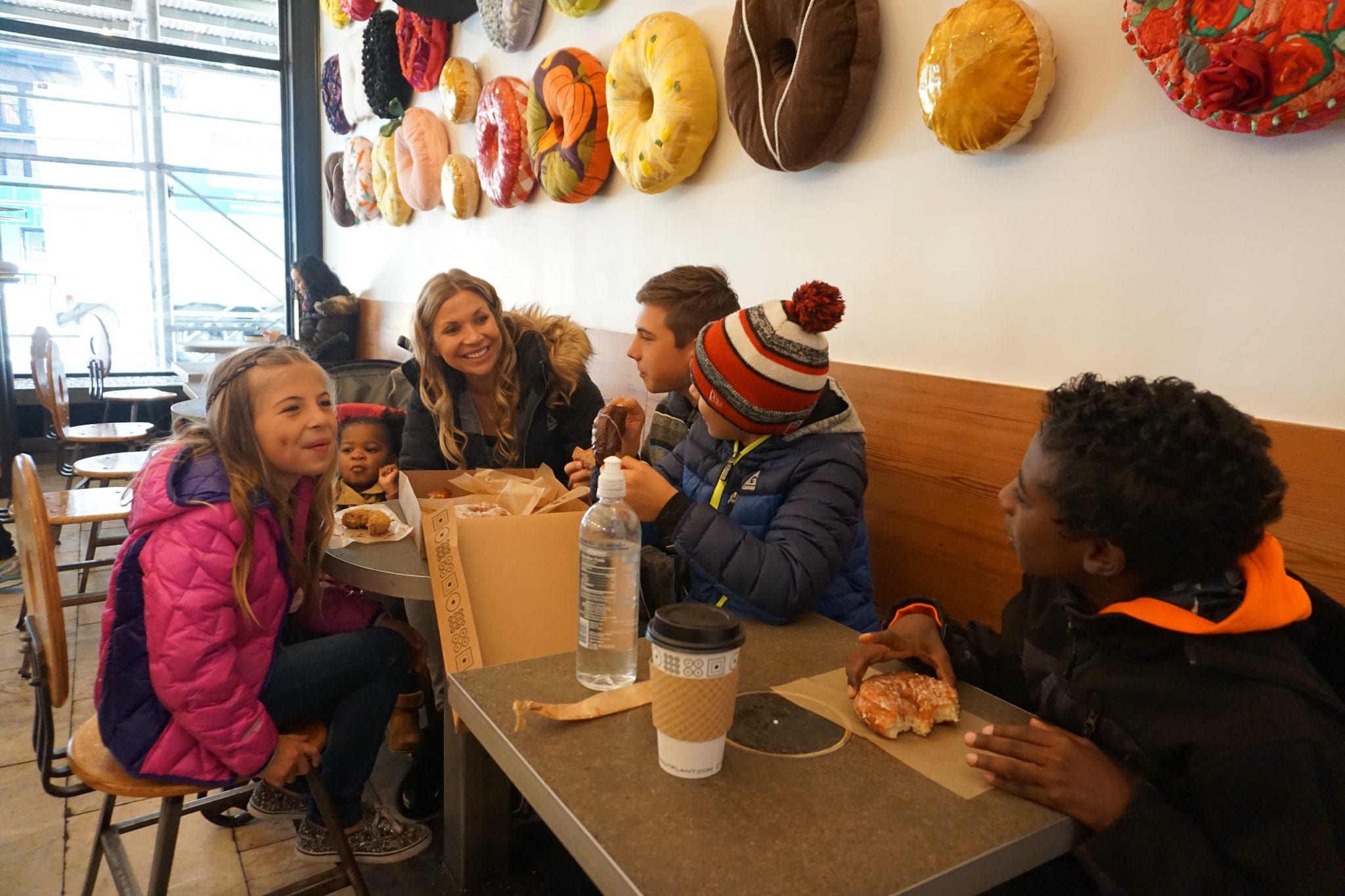 I spent about 6 months and took several classes to learn how to make amazing doughnuts so I am pretty particular when it comes to eating them. I was most pleasantly surprised when we stopped in at the Doughnut Plant and devoured some of their amazing doughnuts.
They do an amazing job offering up freshly baked artisan doughnuts that taste as good as they look. They are open all day so they make a perfect breakfast or dessert!
---
Pizza (from just about anywhere!)
There is a heap of different places where you can taste amazing pizza in New York. I love stopping by the $1.00 slice places as it is such a classic New York Experience. The kids absolutely loved the experience.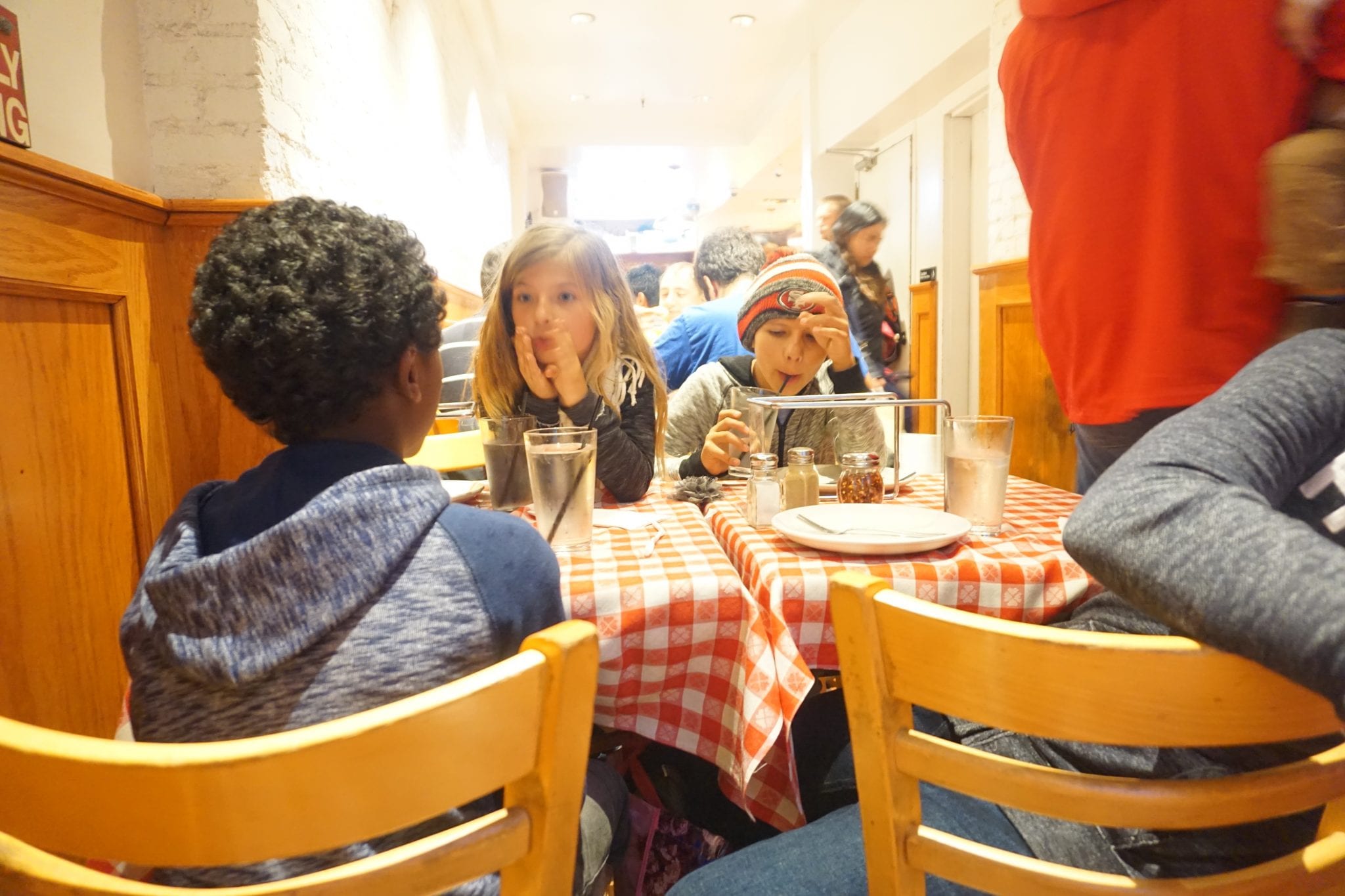 Our favorites include:
Di Fara Pizza (named America's BEST Pizza Joint by TimeOut.com) where the dough is made fresh several times per day
Joe's, a Greenwich Village institution
The pizza restaurant inside Eataly for a traditional pie
And the obvious choice- Grimaldi's (pictured above)
---
How to Get
to New York with Kids
Traveling to New York with kids is simple as they are a major tourist destination (over 26 million expected to visit this year) so flights are frequent. In fact, there are more than a hundred air carriers servicing the New York area from all over the country and the world, including American Airlines, Delta, JetBlue, and United.
The two main airports are John F. Kennedy International Airport (JFK) and LaGuardia Airport (LGA). They are both located in Queens but I personally like JFK better. JFK tends to have more flights as they serve more airline carriers but I would fly into whichever has a better deal if it were me.
If you land and are feeling a little jet-lagged, our friends over at Mini Travellers have some great tips on Things to do with Jet Lag in New York!
You can also take a train to New York (we rode Amtrak actually from Washington DC and it was great! You can read Ella's story on the Amtrak blog here). Here are a few of the train services that travel to New York: Amtrak, NJ Transit, Long Island Rail Road, and Metro-North Railroad.
If you are driving into New York you can google directions. Just be aware that parking is very difficult within the city. It is best to use a site like BestParking.com to compare rates and locate places to park.
---
Transportation around NYC
Once you arrive you will find that getting around NYC is pretty easy.
New York has a great subway, metro, and bus system that can get you almost anywhere you want to go. We found this to be convenient and cost-effective means of getting where we needed to go.
Uber, LYFT, and Taxis are all available and easy to track down when you need to get from point A to point B and don't want to deal with the metro.
Depending on where you are staying many hotels are within walking distance to the major sites as well. I love strolling with the kids, anyways. It burns their energy and we discover all sorts of fun things along the way. However, I have found that walks are best early in the day before the kids are tired. It is no fun to be dragging your kid along whining the whole time.
---
Where to Stay in New York with kids
New York has a plethora of lodging options and some amazing options for families. Everything from luxury hotels to AirBnB's and budget chains. You will have no problem finding a room that is for sure! However, many options are rather small. Not to mention the larger chains tend to treat you like you are just a number rather than a guest.
On my Adventures By Disney New York adventure, we stayed near Times Square, but it is also fun to be close to Central Park.
If you are like me and prefer a smaller, more intimate place to call home while you are away then you absolutely MUST check out Hotel Beacon in the Upper West Side.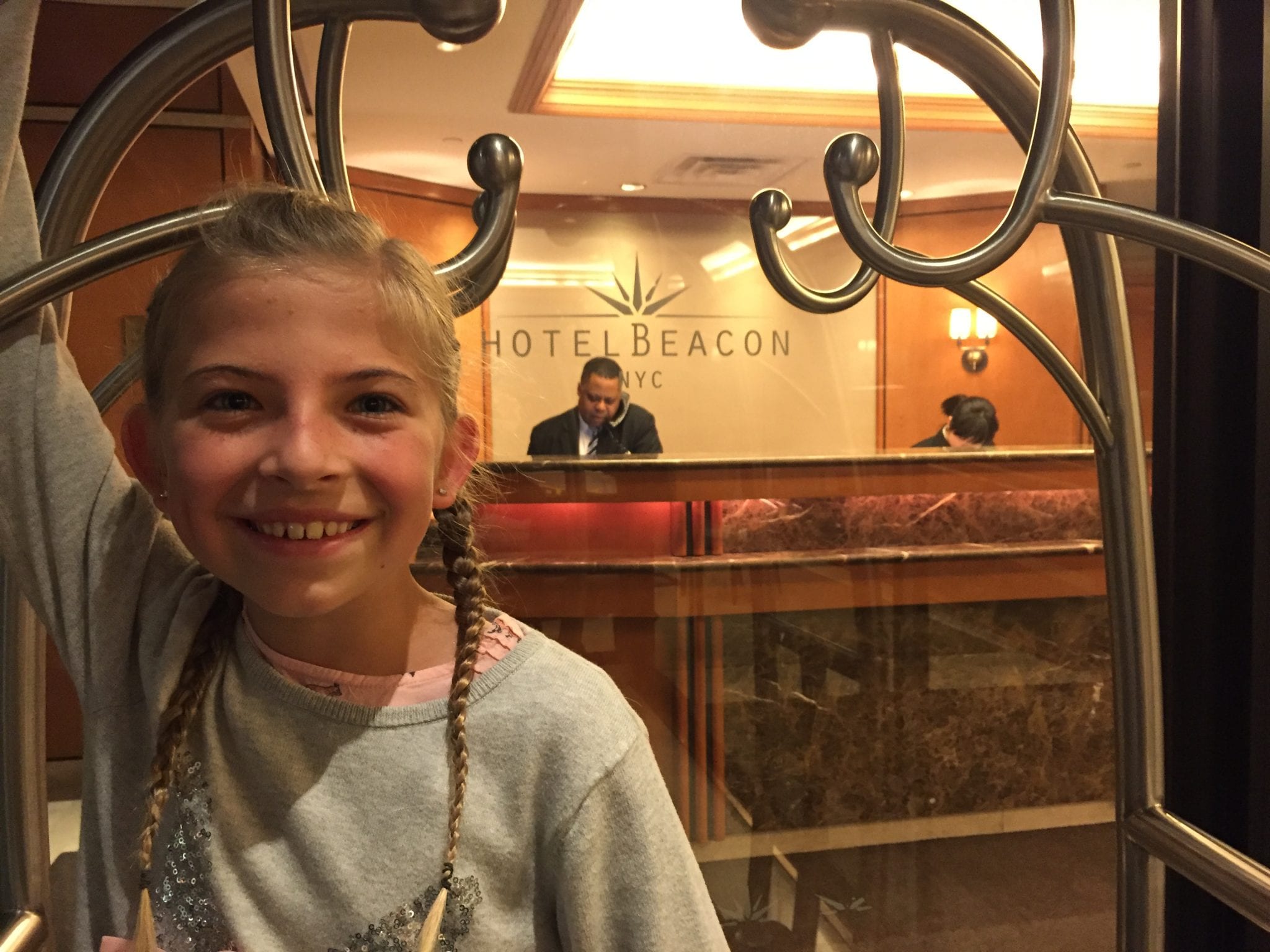 The Hotel Beacon NYC is one of those hotels that I will never stray from. It is definitely one of the best places to stay in New York with kids. It fits on my list of great family hotels alongside Grand Wailea in Maui, Terranea in California, and The Hotel Nicholas in Prague. Just one of those gems of a hotel that is doing everything right!
Hotel Beacon is located next to the famous Beacon Theater, just a short walk to the American Natural History Museum, Central Park & more!
Their suites are spacious and gorgeously decorated. Plus, they come with a fully equipped kitchen! Pair that with the fact that Fairways Market and Trader Joe's are nearby and you will see why this place is hard to beat!
Read my full review of our stay and take a peek into our room here. Or check current rates at NYC hotels on Tripadvisor.
---
Map of things to do in New York with Kids
---
Have you visited New York? What were your favorite places to go or things to do?? Let me know in the comments below.
Pin for later- The Best Things To Do in New York with Kids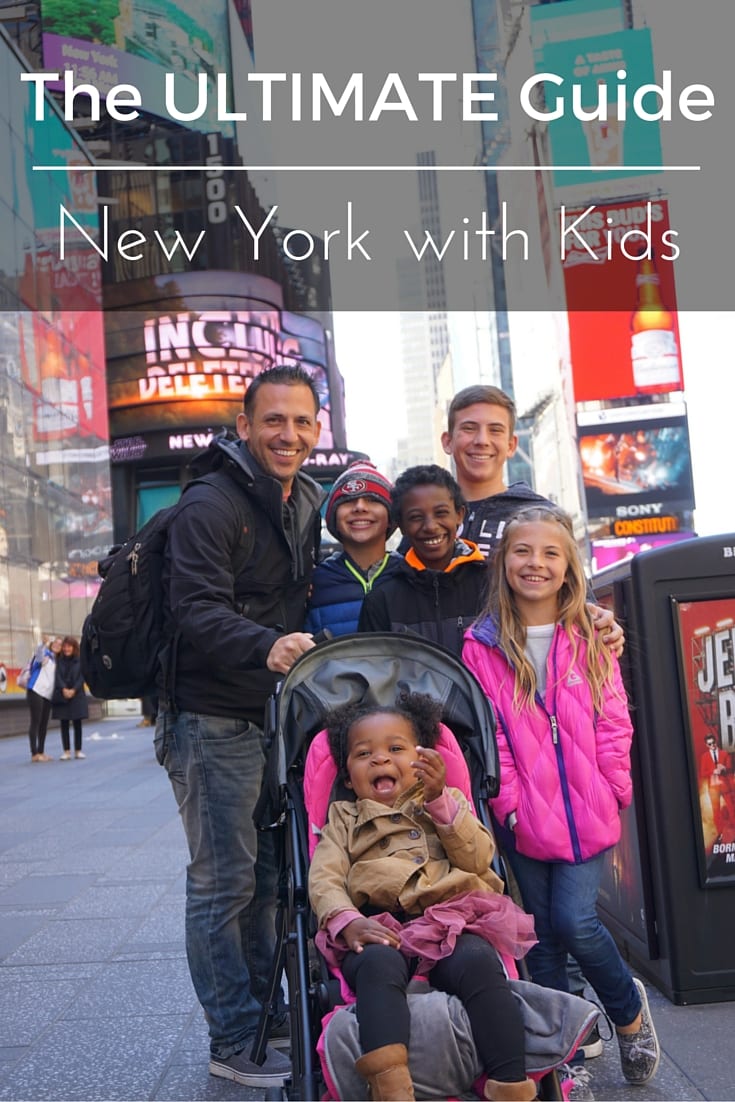 ---
Check out these hand picked related posts-
---
If you enjoyed this article about visiting New York with Kids, you Might Also Enjoy:
18 Super Spring Break Ideas for Families in 2019 – luxe trips that won't break the bank
The ULTIMATE Guide to Washington DC with Kids
Amazing East Coast Vacations from We3Travel
Great Tips from YTravelBlog about visiting Gettysburg PA
Frequently Asked Questions about visiting New York with Kids!
Is New York kid-friendly?
Yes!. There are a ton of things to do in New York City with the kids. It is not as hard to get around the city as you might think. You can take the subway or snag an Uber.
How do I get around the city with kids?
The most inexpensive way is with the Subway. They do get fairly crowded and if you have a stroller it is a pain to take a stroller up and down the stairs of the subway. I recommend taking an uber or taxi if you have little ones.
What to do with a 10 year old in New York City
The Ride NYC
Enjoy Ice Cream at Dylan's Candy Bar
See a Broadway Show or a Game at Madison Square Garden
Enjoy the incredible $1 Pizza
Walk across the Brooklyn Bridge
Latest posts by Mama Munchkin
(see all)