When I received the coveted invite for the Disney Social Media Moms Celebration I was completely taken a back. I could remember how I felt just one year earlier, when I kicked off my blog, watching the hashtag (#DisneySMMC) all over social media and dreaming that one day that might be me. But, after the initial shock and excitement wore off I realized I knew nothing about the event itself. So, here is an inside look at my personal Disney SMMC experience for those of you who want to know.
5 Reasons Disney SMMC Knocked My Socks Off!
Complete VIP Treatment
Prior to Arrival:
If anyone knows how to treat a guest like royalty it would be Disney. Before we ever touched Disney property the magic had begun. American Tourister (one of the event sponsors) sent us an adorable Mickey themed suitcase to help us pack for our trip.
We were also invited to a private facebook group so we were able to get to know the other attendees and learn more about the event itinerary.
Arrival:
We arrived a day early to try and make up for the time difference since we were coming in from the West Coast. To my surprise our room at Disney's Beach Club Resort was ready as soon as we got there even though we arrived early in the morning straight off our red eye. We took a nap, hit the pool and then, thanks to the 7-day tickets we received as part of the conference fee, we were able to get a jump start on our fun!
The next day the conference had officially begun. We walked downstairs to the gorgeous convention area where we found a whole crew ready to check us in. We met a few sponsors and were handed a super fun swag bag. And, probably the most exciting moment was turning around to see Mickey right there ready to take a family picture with us. The kids were SO excited!
Our crazy amazing VIP Fast Passes were in full effect that day so we headed straight to the parks after checking in. The passes allowed us to literally walk on any ride that offered fast pass WITHOUT having to schedule a time in advance. Honestly, this perk alone makes it worthwhile to attend this magical event!
Our Memory Maker also kicked in and we were able to see what an amazing product it was. Basically, the memory maker allows you to download every photo pass picture you take in the parks. You simply view the image on the My Disney Experience App and click download.
This includes pictures taken on the rides (they even have incredible videos on some of the rides as you can see below) and  any photos taken with a Disney photo pass photographer. This service typically has a fee but it was waived for event attendees.
I can assure you the Memory Maker will be something we include in every Disneyworld trip from now on though because I barely had to whip out my camera. Plus, I don't think I have ever come home from a trip with so many photos that have both my hubby and I in them. Check out some of our ride pics below-
Private Events:
Disney + the event sponsors really know how to throw a party! Our whole family was able to attend several events spread throughout the conference.
The first night, conference guests + their families were taken on private buses to Animal Kingdom Park. The park was closed to the public so it was an incredible and intimate experience. There was an abundance of amazing food, the Zootopia Characters were there and the kids received toys from the new Lion Guard show (which Liv is a HUGE fan of). Dinner took place near the Lion King Theater and there were wonderful performers to entertain us. Liv decided to jump in at one point and pulled her reluctant big sister in with her.
After dinner we learned that Everest was open so the big kids made a mad dash in that direction- they LOVE that ride! We ended the night with a sweet treat while we watched the Tree of Life light up the night like it will beginning this summer to park guests! #AwakenSummer
The second day was conference day (which I will discuss separately below) but the Disney Team hosted a lovely breakfast for our spouses and kiddos at The Atlantic Dance Hall complete with characters from the movie Inside Out.
After the conference and a free day at the park for spouses and kids we reconvened for a private Beach Bash Dinner Party at Disney's Typhoon Lagoon. The characters were out, there was live music, games, amazing sand castle displays, yummy dinner, drinks and desserts. Plus, a 3-D firework show!!! After the event they even offered private busing over to Hollywood Studios so we would make the Star Wars Firework show over there too! Talk about being spoiled 🙂
On the third day we were treated to a grab and go breakfast at the new Disney Springs where we attended an advanced screening of Alice Through the Looking Glass- which we LOVED! The theater was set up with tasty red velvet cupcakes as we exited and there was also a display featuring the actual costumes from the movie. The kids thought that was pretty neat!
And, as if that wasn't good enough Liv was also able to meet her idol- Doc McStuffins while we were in the theater. She was in awe and still obsessed with the Doc McStuffins doctor kit she received at the event even a week+ later.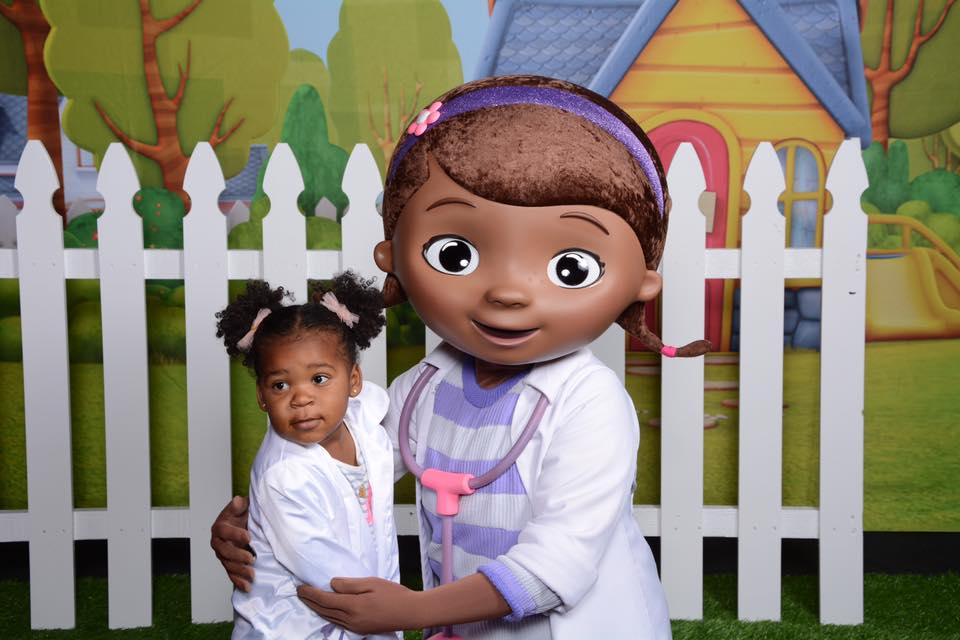 Finally, the event ended with a beautiful Mother's Day Brunch in Epcot. The food was delicious… I may have over indulged in golden Mickey waffles and frittata but, whatevs. We were entertained by some lovely performers, giveaways, Princess photo opps & more! Each mother received a lovely gourmet box of chocolates as we were treated to a video created by the Disney team that included snippets of our children filmed while us moms had been away at the conference. The Disney team also created a magnificent tiled wall surprise made with art created by us moms and our kids. It's just nuts what they can throw together in just a few short days!
Conference:
I LOVE a good conference! What I love most about them is the opportunity to meet so many influential women (and a few men) in person who I have only gotten to know virtually before. I love hearing inspirational stories and motivational speakers. Now, you pair that with insider/ behind the scenes info on the Disney brand and you have one heck of a conference.
Here is how the conference day went down-
Disney SMMC attendees were whisked away to Hollywood Studios (this time sans the family) early in the morning by private bus where we enjoyed a delicious breakfast and learned a thing or two about Star Wars and the experiences coming to the Disney Parks soon.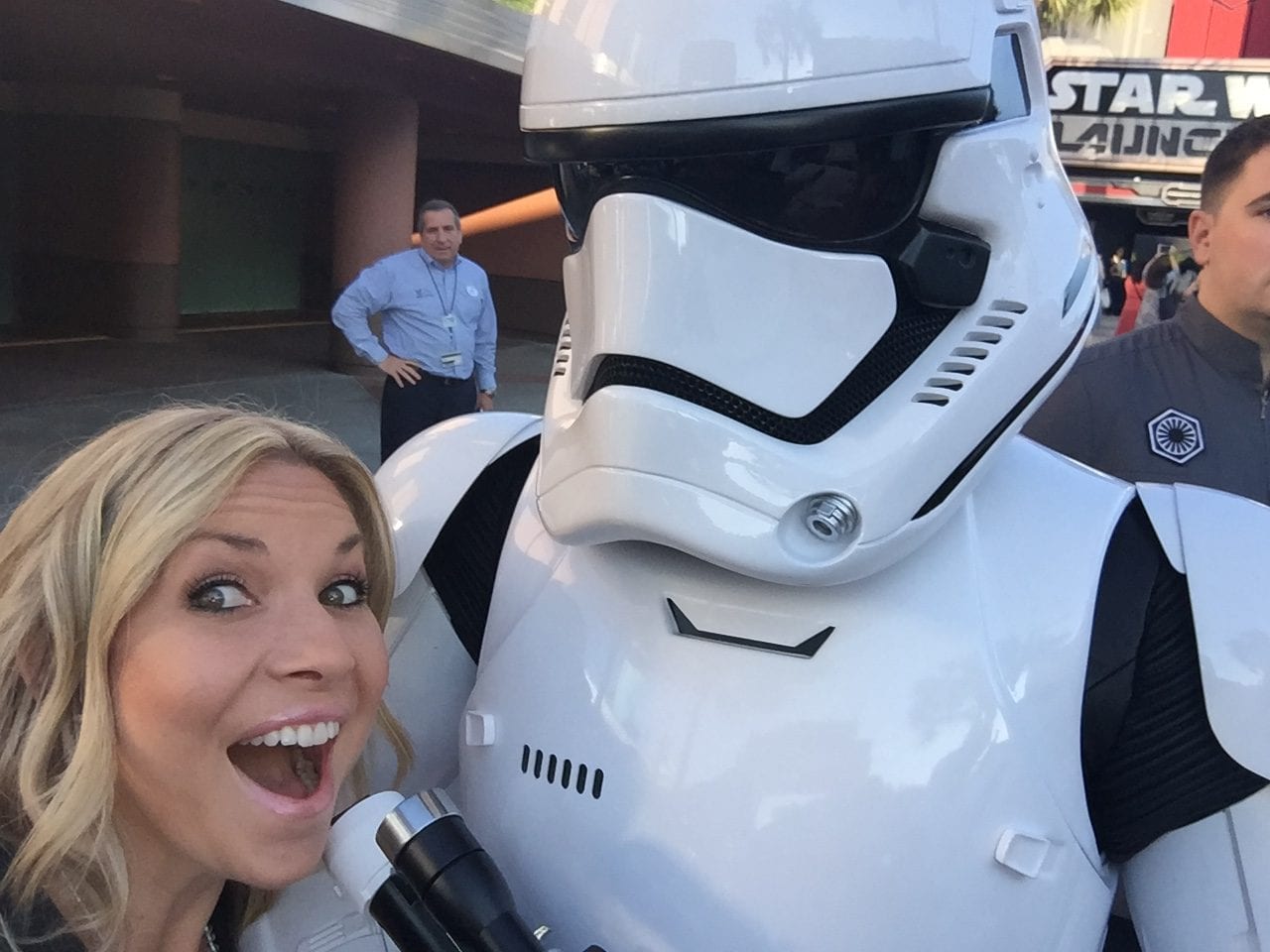 From there we explored the Star Wars Launch Pad area- I got to get a selfie with a Storm Trooper & a hug from Chewie bc I'm cool like that 😉
We were then bused back to the Beach and Yacht Club Convention Center into a ballroom where we heard from various Disney entities. This included behind the scenes info on the new Rivers of Light show coming to Animal Kingdom this summer, the making of the new Disney Springs (formerly Downtown Disney), a few sneak peeks at shows coming to the Disney Channel this next year, the making of Alice Through the Looking Glass & the first 33 minutes of Finding Dory (OMG… its SOOO good).
In between speakers there were performances from various groups around the parks + giveaways including a stay in Cinderella's Castle in the Magic Kingdom park- how amazing is that!! The sponsors also treated us with wonderful swag and we dined on some amazingly creative and delicious food too!
The whole conference day I felt like I was being showered with love. Just completely pampered with great company, performances, gifts and knowledge. It was AWESOME!!!
Room Drops:
Each night of the conference we came back to our room to find a surprise waiting for us on the bed. I'm not sure the kids will ever be impressed by a chocolate at turn down again. The Disney Team + Sponsors spoiled us rotten with so many amazing items. You can get a taste of what we experienced from the picture below… and that was just one night!
Motivation + Inspiration
I pride myself on being a self motivated individual but my passion tank was bursting after listening to the amazing speakers that Disney SMMC had for us. One of my favorite moments was being introduced to 3 incredible young girls who are out there in the world making a difference. Listening to their stories I realized how much Disney does to encourage our own children (especially our daughters) to be brave and courageous. To be kind and bold. To make the right choices, even when they are hard.
Not only was I motivated and inspired by the amazing speakers but I also walked away with a new deep appreciation for everything the Disney company has done as a brand to help parents raise happy well adjusted kids. I realized that I had basically raised my kids on Disney for example:
My kids have always been able to watch the Disney channel because I trust its messaging. Lately, with additions like Doc McStuffins and Jessie my kids are also able to see adoptive, multi-cultural families that look like ours. I can't even explain how wonderful this is for my kids.
We spend quality family time together at the Disney Parks because its a wonderful place to unplug and re-connect.
And, we purchased the Disney Vacation Club because we had faith that Disney would only pair with the best family resorts and hotels around the world- and we were right from our experience so far.
Disney Sneak Peeks

Exclusive information is so much fun and being a blogger its also a great way to excite your readers so I LOVED all of the amazing behind the scenes, top secret info we received at the conference. Everything from what was happening in the parks, to sneak peeks of new shows and characters coming to the Disney Channel, an advanced screening of Alice Through the Looking Glass, an exclusive 33 minute peek at the upcoming Pixar film- Finding Dory & so much more!!
Friends
I have previously mentioned how much I love meeting fellow bloggers and influencers. But, let's discuss this a little further. In my very short career in the blogging/ social media influencer world- about 1 year now- I have found that the friendships I form with these amazing people are the thing I love most about this job. You see in life you meet people that are near by… but rarely do you have the opportunity to meet people who really "get" you. You know what I mean… people who have similar likes and dislikes. The pool is just to small in your local town or neighborhood. But, when you open up your heart to the whole darn world via the internet you attract like minded individuals. You meet the most incredible and wonderful people who support you and understand you. Getting to meet these friends in person is an absolutely amazing experience and one I would recommend to all bloggers.
Plus, these amazing and supportive friends also become your tribe. They help you navigate this industry, they read your stories, they comment and share. They make your world go round both personally and professionally. So, attend conferences and make as many wonderful new friends as you can. And, the Disney SMMC conference is one where not only do you get to meet the influencer… but you get to meet each others family's too!
Amazing Family Memories
Clearly, this was a once in a lifetime opportunity. To be able to share such an incredible experience with my family and to know that the reason we were being showered with all the love and special attention was because of my work was extraordinary.
We rode rides, watched shows, laughed, hugged and ate our way through the parks without a single care. We disconnected with the world and reconnected as a family.
We had family milestones too: Liv rode her first roller coaster- Goofy's Barnstormer, Ella was finally tall enough to ride Rockin' Roller Coaster and Owen got second place in the Fun Run! I was just happy to cross the finish line- ha!
Overall
The Disney Social Media Moms Celebration was a marvelous event. We  made so many memories that we will cherish forever. I honestly cannot express in words how thankful and appreciative I am to everyone who worked so hard to put this event on for us. Everything was unbelievable!
The only thing that could have made the event better was if my two other boys would have been able to make it. I guess we'll keep our fingers crossed that Tinkerbell will come sprinkle our inbox with some of her pixie dust next year!
Pin for later-
*I was invited to the Disney Social Media Moms Celebration and I received discounted theme park tickets, room reservations and some special perks. I did not receive compensation for this post. My thoughts and opinions, as always, are 100% my own.
Latest posts by Mama Munchkin
(see all)