Our family loves to vacation on a Disney Cruise! There is just something so magical about stepping aboard a ship that instantly relaxes me and puts me in the vacation zone.  We have experienced Disney Cruise from Florida, the Disney Wish and many other Disney cruise experiences.
If you are looking for an outstanding vacation for your family, I highly recommend taking a Disney cruise from Galveston, Texas. Here is everything you need to know before you go.
---
Why choose Disney?
Disney certainly does not disappoint when it comes to sailing the open seas!
An unforgettable trip on this fabulous cruise line combines all of the excitement and wonder of a Disney vacation with endless relaxation, nonstop entertainment, and carefree travel to beautiful destinations.
Whether you are a Disney fanatic or an avid cruiser, there is truly something for everyone to enjoy during a Disney cruise vacation. 
---
---
Why you should book a Disney Cruise from Galveston
While all Disney Cruises are absolutely fantastic, a trip from Texas is extra special because the island of Galveston is such a cool cruise port to sail in and out of. This cruise port terminal is located approximately an hour south of Houston and is accessible via a free 24-hour ferry.
The Disney Cruise from Galveston is an easy 70-mile drive from George Bush Intercontinental Airport and is accessible by shuttles, car rental companies, and ride-sharing options.
Once guests are in Galveston they can explore the island via trolley, bike, or car.  Discounted parking is available for cruise passengers at the port.  
If you have extra time before or after the cruise, I recommend that you spend it exploring the island. There is so much to do in Galveston that you can easily add on a bonus vacation to your cruise trip.
The historic thirty-two-mile island is home to fantastic museums, a plethora of restaurants, beautiful beaches, and family-friendly activities. Here are just a few of the things that you might want to check out:
Moody Gardens – A fantastic place for lots of family fun. Moody Gardens features a ropes course, zipline, rainforest, and impressive aquarium.
Schlitterbahn Galveston Waterpark – Water enthusiasts will love exploring the thrilling water rides, pools, and the world's tallest water coaster.
Galveston Island Historic Pleasure Pier – A great place to spend an afternoon. The pier features rides, carnival games, and yummy food.
Galveston Railroad Museum – Kids will love exploring the museum's wonderful train exhibits and taking a ride on an old-fashioned caboose
If you are looking for a place to stay in Galveston, Here are a few great options:
The Doubletree by Hilton Galveston Beach Hotel is located close to the beach and is just two miles from the cruise terminal. The hotel includes a great pool, swim-up pool bar, and options for connecting rooms.
The Holiday Inn Resort Galveston – On the Beach is a convenient beachside property that offers children's activities and babysitting services. Kids under 12 stay free and eat for free in the hotel restaurant.
---
Disney Cruise Options out of Galveston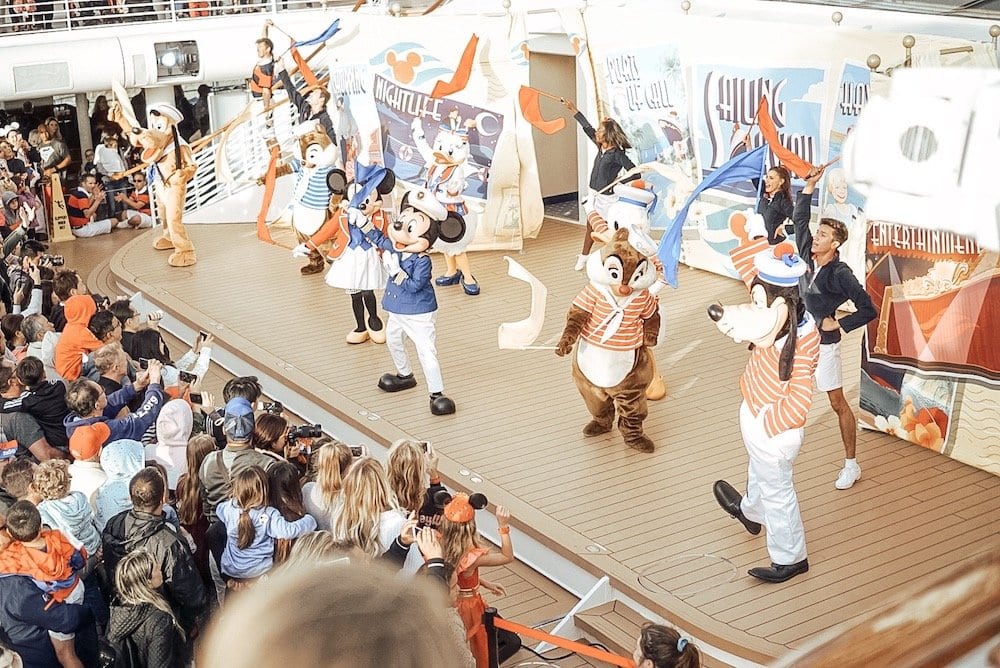 Disney is currently offering many fun-filled Western Caribbean cruises out of Galveston. Each trip offers guests first rate-entertainment, fine dining, and days packed with fun for the whole family. Trips from Galveston range in length from 4 – 7 days. Ports of call include Progresso, Cozumel, Costa Maya, Georgetown, and Falmouth.
While exploring these world-class destinations, guests can enjoy exciting excursions such as scuba diving, exploring Mayan archeology, and swimming with dolphins.
During the holiday season, Disney is also offering special "Very Merrytime" cruises where the ship is decked out in festive decor and offers special holiday activities and entertainment such as storytime with Mrs. Claus and special fireworks displays. You might even catch a glimpse of Santa himself!
---
The Boat
Presently, the Disney Magic is the only Disney vessel sailing out of the port of Galveston.  The Magic is a classic 984-foot vessel comprised of 11 decks full of magical Disney fun. It is an older ship but it has a lot of nice updates and modern features and is a favorite among families.  
---
Life aboard the Disney Magic
Entertainment
Disney always delights when it comes to family entertainment, and a cruise with the characters is certainly no exception. Guests sailing aboard the Magic can enjoy free greetings with favorite Disney friends, Tangled: The Musical and other live Broadway-style performances, fireworks at sea, first-run movies, poolside parties, and more.
Children can also take part in special royal teas or partake in spa services for an additional cost.
There are also several places onboard for everyone in the family to cool off and enjoy some water fun. The Magic features three freshwater pools and numerous whirlpools.
Kids over three years of age will have endless hours of fun playing at the AquaLab splash area designed by Donald Duck's nephews, Huey, Dewy, and Louie.
This 1,800-square-foot water area features pouring paint cups, rotating wheels, pop jets, and more. Located nearby, is Nephew's Splash Zone, a smaller water area especially suited for toddlers. Another great option is Goofy's Pool area where poolside activities such as movie nights, dance parties, and cast member games take place. Lastly, thrill seekers will not want to miss the ship's 212-foot AquaDuct waterslide.
Just for the kiddos
Aboard the Disney Magic, there is a boat-load of child-exclusive activities for kids of all ages to enjoy. For teen guests, Vibe is where it's at! This special space for 14-17 year-olds features music, tv, and games and holds fun events such as karaoke and dance parties.
Tweens also have a spot all their own. Time spent at Edge includes special-themed nights, video games, dance parties, and arts and crafts.
The fun is neverending for kids ages 3-12 at the Magic's Oceaneer Club. This special space is filled with characters and themed play spaces such as MARVEL Super Herp Academy, and Andy's Room.
Children will have a blast building a road racer with Mikey, designing a royal outfit with Disney prince and princesses, and taking part in many other character-led activities.
There is also a special spot for the youngest of Disney fans. It's A Small World Nursery childcare center caters to babies and toddlers ages 6 months to 3 years old and offers toys, crafts, games, and an area for napping.
Young passengers will also enjoy a pirate trip to Neverland at the Magic's Oceeneer Lab. From science activities to cookie creations to detective challenges, the pirate activities aboard are endless and amazing.
For the Adults
While the little ones are enjoying the fun at the boat's kids clubs, adults will find many things to keep them busy.  One popular onboard destination is the Quiet Cove Pool where adult guests can relax with a  cocktail while enjoying an 18-plus pool and whirlpool spa.
Other adult-exclusive activities include a fitness center, nightclubs, and specialty dining options (additional fees may apply).
Dining
From casual fare to luxurious dining, there is so much great cuisine to discover aboard The Disney Magic. The boat boasts three themed dining rooms – Lumiere's, Rapunzel's Royal Table, and Animator's Palate. Guests choose between a 5:45 PM or 8:15 PM dinner time and rotate between the dining areas.
Additional dining areas include buffets, a pizzeria, snack shops, endless soft-serve ice cream, and a specialty restaurant called Palo where guests can enjoy adult-only dining for an extra fee.  Feel like having breakfast in bed?  Room service is also a great 24-hour option.  
Staterooms
Rooms aboard the Disney Magic are family-friendly and range from standard inside cabins to luxurious concierge suites. Some staterooms are super spacious and comfortable for a family of four, with a double occupancy bed and a bunk bed for kids.
There was plenty of storage space for our luggage, and the room was always kept clean and tidy by the attentive staff.
Cabins are spacious and feature all the comforts of home such as bathtubs and flatscreen televisions. Several rooms are wheelchair accessible and guests traveling with infants can request a pack-and-play.
---
So how much does a Disney Cruise from Galveston cost?
A cruise aboard a Disney ship is usually pricier than on other cruise lines but is well worth the extra money when you consider all that you get for your buck.
It really is like having two fantastic vacations all in one. Right now, a 4-night Disney cruise from Galveston is starting at the advertised price of $1980 for four guests. Included in the price are entertainment, staterooms, youth clubs, pools, and most dining options.
A few of the additional fees include gratuities, excursions, and add-on activities.  Be sure to check the Disney Cruise Line website for an exact breakdown.
---
Disney Cruise From Galveston Pro Tips:
After many months of canceled plans, vacationers are anxious to get back out there and sail upon the open seas. Cruises are booking up quickly so be sure to make reservations for excursions, special add-ons, and childcare in advance.
Don't forget to read up on Disney Cruise Lines' safety and COVID protocols before you go. These protocols may change prior to your sail, so make sure you are continuously up to date on this information.
Before you book, be sure to check out discounts and special offers. There may be special rates for military members and Canadian residents. Disney also offers discounts and benefits to frequent sailors.
---
Frequently Asked Questions about Disney Cruise from Galveston
What is the "Cruise Only" option on a Disney Cruise?
The "Cruise Only" option on a Disney Cruise means that you are purchasing the cruise package without any additional flights, hotel stays, or ground transportation included.
Essentially, it is a way to save money by only paying for the cruise itself and not any additional travel arrangements.
Do you travel to Grand Cayman on a Disney Cruise from Galveston?
Yes, you can travel to Grand Cayman on some Disney Cruises from Galveston. Grand Cayman is a popular port of call in the western Caribbean, and it may be included in the itinerary for some Disney Cruises departing from Galveston.
---
If you enjoyed our article about a taking a Disney Cruise from Galveston, you might also like:
HOW MUCH DOES A DISNEY CRUISE COST? + MONEY SAVING TIPS
DISNEY CRUISE FOR FLORIDA RESIDENTS: EVERYTHING YOU NEED TO KNOW AND THE BEST PERKS
TRAVEL EXPERTS REVEAL [100 AMAZING] DISNEY CRUISE TIPS YOU'LL LOVE!
---
Pin for later: Our Top 5 Reasons You Should Book a Disney Cruise from Galveston and What Makes it So Great!