I love cruising, and I really love Disney Cruises, but let me tell you something…..There is A LOT to plan when it comes to booking a Disney Cruise. After 20 Disney Cruises, I have put together the top 100 tips you need to know for your next Disney Cruise. From planning to cruise cost to embarkation at Castaway Cay to the sad ending of Debarkation! We have got the best Disney Cruise Tips to make your sailing a breeze.
Booking the Cruise (How to get the best deal)
OUR #1 TIP – It's My Best & Worst Money Saving Tip….. and it's the same tip
Let's start off with my absolute best and worst tip all at the same time. It is the best tip, because it will ALWAYS SAVE YOU MONEY, no matter what book you cruise….but it's the worst tip because it seems so counterintuitive.
DO NOT BOOK ON THE DISNEY CRUISE SITE. The site is great for researching cruises but you are throwing money out the door if you book direct.
Instead, use a Travel Agent. I don't care what the deal you found on the Disney Cruise site, a Travel Agent can not only match the price, but they often offer onboard credits, sometimes up to $1000!! Which is basically free money for you to use onboard the ship for specialty dining, spa services, cocktails, shore excursions, Bibbidi Bobbidi Boutique, or whatever you want to buy onboard.
Some travel agents charge a planning fee, skip those guys. We use Best Day Ever Vacations, they always find us the best deal, they charge $0 for their services know what the best staterooms are and help with our full planning. They seriously are the best.
Special Offers Page
Sometimes Disney will post discounts on Disney Cruise Line's Special Offers page. These are great deals, but like I said earlier, even if the deal is amazing, do not book on the Disney Cruise site, use a travel agent and get some additional onboard credits for spending
Hidden Last Minute Deals with a Catch
Hidden Last Minute Deals are available on the site, they are described as "Restricted Guaranteed" Rates. You get to choose the type of cabin (inside, outside, verandah) but don't get to choose your actual room. We have done this numerous times and luckily always received great rooms (we have even received connecting rooms). You can check out how we booked these discounts on the Disney Magic.
Florida Res. & Military Discounts
They do offer Florida resident and Military Discounts but otherwise, discounts are hard to come by. Here are the best ways to get the best deal on a Disney Cruise!
Best Way to Save Money on your Disney Cruise [is while you are on one]

The best way to save money on a Disney Cruise is to book your next cruise onboard an existing cruise. You save 10% off the prevailing rate plus onboard credit of $200 and reduced deposit. Purchasing Discounted Disney Gift Cards
If you are a Target Red Card holder you can purchase Gift Cards at Target and receive 5% cash back. Purchase up a bunch of Disney Gift Cards and you can save an additional 5% OFF your cruise. You can also take advantage of bonus points from your credit card company. For instance, Chase ink card offers 5 points for every $1 at office supply stores which happens to sell Disney Gift Cards!
DISNEY VACATION CLUB MEMBERS – Do Not Use Points to Book Your Vacay
DVC members can use your points to book a Disney Cruise. THIS IS A TERRIBLE WASTE OF POINTS. The point value is awful for cruises. It is much better to rent out your points with a service like David's Vacation Rentals and use that money for the cruise.
Sometimes Two Cabins are Better Than One
Back in the old days when our family was only five people, you had to book a family cabin that sleeps five to be in one room. This often is pretty pricey. Sometimes you can book two connecting rooms that will be cheaper than one large room. Plus, you get so much more space, this was a Disney Cruise tip that was given to me on my first cruise and one of my favorites.
BOOK OFFSEASON
Going offseason is one of the best Disney Cruise Tips. The cheapest times to cruise is when the kids are back in school. So, if you want to sail on the cheap, this is the time to do it. And the cheapest is September (hurricane season), so if you want to risk the possibility of sailing during hurricane season you can save yourself a lot of cash.
When Should you Book & Room Choice
Book Early, Book Early, Book Early
One of the Disney Cruise line tips I always give is if you are looking for a specific itinerary, book it as soon as sailing dates are announced. Disney cruises rarely go down in price (except for those last minute specials) otherwise the cheapest prices are usually right when the itinerary is released.
The Best Rooms onboard the ship!
Concierge Rooms
All five ships have concierge rooms and now have concierge lounges. These rooms get booked up the fastest so once again book these rooms up early. (Check out the amazing experiences of having concierge level here)
LOVE FIREWORKS? Book your room on the Starboard side
The fireworks at sea show are pretty spectacular (occurs on pirate night) If you book your room on the starboard side of the ship (right side) you can watch the Fireworks from your verandah.
(Disney does not recommend sitting on your balcony during the fireworks but I saw several families sitting on their verandahs for the show)
Secret Mini Suite
There is a secret mini-suite that is considered an ocean view room. On the Disney Dream and Disney Fantasy on Deck 5 are 6 cabins that sleep only 3 people.
But they are massive rooms compared to the normal Disney Cruise rooms and they are priced at the exact same price point as a regular Oceanview Cabin. They are rooms 5018, 5020, 5022, 5518, 5520 & 5522. These rooms book up quick.
Before You Board – Packing, Checking In, Booking Port Adventures & More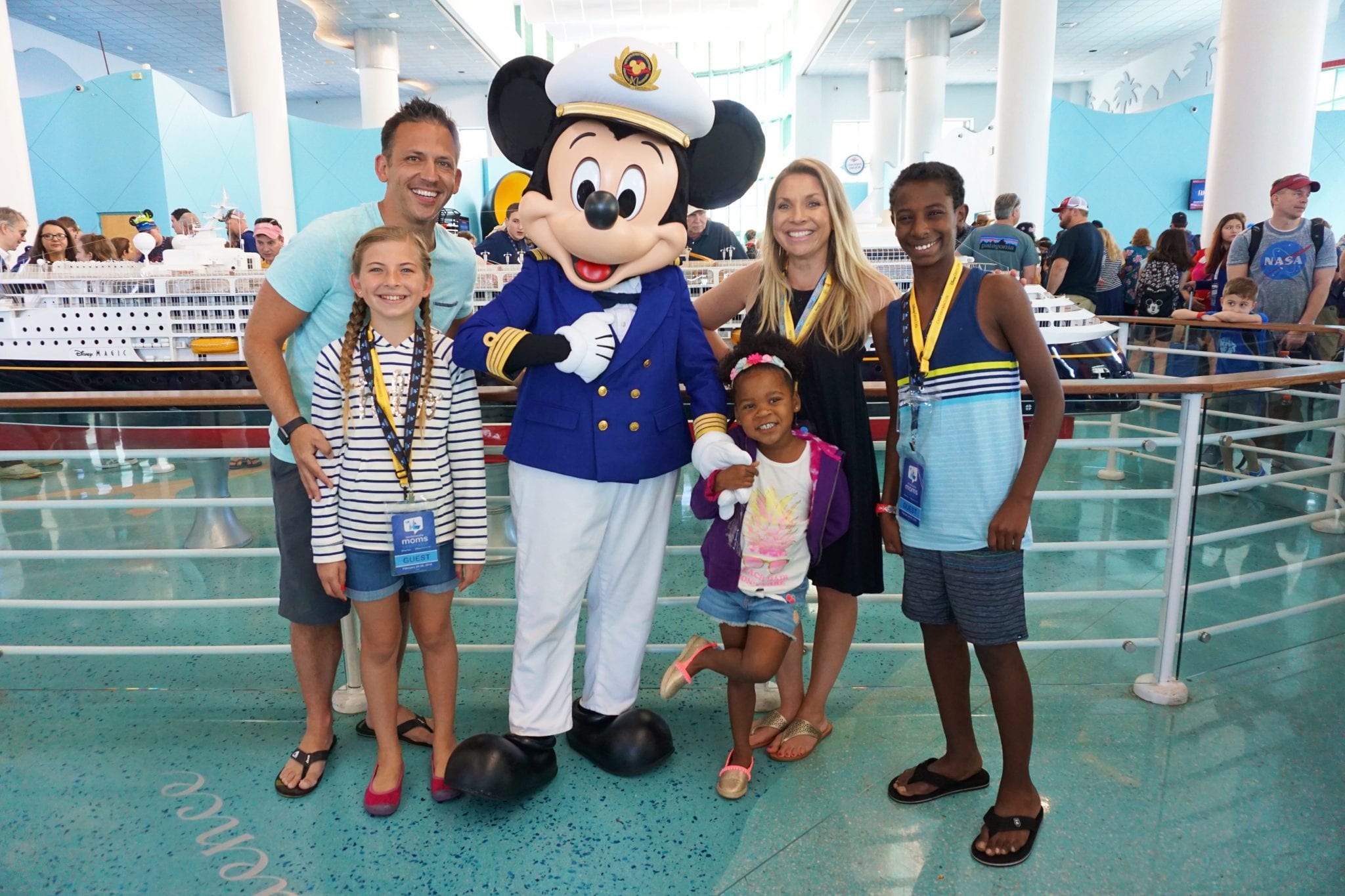 Check-In Online ASAP (120 Days before sailing)
Embarkation times vary, but the earlier you do your online check-in the earlier you get to board the ship. That is more time you get to spend onboard. Show up at at the port about 30 minutes to 45 minutes before your scheduled embarkation time.

This will give you time to drop off your bags with the porters and go through security and check-in. Thus, embarking as soon as your scheduled time slot will allow. If you do arrive too early you might find yourself sitting around the port which is not the most fun.

Online check-in opens on different dates. Platinum Castaway Club members and concierge guests can check-in 120 days before sailing. Gold Castaway Club members 105 days before sailing. Silver Castaway Club members can check-in 90 days before sailing. All other guests can check-in 75 days before sailing.

As soon as you check-in, you are able to book dining, cabanas on Castaway, shore excursions (port adventures) spa experiences, many of these experiences book up fast so book these right away.
You Can Bring Your Own Alcohol On Board
You can bring two bottles of wine or a six-pack of beer per person. – DO NOT Pack them in your suitcase they need to be in your carry on for the ship.
Decorate Your Door!
This is one of those super fun Disney Cruise Tips. People love to use

custom magnets

and

"Fish Extenders"

which hang on the door and identify different members of the family. It is a fun way to place surprises for the kids and often times Disney fans share gifts and notes with other fans. Etsy is a great place to grab

fun magnets

and

"Fish Extenders"
Pre-Book Upgraded Dining
These dining options book up fairly fast too. The Palo Brunch is my favorite upgraded dining. If you are on a shorter 3-4 day cruise you don't want to miss the rotational dining, so upgrading to the Palo Brunch is the perfect way to check out Palo. On longer cruises 5 days or more, I say check out the fine dining of Palo & Remy.
Allergies or Specialty Dining Needs
When you are doing the online check-in, you can specify allergies and any special dietary needs. I recently became vegan and the chefs and waiters went above and beyond to accommodate me.
Every time you sit down for breakfast, lunch or dinner a waiter will make sure that you are taken care of. For self-service and buffet, ask someone who is working there as there is always a chef on hand who knows the ingredients.
Pre-Book Character Experiences & Bibbidi Bobbidi Boutique
The character experiences are free. Try to book them for days at sea. Bibbidi Bobbidi Boutique runs about $119.00.
Pin Trading
Pin trading is available on all Disney Cruise Ships. If you don't have any Disney Pins you want to trade, pick up some pins on Amazon and save some cash!
Pack Something Warm
At night the cruise can get a bit chilly with the wind, so if you want to hang out on the top deck watching a late night movie, it's worth it to pack a light sweatshirt. (Need a Complete Packing List – Check out our Disney Cruise Packing List Post)
Booking Dining Times Tips
There are two seatings onboard Disney Cruises. Main Seating 5:45 PM-6:00 PM – Late Seating 8:00 P.M. to 8:15 P.M. If you want main seating, try to book it right away.
Main Dining is More Popular, but late dining does have its perks
If you don't get main seating, do not fret, there are some distinct advantages of the late seating
Kids Club Pick up
If you choose, The kids club will actually pick up your kids in the middle of dinner during the late seating so that the kids can play and the grown-ups can enjoy a relaxing meal. (The waiters know to serve the kids quick)
Less Crowded Shows & Pictures
The late seating is usually less busy, so you don't have to worry about rushing to the Walt Disney Theater to get a good seat at the show because it will be less crowded than the later show. Also, picture lines before dinner are typically less crowded.
Late Breakfast for Final Day
If you have late dinner, you get late breakfast for your final day so you don't have to end your cruise wake up at the crack of dawn.

Booking Port Adventures
Port Adventures can be a bit pricey, here are a few tips to save you some cash on your port adventure
Many of Disney's Port Adventures are offered via third parties that will also sell the same excursions directly or via other third-party sites. Check out TripAdvisor's reviews on the excursion you are looking for to see if you should book outside of the cruise.
Nassau, Bahamas is the port most frequently-visited by Disney Cruise Line and the most popular port adventure is Atlantis. An Atlantis Day Pass typically runs $165 per person. You can save a ton of money by simply booking a room for one night at Atlantis for as little as $199 for the one night. This room will entitle you to 4 day passes at Atlantis. That is a saving of around $400. Check prices for Atlantis Here
Also check out the new Baha Mar Water Park, it is incredibly nice and not crowded at all.
Plan for Pirate Night!
Pirate Night is one of the best nights on the ship. The evening is a ton of fun, the characters are all dressed up and the guests get seriously decked out. Find some pirates costumes online before you go because the ship's pirate attire can get pricey (BTW Everyone, gets a Mickey Bandana at Dinner Time)
Pack a Day Bag for the 1st Day
On the first day, your room might not be ready till 3 pm. So pack a day bag with a swimsuit and sunscreen so that you can enjoy the day onboard the ship. (Plus, the waterslides lines are usually the slowest when you first board) – You can change in the fitness center or the bathrooms (Disney keeps them spotless)
Download the Disney Navigator App
This app will tell you everything that is happening onboard your ship (when you are on it) and they have a FREE chat service on it so you can chat with your family and fellow cruisers onboard. It is such a great tool for your cruise!
GETTING TO PORT CANAVERAL
Most of Disney Cruises sail from Port Canaveral (about 40 minutes from the Orlando Airport & 1 hour from Walt Disney World) Disney Transportation is $45 each way per person, so if you have a large party it can be expensive. Also, Disney Cruise transportation from Disney Hotels is only one time per day and often times you find yourself onboard the cruise ship last.
Here is how to save money on transfers and arrive early
Rent a car (yes this sounds crazy) and park at an offsite lot. We rented a car for $20 a day the parking was $6 per day. We ended up paying $180 including gas for 5 of us. With Disney it would have been $450, we save $270. (or do a one-way car rental)
Take an Uber or Lyft – Uber xl (seats 5-7) is $125 each way, so you will save $100 if there are 5 of you.
Book offsite transportation – We have done this as well. It typically runs $1oo each way, so you will be saving there as well.
Night Before Cruise
We often stay in Port Canaveral overnight at the Residence Inn, they offer Free Breakfast, you will find a ton of fellow cruisers there to chat with and they offer parking for only $7 per night if you choose to leave your car there for the cruise (parking is free during your stay).
Disney Cruise Tips – Embarkation Day
You've made it, life is good because your vacation is about to begin!!! Woohoo! This day goes fast and sometimes can be hectic so here are our best tips so you enjoy embarkation day.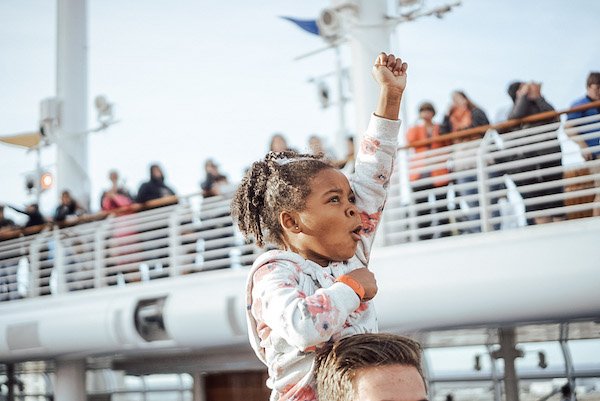 Arrival
Arrive about 1 hour before your boarding time. This will give you time to have your luggage given to the porters (tip them, they work hard) go through security and do the check-in process). Arrive too early and you'll find yourself just sitting around.
Kids Club Check-IN
You can do do your kids club check in online (the majority of it) DO NOT do the kids club check-in at the port unless the line is very small. This line can be brutally long at the port. On Embarkation day the ship will have a couple of tables set up where you can simply bring your kiddos to get all set up to enjoy the fun.
source: Disney
Boarding the Ship
When you board the ship, the Disney Cast will personally announce and welcome your family by name as you board the ship. If you like to video, grab your phone or camera and be ready. My kids love this part of the cruise, it's a great memory.
Buffet
When you first board they will send you to the lido deck for the buffet. It is a little hectic, but not as hectic as many other ships' buffets. If you are not hungry head over to the pool and let your kids enjoy the pool and slides while they are not busy
My Favorite Way to Dine when I First Arrive!
I don't like the chaos of the buffet on the first day. Instead, head to one of the three dining restaurants, typically it is Animators Pallet or Enchanted garden and enjoy a nice relaxing sit down lunch. On the Disney Wish, the sit down dining is typically at 1923.
I REPEAT – Pack a Day Bag for the 1st Day
Just in case you forgot from earlier, make sure to pack a day bag as your room is not likely to be ready. So pack a day bag with a swimsuit and sunscreen so that you can enjoy the day onboard the ship. (Plus, the waterslides lines are usually the slowest when you first board) – You can change in the fitness center or the bathrooms
source: Disney
Pre-Purchase Beer & Bottled Water Packages

If you are a big beer drinker you can pre-purchase a discounted beer cup and this will save you on your beer purchases throughout the trip. We have always been fine with the water on the ship, but if you prefer bottled water now is the time to purchase it at a discount.

Water Refill Stations!
There are now water refill stations onboard, so if you brought a refillable water bottle, you can fill up on the cruise at the water refill stations or the soda stations as they all have a water refill option.
FREE Alcohol for Vacation Club Members!

There's a DVC Member Celebration on Embarkation Day, which provides free alcoholic drinks and some giveaways (it's basically a way to get you to purchase more points) but Free Alcohol is Nice!

Sail Away Party!

The sail away party is a fun little party for the kids with characters dancing and music as the ship begins to sail off. We like to be on the top deck and look down on the party as it does get crowded and if you are on the party deck you will find yourself with your kid on your shoulders so they can see.

Mandatory Safety Drill!

Right after the Sail Away party is the mandatory safety drill. Once the sail away party is overhead down to your room begin unpacking (especially your clothes for the night) and then when the alert goes out head to the Safety Drill location. There will be staff all over telling you where to go.

*** On the Disney Wish – The Safety Drill is now online, you just have to visit your muster station to quickly check in***

Get Ready for Dinner & Shows after Drill

What… It's time to get ready for dinner already?" This is what you will say if you have the main seating. No worries, you already unpacked your clothes for the evening (if you listened to my previous tip). Once I am settled into dinner or my first show, the chaos seems to slow down and I feel like I am truly on vacation.
Disney Cruise Line Tips for Onboard your Cruise
Honestly, there is so much to do on a Disney Cruise that no matter what you do, you will find yourself having a great time. Here are some of our best Disney Cruise tips so you can enjoy your cruise even more.
Buffets
Healthy dining is available – You can order egg white omelets, vegan omelets and scrambles at any of the cook stations, so feel free to create your own delicious concoction. There are plenty of delicious options available for everyone!
Kid's Clubs
The Kid's clubs onboard the Disney Cruise ships are all amazing! The staff is incredible there is so much to do, and they even have character meets. On the first day there is an open house where you can explore the kids club with your kids. After that, the kids rule the club for the majority of the cruise.
Pool Chairs
The pool chairs do get snagged fairly early, so the early bird does get the worm in this case. Only worry about getting up to the pool deck on At sea days. When you are in port the pool is pretty wide open.
Slides
The slides onboard Disney Cruises can get a long line. If you are looking for a short line, head up early, get in line on embakation day, or head back early on a port day
Fitness Center
Goofy's/Pluto's Pajama Party is a Must for Kids
Spa Deals
Scavenger Hunts at Sea!
Onboard the Disney Dream & Disney Fantasy you can go on an interactive cruise ship scavenger hunt with the muppets. This is a lot of fun artwork on board the ship will change and it is a lot of fun for the whole family.
Don't Miss the Broadway Shows!
Movies
Love Popcorn? Buy the Refillable Popcorn Bucket on the First Day!
If you absolutely love popcorn, like my daughter Olivia. Grab the refillable popcorn bucket for $7.50 and then all refills are only $1.50 thereafter.
Savings!
Disney Visa cardholders receive 10% off on merchandise purchases of $50+. You can also get discounts on photo packages and Castaway Cay Excursions
Hidden Mickey's
Hidden Mickeys can be found onboard the cruise ships can be found aboard every Disney Cruise. Grab the Hidden Mickey's at Sea Book! It's usually $10 and will add a lot of fun to your cruise
Schedule a Character Wake up Call
You can schedule a free wakeup call and one of the Disney Characters will ring you with a fun wake-up message. The last time we got Baymax – ba-la-la-la-la
Enjoy some Incredible Sundaes & Delicious sweets from Vannellope's Sweet Shop
This does cost extra, but is tons of fun and so, so good. Vanellope's sweet spot offers some amazing sundaes. Our favorite was Vanellope's racecar sundae.
Personal Navigator

Every night the personal navigator used to be delivered to your room (now you have to request that our stateroom host provides it), we often will grab it before dinner and plan out our next day. (There is a lot going on, so planning is a good idea) You can also use the app to plan out your day.

Enjoy some Amazing Latte Art
Over at the Cove Cafe on Deck 11 (in the Adult Area), you can grab a latte and have fun Disney characters appear magically on the foam. You can end up with a variety of characters from Mickey and Minnie, to baby yoga and baby groot! They are the cutest!
Great Bar to Check Out

The Skyline Bar on the Disney Dream and Disney Fantasy is a great bar to check out. It has a rotating skyline behind the bar that rotates every 15 minutes.

Rotational Dining

You will be rotating between three restaurants each evening onboard your cruise. The Animator's Palate is one dinner you should not miss. The restaurant comes alive and onboard the Disney Fantasy your artwork is part of the show.

Order a 2nd Meal at Dinner

Hey, you are on vacation, feel free to order an extra entree if you want to try something else or better yet, order a 2nd and 3rd dessert!

Mickey Ice Cream Bars at Dinner

One of the things you won't find on the dinner menu is a Mickey Ice Cream bar, but don't be shy you can order one, and it's delicious!
Cash Free Living – Almost

All charges will be put on your key to the world card, so no need for cash while you are onboard, however, you might want some cash for the final night if you want to add an additional tip to your waiters and room stewards.

Laundry

Disney cruises have laundry pick up and dry cleaning (it's actually quite reasonable), but there also is a laundry room with washers and dryers, detergent and ironing equipment.

Take Lots of Photos

(ALERT! OBVIOUS TIP) Make sure to take photos of the specially themed nights, they are so great we still have some displayed in our house from years ago

Purchase Pictures before the Final night and Final morning

It gets crazy on that final night and debarkation day onboard the cruise. So, what we do is check out our pictures on the morning of the final full day (not disembarkation day) This will save you at least an hour. (You can actually now pre-purchase your pictures before you board)
Castaway Cay
Castaway Cay is always my favorite port. The incredible beaches, the bike rides around the island, water slides and the character dance parties are a must do for our family. Here are our best Disney Cruise tips to enjoy Castaway Cay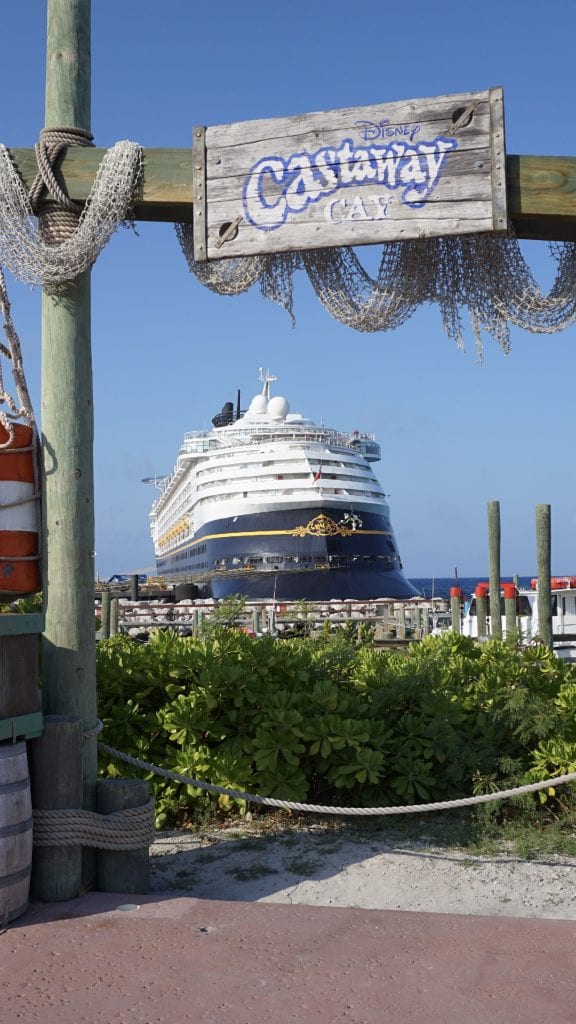 Early Birds Get a Medal

Ok technically you have to run a 5k on Castaway Cay to get the medal but when you do, Mickey will have one waiting for you. You do have to signup beforehand (onboard or online) to participate in the 5k and a safety meeting is required.
Grab Breakfast on the Ship

Breakfast is not served on the island, and the buffets are not open until lunch.

Send some Mail from Castaway

Castaway Cay has a post office drop-box that has an exclusive Castaway Cay postmark. You can purchase some stamps aboard the ship, and mail a postcard to some friends and family.

Booking a Cabana as soon as possible

If you want a cabana you need to book it very early (usually concierge and platinum guests gobble them up first) Here is my complete guide to the Castaway Cabanas.

Meet Jack Sparrow

On Castaway Cay you will find Jack Sparrow. Check your Personal Navigator for details.

Hit the Waterslides Early

The waterslides are located right past the family beach, the lines get long later in the day so head over there early.

Enjoy a delicious BBQ Lunch Included in the Cruise Fare
One of the great things about Castaway Cay is all the stuff included on the cruise ship is included here as well, including a delicious BBQ Lunch. Lunch is served from 11:30 – 1:30 and offers BBQ Chicken, Ribs, Burgers, Mahi Mahi, Veggie Burgers, and some delicious side dishes as well.
Excursions to Book

We book the 3-in-1 Castaway Cay Getaway Package, you get snorkel equipment for the day, an inner tube, and bicycle rental for one hour. After we drop off our beach stuff the first thing we do is head for the bikes before it gets too hot. You get to ride around the island, and then climb a tower with an amazing view of the island.
Adults Only Beach

Serenity Bay is the adults-only beach on Castaway Cay if you are looking for peace and quiet, this is the spot. They do have buffets over at serenity bay so you can relax there all day long.

Kid's Club on Castaway Cay

How can you enjoy Serenity Bay if you have your kids? Well, no worries here. Castaway has there own kids club, called Scuttle's Cove. It's the same great counselors from onboard the ship. It is a fun area with a giant whale dig the kids can participate in.

Character Dance Party

Every afternoon is a character dance party. You get to do a little conga live with Mickey, Minnie and Pluto. It is so much fun for the little ones.
Cool off with a little Basketball and Shuffle Board

There is a great place on Castaway called "In Da Shade" where you can shoot some hoops, play ping pong and shuffleboard under the shade (we have actually used this once for a random downpour)
Disembarkation –
The saddest day of the cruise has arrived and if you don't plan well it can be even sadder. Here are our best Disney Cruise tips to make disembarkation easy peasy
Buy Photos & Settle Credit Card Charges the day before!

Yes, I already talked about photos before but make sure on the day before you disembark to take care of reviewing your bill early because that guest service line gets long

Packing Up –

The night before the cruise staff will grab all your luggage if you leave it out in the hallways. Here are a few tips to make sure you do it correctly

Do not pack everything – If you pack everything you will only have your pajamas in the morning to get off the ship…..that's not fun
You can carry off your luggage and get off the ship first! – The lines get long for disembarkation. If you don't have too much luggage, you can carry it off yourself and be the first ones to leave the ship.

A few options for Morning Breakfast!

You will be assigned a morning breakfast with your wait staff. There are two times based on your dining time choice. You can also heat to the buffet on the pool deck as it is not very crowded on the final day.

You Might Have to Head up the Elevator to Get Down

There are upwards of 4,000 people heading off the ship with some luggage in hand so the elevators get packed. If you are not on the top floor you might be waiting a while to find an empty elevator. So, instead, take an elevator up while it is empty and then ride it back down.
Smile!

You had a great cruise, I know it's over and sometimes I pout a little, but hey it was fun while it lasted.
Deciding on whether you should book a Disney World or Disney Cruise Trip? Check out my article here!
Do you have any amazing Disney Cruise Tips?
Comment below with your best tips. We would love to hear them!
Map of Disney Cruise Itineraries
You Might Also Enjoy these Articles:
Disney World Tips & Tricks [Over 75 Amazing MUST KNOW Tips]
The BEST Disney Cruise Packing List (+ Pirate Night Details)
Pin for Later – Over 100 Disney Cruise Tips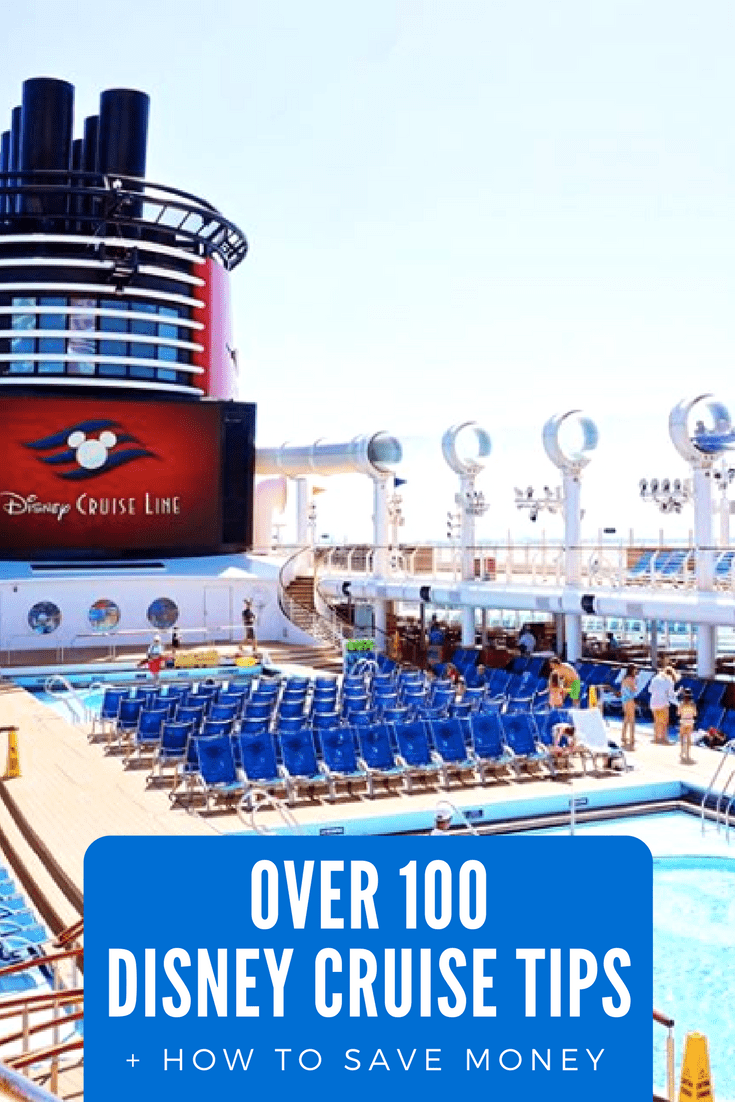 Latest posts by Mama Munchkin
(see all)