After sailing on 15 Disney Cruises, I think the most common question we statement we hear is, "I've always wanted to go on one, but how much does a Disney Cruise cost? Disney cruises are definitely one of the premier ships at sea and with that does come with a premium price.
So, we are here to break down how much a Disney cruise costs, what's included, a look at Disney Cruise Prices in 2023 and is it worth it compared to other cruises.
---
What's Included in the Price of Your Disney Cruise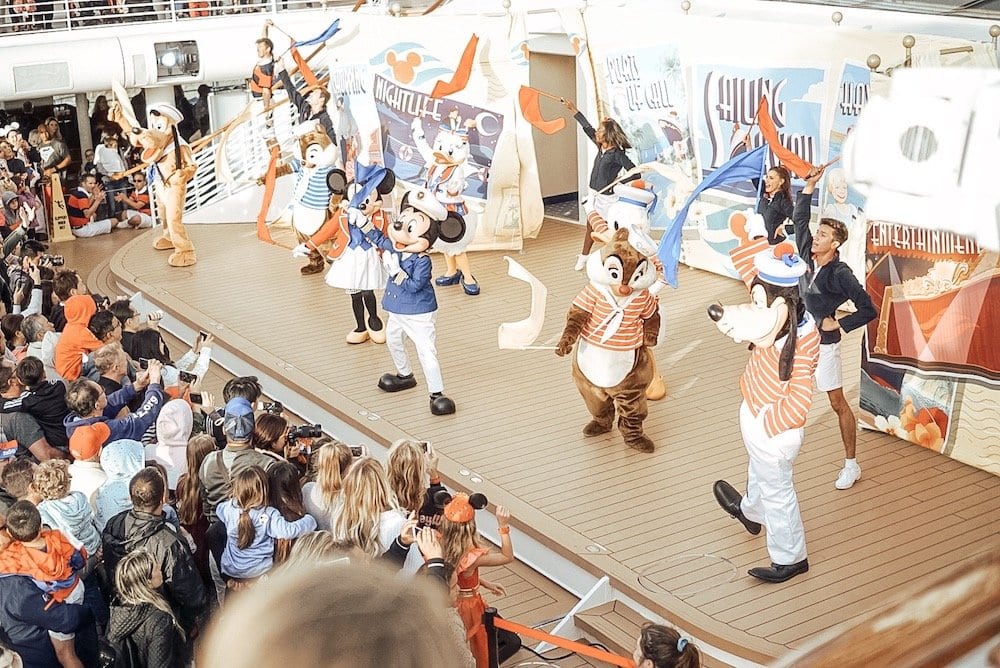 When you are looking at how much a Disney Cruise costs, I think one of the main factors you have to take in is how much stuff is included in a Disney Cruise.
Passengers on Disney Cruises can expect the full Disney experience throughout their trip. Let's take a look at everything that is included in your Disney Cruise sailing.
Broadway Musicals & First Run Movies
All ships have theaters with live Broadway musicals (and these are seriously amazing musicals) along with unlimited access to movie theaters that offer Disney's & Marvel's newest movies.
You'll often find yourself on board seeing the latest Marvel thriller (we saw Black Panther onboard right when it was released) or a brand new Pixar film.
Incredible Meals with a splash of Disney Magic
Meals are included with your cruise fare. Each ship has rotational dining where you will visit one of three restaurants each night. Your waiter travels with you as you dine at each new location, and the waiters on the ship are truly a blast. Many have done magic tricks for our kids and all are the most caring people you will meet.
In addition, there is a buffet, and plenty of places to get food around the clock. There are several quick-service spots where my husband loves to grab a pizza, as well as 24-hour room service, where you can even get Mickey Ice Cream bars delivered to the room.
Unlike most cruises on Disney cruises, Guests can also enjoy endless soda for no additional fee. Tea and coffee are also included while aboard in addition to all-you-can-eat soft serve ice cream with all the toppings. The only food which is extra charge is at the fine dining of Palo & Remy and Vanelope's sweet shop.
The Best Kid's Club of any cruise line
If you asked my kids what the one thing that they love about a Disney cruise, it would be the kids club. In our rankings of top cruise ships, Disney Cruis kids club blows every other cruise out of the water ? (no pun intended).
My kids are not the type of kids who like to stray off and go to a kids club but Disney's is out of this world. There is no comparison to any other cruise line out there. The themed rooms are amazing and the staff is incredible.
Character Experiences
There is no other ship at sea that offers the character experiences Disney Cruise offers. You may find yourself casually strolling by Captain Hook or Peter Pan. Characters have several photo opportunities scheduled throughout the day, where you can get your picture taken with your favorite character.
Plus, in the kids club characters will come and visit and play with the kids. So, if your family loves Disney characters, there are plenty on board to interact with.
Castaway Cay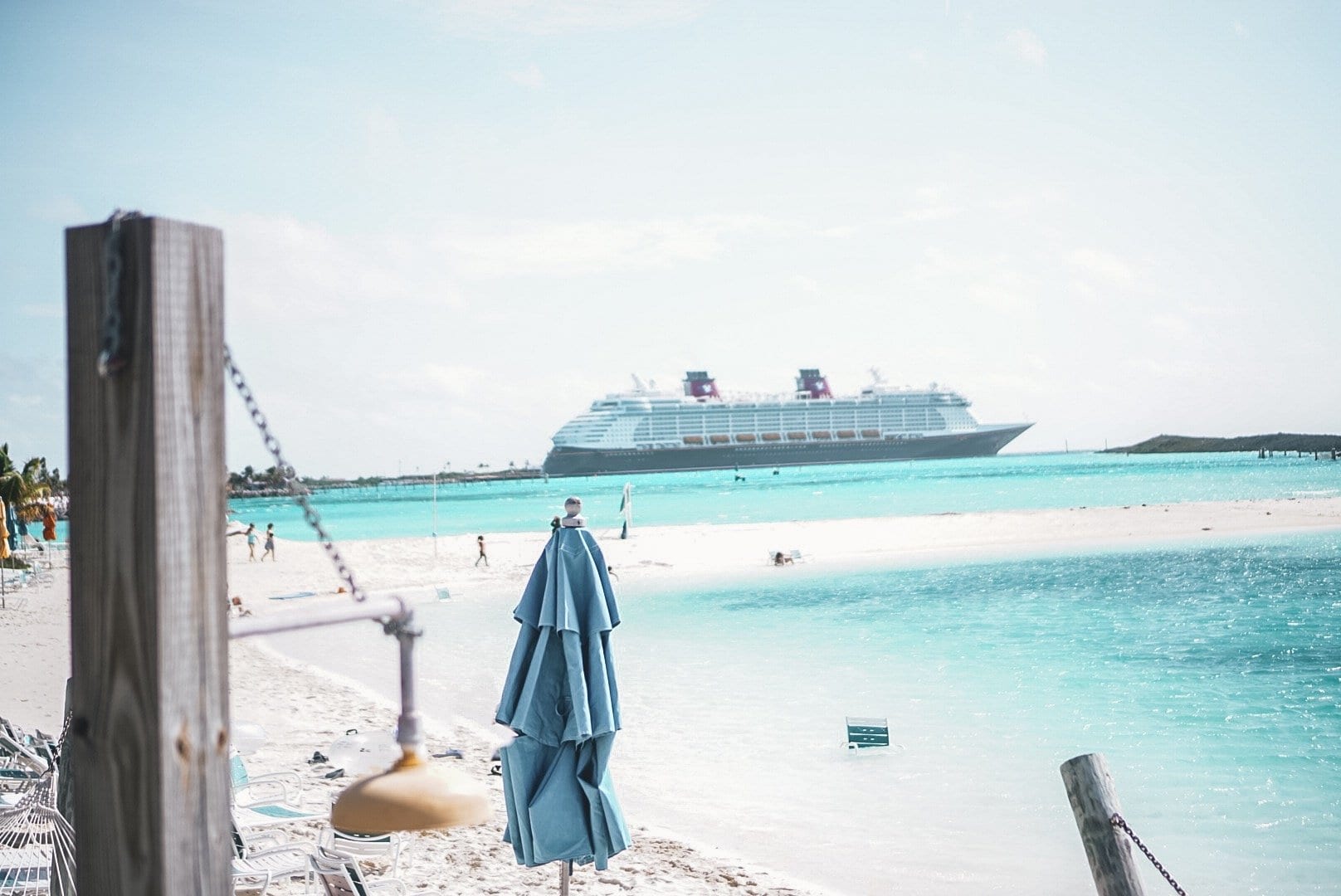 If you are sailing on a Disney Cruise to the Bahamas or the Caribbean, included in your fare, is a visit to Disney's Private Island, Castaway Cay. This island is amazing with beautiful beaches, water slides, snorkeling and so much more.
The best part is all the food, just like on the cruise is included. It will definitely be one of your favorite stops on the cruise. For an extra cost you can get a Castaway Cay Cabana, these cost quite a bit but if you can afford it, they are simply amazing.
If you love running, Disney Castaway Cay has a 5K to start off the day. It's a fun way to get started on one of the best days of the cruise.
---
How Much Will a Disney Cruise Cost in 2023 & 2024?
So, what we did is break down what a Disney Cruise cost on average for a family of 4 with several different itineraries. These prices are total including all taxes for a family of 4. All of these cruises are prices based on inside, oceanview and verandah cabins.
We did not include the concierge level, because that's on a whole different level. While the inside to verandah cabins are all fairly close in price. After we go over some costs, we will breakdown how to find the best deal.
Now, normally how much a Disney Cruise costs goes up each year, but in 2023 we expect prices to remain the same, except on the new Disney Wish! Plus, be on the lookout for more special offers to get people to return to cruising.
---
My BEST TIPS to Save you time & Money when Booking a Disney Cruise
Tip #1 – I actually learned this tip from our travel agent, but the #1 thing to do when booking a Disney Cruise is book early. 99% of time prices go up as the ship fills up. So the early you book, the better deal you are going to get.
We went on a cruise this past summer and paid a little over $4,100 for a verandah cabin on a 7 night cruise, our friends went to book last minute and had to pay $3,000 more for an inside cabin. So, put down the deposit early and then your final payment isn't due until 120 days before the cruise.
Tip # 2 – This one might surprise you but it is my best tip. DO NOT, I repeat DO NOT, book directly through the Disney Cruise site, you are wasting time and Money!
I know, it seems like you would get a better deal, right? But the fact of the matter is you do all the work and the you pay the exact same price (if not more) versus if you went through a travel agent.
Plus, a travel agent is trying to earn your business, so they will have all sorts of perks to have you use them. Here is what you will get:
You will get the same price, if not better (they know all the specials going on)
Some sort of bonus like Stateroom Credit = FREE MONEY – Stateroom Credit is money you can use for spending onboard like Spa Services, Bibbidi Bobbidi Boutique, Specialty Dining & More – I have received $800 on one cabin in the past
Plus, they know where the best staterooms are, when you should check in for your cruise, what documents you need and they send you reminders.
They will save you hours and hours of planning
Our favorite travel agency is Best Day Ever Vacations, they specialize in Disney travel and they even have a place on their site where you can find all the unadvertised Disney Cruise Deals are have some amazing deals, but please do yourself a favor and use a travel agent for your next Disney Cruise
---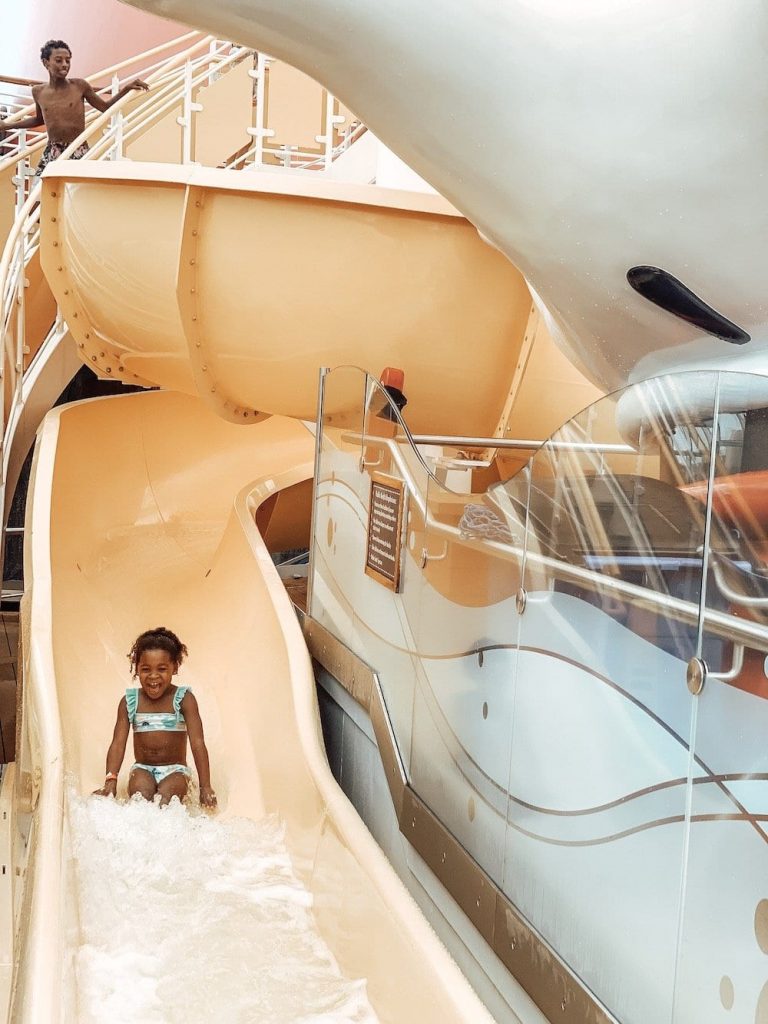 3 Night Caribbean Cruise
A 3-Night Disney Cruise can surprisingly range widely in prices. You can look at paying from $2,600 – $6,300 on a 3 night Caribbean cruise. So, you are looking at $216-$525 per person per day.
4 Night Caribbean Cruise
A 4 Night Caribbean Cruise can range from $3,400 – $6,700. You will find that a 4-night cruise is often a better value because it sails during the weekdays, so if you have that ability to miss some weekdays, take a 4-night cruise. A 4 night averages out to $212-$418 per person per day
7-Night Caribbean & European Cruise
For a family of four, a 7 Night Cruise will range from $5,300 – $10,000. The 7 Night cruises in the Caribbean can be onboard the Magic, Fantasy & the Wonder. Personally, for me, I would choose the Magic or the Fantasy when in the Caribbean as they have better waterslides. In Europe, the only option is the Disney Magic, which is the first ship we ever sailed on and one of my favorites. A 7 night averages out to $189-$397 per person per day
7 Night Alaska Cruise
An Alaska cruise the prices vary much more dramatically by room class as a Verandah is so sought after. If you are planning to sail to Alaska the prices can range from $6,500 – $17,000 for a 7-night cruise. That comes to $232 to $602 per person. The inside cabins are much cheaper when it comes to Alaska as they are from about $6500-8000 but the Verandah cabins really are the ones that vary the most from $8900 all the way up to $17,000 for the same cruise.
---
How Much Does the New Disney Wish Cost?
The newest Disney ship to set sail is the Disney Wish.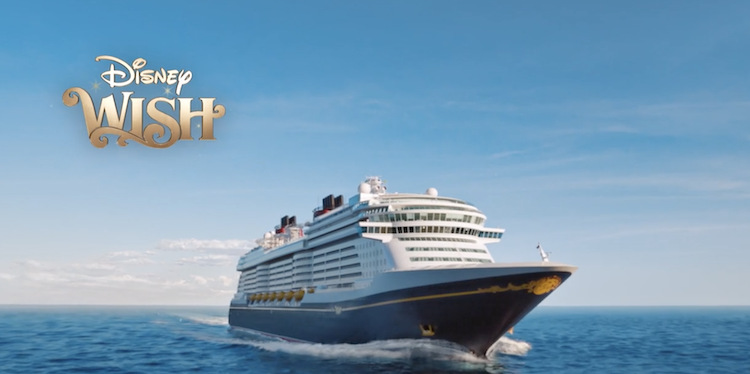 The new Disney Wish began sailing in July 2022. The ship set sail from Port Canaveral and sailed to the Bahamas and Castaway Cay Currently pricing for the Disney Wish is slightly higher than the other Disney Cruise ships and we anticipate that to last for about a year.
That being said, the new ship looks amazing and we can't wait to set sail on one.
For a Family of 4, a 3 night sailing will be around $3,000 – $5,000 per sailing which comes to about $250-$450 per person. The 4 Night cruise is typically a better deal as it sails during the week. For 4 nights the pricing for 4 people is $3,400 – $6,600, which comes to $212 – $412 per person.
Want a Custom Disney Cruise Cost Quote: Fill out our Disney Cruise Inquiry form and one of the representatives from Tink's Magical Vacations will contact you within 1 business day.
---
Extra Disney Cruise Costs to account for:
Gratuities –
Gratuities run about $40 on a 3 Night Cruise per person, $54.00 per person for a 4-night cruise, and $94 for a 7-night cruise. 15% Gratuity is also added to any alcoholic purchases.
Shore Excursions & On Cruise Experiences
You definitely do not need to do a shore excursion at every port, but they are quite fun. I would estimate $100 per shore excursion you would like to do. Most times you are able to book shore excursions off the boat
Spa Services & Bibbidy Boppidi Boutique
If you are in the mood for a little R&R then head to the senses spa for a wide variety of services. In addition, you can also make your little one a princess with a visit to the Bippidi Boppidi Boutique. Our girls have always loved this boutique! They love picking out their favorite princess dress and getting the full royal treatment. While these services are extra, they are so worth it because it is truly magical seeing their excitement.
Alcohol and Premium Dining
Alcohol is not included in your fare, so if you are planning on taking in some cocktails, budget appropriately for these expenses. On the Disney Cruises Ships, you can pay a little extra to dine at Palo or Remy, which offer top-notch cuisine. Palo is available on all 4 Disney Cruise ships, while Remy is only available on the Dream and Fantasy.
How do Disney Cruise Prices compare to other cruise lines
We all see the ads for a 3-night cruise for $299, while that can be great, comparing the $299 cruise to the Disney cruise cost is apples and oranges. If you want to make a fair comparison, take a look at the biggest competitors, Royal Caribbean, Norwegian & Carnival, and look at their newer fleet of ships (less than 7 years old).
There you can see the best that each has to offer. I compared the Disney Fantasy in July to Royal Caribbean's Harmony of the Seas. The prices ended up being between $150-$200 more per person for the Disney Cruise.
---
How to Save Money on a Disney Cruise
Book with a Travel Agent! My #1 Tip!
I know, I mentioned this earlier but I want to reiterate it. I even feel foolish for saying this because this was so against our initial instincts. In fact, we booked our first 8 cruises without a travel agent because we always thought we could get the best deal.
A travel agent can get you the same pricing you will find anywhere else, plus they offer onboard credit to spend on the ship and will help you plan the whole thing.
We use Disney Travel Agents for all our Disney trips because they know Disney Cruises, Disney World and Disneyland better than I will ever know. I highly recommend their services. Not only do they help with the planning, you get the best deal available + onboard credit!
Disney Cruise Deals – Special Offers
Disney Cruises in 2021 will probably have more deals than ever due to the current climate, however, don't underestimate the demand for Disney. You can find Disney Cruise deals on a page exclusively for Special Offers.
At the time of this article, there is a 7-day cruise for only $116 per person per day. They have special offers for different sailings, military rates, Florida resident rates, and Candian Resident savings.
*Pro Tip* When you see that special offer, still contact your travel agent because they can get you that offer plus the onboard credit.
Book in the Offseason
If you want to save some serious cash, book your cruise in the off-season, basically any time kids are normally in school. You will find the Disney Cruise cost to be lower in September, October, Early November, January, & February. So, if you can sail during those seasons, do it, because you will save your self a ton of money.
Book Early
If you know the itinerary you want and it is during a peak season like the summer or holiday, book the room as early as you can. Disney Cruise prices rarely go down, especially on peak sailing so the earlier you book the better the price.
Book while on a Cruise
Lastly, if you are sailing on a Disney Cruise and love it, book another one while onboard. You save 10% off the rate, plus give them your travel agents info and you'll still get the bonus 10% plus your travel agent will get you that onboard credit too.
Know what to Pack and Not to Pack!
One of the surprisingly best ways to save money not only on your Disney Cruise, is knowing what to pack. We have a full detailed Disney Cruise packing list, which will let you know everything you can and should bring on board plus things you can't. (Hint, you can bring some alcohol).
---
The 5 Disney Cruise Ships
There are four ships in the Disney Cruise Line (5 when the Wish arrives in the Summer of 2022). Each ship has its own unique features and base of operations, but they all offer similar services and amenities.
The Disney Wish is the newest of the Disney cruise ships and began sailing in the summer of 2022. The wish has some incredible features like the Frozen and Marvel themed restaurants, their first ever Disney ride at sea, "The Aqua Mouse" and so much more.
The Disney Wonder sails to Alaska, the Caribbean and the Bahamas. The Wonder is the only ship in the fleet that sails on the West Coast, so you'll see it docked in San Diego every now and again, which is the only port of call for Disney cruises on the West Coast. The Wonder is popular among superhero fans, as it is home to the Marvel Super Hero Academy and Frozen, A Musical Spectacular.
The Disney Magic has one of the most unique itineraries sailing to the Bahamas and Caribbean, and it's the only ship that cruises to Europe & the Greek Islands. There you'll find several enchanting cruises in Northern Europe and around the Mediterranean with exciting port adventures available to guests. Magic is known for Rapunzel's Royal Table restaurant, Tangled: The Musical and my kid's favorite water slide the AquaDunk. (Check out our full review here)
The Disney Dream can be seen cruising around the Bahamas and Disney's private island, Castaway Cay. The Dream typically sails 3 and 4 night trips. The Dream is known among Star Wars fans as it has a play area that resembles the Millenium Falcon inside the kid's club (it's pretty awesome), and guests can enjoy Broadway's hit musical Beauty and the Beast nightly in the ship's grand theater.
The Disney Fantasy has 7 night sailings to Castaway Cay and the Eastern and Western Caribbean. Have you ever seen a water roller coaster? You'll find the AquaDuck water coaster aboard the Fantasy along with the Royal Court restaurant filled with all of the Disney princesses and princes you can imagine, as well as the Star Wars: Command Post for the little ones. Since each cruise has specific destinations, if you want to book a specific ship then you will be limited by that ship's range of destinations.
---
Map of Disney Cruise Destinations and Ports of Call
---
Pin-It For Later: How Much Does a Disney Cruise Cost?
---
Have any questions about Disney Cruises or Disney Cruise Costs? Ask us in the comments.
Or feel free to message us on Instagram
---
If you enjoyed reading about Disney Cruise Costs, you might also enjoy:
Disney Cruise Tips & Tricks [Over 100 of our BEST CRUISE TIPS]
The BEST Disney Cruise Packing List (+ Pirate Night Details)
15 Unique Disney Fish Extender Options For Your Next Disney Cruise
---
Frequently Asked Questions About Disney Cruise Costs
How expensive is the Disney Cruise?
Here is how much a cruise would be for a family of 4
– 3 night Caribbean cruise. You can look at paying from $2,600 – $6,300 on
– 4 Night Caribbean Cruise can range from $3,400 – $6,700.
– 7 Night Cruise will range from $5,300 – $10,000.
– 7 Night Alaska Cruise prices can range from $6,500 – $17,000
When is the cheapest time to sail on a Disney Cruise?
Typically January, February, Early March, September & October are the cheapest times to sail on a Disney Cruise.
Is the food free on Disney Cruise?
The food is included in your Disney Cruise cost with the exception of the two specialty restaurants – Palo & Remy as well as treats from Vanellope's Sweet Shop. Alcohol and specialty drinks are not included in the cruise cost and are an extra charge
Is Disney Cruise worth the extra money?
It depends. If you love Disney, then yes. If you have kids ages 3-10, I would say it is worth it. Once you get into ages over 10, it really depends on how much you enjoy Disney.
Is their an adults only section on a Disney Cruise?
Disney Cruise Line offers an adults-only section on their ships, called "The District," which is reserved for guests aged 18 and over. This section includes various bars and lounges, as well as a nightclub and a movie theater.
It provides a space for adults to relax, socialize, and enjoy entertainment tailored specifically to them, while still having access to the rest of the family-friendly activities and amenities on board.