Castaway Cay might be my favorite place on earth. I have visited Disney's Private Island 10 times now and it never gets old. There is always something different to try out, plus there are our mainstays that we have to do every time we go.
Most people I talk to, consider this stop the highlight of their Disney Cruise and I imagine this will continue until Disney opens their 2nd private island.
---
Our List of the Best Castaway Cay Activities
One of the things I love about Castaway Cay is so many of the things to do, eat and drink are free which is great when you are calculating your Disney Cruise budget. That being said, we have done a lot of Castaway Cay Activities, both paid and FREE (the best kind) so we are breaking down our favorites.
---
1. Snorkeling on Castaway Cay (Paid or FREE)
Snorkeling in Castaway Cay is one of the boys' favorite things to do on the island. Not only can you see some amazing fish, but there is also plenty of Disney Magic in the waters.
You will find many sunken ships and other artifacts along the way. If you search far enough you will find one ship with Captain Mickey at the helm. 
If you have your own snorkel gear, snorkeling is free, you just need to wear one of these inflatable yellow life vests (see pic above). They are free to use. Otherwise, you can rent snorkel gear.
Our Other Snorkeling Adventures
On a side note, if you love snorkeling, then you might want to check out some of our favorite snorkeling adventures on past vacations below:
---
2. Bike Around the Island
This is a mainstay for us as we bike around the island every time we are on Castaway Cay. You can rent bikes for $8 and ride on a path around the island. The path will lead you to a lookout where you can see the cruise ship way in the distance. The bike ride takes between 30 minutes to an hour.
They have bikes for all sizes and seats for baby's to safely ride on your bike behind you. The bike rental is located just past pelican's plunge water slides.
---
3. Castaway Cay 5k (FREE – Signup Required for This Activity)
If you want to be the first one on the island than the Castaway Cay 5k is for you. You do not have to be an avid runner to enjoy this morning run (walking is perfectly fine).
There is a signup and safety meeting required the day before, but this is a fun event where you can jog around the island and take in its beauty before the rest of the cruise heads ashore.  You can check out my full details about the Castaway Cay 5k here)
---
4. Enjoying the Family Beach (FREE)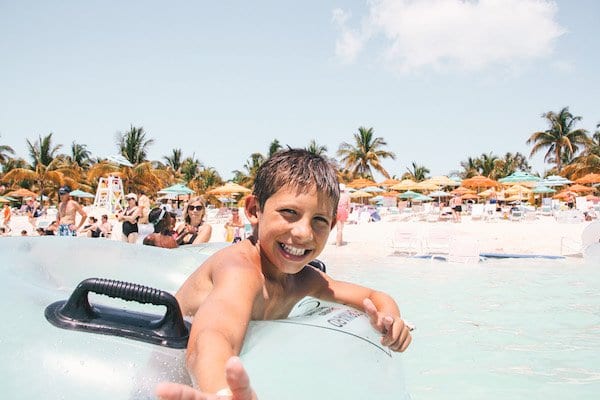 There is nothing like the beach at Castaway Cay. The water is calm, warm and beautiful. The sand is incredibly soft. There are plenty of chairs to relax, so you don't have to be the first off the ship to get one of the thousands of beach chairs. (Although, we do recommend getting off early to get the most out of the day).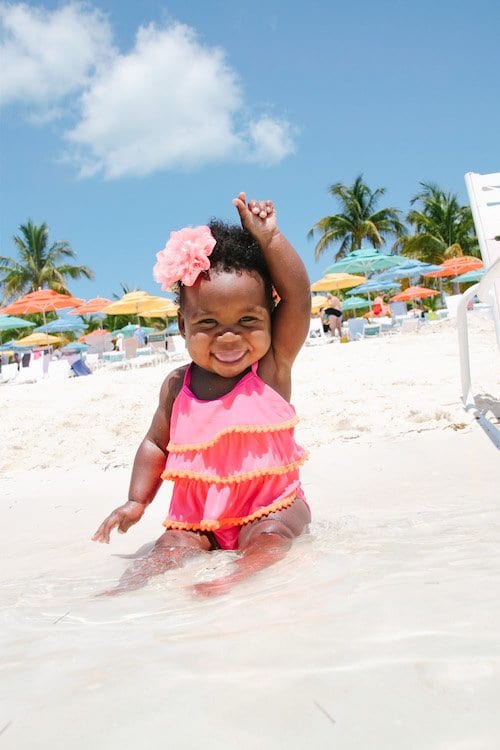 There are also hammocks to enjoy a lovely nap and servers coming around serving delicious beverages to enjoy the day. 
---
5. Water Slides at Pelican's Plunge (FREE Castaway Cay Activity)
What is the Castaway Cay Pelican Plunge
Pelican Plunge is a thrilling water play area located on Castaway Cay, Disney's private island in the Bahamas. A few years ago Pelican Plunge was added to the many Castaway Cay activities. It is a popular attraction for families with kids as it offers a variety of fun water activities suitable for children of all ages.
The main feature of Pelican Plunge is a two-story water slide that sends riders splashing down into the crystal-clear waters below. There you can zoom down one of three slides into the warm Caribbean waters. (Plug your nose as it is saltwater).
My kids love going down the slides and I love making their father go with them. (I am not so much of a waterslide person!)
There are also water cannons, geysers, and other interactive elements that keep kids entertained for hours. There is also a Splash Pad to entertain the little ones at Pelican Plunge!
Parents can relax on the nearby lounge chairs and watch their children play, or join in on the fun themselves. With its exciting atmosphere and endless water adventures, Pelican Plunge is the perfect destination for families looking for a fun-filled day in the sun.
---
6. Enjoy a delicious BBQ at Cookies BBQ (Free)
One of the best parts of the Castaway Cay is the amazing BBQ on the island. There are two locations to enjoy the BBQ, Cookies BBQ, and Cookies Too. The BBQ is included with your cruise fare. You will find ribs, bbq chicken, mahi-mahi, couscous, potato salad, cheese bread, hot dogs, hamburgers and even veggie burgers.
There are also some tasty desserts and fruit, plus unlimited ice cream from the soft-serve machine. 
---
7. Sting Ray Adventure
The Sting Ray adventure is probably the best paid Castaway Cay Activity in my opinion. There you and your family learn about stingrays, pet the stingrays and even feed them, which is really a weird feeling. The adventure takes about 90 minutes. The excursion is available for adults and kids ages 5 and above.
---
8. Basketball Free Throw Challenge, Ping Pong & Shuffleboard (All FREE Castaway Cay Activities)
In a nice shaded enclave, there is a great place to enjoy some fun games with the family and other cruise-goers. "In Da shade" is the place to be on a hot or rainy day. You can enjoy ping pong, chess, checkers, shuffleboard, and basketball.
In addition, usually around noon, they have a Free Throw challenge for all cruise-goers. Our 10 year old won the challenge on one of our visits and it is one of his favorite memories.
---
9. Parasailing
Another great Castaway Cay Activity is to enjoy parasailing off Castaway Cay. There is something incredible about sailing high above Disney's Private Island and the massive Disney Cruise Ship. It is such an incredible and exhilarating adventure that adults, teens, and kids love.
---
10. Find Insta-Worthy Spots (FREE)
Let me be honest, pretty much everywhere on Castaway is an Instagram worthy spot. On our recent visit for Disney Creator Days, we received a map (see below) with some great spots to get some shots that are perfect for your Instagram feed and great for memories.
---
11. Drop the kids off at Scuttle's Cove & Relax at Serenity Bay (FREE)
One of the most amazing things about Castaway Cay is Scuttle's Cove. The amazing kids club that is onboard your Disney cruise, comes ashore and can entertain your kids in a secure environment at scuttles cove.
You can drop off your little ones and then head off to the adults-only Serenity Bay and enjoy a beach full of….. well, serenity. 
---
12. Enjoy a Beach Side Massage
Hey, if you have the kids dropped off at Scuttle's Cove, might as well get the most possible relaxation and enjoy a beachside massage in a private open-air cabana. These dreamy massages do book up pretty quickly, so try to book this Castaway Cay activity as soon as you book your cruise. 
---
13. Rent a Cabana
Probably one of the hardest things to book on the island (unless you are a Platinum Castaway Club Member or a Concierge Guest) is renting a private cabana on Castaway Cay.
The cabanas tend to book up right away but they are simply amazing. We have never booked one ourself but our friends from Tink's Magical Vacations recently did. We visited their cabana and now are dying to have one ourselves. 
These cabanas are not cheap by any means, as they run around $600 but if you can afford it they are a dream. Not only do you get your own private beach which looks out at the Disney Cruise or Serenity Bay.
Your cabana includes a cabin steward to attend to your parties' needs, comfy lounge chairs, snorkel equipment, and your bike rental. You can check out our full review here. 
Keep in mind, if you aren't traveling with little ones, renting a cabana on the adult's beach is a bit cheaper. The Serenity Bay Cabanas run $399 for four guests. 
---
14. Enjoy a Dance Party with Mickey & Pluto (FREE)
One of our kids' favorite things to do when they were little is the dance party with Mickey, Minnie & Pluto. The event is held in front of the DJ Booth near Cookie's BBQ. Kids of all ages can join in on the fun!
---
15. Snap some Pics with your Favorite Disney Characters! (FREE!)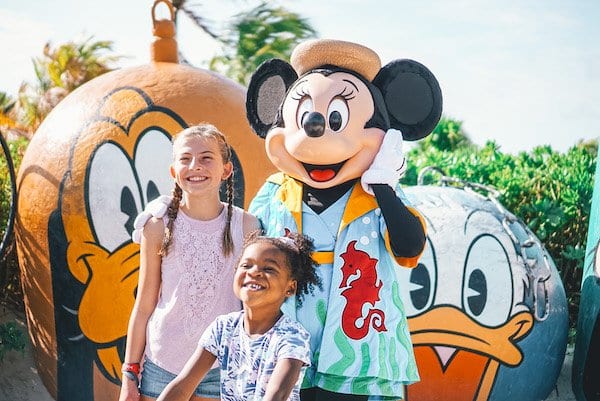 Throughout the day character will visit certain spots on the island to take pictures with cruise guests. These are some of my favorite spots to grab photos because the location is beautiful and the lines are much shorter than on the cruise boat. 
---
Pro Tips When Visiting Castaway Cay and Booking Activities
Castaway Cay is an amazing day all around. So here are a few tips to make it even better while you are experiencing all the amazing Castaway Cay activities. 
Eat Breakfast Beforehand – Breakfast is not served on the island so grab a bite before you head off the ship
Get out there early – I know you are on vacation but this is one of those places you want to get the most out of your day.
Do the Bike Ride Early – Castaway does get warm, so it is best to do the bike ride early before it gets too hot.
Don't Bring a Stroller – There are free strollers and wagons and wheelchairs on the island
Pack Sand Toys for the Little Ones – You can buy some on the island, but you can save some money by packing some
Don't Buy the Bottled Water- There is free water at the soda stations and at other spots throughout the island
Don't bring towels off the ship – They will supply you with towels as you exit.
---
Castaway Cay Activities – The Overall!
Overall, have a great time. Whether you are enjoying some BBQ after snorkeling or taking a ride down Pelican Plunge, we are confident that you will enjoy yourself!
Enjoy the beautiful scenery and take some amazing pictures to make those memories last forever. 
---
Map of Castaway Cay Activities
---
If you have any questions about Disney Cruises or Castaway Cay Activities, feel free to leave a comment or message me on Instagram!
---
Pin-it for later: The Best Castaway Cay Activities
---
Frequently Asked Questions about Castaway Cay Activities
What activities are available at Castaway Cay?
Snorkeling
Parasailing
Bike Riding
Jet Skiing
Water Slides
Childrens Water Play Area
Dance Parties
Character Interactions & More
Basketball
Are there Rides at Castaway Cay
No, there are a few water slides, but no rides
What are the costs at Castaway Cay?
Castaway Cay is free for the most part. The food is free, the beach is free. There are paid activities like stingray adventures, cabanas parasailing and more. But if you just want a fun beach day, most things are free.
Latest posts by Michael Mamian
(see all)