Imagine frolicking through Fantasyland and running into Peter Pan himself, or exploring Adventureland and meeting Aladdin! Interactions with your favorite characters at Walt Disney World may seem like chance, but with this guide, you'll be able to plan and find your favorite Disney World characters in each park!
The most important tool in this guide will be the My Disney Experience App! The map located in the app has a "Character" tab that allows you to see where and when your favorite characters will be! If you or your little ones have a "must meet" list, we recommend taking a look before you enter the parks.
Disney World Character Guide [Where to Find Them in Every Park!]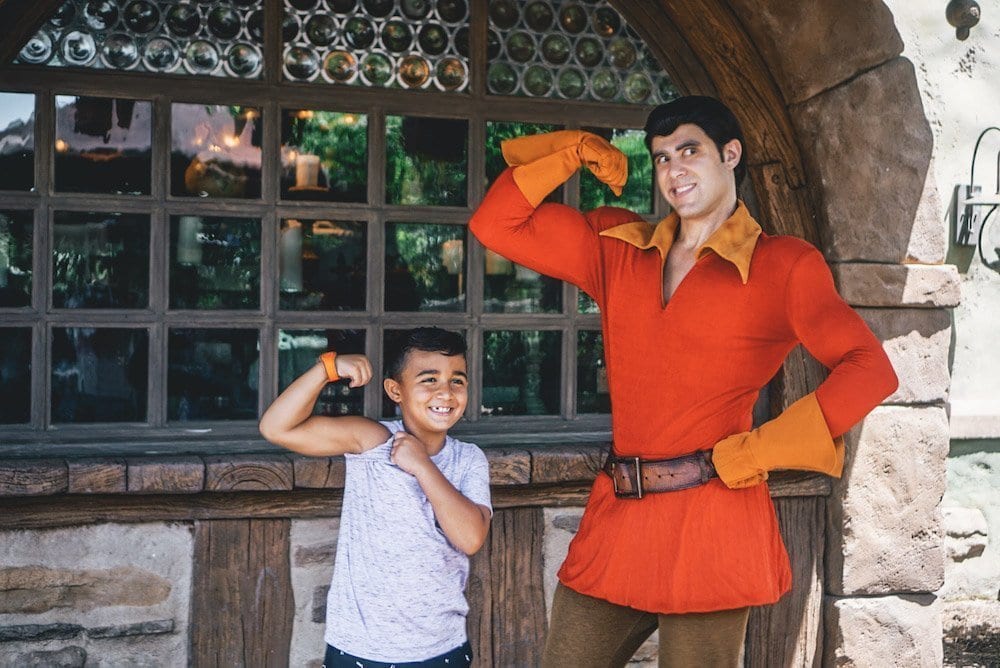 Here's the Disney World Characters you can usually find in each park!
(p.s these can change so check the app!)
Magic Kingdom Characters
Adventureland
Aladdin and Jasmine: Stop by the Agrabah Bazaar to say hi to Aladdin and Jasmine. They can be found between 9:30am and 5:10pm
Fantasyland
Alice in Wonderland: Say hello to Alice and the Mad Hatter at the Mad Tea Party between 9:20am and 11:40am
Princess Ariel: Swim over and meet Ariel at Her Grotto next to the Little Mermaid attraction between 9am and 9:30pm. Check for Early Morning Magic times as well!
Donald Duck, Daisy Duck, Goofy and Pluto: Meet these Disney pals at Pete's Silly Side Show between 10:00am and 7:30pm
Gaston: Meet the muscle man near his Tavern in the Beauty and Beast area between 10:00am and 4:30pm
Princess Merida: Discover your fate with Merida at the Fairytale Garden between 9:15am and 5:45pm
Peter Pan: He's quick, but you might be able to catch this lost boy at the Neverland Map between 1:00pm and 4:30pm. Check the app for specific times!
Rapunzel and Tiana: Find these two adventurous princesses at Princess Fairytale Hall between 9:00am and 9:30pm. Early Morning Magic hours may apply!
Winnie the Pooh and Tigger: Talk about honey with friends at The Thotful Spot at select times between 10:45am and 7:15pm
Main Street, U.S.A.
Mickey Mouse & Minnie Mouse: You can find this iconic duo at the Town Square Theater between 9:00pm and 9:30pm. Check for Extra Magic Hours too!
Tinker Bell: Meet the sassy pixie at the Town Square Theater at select times between 9:00am and 9:30pm. Extra Magic Hours may be available!
Move It! Shake It! MousekeDance It! Street Party is an interactive parade type street show including several of your favorite Disney characters. Some harder to find characters may come out to party as well, so you definitely do not want to miss this! Showtimes vary so check the app!
Tomorrowland
Buzz Lightyear: To infinity and beyond! Find this space ranger near the Buzz Lightyear Exit Courtyard at certain times between 11:15am and 6:25pm
Stitch: This little blue alien can be found at the Stitch Encounter between 9:15am and 17:00
Disney World Character Spottings in Animal Kingdom
Entry
Tarzan at the Trails
Flick near the Tree of life Animal Kingdom
Asia
Russell and Doug: UP! A Great Bird Adventure is an epic 25 minute stage show featuring friends from UP! There are several performance times, so check the app!
Discovery Island
Chip and Dale at the Clinic at Animal Kingdom
Hakuna Matata Time Dance Party! Join some popular Disney pals in a wild dance party between 11:30am to 5:30am
Mickey and Minnie Mouse: Meet the original duo at Adventurers Outpost between 9:00am and 8:30pm.
Pocahontas: See if you can find Pocahontas around the river bend on the Discovery Island Trails at select times between 9:15am and 4:45pm!
Russell and Dug: Find the adventurous duo at Discovery Island between 10:00am and 5:00pm.
DinoLand U.S.A.
Scrooge McDuck: Snap a picture with Scrooge at his Outpost between 10:00am and 5:30pm!
Launchpad McQuack: Meet this brawny bird at the Aerial Adventure Base between 10:00am and 5:30pm
Daisy Duck: Curtsy with Daisy at her Design Studio between 10:00am and 5:30pm
Donald Duck: Head over to the Celebration Welcome Center between 9:45am and 5:30pm to meet this iconic duck!
Chip and Dale: Find these little rascals running around on the Upper Cretaceous Trail between 10:30am and 4:30pm.
Goofy: This goofball can be found at Slam-O-Saurus between 9:45am and 5:30pm.
Tusker House Restaurant
You can also grab some character time at the Tusker House Restaurant. It's a great character breakfast where all the Disney World characters are dressed in their safari best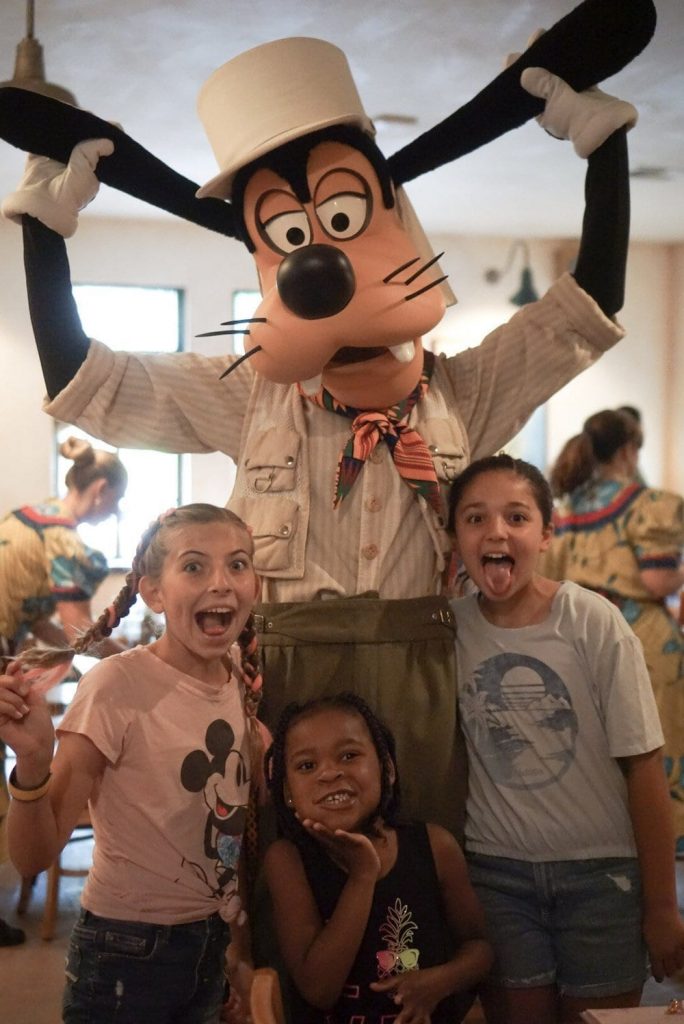 EPCOT Characters
Unique Disney World Character Spottings
Baymax: Give a big hug to Baymax at Hiro's Workshop between 9:00am and 9:00pm
Joy & Sadness: Meet these emotional pals at Headquarters between 9:00am and 9:00pm
Ralph and Vanellope: Find these two gamers inside ImageWorks between 9:00am and 7:00pm
Future World
Disney® Visa® Cardmember Character Experience: If you have this card, check out this special character experience between 1:00pm and 7:00pm
Mickey Mouse and Friends: Meet classic Disney pals at the Epcot Character Spot between 9:00am and 9:00pm
Pluto: Find this pup at Legacy Plaza West between 9:00am and 3:55pm. Check the app for specific times!
World Showcase
Anna and Elsa: Meet the Frozen sisters at the Royal Sommerhus in Norway between 9:00am and 9:00pm. This is a popular character meet and greet, so head over early before the line gets too long!
Alice: Wonderland friends can sometimes be found in the United Kingdom area between 11:30 and 5:20pm. Check the app!
Belle: This bookworm can be found in France at select times between 11:00am and 4:50pm.
Daisy Duck: She can be found near the World Showcase Plaza between 11:30am and 6:40pm.
Donald Duck: Meet him by the ancient Aztec pyramid in Mexico between 12:00pm and 7:10pm.
Mulan: Say hello to this warrior in China at certain times between 11:00am and 4:50pm.
Princess Jasmine: Explore Morocco to find this princess between 11:45am and 5:35pm.
Snow White: The fairest of them all can be found in Germany between 3:00pm and 6:30pm.
Hollywood Studios
Animation Courtyard
BB-8: Find this adorable droid at Star Wars Launch Bay between 9:00am and 9:00pm.
Disney Junior Characters: If your little ones love Disney Junior, check out the Animation Courtyard between 9:30am and 6:30pm to see who's there!
Mike and Sulley: Meet the monsters and get your scare on at Walt Disney Presents between 10:00am and 6:00pm.
Kylo Ren: Visit the Star Wars Launch Bay to face Kylo Ren between 9:00am and 9:00pm. If you are a Disney® Visa® Cardmember, check out the exclusive Kylo Ren experience between 11:00am and 4:00pm.
Chewbacca: Explore the Star Wars Launch Bay and meet the famous Wookiee between 9:00am and 9:00pm.
Darth Vader at Hollywood Studio Spotlight
R2 and C3Po at Hollywood Studio Spotlight
Commissary Lane
Mickey and Minnie Mouse: Say hello to the stars at Red Carpet Dreams between 9:00am and 9:00pm.
Echo Lake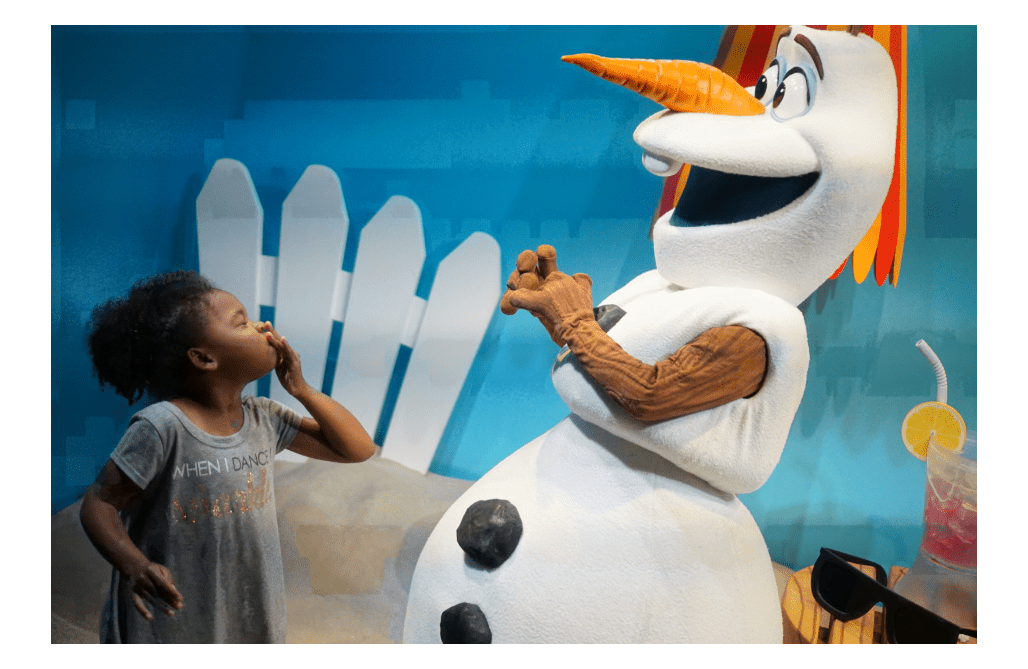 Olaf: Meet the silly snowman at Celebrity Spotlight between 9:00am and 9:00pm.
For the First Time in Forever: A Frozen Sing-Along Celebration is a live stage show your little ones will love! Show times vary so check the app!
Jedi Training: Trials of the Temple! If your kiddos love Star Wars, this interactive stage show is perfect for them. They may have the chance to join their favorite characters onstage and receive their Jedi training. Check the app for performance times.
Hollywood Boulevard
Captain Phasma and Storm Troopers: clear a path for the March of the First Order on Hollywood Boulevard every hour between 10:00am and 5:00pm
Lightning Mcqueen
Pixar Place
Incredibles: Visit Pixar Place to party with the Incredibles between 10:30am and 6:30pm
Edna Mode: Stop by the Super-Suit Gallery to meet the iconic designer between 9:30am and 6:15pm
Toy Story Land
Buzz Lightyear: Meet Buzz near the entrance to Toy Story Land between 9:00am and 9:00pm
Woody and Bo Peep: Meet this pair near the entrance to Toy Story Land between 9:00am and 9:00pm
Jessie: Find this cowgirl near Alien Swirling Saucers between 9:00am and 9:00pm
That's all folks!
Just a reminder: character performance times may change and are subject to weather. If there are characters that you really want to meet, be sure to check the My Disney Experience app on the day of your visit to confirm appearance times and locations! Disney World character experiences can be some of the most special memories, especially if you have got little ones. You will definitely want to set some time aside to meet your favorites, even if you are more of a ride person.
You May Also Like:
A Breakdown of Disney World Costs + How to Save Money!
Magic Kingdom FastPass! Tips and Tricks to Choose the Best Rides
Best Snacks at Epcot! Delicious Bites from Around the World!