Epcot is really the theme park that has it all, and I personally love that there is a focus on making it just as enjoyable for the adults as it is for the kiddos. Of course, there are great rides and so many different things to see, but no trip to Epcot is complete without food! You should surely be leaving this park with a full belly. While we do love the Epcot restaurants, we prefer to snack throughout our whole visit so that we get to experience a wide variety of foods. Here are the very best snacks at Epcot!
Snacking on the Disney Dining Plan in Epcot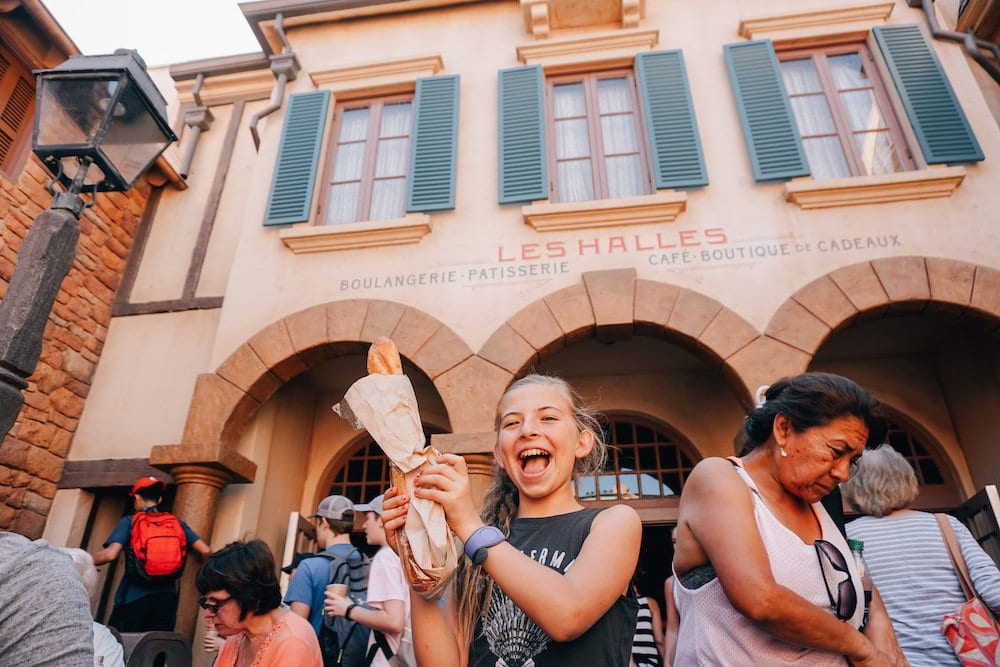 Figuring out what snacks you want to try on your Disney trip can be a little tricky when on the Disney Dining Plan. There is no comprehensive list telling you what is available to purchase with snack credits. However, we can tell you that the options are greatly grown over the last few years. You will want to look for the "DDP" symbol which is purple and white when you are dining, as this means it is on the Disney Dining Plan.
Best Snacks at Epcot
Snacks in Germany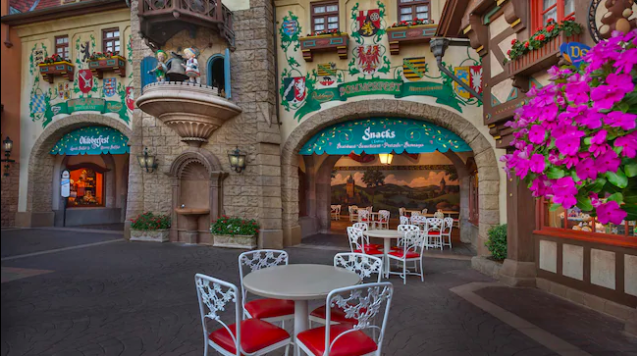 Karamell-Küche Caramel Popcorn– I promise, this is not your basic caramel popcorn. It is coated in thick gooey perfect sweetness. As you work your way through the World Showcase, you will know that you are nearing Germany when the smell of creamy delicious caramel is wafting through the air. Karamell Kuche is right at the front of the Germany region and is full of all kinds of treats. If caramel popcorn is not your thing, there are many other snacks worth giving a try in this shop. Be sure to peek in!
Soft Hand Twisted Pretzel– It wouldn't be a proper stop in Germany without a giant pretzel! You can grab a mug of beer (if you're drinking around the world, too!) and one of these giant pretzels at many of the Germany Pavilion Beer Carts. It is huge, unlike the traditional Mickey pretzels, and you can definitely split it among a group. Be sure to grab some to-go mustard as well to complete this Epcot snack!
Apple Strudel with Vanilla Sauce– Along with the caramel popcorn, this apple strudel is a must try sweet in the Germany Pavillion. It is perfectly flaky and filled with just the right amount of applies.
The Best of France; Top Snacks
Tart Au Fraises– If you have been to France before, then you know it is all about delectable baked goods. We stop at Les Halles in the France Pavillion on every visit to Epcot, it is the best place if you want to grab something sweet. The Tart Au Fraises is a flaky crust cup of vanilla cream topped with fresh juicy strawberries.
Palmier– This is basically a cinnamon and chocolate elephant ear. This sweet treat is flaky and delectable with a generous amount of chocolate poured over the ears. While I am usually a huge fan of beignets, at Les Halles I would actually choose the Palmier over them.
Full Baguette– Simple, yet perfect. We love grabbing a baguette to split between the whole family. What can I say…carbs and Disney just go hand in hand. These are baked to perfection making them hard on the outside and super soft on the inside. They are easy to tear into pieces and a good snack to grab if you want to keep walking around. There are also baguette sandwiches if you are feeling more hungry, we recommend the jambon sandwich. It's Ah-Mazing!
Grabbing a Bite in Norway
School Bread– My grandma was from Norway, and I am pretty upset that she never made us this delicious treat! However, I'll settle with Epcot's delicious creation to make up for it. It is a sweet roll filled with custard and topped with coconut. It is a popular favorite among serious Disney World foodies, and you will understand why immediately after your first bite.
Best Epcot Snacks in Mexico
Churro Bites with Caramel– The classic Disney Churro is pretty incredible, but these churro bites beat it. And, they even come with a warm caramel sauce! Whether you are looking for a dessert or snacking throughout the day at Epcot, you have got to give these a try. We love that they are small and bite-sized so we can easily share them. This also keeps you from filling up too much on them.
La Cava Chips and Salsa (and Guac and Queso)– You can find chips and salsa all throughout the Mexico Pavillion, but I would recommend stopping by La Cava del Tequila because theirs are the best. Not to mention, it is a great place to sit and relax for a bit and their margaritas are unbeatable! The chips and salsa alone are great, but if you are looking for a bit more you cannot go wrong by adding guacamole or queso either.
Sweet & Salty Snacks in Italy
Gelato Cookie Sandwich– Ice cream sandwiches are pretty much good no matter what, but when they are filled with gelato you just can't pass them up! At the Gelati, you can pick any flavor gelato and have it sandwiched between two chocolate chip cookies. If you are looking for a smaller snack, you cannot go wrong with a simple scoop either.
Cheese and Meat Plate– For a fancy yet relaxed atmosphere, head to Tutto Gusto for a glass of wine and some delectable snacks. The atmosphere is great and it's a nice break for the hustle of the parks. There are different cheese and meat plates to choose from, so you can find the perfect fit from your palette. It is a great place to head with a group of adults because then you will get to sample lots of different options.
Japan Eats
Kakigori– The Kabuki Cafe serves up the ultimate shaved ice treat, called Kaki Gori. You can get flavors varying from Rainbow, Strawberry, Melon, Cherry, Tangerine and Blue Raspberry. The key factor in making this snack so great is how thinly shaved the ice is, making it seemingly melt in your mouth. This is the perfect snack when you are looking for something light that will cool you off!
What to Snack on in China
Curry Chicken Pocket– This is a newer addition to Epcot's delicious array of snacks and food, and it is definitely making a mark. It is perfectly seasoned (not overly powering curry, but the flavor is there) and the outside is buttery flaky deliciousness. You can purchase this snack as a single item or as part of the Lucky Combo. With the Lucky Combo, you will get this chicken pocket along with two egg rolls and a soft drink.
Best Snack in Canada
The Croissant Donut is without a donut a must stop along your snacking adventure throughout the worlds of Epcot. It's a warm and delicious donut made with 100 layers of croissant dough. It truly is one of those treats that is worth the calories.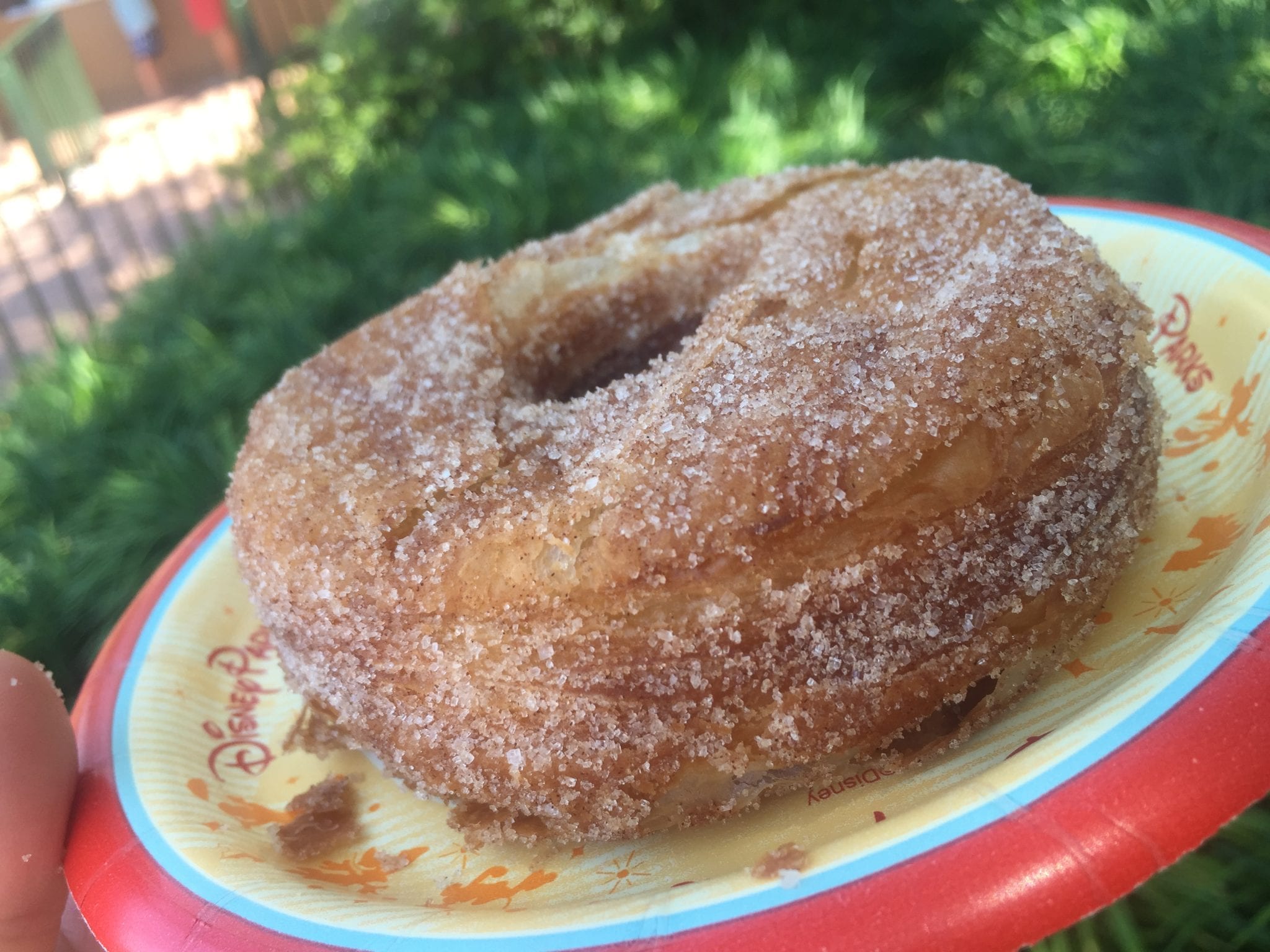 If you have any questions about Epcot, the Disney Dining Plan, or any other DIsney World Questions, feel free to comment below or check out my Disney World Tips on my Instagram Page!
You May Also Like:
A World of Adventure! The Best Rides at Epcot!
Disney Cruise vs Disney World- Which to Choose & Why
Disney World Tips and Tricks [Over 100 Amazing Must Know Tips]