This is a sponsored post written by me on behalf of Omni Hotels & Resorts. All opinions are 100% mine.
One of the things my husband has definitely passed on to me is the love for an incredible resort. With 5 kids and a husband who is quite the big kid, a fun family resort is our ideal destination. My ideal family resort is one that can entertain the kids with an amazing pool, has luxurious accommodations and a great spa for myself, and a great staff. We've visited Palm Springs and Palm Desert numerous times, but this time we visited what I believe is the best Palm Springs resort for families, Omni Rancho Las Palmas.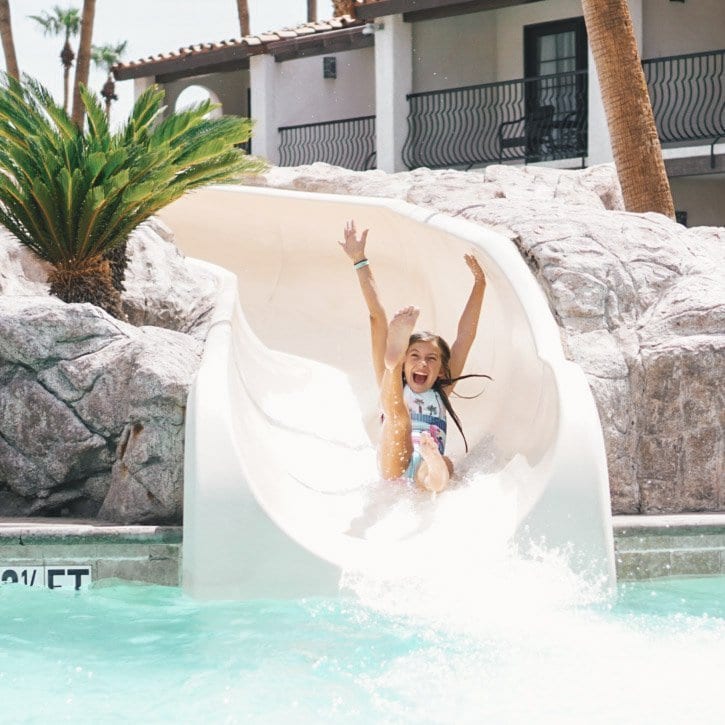 Omni Rancho Las Palmas is one of many Omni resorts that are a part of their luxury collection of 60+ properties. I have only stayed at one other Omni destination, Omni La Costa Resort & Spa, located in Carlsbad, Ca. It is one of my favorite resorts so I was pretty excited to check out Omni Rancho Las Palmas. One of the things I have to say is you can't beat the price of a room at Omni Rancho Las Palmas. It is one of the most affordable luxury resorts for families I've come across. Right now, Omni Rancho Las Palmas has a Stay & Splash Summer Sale with rates as low as $99.
Endless amount of Family Friendly Activites
A lot of resorts I visit have great kids programs, but they sometimes lack activities for the whole family to do together or for mom or dad to do with the kids. While there are a ton of fun things to do in Palm Springs with the kids, we found ourselves not even leaving the resort because there was so much offered right on property.
Mini Ice Cream Mani-Pedi
When we arrived at the resort, Ella & I had ourselves scheduled a wonderful mani-pedi for her and I to enjoy. Right when we stepped into the spa, the staff took exceptional care of us. The staff had us choose our colors and then gave us an amazing hand massage and sugar scrub as we relaxed in comfy massage chairs. Then we had one of the best manicures and pedicures we've ever experienced. Our feet and hands were so soft and my daughter was super excited to have the treatment conclude with an ice cream sandwich.
Escape Room Hotel Murder Mystery
This was one of the first times I've ever experienced an Escape Room at a hotel. This one was unique because we had to solve a murder. We started off having to figure out the mystery of what happened to a man who passed away on a flight. There were two suitcases in the middle of the room which led to all the clues. While we initially struggled in the beginning, we eventually got our brains working and were able to solve the case. This murder mystery is definitely challenging, but perfect for families to have fun together.
Family Golf + Lesson
The boys and dad scheduled themselves a morning to do some golfing. If you are staying at the resort each guest can play golf at no additional cost all summer long, since it's included with your resort fee.
Incredible Pool Area
On our 2nd day at the resort, we found ourselves spending almost the entire day at their amazing pool. We had a cabana, and while we normally do not book cabanas I highly recommend it here. They have misters attached to cool you down from the heat and include ice-cold water, your choice of beer, cocktails or smoothies and a great staff to provide you everything you need.
Splashtopia – Slides, Splash Area & Lazy River
The kids loved the dual slides at Splashtopia, I am pretty sure Olivia went down them twenty times in a row. Along with the amazing slides is a fun water play area where the kids could soak each other and of course mom and dad too.
Mom's favorite part was cruising along the lazy river in her float tube.
Splash Grill
Lunch, I recommend staying poolside and enjoying the food from the splash grill. There are some great fruit plates, fish tacos, my husband loved the steak nachos and of course, Olivia loved having Dippin' Dots everyday at the pool. (She might have a slight sweet tooth)
Dive-In Movie
Throughout the summer Omni Rancho Las Palmas has Dive-In Movies of some of your favorite family films. While we were there we relaxed in the pool while Moana was on the screen. It's a pretty magical environment as the kids float under the stars while watching a movie in the pool. It was one of our favorite experiences.
Incredible Activities for the Grown-Ups Too!
Like I said earlier, a balance of fun activities for the kids, for the whole family and fun stuff for the adults is truly what makes a great family-friendly resort. Of course, that being said you often need somebody to watch the kids while mom and dad are away.
Kidtopia – fun for the kids and a wonderful break for the Adults
Kidtopia is the kids club program at Omni Rancho Las Palmas. We dropped Olivia off for one night while we were off to dinner. When we came back she was as happy as could be. She did crafts, watched a movie, played games. Her smile was from ear to ear. The staff was super sweet and great with her, we could not have had a better experience.
bluEmber Restaurant
We enjoyed bluEmber multiple times on our visit at Omni Rancho Las Palmas. One night, Mike and I got to enjoy an incredible meal with just the two of us thanks to Kidtopia. The food at bluEmber is pretty top-notch. Here are a couple of our personal favorite items: Start off with the Brussel sprouts or the carrot hummus.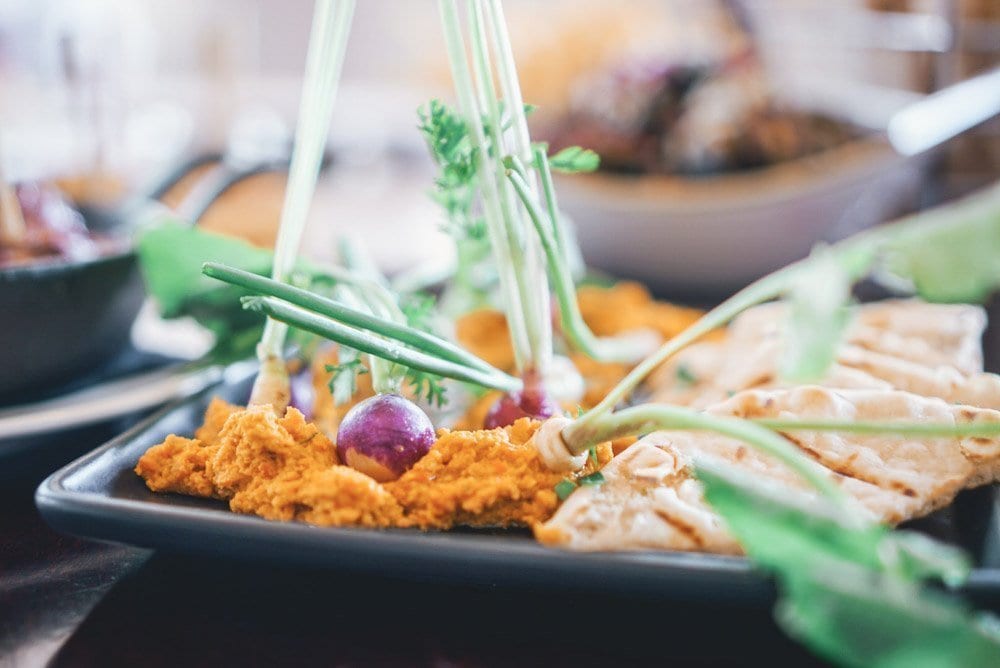 The short rib tacos are pretty much out of this world, along with the Chilean Sea Bass (my personal favorite). I also highly recommend getting the S'mores mousse, I am usually not a mousse fan but this one is worth every calorie.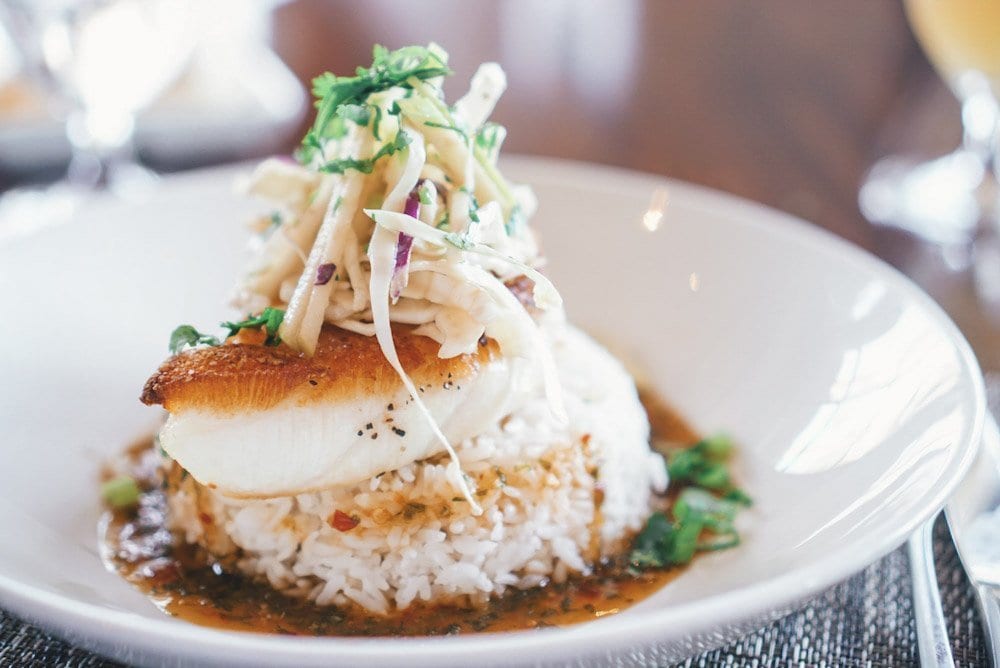 If you are bringing kids to this restaurant, they have an adorable kids buffet for the kids with all sorts of options and fun treats for the kids as well. Also, at breakfast, they have a beautiful patio to sit out on and enjoy the view of the golf course and property.
Mixology Session at R Bar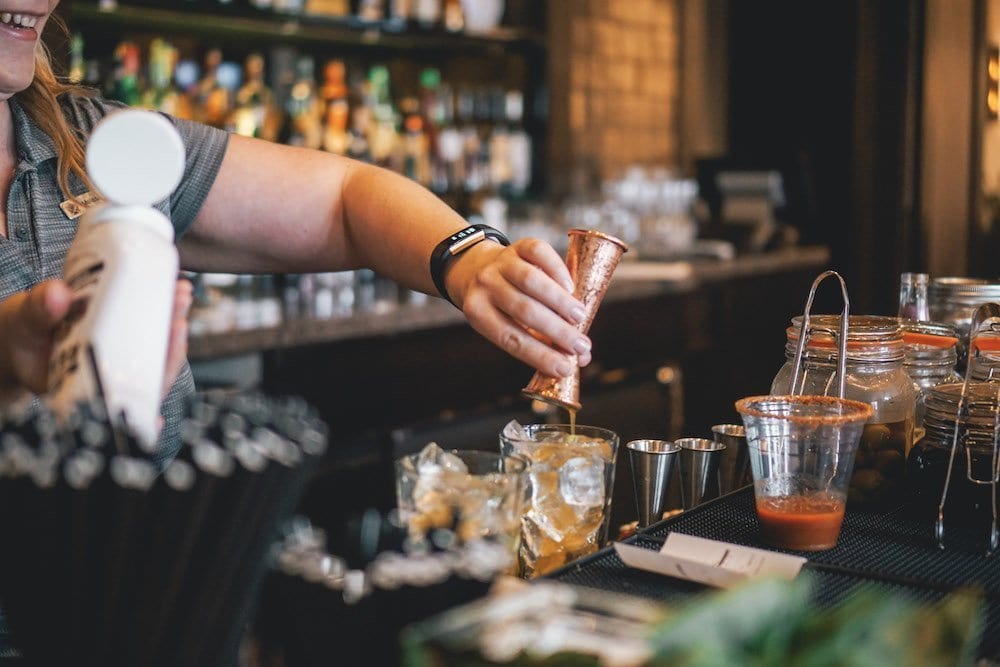 Before our couples dinner at bluEmber, we enjoyed a little mixology session over at the R Bar. Our bartender showed us how to make a couple of their signature summer drinks. Every year at the Omni, they choose a fruit to be the focus of the summer menu and cocktails. This year was passion fruit, and the drinks they made with them were pretty phenomenal.
Azure Adult Pool
You can also relax away from the fun over at the Splahtopia pool and unwind at the Azure Adult Pool. Over at the azure adult pool, they are serving up the summer passion fruit menu, which is actually offered all year round because, with 300+ days of sunshine, every day is summer in Palm Springs.
Luxurious Accommodations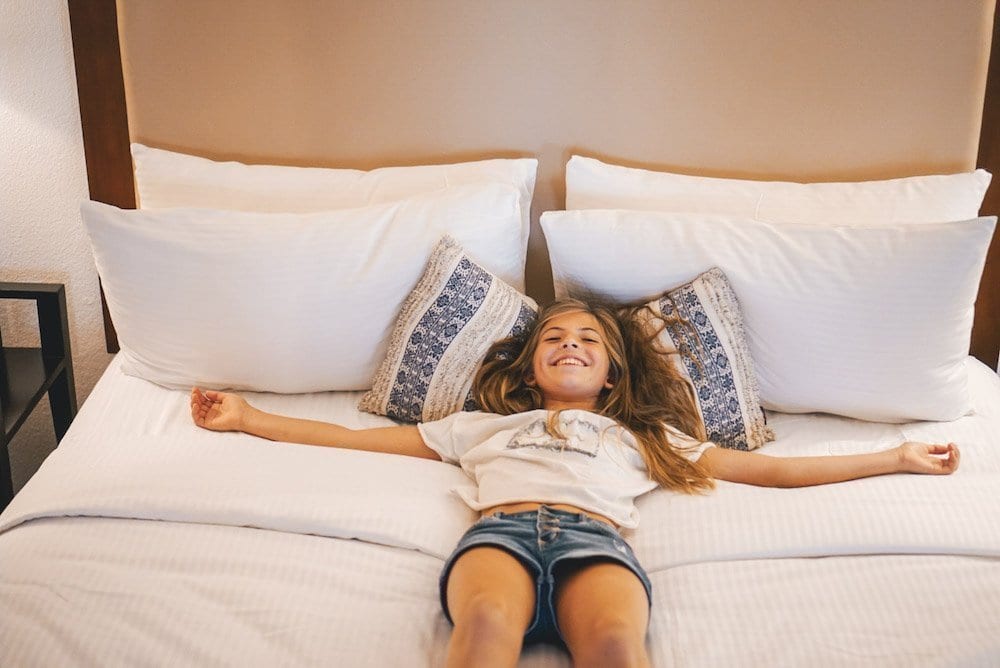 I hate to say it but I have become a little bit of a room snob as I have gotten older and traveled to so many incredible resorts. Our room at Omni Rancho Las Palmas was perfect. The room was incredibly spacious, the beds were super comfy, and if you are like us and have a large family, they have rooms that can sleep up to 8 people.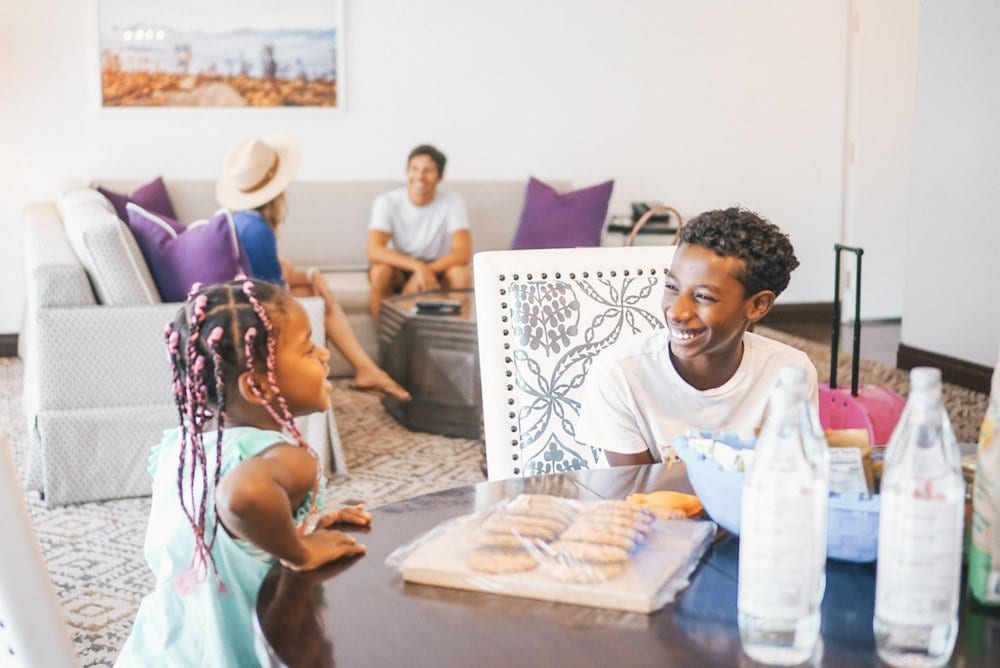 My Tips for staying at Omni Rancho Las Palmas
Snag the summer special – It can be very hot in Palm Springs in the summer, but there are a ton of places to cool down at the resort, and this is a ridiculously good price for such a nice resort
Splurge on a Cabana – The cabanas here are reasonably priced and have many more luxuries than most cabanas I have seen. It's a great way to relax at the pool
Schedule a Date Night – When we travel, we never get a date night and I forgot how much fun it is to be away from the kids in a new place. The kidtopia staff is amazing so enjoy being a grown up one night.
Take it Slow – This is a great resort to kick back and enjoy the little things in life, like playing in a pool or enjoying a great meal.
All in all, with the amazing activities for the families, the fun adventures for the adults, the incredibly delicious food and some super posh accommodations, Omni Rancho Las Palmas is clearly my pick for the best family resort in Palm Springs. You can learn more at OmniHotels.com/PalmSprings
Latest posts by Mama Munchkin
(see all)