Planning a trip to Walt Disney World's Magic Kingdom is an amazing experience. The incredible rides, shows and parades, there is hardly time to eat. Sometimes though you want to take it easy and skip the quick service dining option and enjoy a nice dit down restaurant. With Disney's unwavering dedication to incredible theming and delicious menus, the Magic Kingdom restaurants are a delicious and incredible experience.
Here, you'll find a rundown of the park's table service and signature dining options so you can begin figuring out what is best for your group. So, rev up your taste buds as we dive into the best Magic Kingdom Restaurants at Disney World!
Signature Dining Magic Kingdom Restaurants!
1) Be Our Guest
One of Magic Kingdom's newest and most popular establishments, Be Our Guest is located in Beast's Castle in Fantasyland. In our opinion it is definitely the best, if not one of the best Magic Kingdom Restaurants. It features three dining rooms, respectively themed after Beast and Belle's ballroom, the west wing, and the castle gallery.
The restaurant offers breakfast, lunch, and dinner menus with French and American meal options. Breakfast and Lunch are counter service but you still need to make a reservation. It is the nicest counter service in the parks and we try to go every Disney World trip Signature dishes include the famous "grey stuff," served in a white chocolate Chip cup with edible pearls. Try the Mickey-shaped meatloaf for kids during lunch service. If you are on the Dining Plan breakfast and lunch are considered a counter service and dinner is 2 table service credits. Reservations are a must for this location. Check out the Be Our Guest Menu Here!
Character Dining Experiences
2) Cinderella's Royal Table
Disney is known for their amazing character dining experiences. Cinderella's Royal Table is a character dining experience that takes place inside of the iconic Cinderella Castle. There is something special about dining inside the castle. Various princesses, including Rapunzel, Snow White, and Cinderella herself, are present during this meal that is fit for your favorite prince and princess! Each child is given a magic wand which is part of a small show during your meal.
Breakfast, lunch, and dinner are available, with carefully curated menus available for each meal. Breakfast patrons can enjoy the restaurant's signature caramel-apple stuffed French toast, while lunch and dinner guests can choose from options like a beef tenderloin salad, "Jaq & Gus" amaretto cheesecake, and a charcuterie plate created especially for the Castle's diners.
This location is 2 Table Service Dining Credits if you are on the Disney Dining Plan. Reservations are a must for this location. You can check out the menus here!
3) The Crystal Palace
Inspired by 1851's Crystal Palace Exhibition in London, Main Street USA's Crystal Palace offers a character dining buffet featuring Winnie the Pooh and friends. It's an especially great choice for families with young children as we frequented this restaurant often when our boys were little.
Choose from breakfast, lunch, or dinner to suit your family's schedule. The meal is buffet style. Breakfast includes a make your own omelet bar, which I absolutely love. Signature meal options include peel-and-eat shrimp, house-crafted white sangria, and freshly made soup, which varies from day to day. Reservations are also a must for this location. This restaurant is One Table Service dining credit on the Disney Dining Plan. You can view Crystal Palace Menus Here
Delicious Themed Dining
4) Jungle Skipper Canteen – Best Magic Kingdom Restaurant Atmosphere
Located near the ever-popular Jungle Cruise attraction, Jungle Skipper Canteen serves fare influenced by Asia, Africa, and Central America. While the food is some of the best at Magic Kingdom, my husband is there for one thing, the corny jokes. Yes, the wait staff offers the same style of corny jokes as you would receive onboard the Jungle Cruise.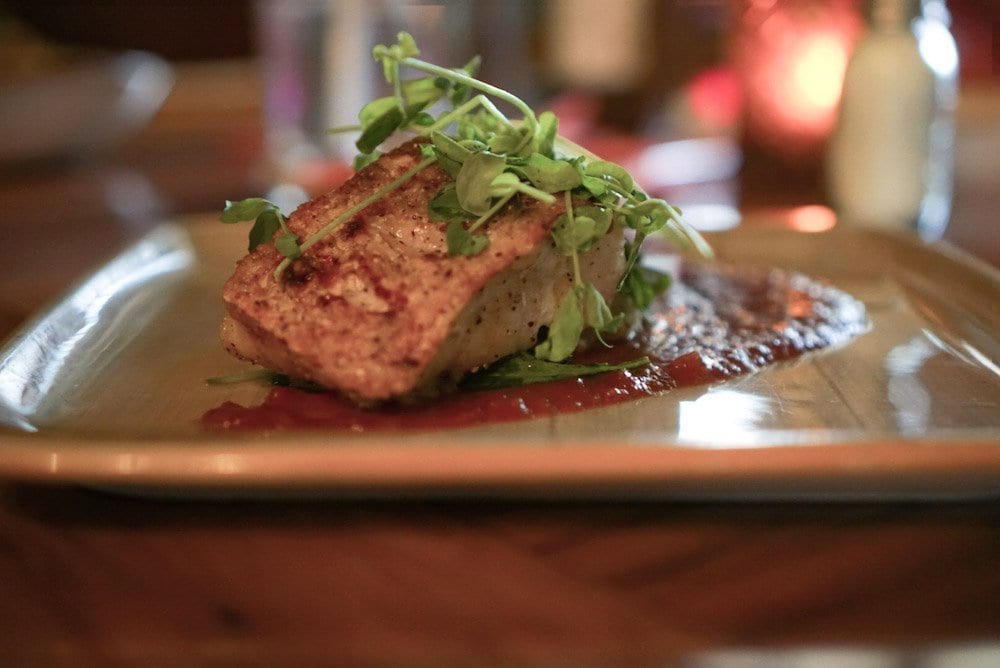 If you're tastebuds are craving something exotic, this is your spot! Lunch and dinner menus are available at this establishment that will make you forget you're not lost somewhere in the Amazon rainforest.
Signature dishes include the Falls Family Falafel, featuring an exclusive recipe of chickpeas, garlic, onions, lemon juice, edamame hummus (it's incredible). The Hardy Har Char Siu Pork, which includes a specially marinated cut of meat, jasmine rice, and seasonal veggies is a hit, and my son devoured the strip steak. Reservations are recommended for this location. This location is 1 table service credit for the Disney Dining Plan
5) Liberty Tree Tavern
Situated in Liberty Square, the Liberty Tree Tavern is an eatery with historic flair. Modeled after traditional New England inns from the 1700s, the establishment is designed to pay homage to the Founding Fathers, with six dining areas each honoring a different early American.
This was my favorite place to eat as it used to be character dining back in the day. All the character were dressed up in colonial clothes. Although the characters are no longer there the food is still quite delicious.
Breakfast, lunch, and dinner are served at this establishment. The feast is served family style and dishes include the Patriot's Platter, which features roasted turkey breast and pork, pot roast, mashed potatoes, vegetables, stuffing, and macaroni and cheese, and Ooey Gooey Toffee Cake for dessert. Reservations are recommended for this location. You can check out the menu here!
The Classics
6) The Plaza Restaurant
Reminiscent of Victorian Era-eateries, The Plaza Restaurant features an elegant Art Nouveau theme without feeling pretentious or stuffy in any way. As a matter of fact, because it's located on Main Street USA, it's a great place to dine before the nightly fireworks or any shows you want to watch at the castle.
You can select from breakfast, lunch, or dinner menus. During breakfast, your family can enjoy Walt Disney World's famous Mickey-shaped waffles. The Plaza Restaurant's version is served on a banana pastry with powdered sugar and Mickey sprinkles on top.
Guests who choose lunch or dinner can order the establishment's signature appetizer, Plaza Loaded Fries. These feature various toppings, including bacon, melted cheese, lettuce, ranch dressing, and tomatoes. Reservations are recommended for this location.
Check out the Menu Here!
7) Tony's Town Square
Inspired by Tony's Restaurant in Lady and the Tramp, Tony's Town Square restaurant features Italian-style fare served in an intimate atmosphere. The restaurant's most famous feature is a central fountain featuring a sculpture of Lady and Tramp, but the walls are covered with other great memorabilia as well if you pay attention!
Lunch and dinner are available at Tony's Town Square. Both meals feature large menus with something for everyone. Signature dishes include Tony's Pizza Pie, which can be topped with sausage, pepperoni, or a selection of vegetables. Also, house-made gnocchi primavera, available with shrimp or chicken. Lastly, traditional Italian tiramisu for dessert. Reservations are recommended for this location. The restaurant also participates in the Festival of Fantasy Dining Package. Check out the menu here!
Amazing Dessert Party with Fireworks!
Fireworks Dessert Party at Tomorrowland Terrace – In addition to all of the aforementioned table service options, don't forget about the Magic Kingdom's popular Fireworks Dessert Party! The event takes place at the Tomorrowland Terrace restaurant. It features a wide range of specialty pastries, charcuterie selections, and beverages. Not only do you get to enjoy delicious treats, you have an incredible view of the fireworks over Sleeping Beauty's castle.
There are two time slots for the event, before and after the Happily Ever After fireworks spectacular and advance reservations are strongly recommended. Prices are $84 per adult and $50 per child (ages 3 to 9).
By now, you probably can't wait to try some of the mouthwatering menus located throughout the Magic Kingdom! Remember, if you purchased a Disney dining plan for your trip, you'll need to check which restaurants you can use your credits at. If you aren't traveling with a dining plan, it's a good idea to check menus ahead of time so you can budget appropriately. Have a wonderful trip!
If you need help planning and booking your magical Walt Disney World vacation, contact our friends at

Tink's Magical Vacations

. They are truly Disney Experts, and not only are their services FREE, but they will save you both time and money.
If you have any questions about Disney World Dining, feel free to ask in the comments or direct message us on our Instagram
Planning a trip to Disney World – Start Here!
---
---
You Might Also Enjoy:
The 8 Best Epcot Quick Service Dining Options – A world of Deliciousness
Live it up with the Best Hollywood Studios Restaurants!
Top 7! The Best Quick Service Dining – Magic Kingdom!
Pin for Later: Try the Grey Stuff, It's Delicious – The 7 Best Magic Kingdom Restaurants