There are so many rides and so many Fast Passes to hit up at Magic Kingdom, quick service dining is pretty much a must. While the park used to have pretty poor food that has all changed. Well, no more begrudging the past because Disney has stepped up their game and has some great quick service dining options. Here is our list of the Best Magic Kingdom Quick Service Dining options.
The Best Places to Eat in Magic Kingdom for Quick Service!
While I still consider Epcot, the best place for some delicious Quick Service Dining and snacks, Magic Kingdom keeps getting better each time. There are more magic kingdom quick service restaurants opening every year. Magic Kingdom has some delicious places to grab breakfast, lunch, dinner, and of course some amazing Magic Kingdom Snacks.
7) Sleepy Hollow Inn
So, Sleepy Hollow Inn isn't technically a full stop place to grab a bite to eat. But they do have some amazing delicious waffle sandwiches. My favorite is the Sweet & Spicy Chicken Waffle Sandwich, however, you can't go wrong with a little Nutella Sandwich. You can check out full Sleepy Hollow Magic Kingdom menu here.
6) Gaston's Tavern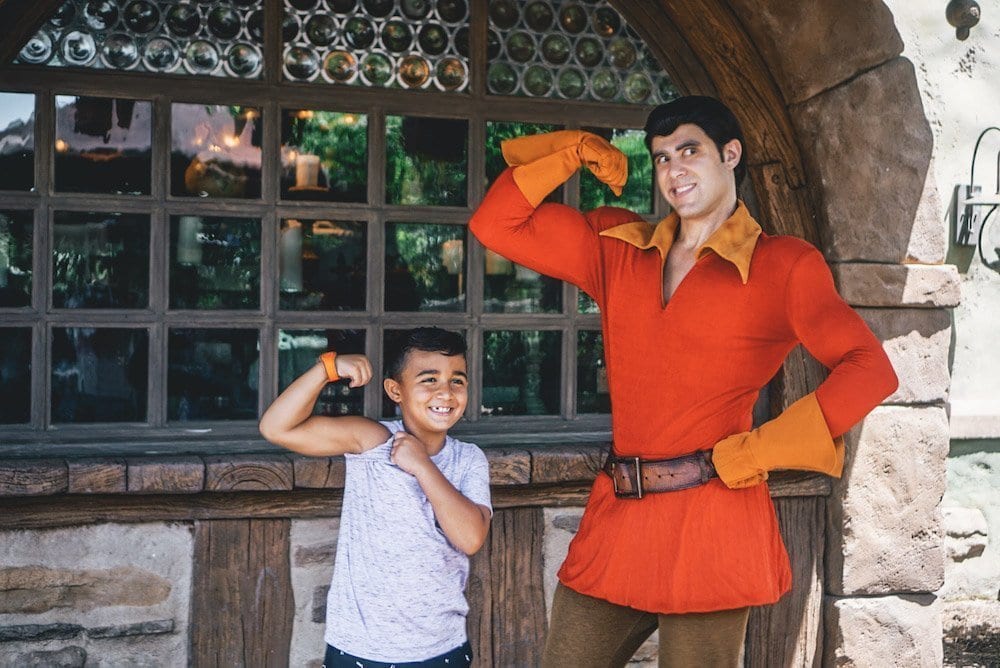 Main St. used to have delicious cinnamon rolls served daily. It was my favorite quick-service breakfast at magic kingdom. My heart sank when they were no longer available, however, fear not. These delicious cinnamon rolls are now available at Gaston's Tavern.
Their menu also features vegetable cups & hummus and chips, You can also enjoy their refreshing specialty beverages, such as the Lefou's Brew – a frozen Apple Juice drinks with a hint of Toasted Marshmallow and topped with All-Natural Passion Fruit-Mango Foam.
5) Main St. Bakery – Starbucks
You might not think Starbucks when it comes to Magic Kingdom Dining. Located in the Main Street Bakery, this one is no ordinary Starbucks. It is a bit of a goose egg, you can barely see the Starbucks logo from the outside, and the logo is actually brown.
They offer their normal Starbucks menu items, your bacon egg gouda sandwich, egg bites, Strawberry Acai, frappuccinos, with the addition of Coca-Cola and some amazing Disney-themed treats!
Pro tip – Here is why you should use Starbucks for your snack on the dining meal. You can get any Starbucks beverage no matter the size and customizations (Venti Frappuccinos with 10 pumps of espresso included) as a snack. It is quite the deal.
4) Pecos Bill Tall Tale Inn & Cafe
Coming in at #4 on our list of the Best Quick Service Dining at the Magic Kingdom is one of our favorite magic kingdom frontierland restaurants Pecos Bill Tall Tale Inn & Cafe. Located in Frontierland, this restaurant is known for its Mexican cuisine and Old Western Saloon theme!
A popular featured item to enjoy is their pepper jack-topped Southwest Burger. Guests can also satisfy their sweet tooth with sweet treats like the mini churros with dipping chocolate!
Our Kids love the toppings bar, so we usually find ourselves at Pecos Bill at least once a trip.
3) Cosmic Ray's Starlight Cafe
Located in Tomorrowland, where you can come in and enjoy some good old American comfort food. They serve BBQ pork sandwiches, chicken nuggets, mouthwatering Angus burgers, and hot dogs (Check out their menu here)!
This is actually my personal favorite place to eat in Magic Kingdom because of some alien entertainment from Sonny Eclipse, (which I am quite the fan of since my dad was one of the Imagineers who made Sonny!) It always reminds me of when I was a kid at the parks.
It is a great kid-friendly option. You can check out 5 Fun Facts about Sonny Eclipse on the Disney Parks Blog
2) Columbia Harbour House
#2 on our list of the Best Quick Service Dining Magic Kingdom – is Columbia Harbour House. Located in Liberty Square, before Be Our Guest arrived, this was our go-to spot for quick service food at the Magic Kingdom.
This restaurant offers delicious seafood for everyone to enjoy, and since I rarely eat meat this was quite the find! It offers entrees that are a great value and very filling! Some of the most popular items on the menu are the Lobster roll, and their Grilled Salmon.
For those of you who are seafood fans, it is the #1 place to stop and grab a bite to eat at while you're in the Magic Kingdom.Best Quick Service Dining –
Pro Tip – Pre Order with the My Disney Experience App and breeze right past the lines.
1) Be Our Guest – Best Lunch & Breakfast at Magic Kingdom
This is absolutely the Best Quick Service Dining at the Magic Kingdom. We try to visit Be Our Guest at least once if not more during our trip. Located in Beast's Castle, it offers incredibly creative food choices for those dining at the Magic Kingdom!
Visit for Quick-Service (fast-casual) for breakfast and lunch, then at dinner, you have to use a table service credit as it transforms into one of my favorite Magic Kingdom restaurants.
Their menu features French-inspired food and even offer a castle souvenir goblet! The quiche is delicious, my husband loves the French Dip and the Croque Monsieur. For dessert, people love the "grey stuff" (cupcake) but I myself prefer the Creme Brûlée.
Be Our Guest Dining Tips!
Book Early! You need to book a reservation even for quick service dining. You can do this on the "My Disney Experience" app. (Dinner you need to book right at 180 days or it is nearly impossible)
Pre-order meals. Even if you have a reservation for breakfast or lunch there usually is a line in the blistering Florida sun. You can pre-order their meals using "My Disney Experience" within 30 days of their dining date.
Touch Screen Ordering – For those who choose not to pre-order their lunch, touch-screen, automated terminals will be available for guests to customize their orders. For special dietary requests and cash orders, cashiers will also be available.
Don't Forget about Breakfast – They have delicious breakfast offering including Eggs Florentine (See Below)
If you need help planning and booking your magical Walt Disney World vacation, contact our friends at Tink's Magical Vacations. They are truly Disney Experts, and not only are their services FREE, but they will save you both time and money. We hope these tips are as useful to you as they have been for us! They've allowed all of our Magic Kingdom visits to be a truly magical experience!
Want some great tips on how to avoid waits and where to get the cheapest Disney Hotel Stays? Check out my Ultimate Guide to Disney World
Map of Magic Kingdom Quick Service Dining Locations
Planning a Disney World Vacation – Start Here!
---
---
Pin for Later – Best Quick Service Dining Magic Kingdom