Epcot, if there is one Disney Park where I get super excited for food it certainly is Epcot. There is such a wide variety of amazing food choices throughout the World Collection that the biggest issue is choosing which place to dine.
We usually stay at the Beach Club and Epcot is just a short walk we often find ourselves heading into Epcot simply for lunch or dinner. So, let's break it down the 12 best Epcot quick service dining choices
---
If you are looking for a delicious Bratwurst, frankfurter or a beer, this is a great place to start. In fact, Disney World sells over 156 miles worth of bratwurst every year (if you lined them up).
There are only a few other items on the menu at this quick service option but the options are pretty limited. Definitely save room for the apple strudel though, it is pretty delicious.
---
When it comes to Epcot quick service restaurants, there are a few standout options. If you're looking for a taste of Canada, head to the Canada pavilion and check out the Le Cellier Steakhouse.
While it is technically a table service restaurant, it offers a delicious quick-service menu during lunchtime that includes items like the Canadian Cheddar Cheese Soup and the Le Cellier Steakhouse Burger.
---
The Kringla Bakeri og Cafe is located in Norway and is an absolute delight. I will be honest, this place made my list of best Epcot Quick Service simply for the desserts.
It has some of the best desserts in Epcot. The School Bread, Kringla, and Salted Pecan Chocolate Chip Cookies are amazing.
In terms of lunch, Kringla has some nice light sandwiches, but let's be real here, go for the dessert 😉
---
Located in Mexico right across from the Mayan Tower is La Hacienda. If you are in the mood for Mexican Food this place is a pretty great stop. The carne asada tacos are delicious and nachos are also worth ordering.
My kids love to get the mini churros for dessert because they come with a dulce de leche sauce (we usually have them split it so they aren't bouncing off the walls). Grab a spot along the water and you'll have an incredible view of Epcot and the illuminations show if you are there late in the evening.
You can check out the menu here!
---
Right next to Paris you will find Morocco and some amazing food. There you can enjoy delicious kababs, falafels, gyros and more. I personally love the couscous and tabouleh salad.
Then for dessert, I highly recommend grabbing the baklava. It is sweet and delicious and the perfect amount of sugar to give you the energy to make it around the worlds.
You can check out the menu here!
---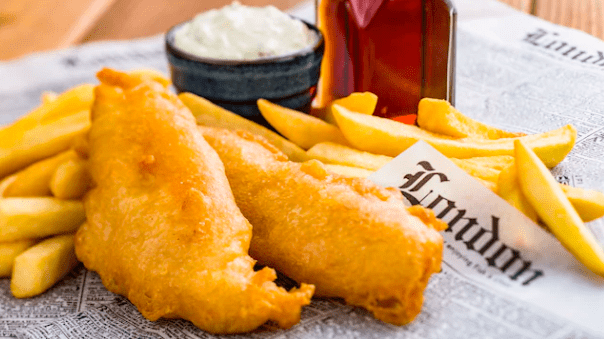 Over in England, you can stop by the Rose & Crown Pub for a nice full British meal. Just outside is a great Fish & Chip spot called Yorkshire County Fish Shop.
This place my kids and husband absolutely love. If my husband categorized this list of best Epcot Quick service restuarants this would be his top spot.
He loves this stop because all meals come with a pint of beer (if you are on the quick service dining plan), so he enjoys a nice Bass Ale.
They also have chicken strips there, but this stop is really about one thing, Fish & Chips and they are pretty authentic. Right behind Yorkshire County Fish Shop, you can also grab a view of Illuminations while the show is performing.
You can check out the menu here!
---
Kind of tucked away in the upper left corner of the Japan Pavillion you can grab some pretty delicious sushi. I know what you are thinking sushi at Disney?
We thought the same but our friends convinced us it was worth a try. I have to say I was pleasantly surprised by how tasty the sushi was and it is a great healthy option.
They also have delicious miso soup to go along with your meal. Once you grab your sushi, head out to the balcony where you'll see a beautiful view of Epcot.
You can check out the menu here!
---
In the very back corner of Italy you will find a tiny little stand which in my opinion has the best pizza in all of Disney World. This is one of the best of Epcot's quick-service dining because not only is it delicious but it perfectly emulates the little pizza spots you will find in Rome, Italy.
I loved when I was in Italy and you could stop in and grab a square of some of the tastiest pizza.
Here you get the exact same feeling (except for you are paying Disney Prices) Once again if you are on the dining plan a beer or wine is included, so grab an Italian's Moretti which is always on tap or perhaps one of their seasonal beers.
---
4) Starbucks – Best Epcot Counter Service for people addicted to Frappuccinos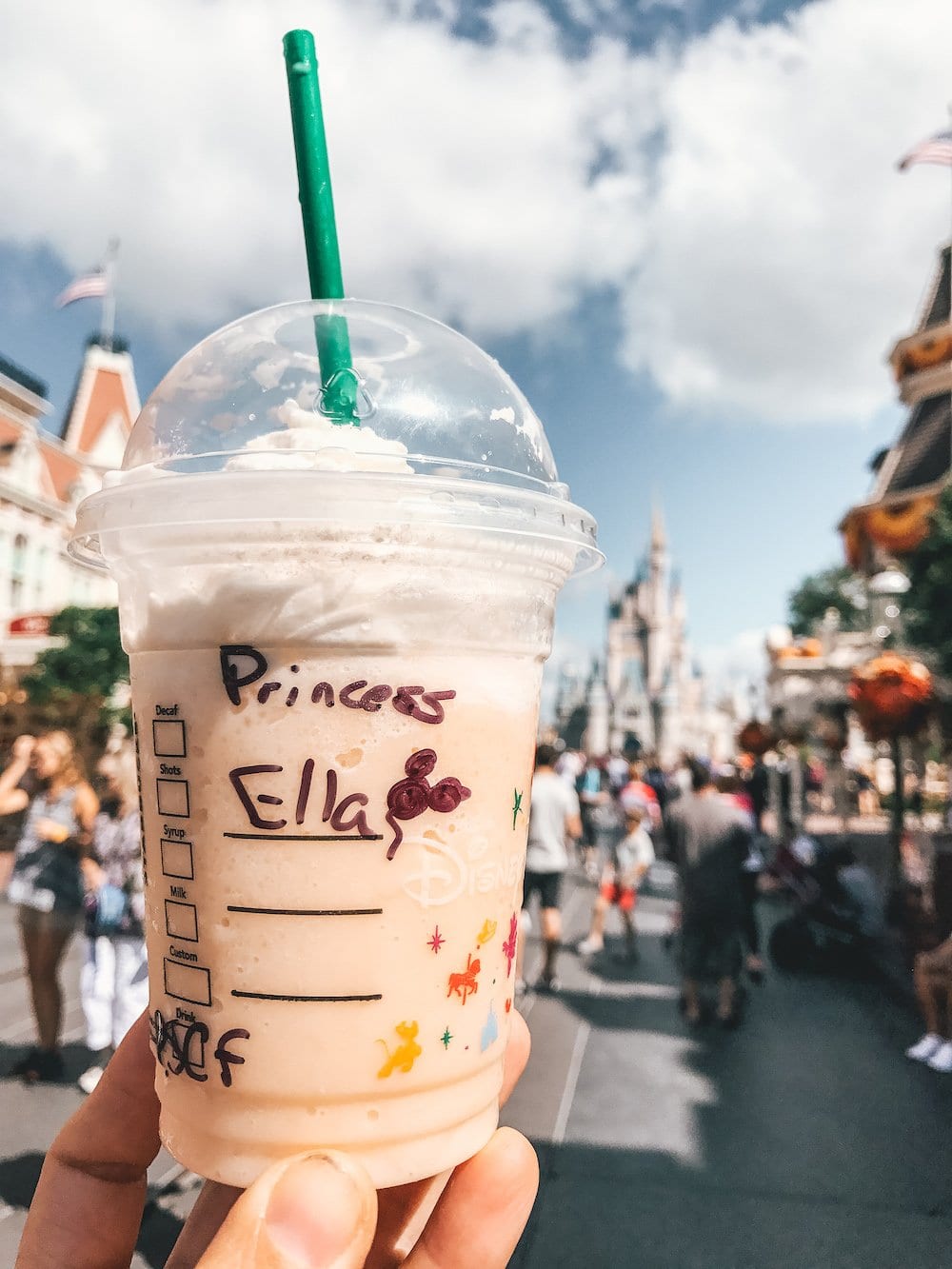 Yes, Starbucks. But hey they have a great deal when it comes to quick service dining. If you are on the dining plan you get a sandwich or salad and as big of a Frappuccino or other specialty drinks. Starbucks is located directly behind the EPCOT ball next to the dancing fountains.
I usually don't do the Starbucks quick service at EPCOT cause I love so many other choices, but my kids sometimes convince me because I have raised future Starbucks addicts (we will have a separate article on my poor parenting at another time)
---
The Regal Eagle Smokehouse opened in Late 2020 and it is definitely a must stop if you love BBQ. The American pavilion, used to have some of the worst food prior to this establishment and now nothing could be further from the case.
You are going to enjoy a wide variety of different types of BBQ from Memphis Dry-rub Pork Ribs to Kansas City Smoked Half-Chicken to a Sliced Texas Beef Brisket Sandwich.
---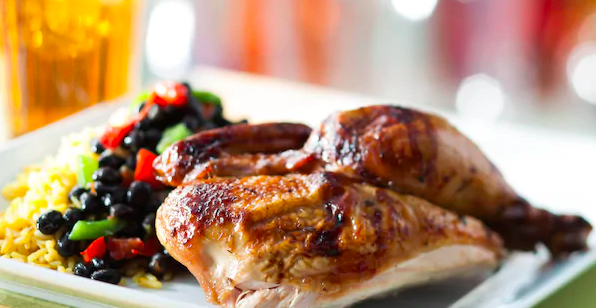 If you want to hit up a spot where there is something for everyone and probably some of the best quick service food around head over to the Land and directly across from Soarin' is the Season's Grill.
There are so many different options, from incredible sandwiches on warm focaccia bread to chicken dinners, salmon, pot roast, Asian cuisine. There truly is something for everyone. This is our stop when nobody can make up their mind what they want and everyone comes out happy.
You can check out the menu here!
---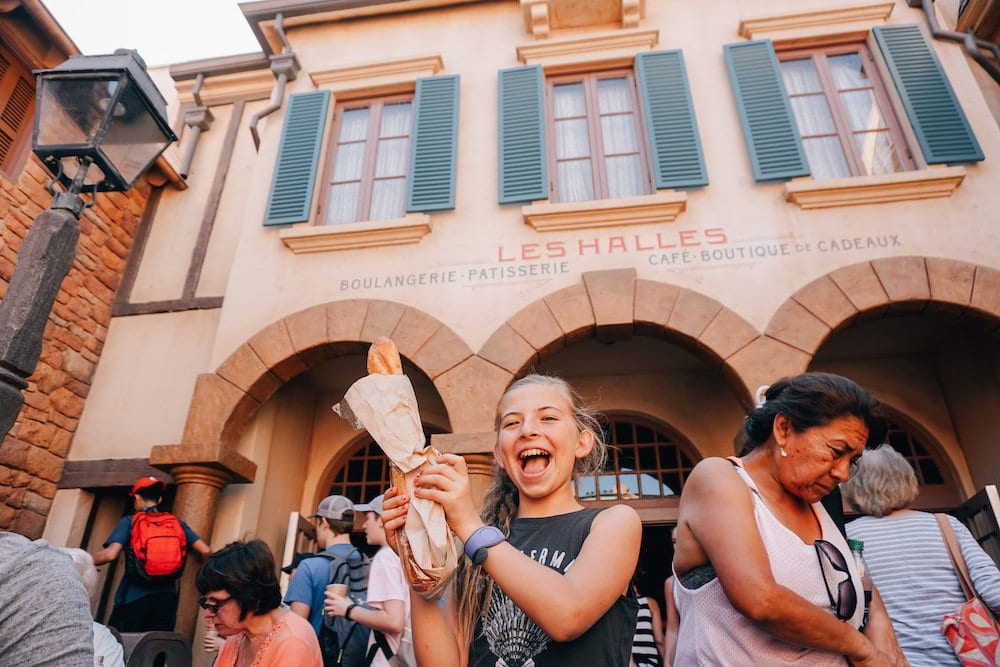 Our absolute favorite place to grab quick service dining is in France at Epcot's world showcase. Once again located at the back of the country inside a little shop you will find this incredible place to grab a bite to eat. We love the Jambon sandwich (Ham and cheese and butter on a baguette) and also the quiche is pretty incredible.
But now to the main part of why we love this place. The desserts…..Oh, the desserts. If you are on the meal plan, they will let you substitute your drink for a dessert (with a couple exceptions)
You can enjoy some delicious Macarons, Napoleon, Meringues, Crème Brulee and so much more. The selection is incredible. In addition, we love ordering a baguette to eat later as we walk throughout the park. It's a great value for only a couple bucks.
You can check out the menu here!
---
Bonus Epcot Quick Service Options ****
Food Festivals –
Throughout the year there are several festivals going on at Epcot that offer even more delicious food throughout the worlds.
These include the Food & Wine Festival in September & October, Arts Festival in January & February, April –May Flower & Garden Festival and lastly December for Christmas around the world.
Overall, there are so many incredible places in EPCOT for quick service dining it is hard to go wrong. Have fun dining.
---
Map of Best Epcot Quick Service Dining Locations
---
Frequently Asked Questions about Epcot Quick Service Dining Locations
What are the best table service dining options in Epcot?
San Angel Inn Restaurante
Akershus Royal Banquet Hall
Nine Dragons Restaurant
Tokyo Dining
Biergarten Restaurant
Rose & Crown Dining Room 
Monsieur Paul
Le Cellier Steakhouse.
What do quick service dining plan include at Epcot?
1 Entree
1 Non-alcoholic beverage (or alcoholic beverage for guests 21 years or older)
Snacks may be available on most outdoor carts near quick service dining.
What is not included in the quick service dining plan?
Items that are more than a single serving (such as a box of doughnuts or a jar of peanut butter).
Items (such as popcorn or drinks) that are served in a souvenir container.
Items sold from recreational rental counters.
Items considered to be merchandise (such as bottle toppers, glow cubes and bottle straps).
Special dining events offered at certain Table-Service locations.
---
If you need help planning and booking your magical Walt Disney World vacation, contact our friends at Tink's Magical Vacations. They are truly Disney Experts, and not only are their services FREE, but they will save you both time and money. 
---
Do you have a favorite spot to grab a bite to eat in EPCOT? Let us know in the comments.
---
If you enjoyed reading about Epcot Quick Service Options, you might also enjoy:
The Best Animal Kingdom Quick Service Dining Options! [Top 5!]
Top 7! The Best Quick Service Dining; Magic Kingdom!
The Ultimate Disney World Packing List [Over 50 Must-Pack Items]
---
Pin for Later – The 12 Best Epcot Quick Service Dining Options – A world of Deliciousness
---
Links to Restaurants –