After 30+ Disney World trips, I finally made it to Mickey's Not So Scary Halloween Party at Magic Kingdom. Since, this was our first visit to the party I was bustling with excitement and could not wait to attend. I have been to many of the other Disney World events including the Very Merry Christmas Party, so my expectations were pretty high. I have to say, as much as I love the Christmas party I think Disney World's Halloween Party is actually better. So, here is the scoop on everything to check out at the Disney World Halloween Party and why it might be the best special event at Disney World
Everything to Know About Mickey's Not So Scary Halloween Party
Getting Tickets –
First off, you need to get tickets in advance. Many of the dates sell out so I highly recommend purchasing tickets as soon as you know you are going. There are a few options for discounted tickets, Disney Vacation Club Members save $5-$10 off select dates. Also, some dates are more expensive then other dates (mainly weekends leading up to Halloween) The party begins in mid-August and runs on select nights through November 1st.
Here is the complete list of dates:
August 16, 20, 23, 27, 30
September 2, 6, 8, 10, 13, 15, 17, 20, 22, 24, 27, 29
October 1, 3, 4, 6, 8, 10, 11, 14, 15, 17, 18, 20, 21, 24, 25, 27, 29, 31
November 1
Getting Dressed Up for the Party:
Here are some of the guidelines for the Halloween Party directly from Disney World:
General Mickey's Not So Scary Halloween Party Costume Guidelines:
Disney may deny admission to anyone or remove anyone who is wearing attire that is considered inappropriate or could detract from other guests' experiences.
Guests may dress as their favorite characters, but cannot pose for pictures or sign autographs.
Costumes must be family-friendly and not obstructive, offensive, violent or objectionable.
The Costumes must not contain weapons that resemble or could be mistaken for real weapons.
Costumes may not contain sharp or pointed objects, or materials that might accidentally strike another guest.
Guests who do not abide by the guidelines may be refused entry or removed unless their costumes can be modified to acceptable standards.
For guests ages 14 and up:
Layered costumes or costume props that surround the entire body are strongly discouraged and subject to additional security screening.
Costumes may not reach or drag the ground.
Capes should not go below the waist.
Themed T-shirts, shirts, sweatshirts and hats are acceptable.
Transparent wings, plastic light sabers, toy swords and tutus are OK. Headwear must not cover the face.
Masks are not allowed.
For guests ages 13 and under:
Costumes and some masks may be worn. Masks cannot cover the entire face, and eyes must be visible.
Attending the Event
We arrived at the Magic Kingdom shortly after 4 pm as we were going to have an early dinner at Be Our Guest before enjoying the party. Guest can enter the park beginning at 4pm for the event. All guests who do not have a ticket to Mickey's Not so Scary Halloween Party will be asked to leave the park by 6pm.
Once you enter the park with your tickets you will be given a wristband, a welcome treat, and a trick or treat bag for the event. If you happen to be in the park before 4 pm you will need a separate ticket for that day's visit and then get a wristband at the entrance of the park so that you can enjoy the Halloween festivities.
Special Halloween Twists on Rides
Space Mountain in the Dark
One of our favorite things to do was to explore the rides with "Halloween Twists." The first ride we hit up was Space Mountain. The ride was completely in the dark and filled with spooky music. I was a bit frightened but my 5-year-old is the bravest girl ever and thought it was fantastic.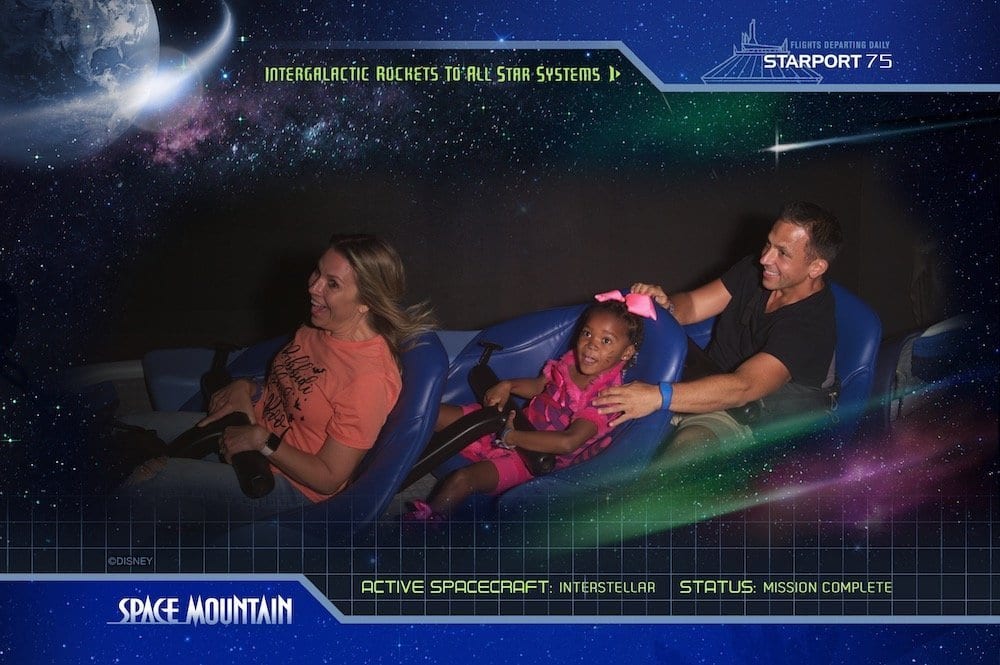 Monster Inc. Laugh Floor & Trick or Treating
I loved the Monsters Inc. Laugh Floor twist. You enjoy a 5-minute show with some entertaining Halloween themed jokes, plus the kids love it because they get candy before the show and after the show.
Pirates of the Caribbean
The Pirates of the Caribbean had live actors throughout the ride and before the ride. It is super fun and if the line isn't too long I definitely recommend visiting the attraction. The actors make the ride a whole lot more fun and it is an experience I wish Pirates of the Caribbean had every time. At the end of the ride you will receive some delicious buried treasure that is sure to be a hit with the kids.
Mad Tea Party
We did not make it to the Mad Tea Party as we heard it has the least of the Halloween twists with simply a change of lighting and music.
Trick or Treating
The one thing there is definitely no shortage of is trick or treat stations. There are 14 trick-or-treat stations throughout the park. If you have an allergy, grab an allergy-friendly bag at the first stop, so that you can make sure to get allergy-friendly candy. The stations have a wide variety of candy and other treats like go-go squeez apple sauce and Beanfiels Bean Chips.
*Pro Tip* – There are so many trick-or-treat stations, I would recommend bringing in your own trick-or-treat bag. The one provided is too small for all the trick-or-treat stations.
*Bonus Pro Tip* – Want a lot of candy, head to the trick or treat stations late, there are barely any lines and the cast members seem to be passing out double the candy.
Character Appearances
Throughout the Disney World Halloween Party, you can take pictures of your favorite characters in their holiday get-ups. There are over 17 places where you will find character pictures. The lines do get long for these pictures so find the characters you truly want to take pictures with and snap some great holiday photos. I love the unique photo opps like Jack Skellington from Nightmare before Christmas
Magic Shot Locations
In addition, there are special spots throughout the park where you can take pictures with some Halloween Magic. On Main St. we found ourselves snapping several different shots where the photopass photographer added some special magic to the picture. At the entrance of the park, you can snap a Magic photo with the headless horsemen, and over by the Haunted Mansion you'll find yourself taking a picture with three friendly hitchhikers.
Check out our Magic Halloween Photos below.
Special Halloween Treats –
In addition to all the candy, of course Disney has some ridiculously tasty Halloween Treats. There are so many Halloween Treats at the you would need to come back several times to sample them all. This year they have the Amuck Amuck Cupcake (pictured below), Jack & Sally Push Pop, For Better or Worse Wedding Cake, Pumpkin Spice Milkshake and the headless horsemen cheesecake.
3 Different Dance Parties
There are three dance parties running all night long from 7pm – midnight where you can dance with your favorite Disney Characters. Disney did a great job of breaking up the parties to pretty much satisfy all of your kids. You've got Storybook Circus for your tiny lil humans, Monstrous Scream O Ween for your elementary school-aged kids, and Descendance Part for the teens and tweens.
Storybook Circus Disney Junior Jam
The Disney Junior Jam is located over at Fantasyland, where you can dance with your favorite Disney Junior characters including Vamperina.
Monstrous Scream O Ween Ball
The Monstrous Scream O Ween Ball will have you dancing with the likes of Mike Wazowski, Sully and many of the Monsters U characters. You can find it over at Tomorrowland.
NEW! Disney DescenDance Party
Located at the Cosmic Ray's Cafe is the Descendance party. You can enjoy a laserlight party with your favorite villain kids
Event Exclusive Entertainment
The highlight of the evening, in my opinion, is the exclusive Halloween entertainment at Mickey's Not So Scary Halloween Party. There are several different shows and parades. Here is a breakdown of all the shows.
Hocus Pocus Villain Spectacular
Located in front of Cinderella's Castle is a fun show hosted by the Sanderson Sisters from Disney's Hocus Pocus. There are three showtimes for this performance. 8:30pm 10:45pm and 12:00 am. I recommend checking out the 10:45 show as it is right after the fireworks show, so most crowds are gone.
Mickey's Boo to You Halloween Parade
Definitely a must-do is the Boo to You Parade. There are two showings of this parade one at 9:15pm and the 2nd at 11:15pm. If oyu have the energy wait for the 2nd parade as there will be much more room to find a great seat.
The floats on the parade are one of a kind. It all starts off with the headless horsemen and then the festivities really kick off with some amazing characters all dressed up and incredible floats. My favorite was the haunted mansion float (see pic below)
Disney's Not So Spooky Firework Spectacular
Probably one of the best fireworks shows I have seen at Disney World. I know that is saying a lot, but the light show on the castle is simply stunning. Jack Skellington kicks off the show and leads you through quite the fireworks spectacular. The show starts at 10:15 pm, if you are watching the first parade on Main St., stay where you are as it will be the perfect spot for the Fireworks
Is it the Best Special Event at Disney World
In my opinion, yes. I don't usually like Halloween, but I absolutely love the fun-loving Halloween that Disney brings to this holiday. The parade and fireworks are incredible and I love all the little additional touches done to the rides, it makes it truly a one of a kind event. You will for sure have a blast at this Walt Disney World special event. My tip is to have a plan, as you won't be able to do it all. Our plan was to make sure we got to enjoy the special Halloween themed attractions, do some trick or treating, enjoy the parade and fireworks, plus snag some of those amazing Magic Photo Opps. We accomplished all of those things and even snuck on a couple of extra rides that didn't have too long of lines. It was an absolutely amazing night!
Make sure to grab your tickets early at DisneyWorld.com/Halloween before it sells out.
If you need help planning and booking your magical Walt Disney World vacation, contact our friends at Tink's Magical Vacations. They are truly Disney Experts, and not only are their services FREE, but they will save you both time and money.
You Might Also Enjoy:
A Breakdown of Disney World Costs + How to Save Money!
Star Wars Dessert Party at Hollywood Studios – Is it Worth it?
Disney World Tips & Tricks [Over 100 Amazing MUST KNOW Tips]
Pin for Later – Everything to Know About Mickey's Not so Scary Halloween Party