Disney's Blizzard Beach Water Park and Typhoon Lagoon Water Park are some of the top waterparks in the nation! This makes them the perfect spot to cool off when Florida's summer heat hits. These two parks feature more than 10 attractions each, ranging from thrilling to family friendly. They are famous for their popularity among families, just like the Disney parks themselves. Planning a trip to Disney World can feel a little intimidating, especially when you throw in the addition of the water parks. However, I assure you making some room in your vacation schedule for them will be so worth it. And if you have to choose between the two water parks, check out our Typhoon Lagoon vs. Blizzard Beach post.
The Best Rides & Slides in the Disney Water Parks
Blizzard Beach- Disney Water Park Rides
Blizzard Beach offers a fair amount of riding excitement. They've got seven water slides that are split up in three groups. They also have a lazy river that basically circles the whole park. On top of that, there are some other activities like a kid play area and a pre-teen area.
Here are some of my favorite rides that Blizzard Beach has to offer:
Summit Plummet
This ride is an intense body slide that shoots you down a 120-foot slide. It's the fastest slide in the park! If you are a big water park fan, take this challenge first.
This is an awesome slide, and it even features a pretty smooth ending, great for everyone looking for a thrill.
Slush Gusher
This is right beside the Summit Plummet and you can go back and forth between the two easily. Instead of one thrilling drop, the Slush Gusher drops you three times! It feels like you're going to go flying off into oblivion on your 3rd hill. The ride is safe obviously, but it's a nice thrill for those who want something different than a straight drop. Plus, it is a bit less intimidating than the Summit Plummet.
Snow Stormers
The Snow Stormers ride is based off a slalom ski run, fitting right into the cute Blizzard Beach snow theme. This is a mat slide where you ride head-first. While this sounds a little scary, I assure you it is so much fun! You can feel the speed as the water rushes right below you. It's a super fun rush that is suitable for younger children because of the lack of a height requirement.
Toboggan Racers
This is another mat slide, but instead of a twisting slalom, you've got a straight race down to the finish. I've seen this ride get really popular as families and children who make friends at the park will repeatedly rush back up to the top to try another race.
Competition is a ton of fun, and Toboggan Racers takes a simple concept and makes it into a fun ride that has a lot of "re-ride" value.
Downhill Double Dipper
I don't really love this ride personally, some will like it because it still incorporates a "race", but it's rather short and is partly enclosed until the end. For some children, the head-to-head racing aspect could be a lot of fun.
Cross Country Creek
As you can probably guess, Cross Country Creek is the lazy river that has multiple entrances and exits throughout Blizzard Beach. Clocking in at right around a half hour, this lazy river does a nice job of giving you new things to look at and even has a cave portion that should impress younger children.
Typhoon Lagoon- Disney Water Park Rides
The rides at Typhoon Lagoon are pretty solid. I think I might prefer the ones at Blizzard Beach slightly. However, that in no way lessens the offerings that Typhoon Lagoon brings to the table. The main attraction at Typhoon Lagoon is their wave pool which blasts out massive 6-foot waves. It is my kids' favorite thing to do in all of Disney World. The wave pool area at Typhoon Lagoon takes up a lot of space and is probably the major attraction here, but for now, let's look at the rides:
Crush 'N' Gusher
This ride is probably unlike anything you've seen at your local water park. The Crush 'N' Gusher is actually considered a water roller coaster, which means at times you'll be pushed uphill by water pressure.
The Crush 'N' Gusher features three different ride paths, but two of them are locked to duos only, so that may be a bit of an inconvenience if you've got an odd number.
Keelhaul Falls
Single riders are no problem at Keelhaul Falls, though. This is a tube slide that is designed for single riders, which is convenient if you're traveling in an odd number.
This ride goes pretty fast, but young children can generally ride it without too much of a problem.
Storm Slides
These slides tend to be a lot of fun for younger riders. This is a traditional body slide where you lay on your back, but it's not a straight drop – you go through a bunch of twists and turns. Personally, it's a bit bumpy for me as an adult but my kids adore it.
Humunga Kowabunga
This is another body slide that is more like the traditional body slide layout that you're thinking of – a straight track down to the finish. It's very high, so it's a lot of speed but the problem is that most of this ride is enclosed and I don't like it much for that reason.
Castaway Creek
I prefer the lazy river at Blizzard Beach to this one, but it's not a bad trip. It's a bit shorter, weighing in at around 20 minutes and doesn't really do anything too ground-breaking along the way.
Yummy Food in Disney's Water Parks
Blizzard Beach
The food offerings at Blizzard Beach don't really match Typhoon Lagoon, but you still won't find yourself starving for options here.
Lottawatta Lodge
Lottawatta Lodge is the best that Blizzard Beach has to offer. It's generally easy to find some seating here making it easy to get in, get your food, and get out. Personally, I'm a fan of the Blizzard Burger. They do have a couple of kids options on the main menu which should take care of even your pickiest eaters.
Lottawatta is the main restaurant and doesn't offer a ton of variety. You may be better off checking one of the other smaller options for sandwiches, a pretzel, popcorn, or ice cream snacks. We are big fans of packing lunches for these water park days and saving a little money, too!
Frostbite Freddy's Frozen Refreshments
I don't know about you, but water parks always have me hankering for a good snack. Between the combination of the hot sun and running around from slide to slide, I need a couple shared bites to get me through. You can stop at Freddy's for these yummy loaded nachos or a sweet orange swirl cone. For mom and dad, there are also some adult beverages to choose from. 
Typhoon Lagoon
At Typhoon Lagoon, the best and largest restaurant option is Leaning Palms. No, you don't have to worry about the structure – everything is safe here and generally speaking, there is a lot of room so you shouldn't worry about seating concerns either.
Leaning Palms
The menu at Leaning Palms has plenty of different options to suit your whole party's tastes. You will find that the menu includes chicken, pizza, hot dogs, even some vegan options. Personally, I like the Cuban Burger and I like to match that with a Frozen Tito's Tropical Storm Lemonade.
You can find a couple of Joffrey's Coffee stands here – excellent if you're getting to the park early and you need a bit of a pick-me-up.
Happy Landings Ice Cream
You can't appropriately cool off in Florida without an ice cream treat! At Happy Landings, you will find a treat for everyone in your group. They have sundaes, soft-serve waffle cones, and fruit bars. 
Lowtide Lou's
Wraps, sandwiches, pretzels, and treats are all the best things to keep you fueled for a day in Typhoon Lagoon. This is probably the best place to go for a quick lunch in the water park. Some Disney Dining Plans are accepted here, which is a bonus!
The Best Advice to Have A Great Day
Planning
For many, these 2 waterparks aren't the first stop on a Disney itinerary. However, they offer a great change of pace and can keep you cool on the hottest days of summer. Here are some of the best tips that I've learned over the years to maximize your time spent at Blizzard Beach or Typhoon Lagoon.
As far as planning goes, you probably do not need to set an entire day of your trip aside for one water park. If you're doing both of them on the same day, then it is possible to make a day out of it. 
You can take Disney transportation just as you would to the parks. You can hop right on at any Disney Resort. 
Parking is free at both waterpark locations, so driving is an easy option as well. If you can't drive, I also like the option of taking a service like Uber. It should be easy to access a rideshare option and shouldn't be too expensive around Disney.
Best Way to Buy Tickets for the Disney Water Parks
This can actually be a fairly difficult question and greatly depends on your overall Disney World plan. 
First, let's start with the annual pass. The annual pass is priced so that is slightly higher than what 2 visits would cost. Basically, you need to come 3+ times to make it worth it. If you're a local or someone coming to Disney World multiple times a year, this option makes sense for you. 
Take note that your park-hopper ticket does not include admission to the Disney water parks. However, you can do the park-hopper plus option and add them on.
The price for a single-day ticket into the water parks really is not bad, but there aren't many discount options. However, you can save on your theme park admission giving you some extra money to spend on the waterpark. There are plenty of ways to find discounted Disney tickets that you will surely want to look into! 
Best Times to Visit
No matter how you get to the park, my family has always liked to get there right around opening time. This lets you get a maximum amount of riding done right away and gives you a nice "break" option for eating lunch – usually right around when more and more people are getting to the park to ride the slides.
If that's not possible for you and you get to the parks during more "peak" hours, I wouldn't get too worried. Lines never seem to get too crazy in my experience. While I can't predict your wait times, generally, I haven't seen anything much longer than 15-30 minutes.
Pro Tip – Thanksgiving Day is the slowest day at the Water Parks. If you happen to be at Disney World during Thanksgiving and it is warm, hit the water parks. We went on Thanksgiving Day and never waited in one line!
Tips for Inside the Parks
I do recommend getting a locker to store any valuables and anything you don't want to get wet. Lockers are right by the entrance at Typhoon Lagoon and they're located by Frostbite Freddy's for Blizzard Beach.
Generally, I have found any of the "premium" cabana or tent options to be over-priced and kind of redundant to the general seating found in the park at large. To be honest, we are always chasing kids around and just don't have the time to enjoy them. However, I think they may be well worth the cost if you are bringing a baby along. It will keep them protected from the sun and is a prime nap spot.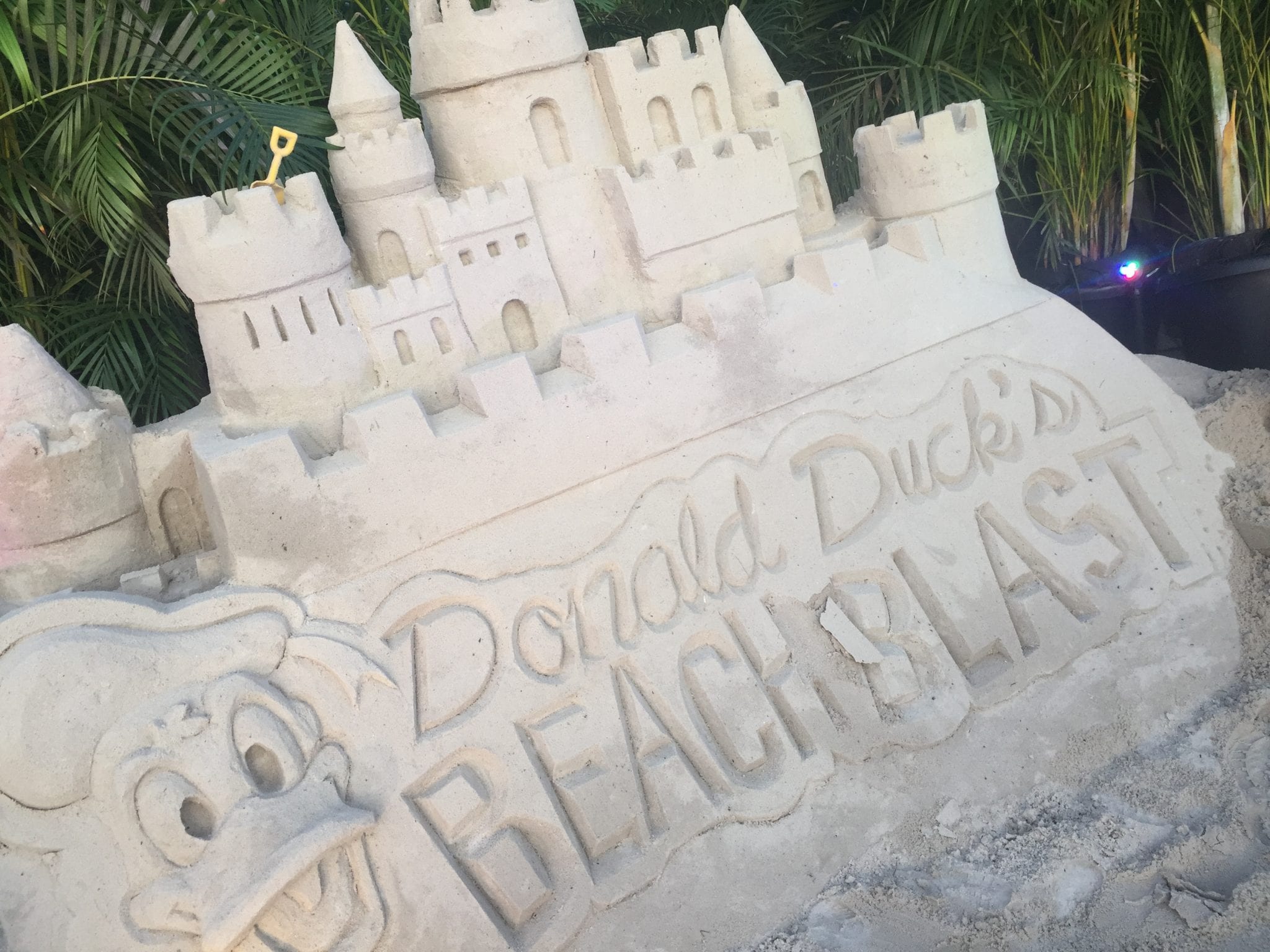 Planning your trip to the Disney Waterparks can be intimidating, but with proper planning, you can get the most out of Blizzard Beach and Typhoon Lagoon and beat the heat this Summer! Remember, these tips and opinions are just what I have found out and enjoyed while my family goes to the park, your family may have different wants, needs, and opinions!
If you need help planning and booking your magical Walt Disney World vacation, contact our friends at Tink's Magical Vacations. They are truly Disney Experts, and not only are their services FREE, but they will save you both time and money. 
Pin for Later: Disney Water Parks – An Ultimate Guide to Splashtacular Fun
Latest posts by Mama Munchkin
(see all)