Disney World might be known for their 4 amazing theme parks, but don't forget there is two incredible water parks that are a part of Disney World. Often times on our trip we find that we only have time to visit one of the two Disney water parks which lead to the battle of which water park is better. The Typhoon Lagoon vs Blizzard Beach battle. So, if you are in the same dilemma here are some of our best tips and recommendations to help you decide which park to visit.
Typhoon Lagoon & Blizzard Beach Ticket Options –
Before we get started on the Typhoon Lagoon vs Blizzard Beach battle, it is good to know which ticket offers entry into the water parks. If you are purchasing multi-day Disney tickets and are planning on visiting the water parks you want to get a Park Hopper Plus ticket which gives you access to all 4 theme parks + the water parks. I always recommend grabbing your tickets from Undercover Tourist as typically they have the best prices. Check current prices here. You can also grab individual 1-day water park tickets.
Pro Tip* – One thing to note is there is often thunder and lightning in Florida so if that does occur ask for a rain check ticket at guest services before you leave the park and they should offer free return for a future visit.
Wave Pool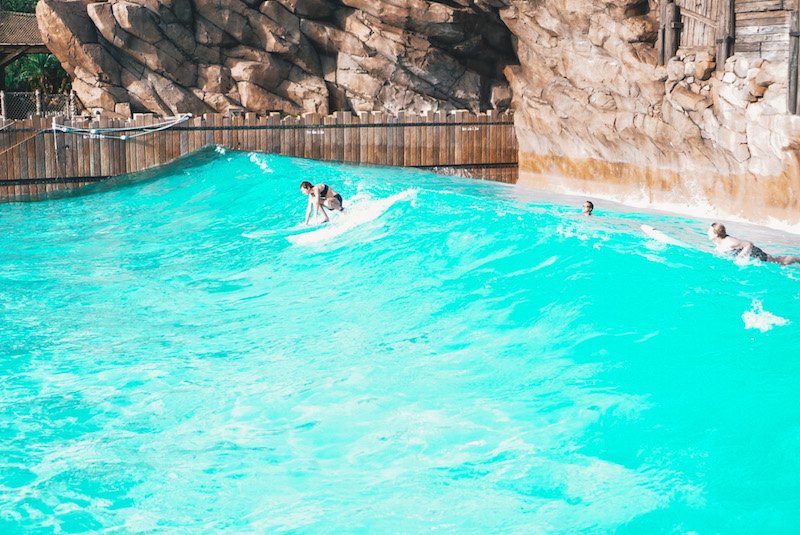 The first part of the battle of Typhoon Lagoon vs Blizzard Beach is the wave pool. You might be wondering why we would start with the wave pool. Well, if you haven't been to Typhoon Lagoon it has the most incredible wave pool you will have ever been to. A giant 6-foot wave is blasted across the wave pool (you can hear the boom of the wave being created).
My kids loved body surfing the waves and honestly spent 4 hours in the wave pool. For three of my kids, there is no comparison between the Disney water parks because Typhoon Lagoon has this incredible wave pool. It truly is unlike anything you will ever experience. The Blizzard beach melt away wave pool is fun, but just does not compare to Typhoon Lagoon Surf Pool.
Winner – Typhoon Lagoon – by a mile
Pro Tip * Want to learn to surf? Before the park opens you can actually take surf lessons in the Typhoon Lagoon Wave Pool – ask Guest Relations how to book this experience
Lazy River
Sticking with large bodies of water, onwards to the battle of Lazy River. Both parks have a Lazy River but there is a clear winner in this category as well. The lazy river at Blizzard Beach is by far the best lazy river of the two, there is actually only one better lazy river than the Blizzard Beach one and that is Atlantis in the Bahamas.
While the castaway creek lazy river at Typhoon Lagoon is delightful and takes you through a tropical paradise, the Blizzard Beach lazy river is filled with different interactions (often with icy cold water) that are super fun, but not so lazy. You enter a polar cave with ice cold water falling off the waterfall. The 3,000-foot-long route flowing river winds its way around all of Disney's Blizzard Beach. And make sure you drop by and visit Ice Gator, who's at home sick with a cold. Just watch out for his sneeze!
Winner – Blizzard Beach
Disney Water Parks Body Slides –
Both Blizzard Beach and Typhoon Lagoon have some really fun body water slides, but once again Blizzard Beach is the clear winner. Blizzard Beach offers one of the biggest drop slides in the entire world with their Summit Plummet, this must-ride slide rockets you down a sheer 120-foot slope. In fact, you can actually take ski lifts up to this amazing slide.
You won't want to miss this "ski jump" that's so steep, you can't see where you're going—until you're there! I have to say only one of my kids has been brave enough to take the summit plummet. On top of Summit Plummet, there are the toboggan racers, storm racers and downhill double dipper which are all super fun body slides.
Winner – Blizzard Beach
Family Slides
While Blizzard Beach definitely has the most slides, Typhoon Lagoons has the better of the family slides. Their raft rides like Miss Adventure Falls are great for the entire family (our 4 year old loved it) and then they have the two-person water coaster, the Crush'n Gusher which is one of the best water rides I have been on as you get propelled up and down this super fun water coaster.
When it comes to family slides the battle between typhoon lagoons vs blizzard beach, typhoon lagoon is the winner
Winner – Typhoon Lagoon
Typhoon Lagoon vs. Blizzard Beach – Kid's Area
With Disney, you know they know how to cater to the little ones. Both water parks have a delightful play area for the kids. Over at Typhoon Lagoon you have Ketchakiddee creek which is a perfect area for those under 4 feet tall. They have side-by-side mini slides, a mini inner-tube rapids ride, crawl chutes, animal-shaped fountains and a cave with a waterfall.
However, I have to say Blizzard Beach is the better of these two parks as they have two separate little kid areas. Tike's Peak is another great are for those kids who are under 48″ tall. Kids will enjoy miniature snow-banked slides, side-by-side downhill slides, a mini inner-tube ride, chutes tunneling through the snow.
In addition, Blizzard Beach has Ski Patrol Training Camp which is great for all ages and heights. It is perfect for our family because our older kids love to play with little Olivia and this area is perfect for all of them. Here are some of the activities you can do at Ski Patrol
Thin Ice Training Course – Test your balance by walking across tricky ice flows with an overhead cargo net for support.
Fahrenheit Drops – Drop in on the "T-Bar," a zip line that ends with a splash in 8.5-foot-deep water (for Guests 5 feet tall and under).
Frozen Pipe Springs – Thaw your pipes on this enclosed body slide that empties into the bay alongside Fahrenheit Drops.
Cool Runners – Coast on an inner tube down curvy twin slides flanked by melting snow mounds.
Snow Falls – And so do you, like a graceful snowflake! Make a splash on this straight-downhill body slide.
Winner – Blizzard Beach
Disney World Water Park – Overall Winner
Overall, Blizzard Beach is the slight winner in our opinion as there is more to do for the whole family, but like I said, the incredible wave pool at Typhoon Lagoon is worth the visit alone. Both Disney water parks are definitely worth a visit if you have the time and some good weather.
If you need help planning and booking your magical Walt Disney World vacation, contact our friends at Tink's Magical Vacations. They are truly Disney Experts, and not only are their services FREE, but they will save you both time and money.
List of Typhoon Lagoon Attractions
Bay Slides 
Castaway Creek 
Crush 'n' Gusher
Gang Plank Falls 
Humunga Kowabunga 
Keelhaul Falls
Ketchakiddie Creek 
Mayday Falls 
Miss Adventure Falls
The Mountain Trail 
Storm Slides

 

Surf Pool 
List of Blizzard Beach Attractions
Chair Lift 
Cross Country Creek 
Downhill Double Dipper 
Melt-Away Bay Wave Pool 
Runoff Rapids 
Ski Patrol Training Camp 
Slush Gusher 
Snowstormers
Summit Plummet 
Teamboat Springs 
Tike's Peak
Toboggan Racers 
Map of Attractions at Typhoon Lagoon & Blizzard Beach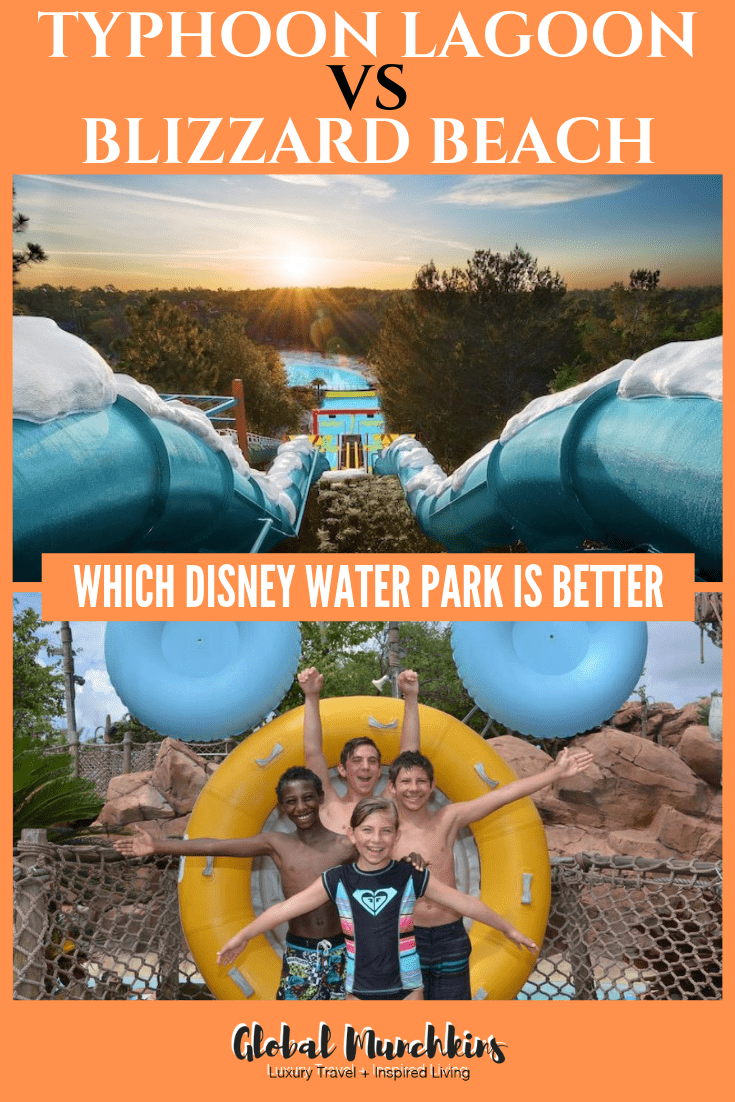 You Might Also Enjoy:
Disney World Tips & Tricks [Over 75 Amazing MUST KNOW Tips]
Ultimate Guide to Universal Water Park – Volcano Bay! Rides, Food, Cabanas & More
The Best Waterparks in Southern California – A Complete Guide
Pin for Later – Typhoon Lagoon vs Blizzard Beach – Which Disney Water Park is Better