When you think of rides at Disney World, you might think of Magic Kingdom or Hollywood studios but Animal Kingdom is one of the most wondrous parks Disney has ever opened the gates to. It is pretty much unlike any other park in its ability to blend three perfect experiences together; wildlife viewing, thrilling rides, and the magic of Disney characters to top it all off.
We're going to list out all the best rides at Animal Kingdom for you right here, but keep in mind walking around the park and visiting the exhibits are absolutely a part of completing your experience.
Avatar Flight of Passage – Best Ride Overall
This truly is the best ride in Animal Kingdom and in my opinion the best ride at Disney World. Avatar, Flight of Passage is unlike any other ride I have been on. You will get on the back of a mountain banshee (what the avatars ride in the movie) and experience what it's like to fly through Pandora through a 3D screening experience. Now, the line for this ride can get ridiculously long, I highly recommend booking Fastpasses 60 days in advance. If you don't get fastpasses, check out my tips here on the best times to get in line!
Height Requirement; Must be 44 in or taller

Fastpass reservation essential, as the wait time easily reaches 3 hours daily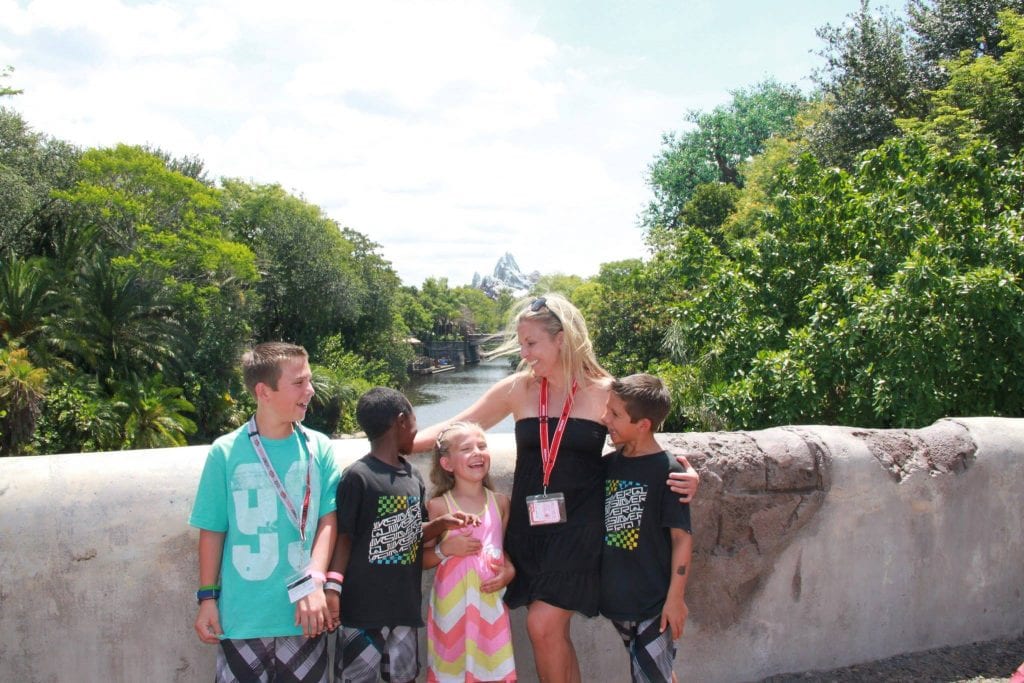 Kilimanjaro Safaris – Best Ride at Animal Kingdom for the Entire Family
You probably never thought you would find yourself on a theme park rides with real life animals right outside your window, but that is precisely what a Kilimanjaro Safari ride will give you. You will hop into a safari truck and venture out into the "wilderness" where you can sight anything from zebras to lions to hippos.
Your guide will give you a bit of background to make the ride truly entertaining. Remember these are real animals, so just like at the zoo it's best to view them early in the morning or right around dusk. Especially in the Florida heat, many of these animals will opt for a nap midday. It's such a different experience every time you board this ride, so it's worth visiting every time you come back to the park.
Look into booking a Fastpass, as it's one of the most popular rides in the park and easily enjoyed by all gu

ests
---
Kali River Rapids
River Rapid rides are always a blast, and while this attraction may not be extremely unique it's little bit of Disney Magic still puts it a touch above any other rapid ride. It's best to catch this ride on a hot Florida day because you will get soaked. If you have little ones who can't ride, make sure they take advantage of the elephant soakers to drench the rest of your party.
Height Requirement; 38 in or taller to ride

Fastpass is Available and is worth it when it is hot outside (the line can get long)
---
---
Best Animal Kingdom Rides for Adrenaline Junkies
Let's get to the fun! My kids are all adrenaline junkies and Animal Kingdom definitely has some incredible rides to get your heart pumping.
Expedition Everest
You may never make it to the top of the real Everest (I surely won't), but you cannot miss this thrilling journey to the top of Animal Kingdom's own treacherous mountain. You will board a fast train and wind your way through the Himalayas to escape the Abominable Snowman. One of the coolest things about this ride is that the line itself is an experience. You will get to see what a basecamp on Everest might truly look like. Once aboard the ride, you will experience those classic fast-paced roller thrills winding in all different directions including backwards. We sure hope you'll be one of the lucky ones to make it past the GIANT Yeti! The drop on this ride is pretty great and the feeling of racing backwards down the track always gets me.
Height Requirement; Must be 44 in or taller to ride

Fastpass not essential, you can ride single rider if the line gets too long
Dinosaur
While Dinosaur may be a little older than most of its counterparts in this park, this classic Animal Kingdom ride manages to tell a time-tested great story while mixing in a bit of thrill. You will set out on a journey in the Time Rover car to rescue an Iguanadon from extinction caused by a meteor shower. This is my daughter's favorite ride even though she gets nervous every time before she goes on the ride. By the way they have one fo the best PhotoPass photo opps in the park.
Height Requirement; 40 in or taller to ride

Fastpass not necessary
Na'vi River Journey- Most Overrated Ride
The other ride in Pandora is the Na'vi River Journey, which is a boat ride with stunning scenery from the movie all around you. You'll hop aboard a reed boat and drift through caves and glowing landscapes. It's all about music and you'll come face to face with the Na'vi Shaman of Songs by the end of your journey. The ride is just ok in my opinion, so don't wait in too long of a line for this journey.
No Height Requirement

Only get a Fastpass if you have guests who can't or don't want to ride Avatar Flight of Passage. Instead get to the park when the rope drops and make the river journey your first stop.
Best Rides for Little Ones
If you have little ones under 40″ there is still plenty to do at Animal Kingdom
Here are a mixture of Rides and Attractions you should check out with your little one in tow. And for those rides they are not tall enough, make sure to get a child switch pass so that every member of the family can go on the ride.
Triceratops Spin in Dinoland
Na'vi River Journey
Kiliminjaro Safari
Lion King Show
Finding Nemo Show
Gorilla Trail
Overall, there are some pretty amazing rides. We also have some amazing FastPass tips for Animal kingdom to help you breeze through the park. Plus, check out our Ultimate Guide to Pandora and find out HOW TO GLOW in PANDORA
You Might Also Enjoy
The Ultimate Disney World Packing List [Over 50 Must-Pack Items]
Disney World Tips & Tricks [Over 75 Amazing MUST KNOW Tips]
Latest posts by Mama Munchkin
(see all)