Disney is an experience like no other, but that magic does come at quite the price. One way to save a little money on your vacation is by purchasing discount Disney Gift Cards ahead of time. Below, we have laid out all the details on where you can purchase them and how to use them. Typically, you only save a small percentage on Disney Gift Cards, however with Disney World trips costing between $2,000 – $20,000, those savings can add up.
Everything to Know About Discount Disney Gift Cards
Disney Gift Card Basics
What is a Discount Disney Gift Card?
Well, it is pretty much what it sounds like. It is a Disney Gift Card that you purchase at a discount. This means that by purchasing the Gift Card, you will, in turn, save when booking your vacation or directly in the parks. Having gift cards to spend on your vacation will also help you to stay on a budget since you can easily keep track of how much you have already spent and what you have left! Check out our other budget strategies for Disney here.
What can I use them for?
They can pretty much be used for anything Disney, but here's the rundown:
To pay for your vacation. This includes hotels and theme park tickets. The following locations and more are included; Disneyland, Disney World, Aulani, Disney Cruise Line, Hilton Head, and Adventures by Disney.
To purchase anything from Disney at the locations listed above. This means souvenirs, snacks, and whatever else makes your heart happy during your visit.
To pay for your Disney Dining Plan
To shop online at shopdisney.com. I recommend buying some souvenirs in advance here!
To shop at Disney Stores nationwide. Even if you can't make it to Disney World or don't spend all your gift card money in the park, you can spend the money at any Disney Store.
*Pro Tip* – If you have multiple Disney Gift Cards you can combine them at DisneyGiftCard.com – Click on manage and then transfer balance.
Where To Get a Disney Gift Card at a Discount
Target with Your Target REDcard – Save 5%
There are a million reasons to get a Target REDcard, but being able to get cashback when purchasing a Disney Gift Card is definitely one of my favorites. When you make purchases with your Target REDcard, you get a 5% discount. Lucky for you, Target offers both eGift Cards (which would be emailed to you) and physical Disney Gift Cards. They range from $25-$500. I realize 5% is not a huge discount, but anything helps!
Keep in mind, they offer both a Credit and Debit Card option and you can use either to buy your discounted Disney Gift Card.
Wholesale Clubs – Save 3-5%
Sam's Club
Sam's Club is currently offering discounted Disney Gift Cards. They offer amounts from $50-$500 and you will get about a 4% discount.
If you have the Dash App, you can also get cashback for your Sam's Club Purchases. This will increase your discount even further!
Costco
Costco occasionally has Disney Gift Cards. Now, I would not recommend getting a Costco Card just to purchase discounted Disney Gift Cards but if you have a membership anyways definitely take advantage of this.
Grocery Stores with a Credit Card that Offer Supermarket Cashback Rewards
I never thought about how having 5 kids would cause our grocery bill to skyrocket, especially now that they are in their teens. However, it just means that it is really important for me to have a credit card that I get rewards for spending at the supermarket. Fortunately, many supermarkets also sell Disney Gift Cards. If you buy your gift cards here, you will then earn cashback on your credit card.
Chase, Capital One and American Express are good banks to look into for cashback credit cards.
There are many different ways to find discounted Disney Gift Cards, but the main point is to be on the lookout as soon as you start planning your trip! Whether it is finding them at a wholesale store or earning cashback rewards, any money back in your pocket is worth it!
My Tip
Overall, my tip is don't go out of your way to score discount Disney Gift Cards. If you happen to have a Target Red Card or naturally shop at a wholesale club, then definitely buy some. However, it is not worth it to sign up for a membership or credit card to save a few percent on gift cards.
In my opinion, there are a ton of better ways to save on your Disney Vacation. Here are a few of my favorites that will make the biggest impact on your pocketbook.
Other Ways to Save Money at Disney:
Save Hundreds of Dollars Per Night on your Room – DVC RENTALS –
One of my favorite Disney World tips is DVC Rentals. Disney Vacation Club is a Disney timeshare that offers stays at their deluxe resorts. However, you don't have to be a member to reap the benefits. Members are allowed to book resort stays for their guests.
There are several sites that allow you to "rent" points from a member. This can save you a considerable amount of money if you are planning to stay on property. Our favorite DVC Rental site is the David's Vacation Club Rentals.
Before we had Disney Vacation Club, we used DVC Rentals. We booked a studio at Beach Club Villas for $184 a night and the regular price was over $420 – See how much you could save by renting points by clicking here or clicking the banner below.
Purchase Discounted Tickets from a reputable Vendor: Save up to $82 per ticket
We have a full breakdown of where to get discounted Disney World Tickets, however, typically Undercover Tourist is our go-to resource for discounted Disney World tickets. They have been around for years and will instantly e-mail you your tickets. Check Current Prices Here!
Rent a stroller from an offsite vendor – Save $70- $150
Don't want to pack that big stroller on your trip, save some serious dough by renting from an offsite stroller company. Not only will they save you a ton of money, but they will also provide strollers that are so much more comfortable than the hard plastic ones at Disney.
Kingdom Strollers has been around for over 20 years and they will save you a ton of money plus they deliver the stroller to your hotel or Airbnb! You simply place your order and then meet them at your hotel at one of their 5 daily meetup times and grab your stroller. It couldn't be any easier Check em out here!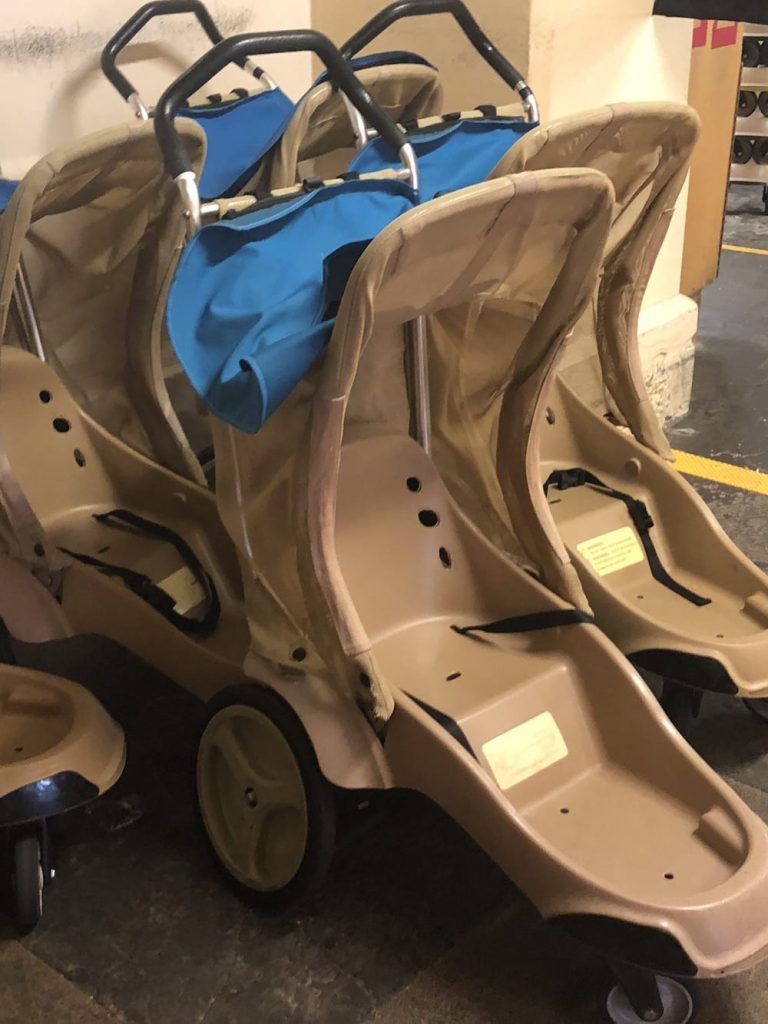 We have a ton more tips on how we afford Disney World, you can check them out here!
If you have any questions about Disney World, feel free to leave a comment below or
send us a direct message on Instagram
Latest posts by Emily Myers
(see all)