Our first ever cruise as a family was onboard the Disney Magic back in 2009. After traveling with Disney Cruise Line several times (5 to be exact) we switched over to give Norwegian and Royal Caribbean a try. As great as their ships were there was always something missing. So, this spring break we sailed once more on the Disney Cruise Ship that started it all. Take a peek inside the reimagined (recently renovated) Disney Magic + learn our trick to getting the BEST Disney Cruise Deals!
Onboard the Disney Magic + Our Trick to Getting the BEST Disney Cruise Deals
The Ship
Disney Cruise ships are immaculate. They are seriously so well kept that cruising on the Magic felt like cruising on a brand new ship.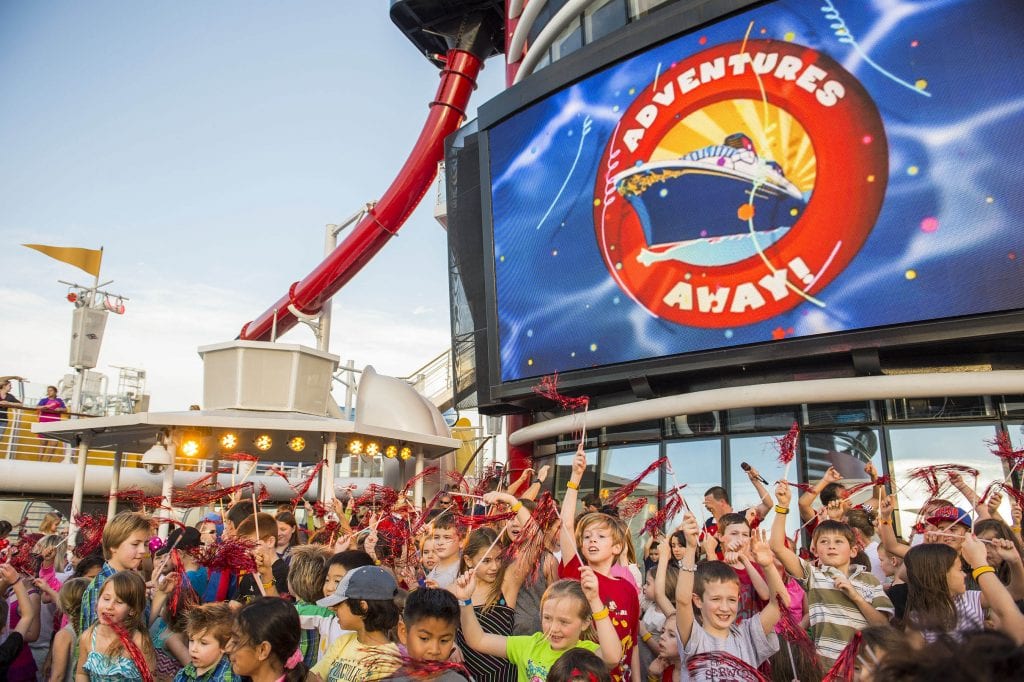 We love the sail away parties. But, if you have done it a few times before and you have kids that need to be signed into kids club the sail away party is the perfect time to get that done!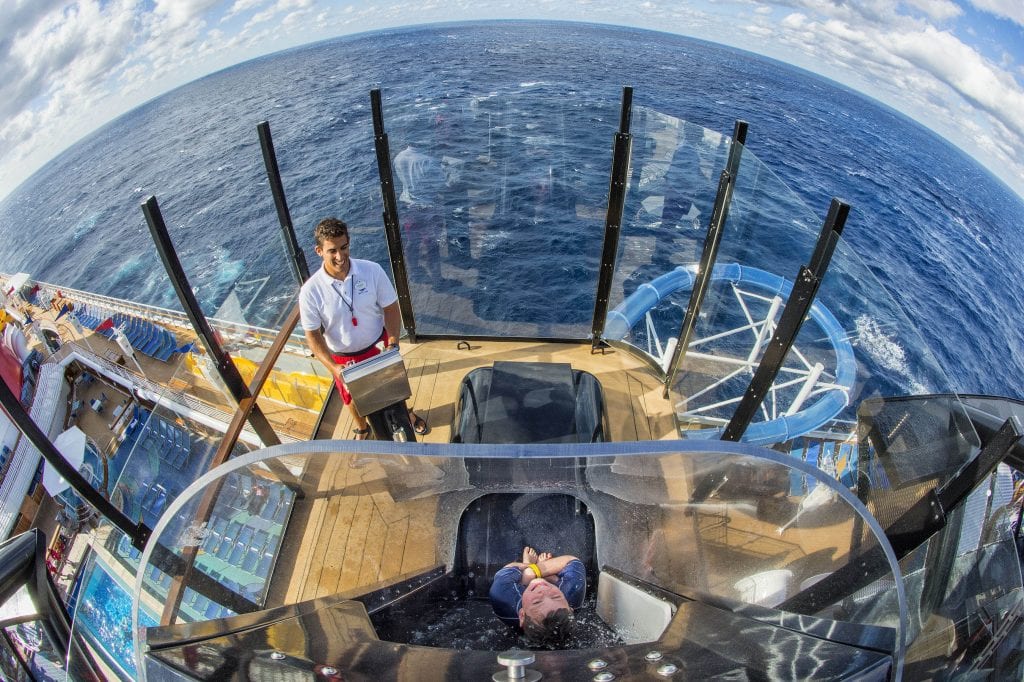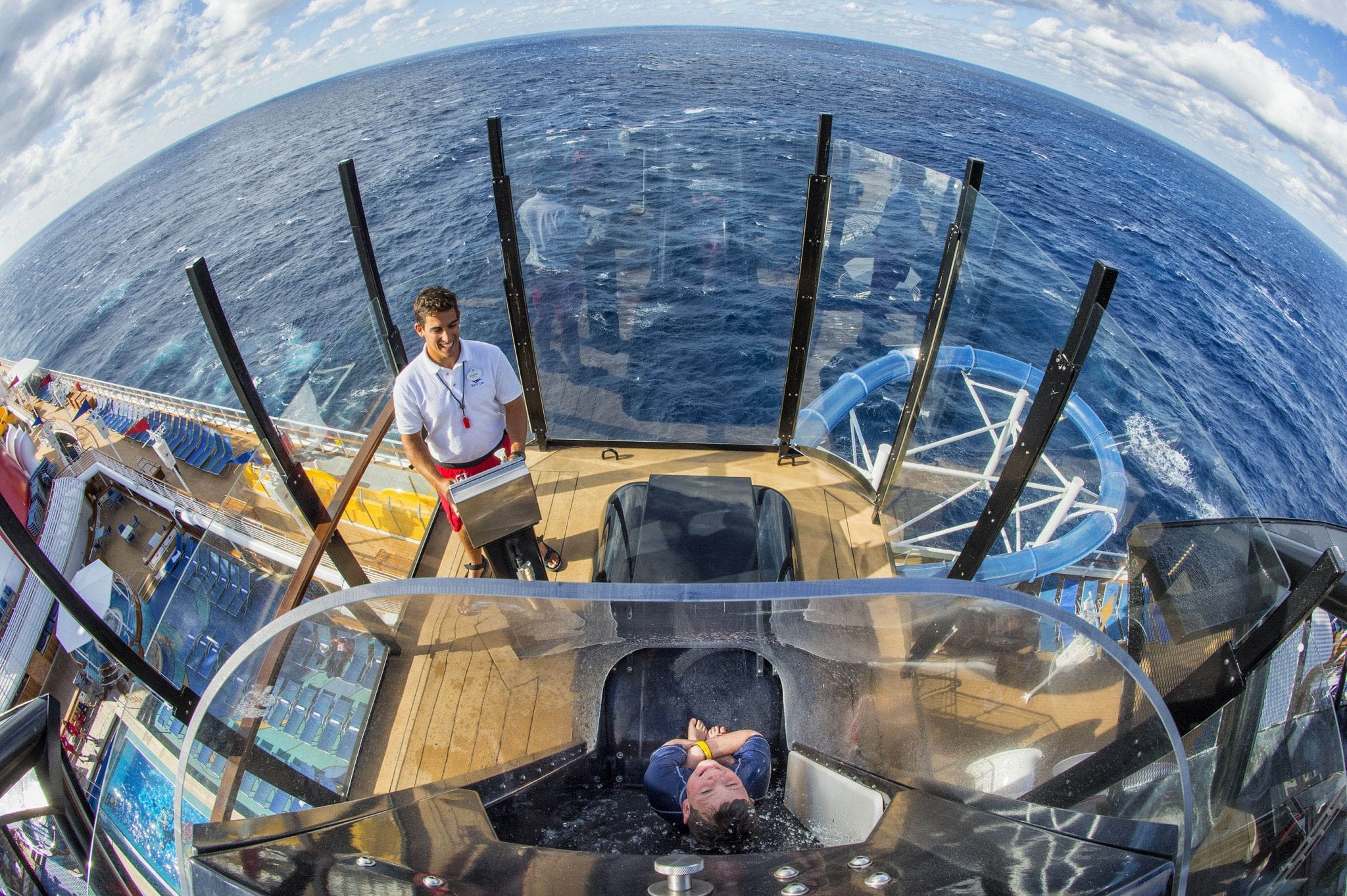 When the Disney Magic was re-imagined they added this AMAZING AquaDunk a 3-story sudden drop body slide.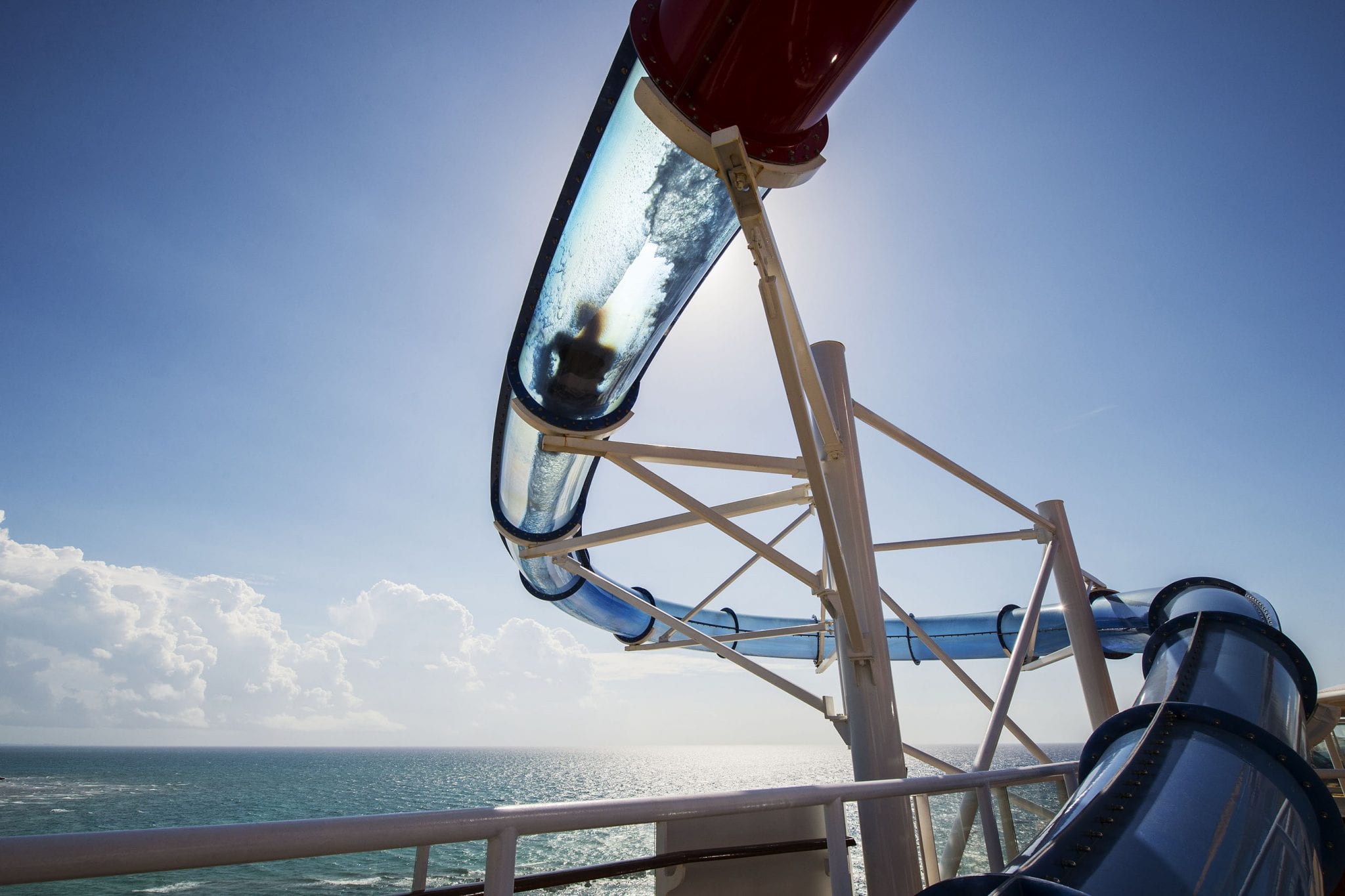 It is seriously the BEST water slide, although definitely not for the faint of heart as you literally get dropped into the tube and then swing out over the side of the ship on a 20-foot curvature. You also need to be at least 48″ to ride.
The AquaLab is very well designed on the Disney Magic. Liv loved the shallow pool and both of the splash areas.
Unlike other cruise ships that have cold water spewing out onto the kids. The water splashing out of Huey, Dewie, and Louie is actually warm.
Got to love all you can eat soft serve available ALL DAY LONG!!!
Marvel fans will dig the new upgrades to the Oceaneer's Lab where kids 3-12 can get their superhero on at the MARVEL's Avengers Academy. The statue of Iron Man was amazing!!
Kids Club is included in your cruise package and your kids will actually LOVE going. The counselors are so great with the kids and they always have a ton of amazing activities planned. As a parent, I love that they place a magic band on each child so that you know exactly where your child is at all times and you have peace of mind knowing they are safe. Disney's attention to these typed of details is why they are so popular and also why it is hard to find good disney cruise deals.
How awesome is the Toy Story Play Area???
Have a little one under 3 or not yet toilet trained? Disney is one of the only cruise lines that offers babysitting services for younger kids. It is an hourly paid service but its totally worth it if you have a little one. Especially, during the long multi-course dinners.
All of the shows are INCREDIBLE onboard the Disney Cruise Line, but Tangled was remarkable. No other cruise line comes close to the level of talent Disney pulls off. The nightly shows onboard a Disney Cruise are Broadway caliber.
Our Room aboard the DIsney Magic Cruise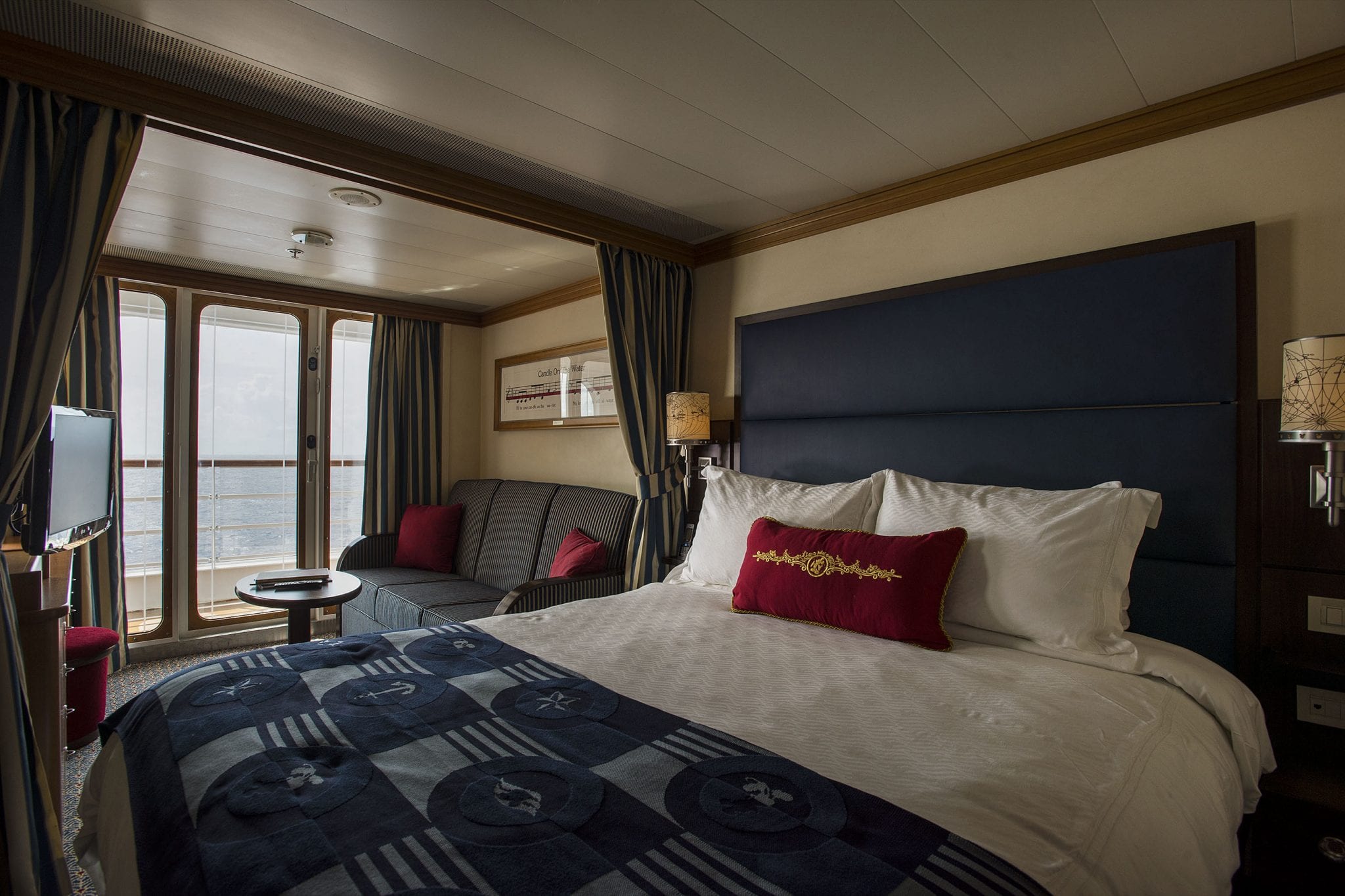 Another reason Disney is our favorite cruise line, especially for families with younger kids, is the kid-friendly amenities in the rooms.
Things like the extended cabins that sleep a family of 5 with a kids bunk + a pull out murphy bed.
The fact that all of your kids favorite Disney Channel shows are available 24/7 in the room. A big help when you are trying to get ready for dinner, early mornings, or when you just want to come back and relax in the room.
The double bathrooms are also nice with toilet and sink in one area.
And, then shower and sink in another. AND, Disney ships are the only ones that I have ever seen that have a bathtub/ shower versus just a stand up shower. It may not seem like a big deal but when you have kids that don't yet shower having that tub makes things a whole lot easier.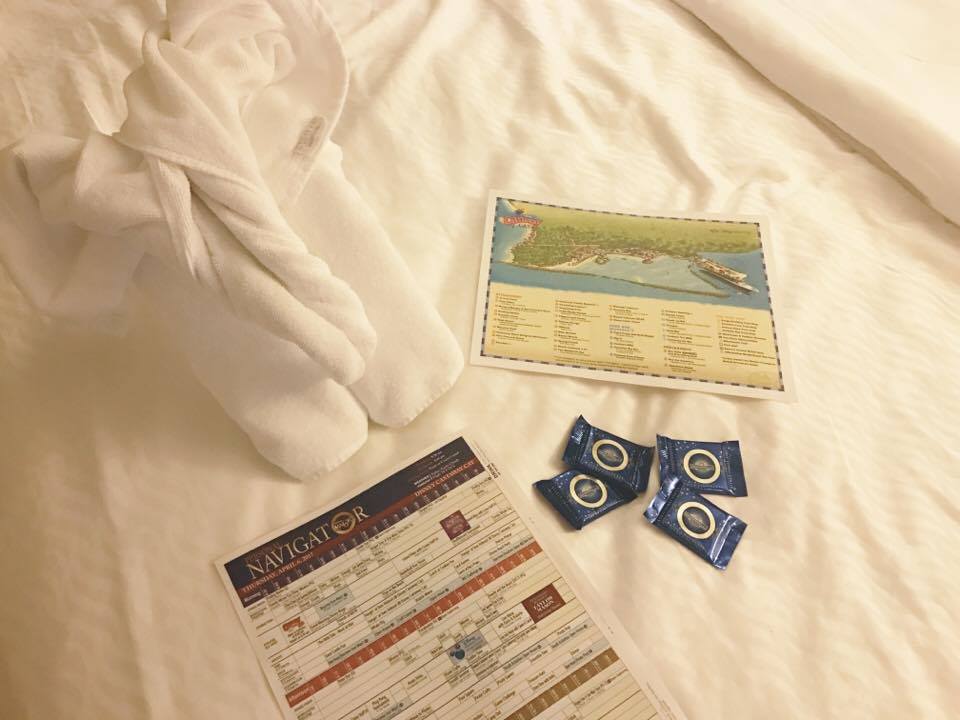 And, of course the nightly turn down, towel animal, Navigator delivery so you can plan the next day's activities and Ghiradelli chocolates are nice too!
Castaway Cay
Another spot that Disney crushes their competition is with their private island Castaway Cay.
This pristine beach has all the amenities you need to have an incredible day just steps away from the ship.
Check out how beautiful the ocean water is there. Not only is it super clear but it's also pretty warm too meaning even my two girls who hate ocean water will hop in.
On Castaway there are also a bunch of family-friendly activities and events. We love hanging out on the waterslides early before the lines start to get too long.
Then we grab one of their FREE wagons or jogger strollers and head to the Character Dance Party and lunch.
The dance party is such an awesome experience. We have done it SO many times and the kids still never tire of it. I think they get a kick out of seeing the characters out of their element on the beach in swim gear. And, with the music going and people cheering the energy level is magical.
Now that is a HAPPY kid!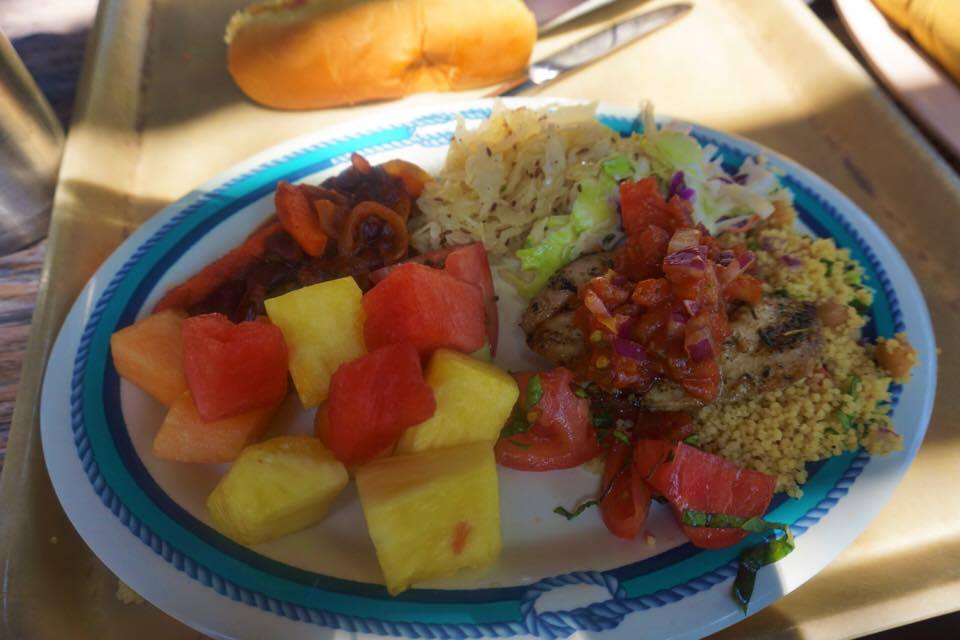 Lunch on Castaway is included as well. You'll see your same servers roaming around and helping you out. The BBQ style cuisine is tasty!
And, you can always finish your meal with a cold soft serve. I recommend filling a cup so it lasts longer. They seem to melt faster in the cones.
Another fun activity we always hit up is the bike rentals. You can secure your rental with the activities desk onboard or preferably book it prior to sailing. They have a package the includes bike rental, snorkel, and inner tube and that seems to be an awesome combo for our family. A little bit of everything.
The bike trails are a blast and also a great way to get some exercise on the island. There is also a 5k run early in the morning as well but we never seem to wake up in time. #RunnerGoals #NextTime
The bike route takes you to a fun lookout tower that you can climb with the kids.
They'll love exploring all of the sights and checking out how far they can see from up there.
See our ship on the right in the background?
There is a kids club actually on the beach if you want to check your kids in and head to Serenity Bay which is an adults only beach area. It looks lovely!
Liv LOVES Frozen so you can imagine her excitement when she got a glimpse at her favorite cuddly snowman.
Next up was snorkeling. This time we brought our own snorkels but I loved that they allowed us to use their yellow vests. They inflate just enough to be helpful with the kids but not too much that they are uncomfortable.
Disney worked their magic in the snorkel area and placed all sorts of sunken treasure down there. It makes it super fun to swim around.
There are also some really cool fish that are incredibly friendly.
These guys are not in the snorkel area. But, you can participate in the stong ray excursion where you get to feed these guys.
I just learned about the cabanas you can rent on Castaway Cay. Aren't they super cute?
After a long day, it is nice to hop on a tram and taken back to the boat. The staff has ice cold water, cool clean washcloths, fresh towels and hand sanitizer waiting for you as you board. It's that level of service that really makes Disney stand out from the other two (NCL and RCCL).
The Food
On Disney ships they have the coolest dining set up. You rotate your main dining restaurant for dinner each night, but you get to keep the same waiters.
Animator's Palate is my favorite restaurant and I loved the way the animation came to life over the course of our meal. It was really fun.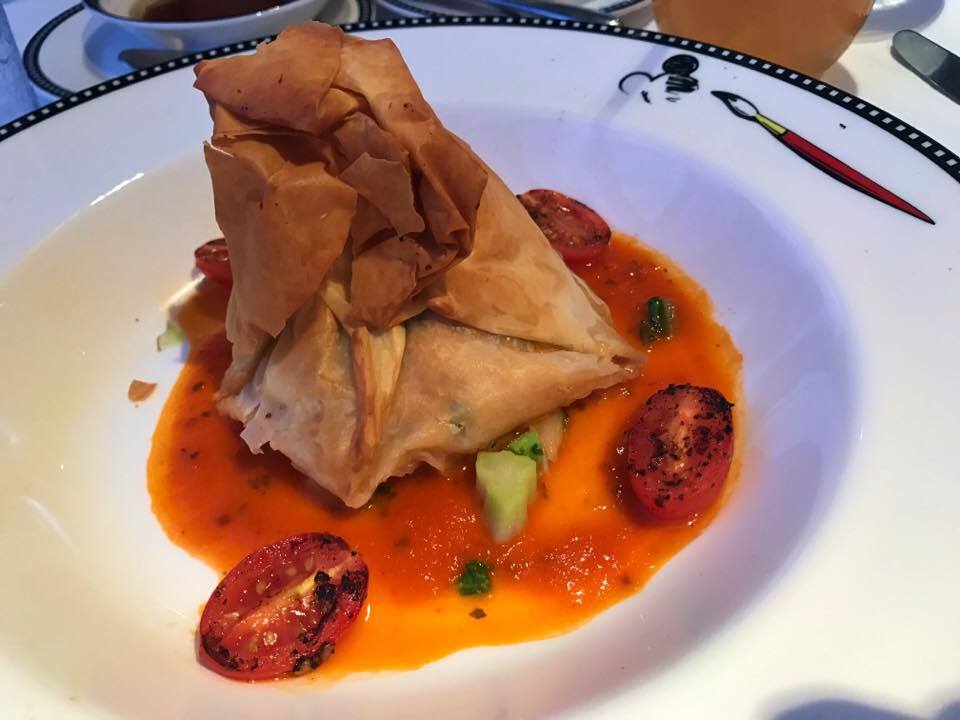 You can expect delicious food onboard Disney Ships as well. They are also the BEST with handling food allergies and sensitivities. They really go out of their way to make sure everyone is very well cared for.
Just a few delicious dishes.
Lumiere's feels a little more upscale. Ella loved the Disney themed Beauty & the Beast Roses that hung in the light fixtures.
I was also pleasantly surprised by how many healthy items I found on the menu each night at dinner. I don't have any food allergies but I am pretty picky. I am a vegetarian who eats eggs and fish, just no meat. I expected to only have a handful pf options when it came to eating, however, there were so many choices. It was wonderful!
I did skip out on dessert and instead ended the night with a delicious cup of coffee. But, that didsn't stop the kids (and it shouldn't).
Did you know that you can order a Mickey Ice Cream Bar from any of the main restaurants and from room service even though it is NOT on the menu??
Oh, and the themed dinners are so much fun too. For Pirate's Night even the menu and meal choices go along with the theme.
There is also one night where your waiter will make silly hats out of your napkins. The younger kids will get a kick out of it. And, honestly its pretty funny trying to figure out what they are making for each person in your party. I scored with a Minnie Bow 😉
The buffet is good but nothing incredible. I like to stick to the omelette station for breakfast (they'll make you made to order eggs, egg whites, and you can ask them to use cooking spray vs. fry with oil) and Indian for lunch/ dinner. I actually prefer to eat at some of the smaller pickup eateries located around the pool though when it comes to lunch and dinner we always go to our reserved restaurant seating.
Another option is the INCLUDED room service. The salmon salad is a decent option. It made it easy when Liv took a nap in the room. The room service is pretty timely only slowing down around the main dining hours. And, they have things like uncrustables that you can order and then store in your mini fridge in the cabin for when kids need a snack.
In case you were wondering, yes these treats tasted as amazing as they look.
The Characters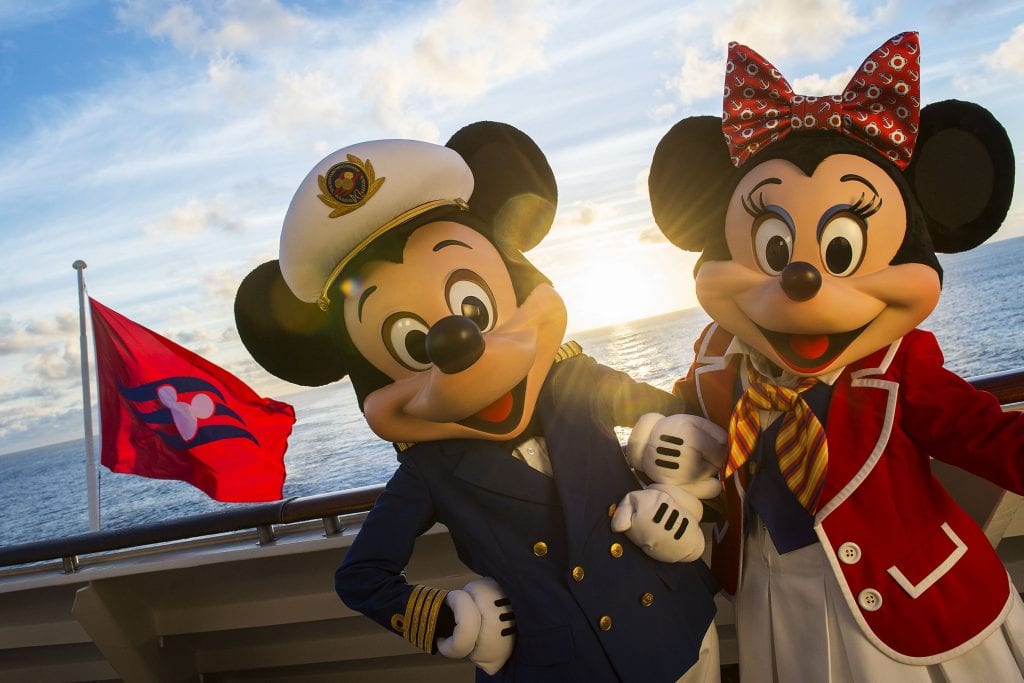 No cruise can compare with the amazing experience of traveling the high seas with Mickey and Minnie Mouse and mean seriously how cool is that?
Besides Pirate's night and the meet & greets you will also see your favorite characters just roaming the ship. That is one of those things that makes cruising with Disney SO cool. The characters, including Mickey Mouse also visit the kids clubs a ton and even have special scheduled events like storytime with a princess, making goo with Stitch, and a Pillow Fight/ Sleepover with Goofy and Pluto that your little ones definitely should NOT miss!
To help control lines Disney set up a ticketed reservation system for the character meet & greets. This was our first time using this system and I have to say it did really speed up the process. Liv loved meeting Belle in front of the Walt Disney Theater before showtime. It was really great not having to wait in line.
Overall
If you LOVE Disney than it is time to set sail on a Disney Cruise because it is PERFECT for you! From the moment you step onto their port in Port Canaveral their service, cleanliness, kid-friendly amenities, Broadway-style shows, and private island makes them stand out from their competition. Even sailing on an older ship like the Magic, right after sailing on the NEWEST and LARGEST ship at sea from Royal Caribbean, (you can check out my review of Harmony of the Seas here) I can confidently say I had a better time on the Disney Cruise.
+ This Hack that Saved Us over $1,000. This is the tip to getting the BEST Disney Cruise Deals.
After looking at all those amazing photos are YOU ready to book a cruise? There are a few places you can score Disney Cruise Deals. But, if you really want to save big on a Disney Cruise I think this hack is the way to go and it's simple. Log onto The Disney Cruise Line website and watch for 'Guaranteed Space Rates' they are available closer to the cruise as a last minute option to fill empty boats. This trick isn't just for the Magic, it also works for the Disney Dream, Disney Fantasy & Disney Wonder. On the last three cruises, we have done with Disney we have been able to score Verandah level rooms and each time we have also had them adjoined. Even though that is the risk you run booking 'Guaranteed Space Rates". Plus, it's great for last minute people like us who don't know our departure dates too far in advance. You may end up a few doors down from each other. But, on our last cruise, this hack saved us $2,500+. Not too shabby!
Bonus Savings Tip!
Once you find that deal contact a Travel Agent, like our friends over at Tinks Magical Vacations. They can get you that same deal, plus some onboard credit to use on the ship and help you plan everything.
Have you cruised with Disney??
Pin for Later-
*Some photos featured above are courtesy of Disney Cruise Line. At times Global Munchkins staff may receive discounted or comped stays and/or products for the purpose of our review. However, all thoughts and opinions are, as always, 100% our own.