As a mom of 6, including 3 teen-athlete boys who happen to be BIG football fans, I have had plenty of free time on Sundays to test all sorts of snack recipes. Here are my tried & true favorites. These splurge-worthy Super Bowl snacks will appeal to everyone coming to your Super Bowl party. Also Check out our downloadable Super Bowl Prop Bet Game.
1 Air Fryer Spicy Honey Butter Wings
Is it even football if wings aren't involved? In my house these two things are synonymous so I have had plenty of opportunities to perfect this recipe. Finally, I nailed it! These wings are super simple to whip up, , thanks to the air fryer, and the flavor is out of this world!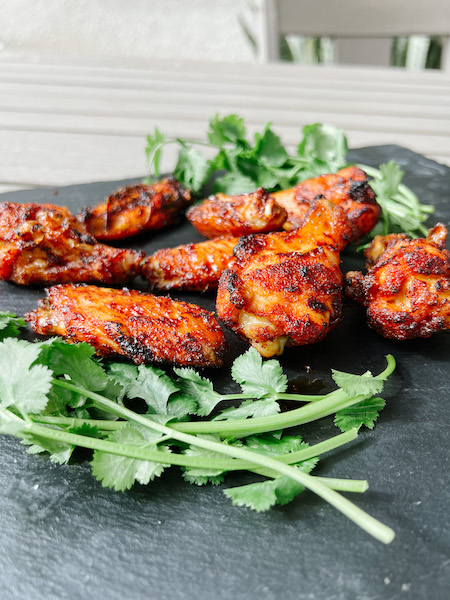 It is the perfect combination of crunchy, sweet, sticky, spicy goodness. It's everything you want in a wing and sure to impress even your most discerning guests.
Ingredients: (Wings)
2 lbs chicken wings
1 tbsp olive oil
1 1/2 tsp smoked paprika
1 tsp onion powder
1/2 tsp garlic powder
1 tsp sea salt
1/2 tsp pepper
Ingredients Sauce:
1 stick of unsalted butter (melting)
1/3 cup hot sauce (Frank's RedHot Sauce)
1/2 cup raw honey
1 tsp sea salt
Directions
Step 1 – Whisk together olive oil & seasonings for wings in a large bowl. Toss in wings and stir to coat.
Step 2 – Cook in your air fryer at 400 for 12 minutes.
Step 3 -While it cooks mix your sauce together. Separate sauce into two bowls.
Step 4 – When wings are done, coat both sides of each wing with hot sauce from one bowl.
Step 5 – Cook wings in the air fryer for another 4 minutes at 400 degrees Fahrenheit.
Serve immediately with reserved dipping sauce. Garnish with cilantro, green onions, or parsley for color.
---
2 Best EVER Guacamole
Being a native Californian avocados are part of my love language. This guac is another tried and true recipe that is super easy to make and guaranteed to make everyone happy.
Serve with chips, jicama sticks, on top of our sheet pan nachos– and definitely use it next time you make fajitas too! *be sure to check out my tip (below) for preparing this guac dip days ahead of your party.
Ingredients:
2 ripe avocados
1/2 cup sweet onion (minced)
1/4 cup fresh cilantro (chopped)
1 small jalapeno (seeded & minced)
1 1/2 tbsp lime juice (or to taste)
1/4 tsp ground coriander
1 tsp sea salt
Directions:
Step 1 – Scoop out your avocado and mash until desired texture is achieved.
Step 2 – Add in the rest of the ingredients and combine. Enjoy immediately!
*Or store it in the guacamole keeper for up to several days (this is one of my ABSOLUTE FAVORITE kitchen devices!!) Being able to make guac ahead of time is so convenient.
---
3 Pub Pretzels with Cheese Dip
Here is the deal… pretzels sound hard, right? What if I told you this is dough recipe is so forgiving your kids could throw it together. Just make sure to supervise around the boiling water + oven.
The result is soooo worth the number of steps + the time it takes to make these. There is two rises- one quick one for the yeast and then a second for the dough.
But, there is no greater satisfaction on a Sunday afternoon than pulling perfectly golden buttery salted pretzels out of the oven and dunking them into warmed cheese sauce as soon as they are cooled enough to handle. Ohhhh, man!!! Once you make these you'll wonder why it ever took you so long, to begin with.
Ingredients:
1/2 cup warm water
2 tbsp light brown sugar
1 packet active dry yeast
1 cup beer (brown ale, lagers, and porters work best!)
1 stick unsalted butter (melted)
4 1/2 cups all-purpose flour
2 tsp kosher salt
1/4 cup baking soda (for boiling the pretzels)
Optional- 1 egg (beaten) brushed onto pretzels prior to baking
Maldon sea salt flakes (or pretzel salt)
1 jar store-bought cheese dip
Directions:
Step 1 – Combine the warm water, brown sugar, and yeast in the bowl of your stand mixer and mix until combined. Let sit for 5 minutes to allow the yeast to bloom.
Step 2 – Add the beer, butter, all-purpose flour, and salt to the mixture and mix on low speed with a dough hook until combined. Increase the speed to medium and continue kneading until the dough is smooth and begins to pull away from the sides of the bowl, about 3 to 4 minutes.
Step 3 – Remove the dough from the bowl, place it on a flat surface (sprinkled with flour), and knead into a ball with your hands. Coat a large bowl with cooking spray, add the dough and turn to coat with the oil. Cover with a clean towel or plastic wrap sprayed with cooking oil, and place in a warm spot until the dough doubles in size (about 1 hour).
Step 4 – Preheat the oven to 425 degrees F. Bring a large pot of water to a boil.
Step 5 – Remove the dough from the bowl and place it on a flat surface (sprinkled with flour). Divide the dough into 8 equal pieces. Roll each piece into a long rope. *this is a great point to get the kids involved!
Step 6 – Either cut ropes into pretzel bites or shape ropes into pretzels (see video for how-to).
Step 7 – Slowly add the baking soda to the boiling water. Boil the pretzels, 1-2 at a time. They will initially sink and then rise when they are ready to be pulled out. Remove with a large flat slotted spatula.
Step 8 – Place pretzels on a baking sheet covered in parchment paper, brush the tops with the egg wash (if you choose), and season with sea salt. Bake for 12 to 15 minutes or until pretzels is golden brown. Serve immediately with warm cheese dip.
---
4 Sheet Pan Chicken Nachos
I debated even putting this recipe on her because it's kind of a no-brainer. Except for the longest time, I would make plates of nachos in the microwave. Then I learned about sheet pan nachos- you get so much more done at one time and they just look way more appealing with those browned edges.
This recipe is one of those where you sub in whatever you like. Sometimes we switch the protein to crumbled soy chorizo, ground turkey, or carnitas. Pinto or refried beans are both great options too! Sprinkle with frozen corn- you get it! Just top as you like, bake, top again, and enjoy!
Ingredients:
24 oz tortilla chips
16 oz rotisserie chicken breast (shredded)
8 oz black beans (rinsed/drained)
8 oz shredded Mexican blend cheese (Colby jack is a fav here too!)
Directions:
Step 1 – Prepare a sheet pan with parchment paper and preheat the oven to 400 degrees Fahrenheit.
Step 2 – Spread chips (in a single layer) on the sheet pan and top with shredded chicken, beans, and cheese (in that order). *You may need multiple sheet pans depending on how large your pans are.
Step 3 – Place into the oven and bake until heated through usually 5-7 minutes.
Step 4 – Take out from the oven top with your favorite toppings (see our favs below) and serve immediately.
Toppings:
Best Ever Guacamole (recipe above)
Sour Cream (or sub w/ greek yogurt for a healthier option)
Salsa
Sliced Raw Jalapeno
Red Onion (diced)
Green Onion (chopped)
---
5 Churro Crunch Almonds
If you know us you know we LOVE DISNEY! That is where the idea of these nuts originated. I wanted something that tasted like the warm nuts we would get when visiting Disney World. Well, the family agrees that my version has actually topped Disney's.
The added Maldon sea salt flakes + addition of the white chocolate elevates these almonds to a whole new level. You've got to try them!
Ingredients:
2 cups of raw unsalted almonds
1/2 cup brown sugar
1/2 cup sugar
1 tbsp Ceylon cinnamon (healthier option/ fewer pesticides. regular cinnamon works too)
1/2 tsp sea salt (+ more for sprinkling over the top)
1/3 cup water
4 oz chopped white chocolate (melted)
Directions:
Step 1 – Combine sugars, cinnamon, 1/2 tsp of sea salt, and water in a medium saucepan.
Step 2 – Place pan over medium heat and cook until the sugars are dissolved.
Step 3 – Add almonds to the sugar mixture and continue to cook, stirring constantly until the almonds are fully-coated and the sugar has crystallized. (about 8-10 minutes. The mixture will be dry)
Step 4 – Remove the nut mixture from the heat and spread it on a parchment-lined pan to cool. About 10 minutes. Once cool drizzle with melted white chocolate and sprinkle with sea salt (Maldon flakes work wonders here!) Serve immediately or place into air-tight mason jars.
*The mixture will last one week at room temperature or up to 3 weeks in the refrigerator in an air-tight mason jar. If your chocolate isn't hardening stick your pan into your freezer for a few minutes.
---
These delicious brownies will fool the most decerning palette into thinking they're eating a decadent dessert when in reality these are packed with nutrients and free from refined sugar. Just don't tell anyone what's inside them- or wait until they are done enjoying them before you let them in on the secret!
Ingredients: (dry)
2/3 cup monk fruit
1 1/2 rolled oats (blended into oat flour)
1/2 cup cocoa powder
1 tsp baking powder
1/4 tsp baking soda
1/2 tsp salt
1 tsp instant coffee
Ingredients: (wet)
1 1/4 cup shredded zucchini (squeezed and packed)
1/2 cup almond butter
1/4 cup almond milk
2 tsp vanilla
Directions:
Step 1 – Pre-heat your oven to 350 degrees Fahrenheit.
Step 2 – Mix all of your dry ingredients in a medium-sized bowl.
Step 3 – In a separate smaller mixing bowl stir together your wet ingredients until combined.
Step 4 – Combine your wet ingredients into your dry ingredients and mix until well blended. Then add in 1/2 cup of your semi-sweet baking chocolate chips.
Step 5 – Pour into a prepared 8 x 8 baking dish. I line mine with parchment paper and spray it with cooking oil. Bake for 35-40 minutes or until a toothpick comes out with crumbs (not liquid). Let cool completely.
Step 6 – Once fully cooled cut your brownies into squares, and then cut off two corners (diagonal from one another) to create a football-like shape.
Step 7 – Frost with Chocolate Avocado Frosting and pipe cream cheese for the laces. Best when served immediately.