Ever travel to some exotic destination with kids in tow only to feel incredibly cramped in your hotel room? Ever stressed over the expense of having to eat out EVERY SINGLE meal? Or ever dread trying to entertain your kids so they are actually well behaved in restaurants? I know I have and those are just a few of the reasons the Villas at Poipu Kai in Kauai are perfect for traveling families. We decided to look for a Kauai Vacation Rental in Poipu Beach. There are so many things to do in Kauai from ziplining to iconic views and the villas at Poipu Kai are located in the perfect spot.
Kauai Vacation Rentals Poipu Beach – 5 Reasons Villas at Poipu Kai are AMAZING
Luxury
YES! You get the ease of a rental with the luxury of a fine resort. What more could you ask for?
The Villas at Poipu Kai are absolutely stunning from their gorgeous Tommy Bahama furnishings to their spectacular kitchens and everything in between there is no detail overlooked. The kitchen is gorgeously designed with cabinet covered appliances and granite counter-tops. The bathrooms are decked out with rainfall shower-heads, beautifully tiled walls and walk in entries. The master even has a gorgeous tub in addition that I was fortunate enough to escape to- it was heavenly.
I was also completely surprised by the incredibly large closet space offered (plenty of hangers included) as well as tons of drawer space. If you are anything like me organization is what keeps you sane. The ability to fully unpack and have tons of room left over was blissful. Honestly, I didn't want to leave. There were multiple times I begged my husband to sell everything we owned and just move into our villa. Laughing? I can bet you'll be asking for the same thing when you visit- TRUST ME!!!
Space
Let's face it… as much as we love our family the tight quarters of hotel vacation life can be tiring. I couldn't believe what a difference in moods there was going from our hotel room at Grand Wailea (a suite in Napua Tower nonetheless) to our villa. The kids weren't fighting. Th hubs and I could enjoy early morning coffee on our MASSIVE lanai without waking the kids. We were even able to throw back a few mai tais in the evening out there while peacefully watching the sunset. Peacefully with kids- how? Easy we threw on a movie in the living room and the kids were snuggled in viewing distance from us. It was WONDEROUS!

Gourmet Kitchen
Don't you hate having to eat out EVERY single meal when you are on vacation. Its expensive, no fun when you have a bunch of littles AND its typically terrible for your health. Cue in the impressive gourmet fully equipped kitchen at the Villas at Poipu Kai. It may have been my favorite feature. The kitchen included beautiful granite countertops, microwave, oven, stovetop, full size first-rate cabinet covered refrigerator and dishwasher. PLUS, they included a coffee maker, toaster, blender and all the gadgets needed to whip up a first class meal.
We shopped at a grocer nearby before we arrived and grabbed everything to make delicious breakfasts, cocktails and most lunches and snacks. We really only ate out at dinner. Which you don't even need to… I could have easily whipped up dinner or took advantage of the BBQ's on site.
Having a kitchen really does allow you to relax much more. It is like being on vacation with all the conveniences of being at home. Plus, my stomach and the scale thanked me too!

Pool & Spa
What about the pool??? I know that is what you are thinking. Amber don't you have to stay at a resort to get the benefits of a gorgeous pool and spa? The answer is NOPE! The Villas at Poipu Kai have a lovely pool and spa complete with stunning rock surroundings and a waterfall. Want to know what else? My kids preferred this pool over many other resorts we have stayed at because they had it to themselves practically every time we visited it. I love that the kids were all gated in a smaller space so I could layout and read while they played– see again real luxury 😉


Location
The Villas at Poipu Kai could not have a better location. It's a mere 5 minute walk to the Poipu beach which is a lovely beach for families. Plenty of areas to boogie board, snorkel or just chill. Poipu Beach Park also has grass, picnic tables a playground and bbqs. Oh, not to mention it has active lifegaurds on duty to help keep everyone safe. I have even been told you can spot sea turtles swimming in the waters over there.
You are also about a 5 minute drive to a lovely shopping center with amazing restaurants like Merriman', Tortilla Republic and my favorite ice cream shop- Lappert's. No Hawaiian visit is complete until I've had my scoop of Heavenly Hana and Kauai Pie from Lappert's. On seperate nights of course.
They are also a short drive from the Spouting Horn which the kids thought was pretty amazing.
Take a Quick Villa Tour for Yourself-

BONUS
Fitness Center/ Beach Equipment
I was completely surprised by the fact the the Villas at Poipu Kai had a fitness center and beach equipment you could borrrow. I mean how fantastic!! I love a good sweat and I need it to keep my mental game strong when parenting so many munchkins. I just assumed I would have to wait until our next resort to workout, but to my surprise they had an excellent fitness center with everything I needed to squeeze in a good sweat sesh.
Next, let's talk beaches. Honestly, beaches are a pain with little ones. It seems like there is so much equipment families need to actually enjoy the beach and its impossible to lug it all with you on vacation. This is why I LOVED the beach equipment available to be checked out at the Villas at Poipu Kai. They had beach chairs, umbrellas, sand toys, boogie boards, ice chests and snorkels. I mean seriously what hotel provides you with all of that?? And, the room included separate beach towels and a beach bag too!

Overall
Clearly, I highly recommend the Villas at Poipu Kai. They are honestly one of my favorite resorts. Yes, its small in comparison to a huge resort property. But, EVERYTHING else about it is pure perfection. Imagine staying at a high end luxury resort with 3 bedrooms, 3 full bathrooms, gourmet full sized kitchen, massive lanai, separate living room, washer and dryer PLUS all the added amenities I've mentioned starting at just $599. You can't do it!
So, do yourself a favor and make your next destination Kauai and be sure to book a room at the Villas at Poipu Kai. I guarantee you will not regret it.
Pin for later- Kauai Vacation Rentals Poipu Beach – 5 Reasons Villas at Poipu Kai are AMAZING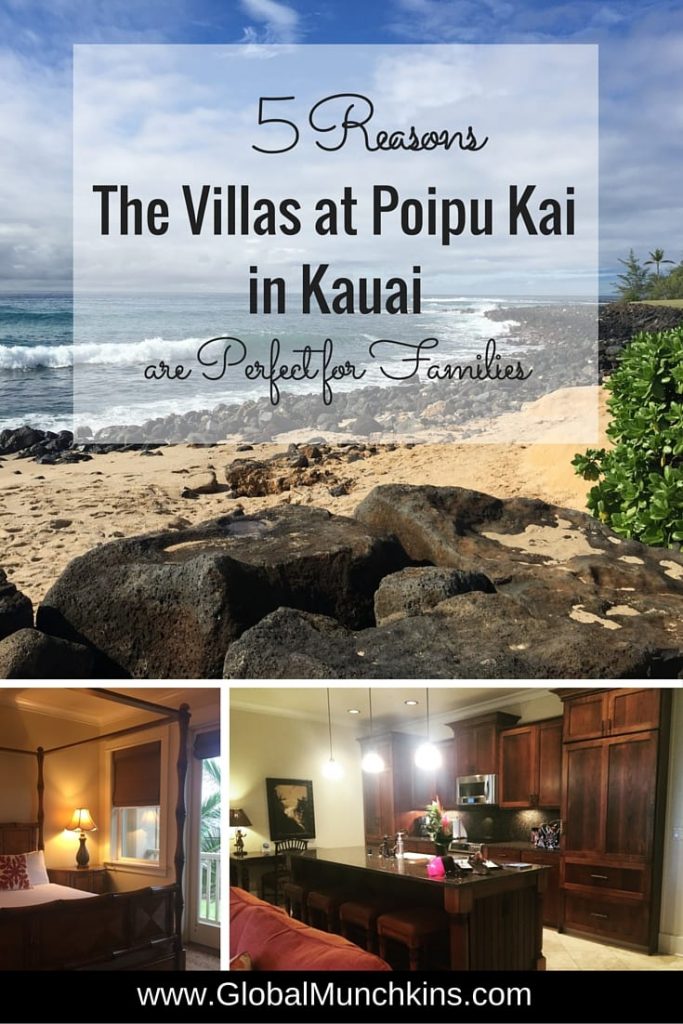 For more information on the Villas at Poipu Kai please visit their website, facebook or twitter pages.
*Thank you to the Villas at Poipu Kai for hosting the munchkins on our stay. My opinion is, as always, completely my own.
You might also enjoy
Top 10 Amazingly Fun Things to do in Kauai with Kids!
Things To Do in Maui- The ULTIMATE Maui Family Fun Guide