Ready for a little time in paradise? If so, Marco Island is a wonderful Floridian vacation destination no matter what kind of summer getaway you're looking for. Florida, has so many wonderful islands like Anna Maria Island and while it's slightly smaller than neighboring Naples, there are plenty of things to do.
From exploring sunny beaches to paddling throughout the 100+ miles of gorgeous waterways, come with us as we explore all of the best things to do in Marco Island.
Kayak The Ten Thousand Islands
Why You Should Go
Marco Island sits adjacent to the Ten Thousand Islands, which is an unsuspecting chain of mangrove islands and small islets that sits between Lostman's River and Cape Romano. Kayaking through the waterways at Marco Island is a must for anyone who wants to immerse themselves in a pure dreamscape. There are many tour operators to choose from, perfect for those who want their paddle narrated.
Spend the Day Fishing
Why You Should Go
When it comes to both inshore and offshore fishing, Marco Island boasts some of the best in the world. Throughout different points in the year, anglers can catch everything from redfish to sea trout to tarpon. If you're looking to get some deepwater fishing in while you're there, make sure to sign up for a tour that can take you out to premier spots in the Gulf of Mexico.
Collect Sand Dollars on Sand Dollar Island
Why You Should Go
Whether you're shelling, birdwatching, or soaking in some sun, Sand Dollar Island, known by the locals as Sand Dollar Spit, is one of the most beautiful areas in Marco Island. You'll find tons of interesting birds here, including plovers, sandpipers, terns, egrets, herons, and osprey. During the off-season, the beach is near empty, perfect for those looking for a serene landscape.
Trek Through the Everglades
Why You Should Go
Many people refer to Marco Island as the "gateway to the Everglades." Within a 30-minute drive, you can get to Big Cypress National Preserve, Fakahatchee Strand State Preserve, and, of course, Everglades National Park. There are many ways that you and your family can explore this awe-inspiring natural world, including walking the well-groomed trails or taking an Everglades airboat tour.
Get In Touch With Nature at the Briggs Boardwalk Nature Center
Why You Should Go
The Briggs Boardwalk Nature Center is maintained by the Conservancy of Southwest Florida. The boardwalk is a half-mile long and displays a complex local ecosystem with seven habitats to enjoy. There are plenty of signs posted along the boardwalk, giving insight and information on the various flora and fauna species, allowing for easy self-guided tours.
Catch A Sunset With Some Fire Dancers
Why You Should Go
When the sun goes down on Marco Island, the beach just in front of the JW Marriott comes alive. The beautiful thing is, you don't have to be a hotel guest to enjoy the sounds of beating drums and the twirling of fire dancers. We recommend grabbing a few seats at Kane's Tiki Bar & Grill so you can have a cocktail in hand while you enjoy the show!
Take An Eco Cruise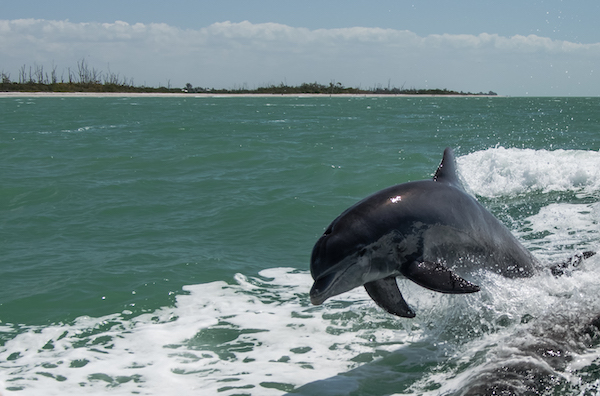 Why You Should Go
There are plenty of local boat tours around Marco Island, great for those who want to spend a few hours on the open water learning about the local marine life. These tour captains are great at finding manatees and bottlenose dolphins, so you'll be able to snap some cool pics to take home. One of our favorite Eco-Cruises is the Dolphin Explorer, where guests can become scientists for a few hours and participate in dolphin counting and sighting.
Hit The Bar
Why You Should Go
Of course, you can't go to Marco Island without enjoying a drink or two at one of its many salty beach bars. While there's everything from bumpin' tiki joints to crusty local dive bars, one of our favorites happens to be a small bar on the south side of the island called Goodland. Just about any night, you'll find great live music and excellent drinks!
Rent Your Own Sea Vessel
Why You Should Go
If you're ready to be the captain of your own ship, we recommend renting a boat for the day (you don't even need any prior experience to do so). One of the best vessels to start with is a pontoon boat, as they are incredibly stable and easy to move about the shallow water around the island. Plus, you can take some snorkels along to do some ocean exploration while you're out there.
Learn About The History of Marco Island
Why You Should Go
If you want to learn about Marco Island's history, we recommend going to the Marco Island Historical Museum. Operated by the Marco Island Historical Society, you'll find exhibitions surrounding the history of how Marco Island came to be, and how the Calusa Indians made the place home for so many years. There are plenty of cool artifacts to check out as well, including one of the finest examples of Pre-Columbian art: the Key Marco Cat.
Map of Things to Do in Marco Island
Frequently Asked Questions about Marco Island
What is there to do in Marco Island for free?
Marco Island Historical Museum 
Mackle Park
Marco Island Farmers Market
Keewaydin Island
South Marco Beach
Sand Dollar searching
Cape Romano
Caxambas Pass Park
Marco Island Center for the Arts
When is the best time to visit Marco Island?
The cheapest time to visit is during July because it is mostly rainy and temperatures are higher, but the best and most bearable weather is during the Fall season.
If you enjoyed our list of 15 amazing things to do in Marco Island, you might also like:
10 AMAZING THINGS TO DO IN ANNA MARIA ISLAND