Everything you need to know about Royal Caribbean's NEWEST & LARGEST ship including our Harmony of the Seas itinerary, a peek inside the Harmony of the Seas cabins, things to do on the ship, dining options, kids club & more! Get ready to have fun because the Harmony of the Seas ship is the most incredible ship we have ever been on. This Harmony of the Seas Review is packed with photos of the ship, slides, room and more. Plus we have 17 tips to help you get the most out of your cruise. Want to see more of our family cruise ship tours, itineraries, and packing lists? Visit our
cruise page here
.
Harmony of the Seas Itinerary & Review + 17 Money & Time Saving Tips
We sailed on the Harmony of the Seas Thanksgiving with 20 people in our group ages 3-75 years old and EVERYONE LOVED IT!! Planning our annual family and friends Thanksgiving vacation is never easy. Not only is it a multi-generational trip but there are so many different personalities in our group it can be very difficult (read as nearly impossible) to keep everyone happy. But, somehow our Harmony of the Seas itinerary struck a cord with each member of our group and had everyone smiling from ear to ear the entire 8 days/ 7 nights.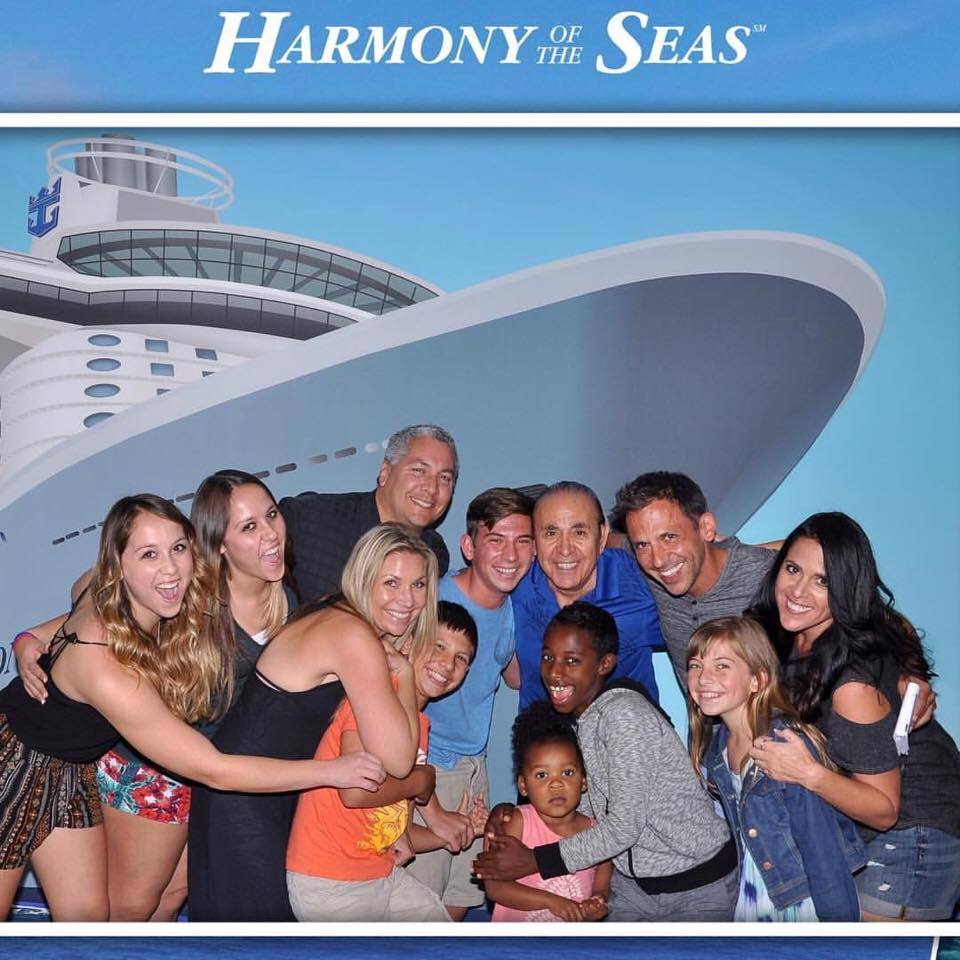 Harmony of the Seas Itinerary
The Harmony of the Seas has two itineraries that the cruise ship has consistently sailed since it arrived in Fort Lauderdale. The Western Caribbean Cruise (which we took) stops in Falmouth, Jamaica, Cozumel Mexico, & their private island in Labadee Haiti. The Eastern Caribbean sailing visits St. Marteen, San Juan & also their private island in Labadee. The cruise ship does have a few itineraries which hit up St. Kitts or Nassau, but there aren't too many of those itineraries in 2019. Now, they have an amazing cruise which stops at their new private island, the perfect day at Coco Cay
How to Save Money on Your Cruise
Cruises are not cheap, however, they do make EXCELLENT family vacations. So, how do you afford them? Here are some ways to score a deal on your next Royal Caribbean Cruise.
Sign up for RCCL's eNewsletter to be the first to learn about their promotions. You can check their current promotions here.
Cruise during the off-season. For cruises leaving from North America that include: January (except New Years eve week), First two weeks of February, Late August, September, October, First two weeks of November (although we have always had good luck around Thanksgiving too), First two weeks of December.
Discounts are available for the following: Active and retired members of the military, Crown and Anchor Society members, Royal Caribbean shareholders, Senior Citizens, Airline employees, Firefighters and police officers, and Residents of certain states. Contact Royal Caribbean for details.
The Central Park balconies are cheaper and you get a complimentary meal for 2 at one of the upscale restaurants like Sabor Taqueria or Jamie's Italian.
The VOOM internet package can be shared. You just have to log off of one device and then log back in on another. VOOM was by far the fastest internet at sea we have ever received!
Book your shore excursions independently. Read my post here on how to do it!
Use a Travel Agent. Many people don't realize that a travel agent can save you both time and money. Plus, travel agents that specialize in cruises can help you navigate the perfect cruise ship, itinerary and stateroom for your family. You can find great family travel agents here.
[bctt tweet="Money-Saving Tips for booking your next Royal Caribbean Cruise! #cruise #traveltips" username="globalmunchkins"]
Getting to the Port
I always suggest that you arrive no later than one day prior to your cruise departure. Nothing is worse than getting delayed and missing the boat. Don't let it happen! For this cruise, in particular, we had already flown a few weeks prior into Orlando to spend time at Universal Studios and Walt Disney World (you can read about those adventures here and here) so we rented a car and drove from Orlando to Fort Lauderdale the morning of the cruise. It only took us about 2 1/2 hours to get there.
The rest of our family stayed at local hotels near the port and took Uber to get to the ship in the morning. Check current prices for family-friendly hotels near the port in Fort Lauderdale here on Tripadvisor.
Boarding Procedures
Arrival into the Fort Lauderdale port is simple and painless. There are porters ready to help with your bags. You simply give them your cruise documents, they fill out your information, make sure your bags are tagged correctly and then they whisk them away. From there you walk into the cruise terminal and wait in a short line while the staff efficiently checks your identification and proper documents before escorting you onto the ship. The easiest cruise docking process I think we have ever had. I also loved that there were plenty of restrooms and a playground in case the crowds would have been larger. We moved through so fast we did not have the chance to use either. *TIP- try and get the earlier boarding times. Many people arrive late and the line gets longer as the day goes on.
Top 10 Tips from a Pro
Tip #1- Pack your swimsuits in a carry-on backpack the first day!
The pools are open when you board the ship, but most people have to wait until their rooms are ready in order to get into their bags and change into swim attire. We always either wear our swimsuits and cover-ups onboard or we pack an extra bag with our swimsuits that we carry onto the ship when we board so that we can change in the restrooms. It is great to be able to have the pools and water areas to yourself that first day.
Tip #2- Secrets to the Cocktail & Drinks Packages
The Deluxe Beverage package (cocktail package) is pretty pricey and unless you are a big drinker it probably isn't worth the cost. When it comes to the soda package it's worth noting that RCCL gives you a giant refillable cup with your package. We usually purchase two soda packages for our oldest kids out of our team of five. This ensures our little ones aren't too filled with sugar and it saves on costs.
Tip #3- Kids can get Virgin Drinks at the Bionic Bar
The Bionic Bar is definitely a happening place on board the Harmony of the Seas. But, what most cruisers don't realize is that there are also mocktails available. So, kids can join in on the robotic themed fun as well. *Tip- If you have a refreshments beverage package the mocktails are included!
Tip #4- Try the Stand Up Florider Early in the A.M. to Avoid the Crowds
There are two Floriders on the Harmony of the Seas ship and on sea days they have one side sectioned off to allow guests to try surfing vs. the regular boogie boarding that is traditionally offered. Make sure to head up early though because this popular activity attracts a crowd.
Tip #5- Harmony of the the Seas Slide – Ride the Ultimate Abyss at Night for a Shorter Wait + Cooler Slide Experience
I think most people assume the Ultimate Abyss is pitch black and scary to ride at night, at least one would assume because the wait time drops dramatically after the sun goes down. But, that is good news for you because this Harmony of the Seas slide actually has really cool lights inside of them and nighttime is my absolute favorite time to ride them. So, better experience + shorter wait = big win for you!
Tip #6- Johnny Rockets serves Made to Order Omelet in the A.M. and there is NO Surcharge!
Johnny Rockets is one of the specialty restaurants on board that requires a surcharge for lunch and dinner. However, at breakfast, the food is complimentary for all cruisers and it is one of the only spots where you can get a made to order omelet without a massive line. Shhh! Let's keep this one a secret.
Tip #7- Sign Your Waivers for Zipline & Flow Rider in Your Room and
Head Up Early to Get Your Bands to Avoid Huge Lines
If you want to zipline, rock climb, ice skate etc… there are waivers that you need to sign and a band that you need to get from the RCCL staff. To save time fill out your forms on the television in your stateroom and then take your party up to the top deck, aft to get your bands as soon as they open. The line gets crazy long so doing this asap will save you time and allow you to participate in all of the thrilling activities before the rest of the crowd is able to.
[bctt tweet="Top 17 Tips from a Cruise Pro about @RoyalCaribbean's Newest ship- #HarmonyOfTheSeas #cruise" username="globalmunchkins"]
Tip #8- Participate in the Various Challenges On Board, They Are SUPER Fun! (and you could go home with a medal)
The cruise staff have some super fun challenges including a Ping Pong Tournament, Knock Out Championship, Soccer Game & more. Our family had a blast playing these games, in fact, we took home three medals!! Most challenges were adults only, so our kids thought we were pretty cool!
Tip #9- Don't Miss the 'Puzzle Break' Escape Room Experience
I was one who was very skeptical of escape rooms. Turns out I was a fool! They are a blast and the Harmony of the Seas 'Puzzle Break' is a wonderful family-fun activity. Just make sure to reserve your time.
Tip #10- Go on a hunt for Gnomes and Dwarfs in Central Park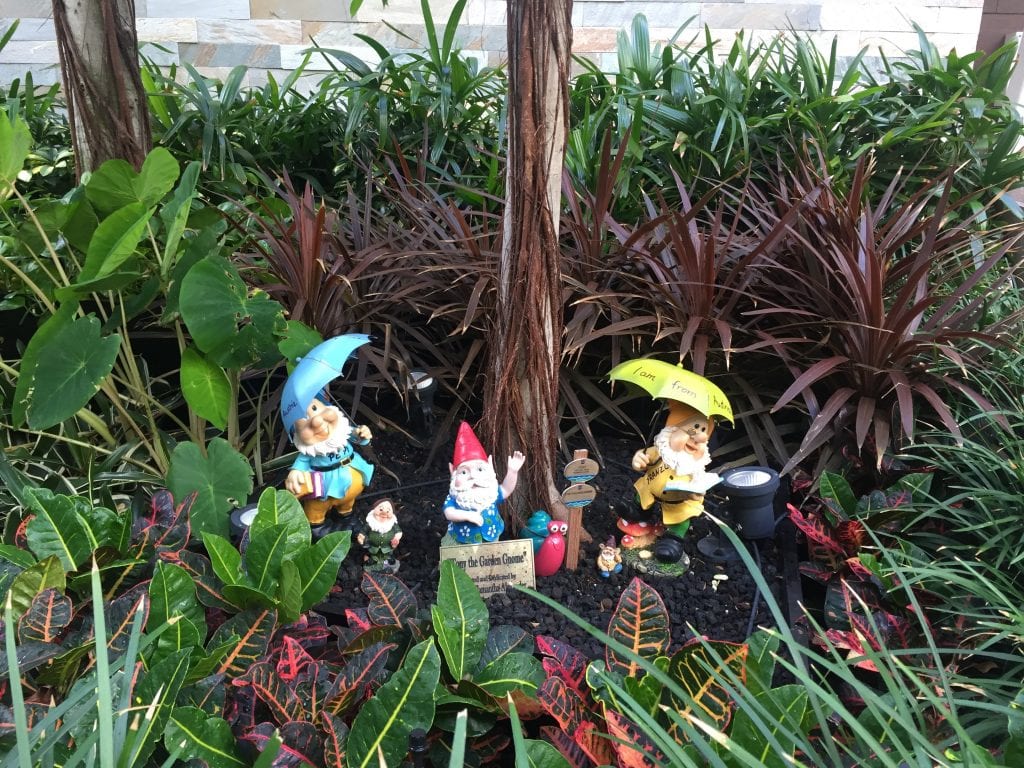 Our little ones were excited to find "Tony the gnome" a secret hidden gnome and his dwarf friends while we were strolling through Central Park. Send your kiddos on a scavenger hunt to see if they can spot him.
Tip #11- Make Sure to Book the Character Breakfast in Advance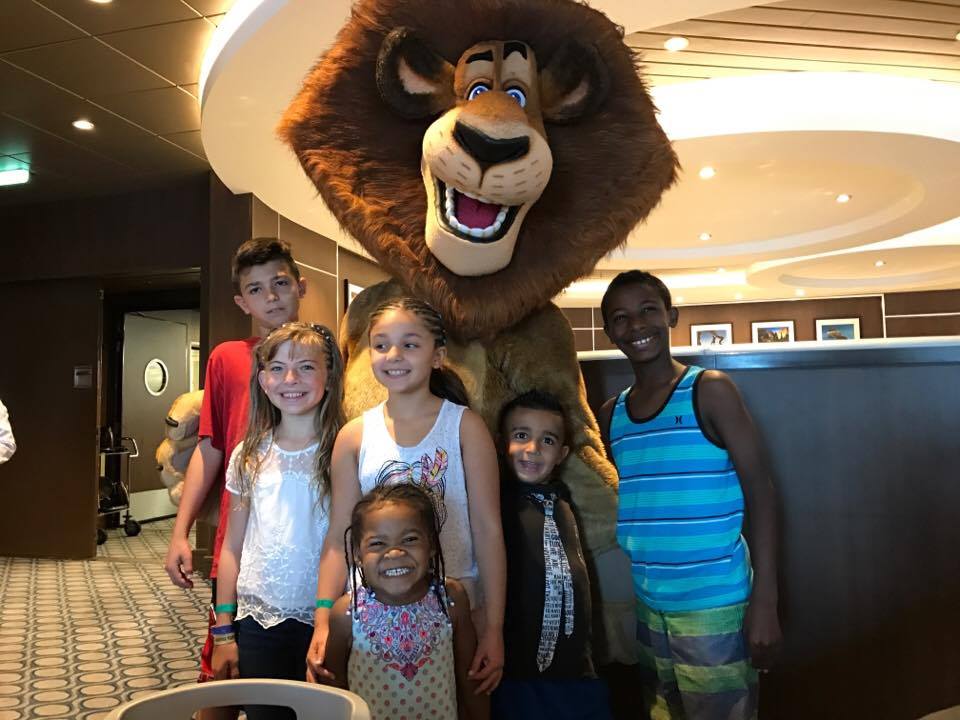 Book it early! That is my tip because your kids will absolutely LOVE the Madagascar Character Breakfast and you will love being able to order a delicious breakfast while your kids are entertained by all of the characters. There is limited availability so do not wait on this one. Also, make sure to check the daily activities bulletin for character meet & greet times around the ship. We met the characters from Shrek and the new Trolls movie.
Watch Liv meeting Alex the Lion below-

Tip #12- Get to Know Your Wait Staff and Have Fun with Them
Make it a point to try and get to know your wait staff asap. Ask them about life at home, what they love most about the ship, best things to do onboard and in port etc… The sooner you can break the ice the closer to good times you will be.
Take a look at our dinner shenanigans below-

Tip #13- Use the VW Bus in the Mini Golf Area for a Cute Photo Opp
Corny? Okay well, maybe but we thought it was a fun tip!
Tip #14- Let Your Kids Ride the Carousel Over & Over & Over!!!
It's not often these simple life's pleasures come at no extra cost. Soak up the smiles and let them ride the carousel as much as they want.
Tip #15- Get Dressed Up at Least One Night, It's Fun!
I, personally, love that cruises have gotten much more casual these days. That said, though, I do LOVE dressing up at least one night. It is a rare occasion for the whole family to get all dolled up and I love all the photos I get that night. I highly recommend packing some fancy attire for at least one of the dinners.
Tip #16- The Park Cafe has a Great Breakfast Selection including a Full Bagel Bar
For mornings in port when you want to grab something quick in breakfast, the Park Cafe in Central Park is perfect. They have a fantastic bagel bar, breakfast sandwiches, fruit cups, and oatmeal. And, I don't think most realize it is open for breakfast.
Tip #17- The Couches in Central Park are Apparently Great for Napping!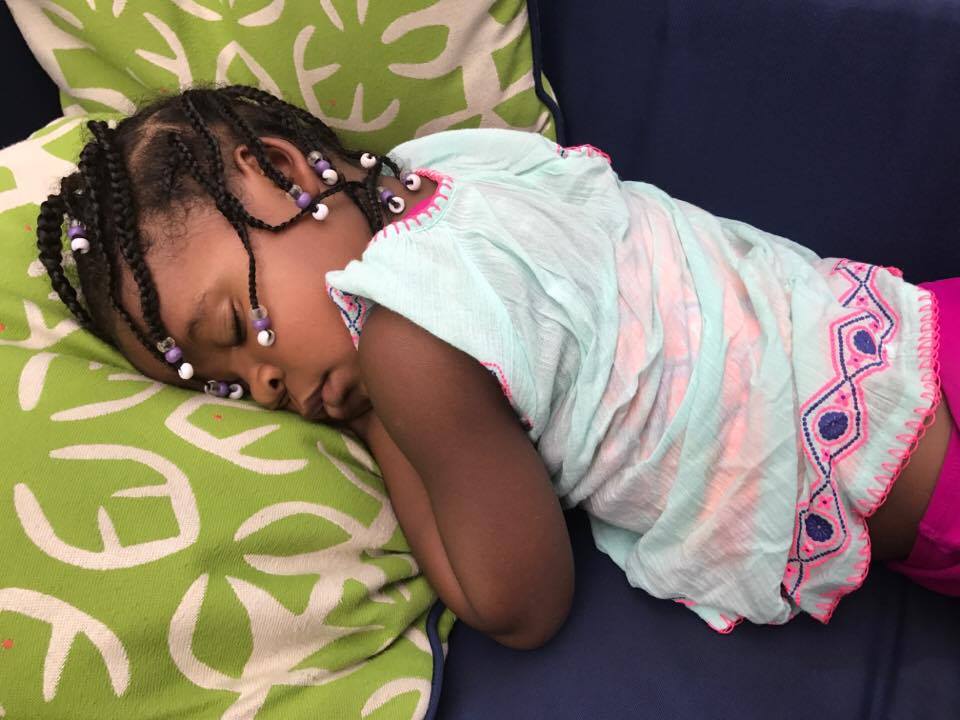 At least that is what Olivia thought 😉
BONUS Tip #18- Don't Miss a Single Sunset!
"Sunsets are proof that no matter what happens, every day can end beautifully." ~Kristen Butler
Pin for Later-
A Photo/ Video Tour of the Harmony of the Seas
One Minute Video Tour
The Boardwalk
My absolute favorite area of the Harmony of the Seas ship is the Boardwalk. It is absolutely amazing and nothing like any other cruise ship I have ever been on (check out my Norwegian Cruise experiences here, or my Disney Cruise experiences here). While strolling the Boardwalk you will find Starbucks (*note Starbucks Coffee is not included on the refreshments package), the Boardwalk Dog House, Johnny Rockets (specialty dining), Sabor Taqueria (specialty dining), the carousel, arcade, and a climbing area for the little ones.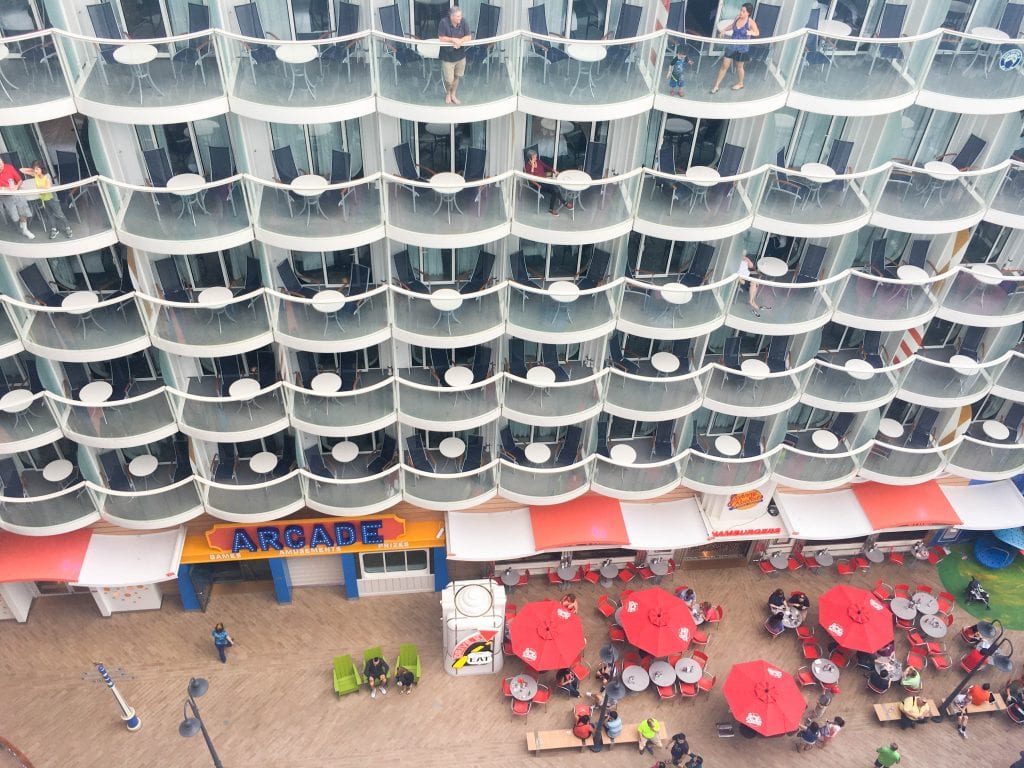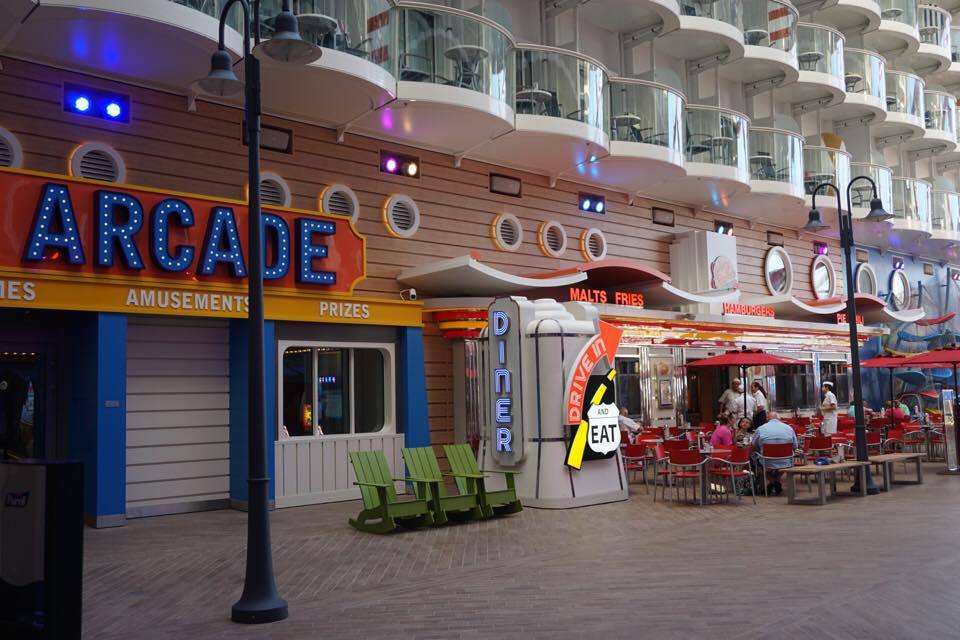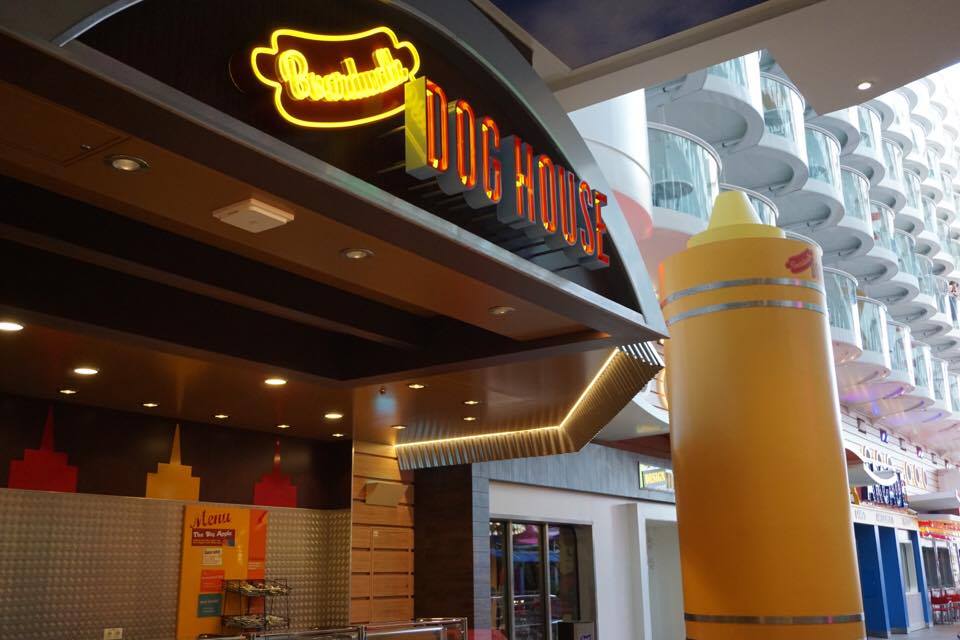 Check out My YouTube Video Tour of the Boardwalk:
Central Park

Central Park is another area of this massive ship that instantly makes you forget you are on a cruise ship. Stroll through the beautiful, lush garden and visit the shops and restaurants while listening to the sounds of birds chirping in the background. It's a trip!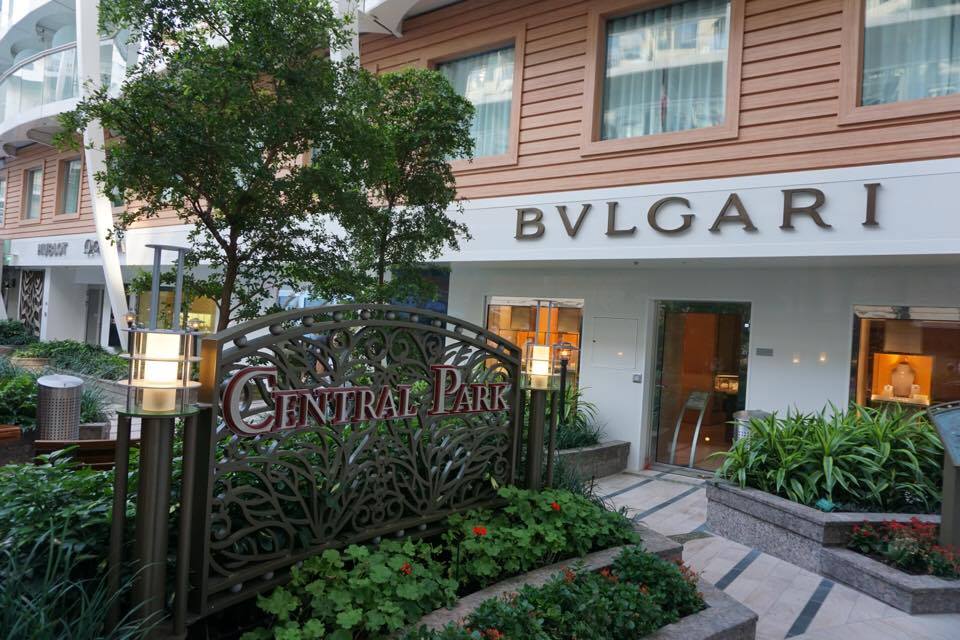 The shops are top notch and most restaurants here charge an added fee as they are classified as Specialty Dining. I couldn't justify the added $29 for pasta at Jamie Oliver's restaurant. But, if you have been and think it was worth it leave me a comment and let me know. We dined at the Park Cafe and enjoyed some tasty salads and sandwiches there without any added fees 😉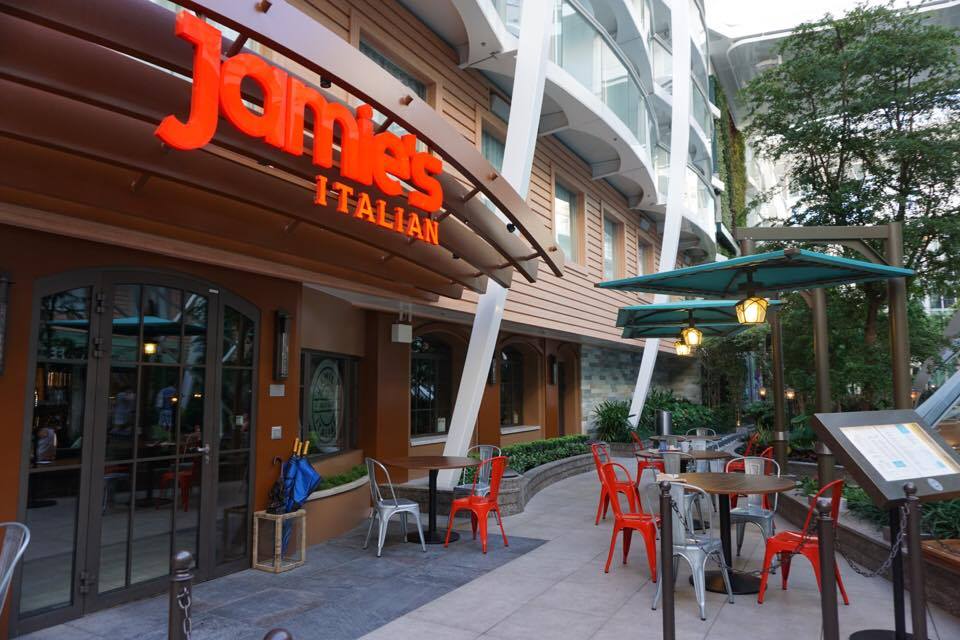 Pools and Sports Deck
Royal Caribbean NAILED this deck with 4 swimming pools, hot tubs, a splash area with waterslides for the little kids, plus the triple threat waterslides for the thrillseekers, and plenty of chairs for sunbathing mamas too! You will also find the Ultimate Abyss slide, a rock climbing wall, zipline, 2 Floriders, and courts for playing ping pong and basketball.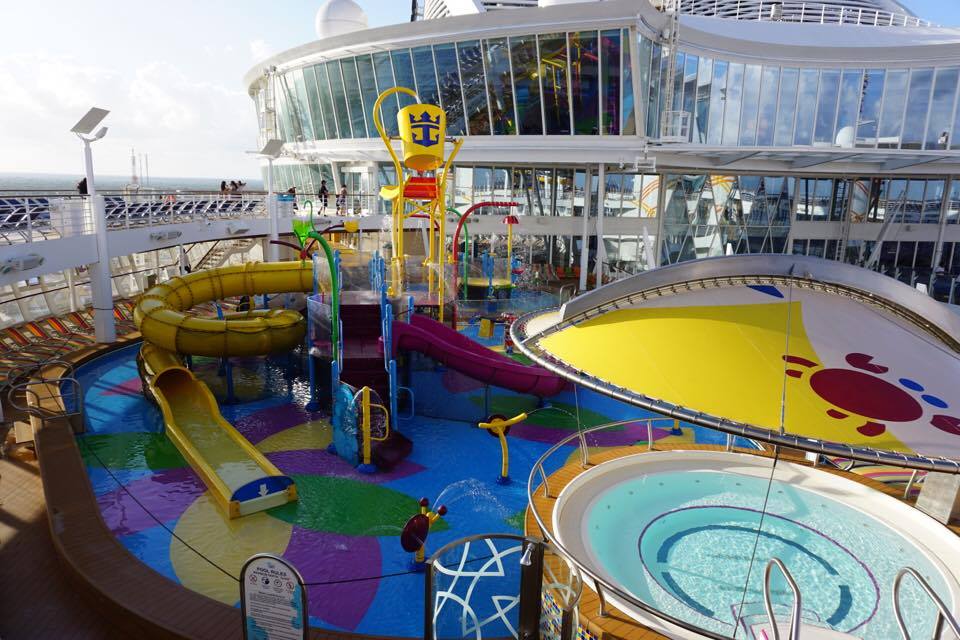 source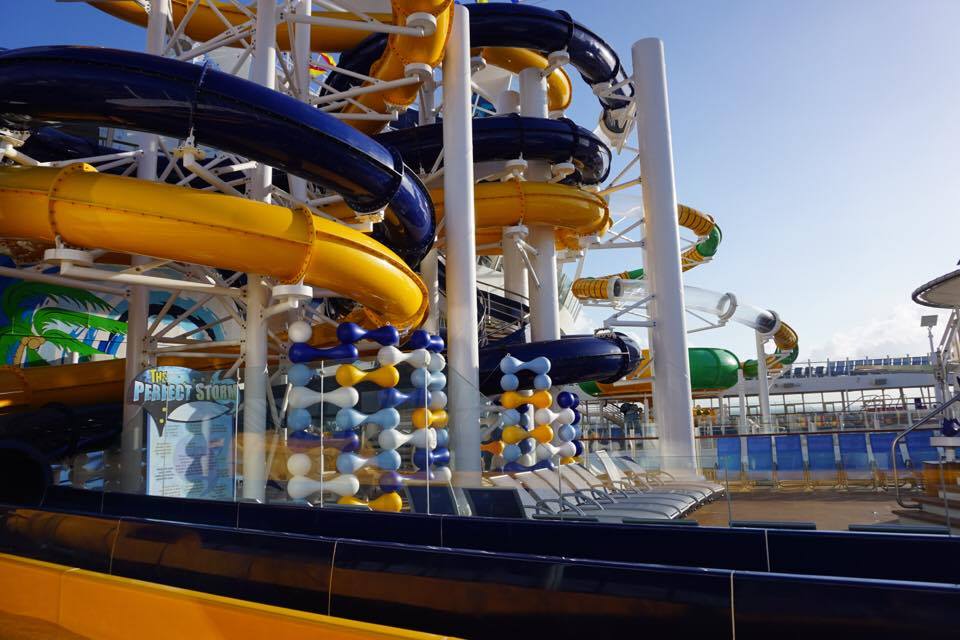 source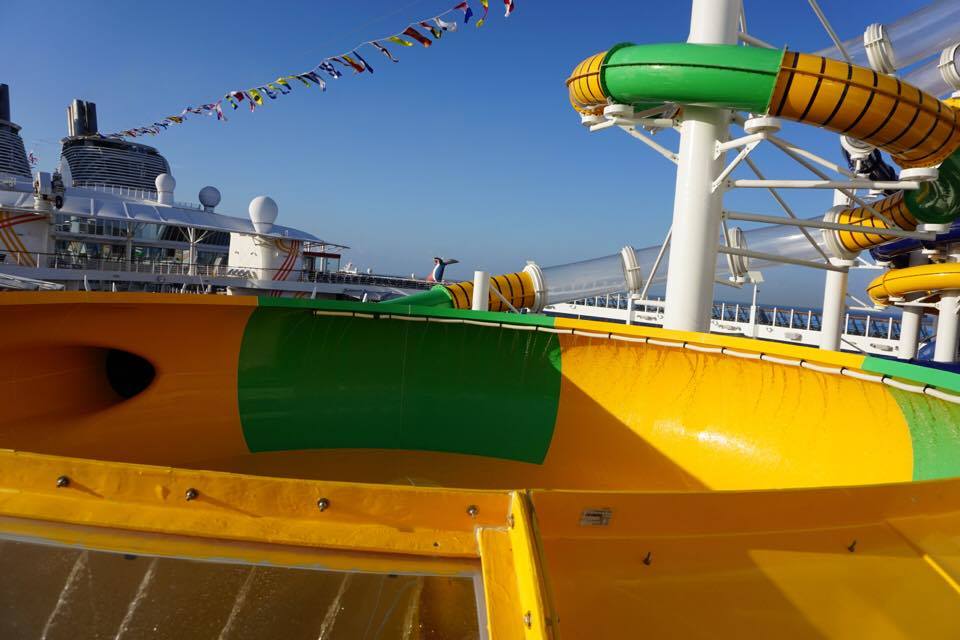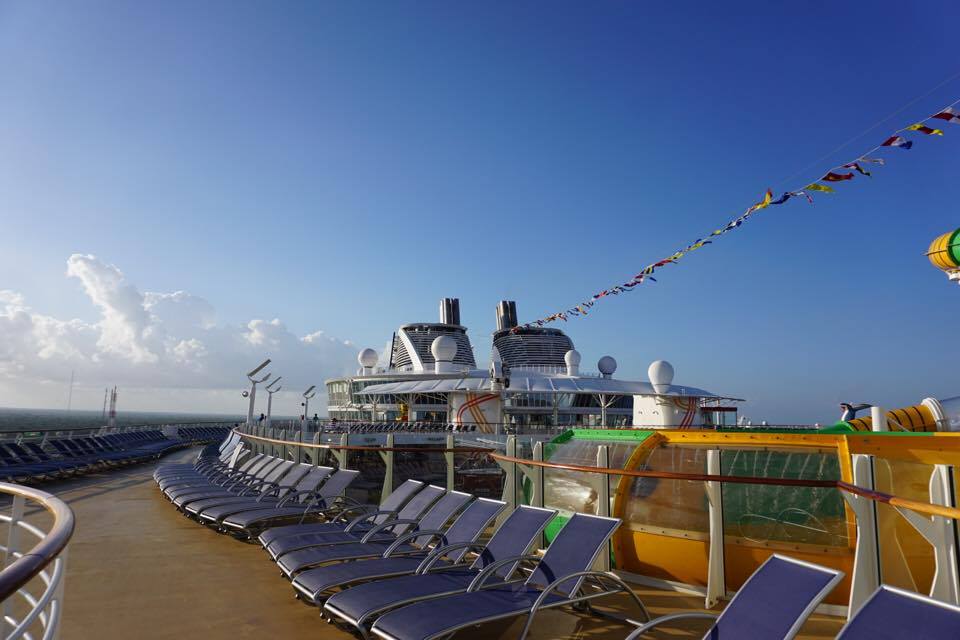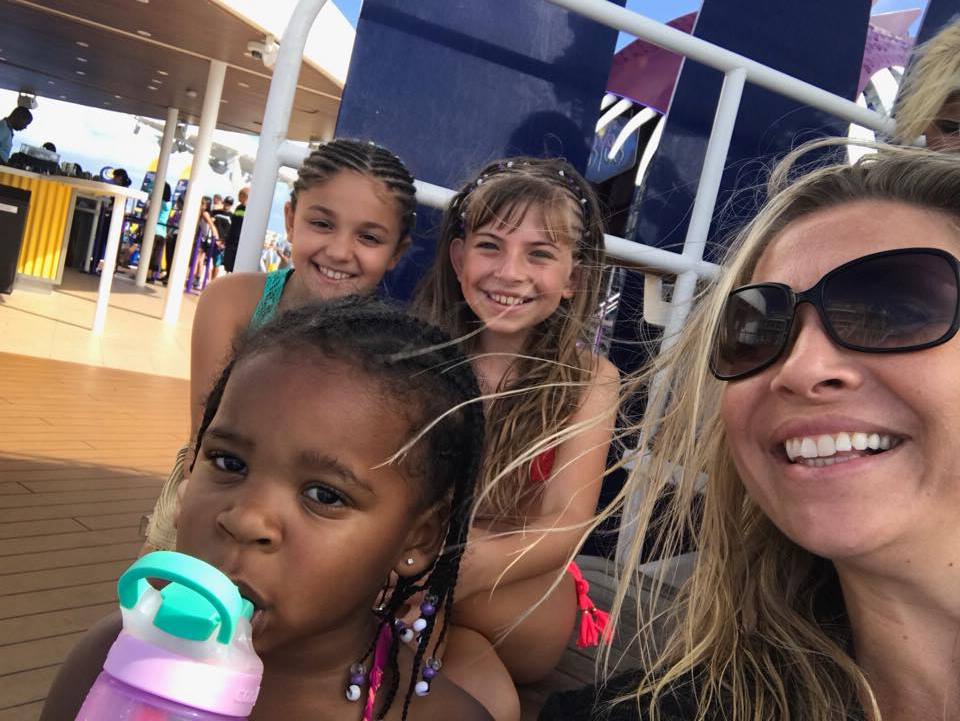 Make sure to take a seat on the bleachers and watch the crazy people (aka my son in this case) try the Florider- STANDING UP!!!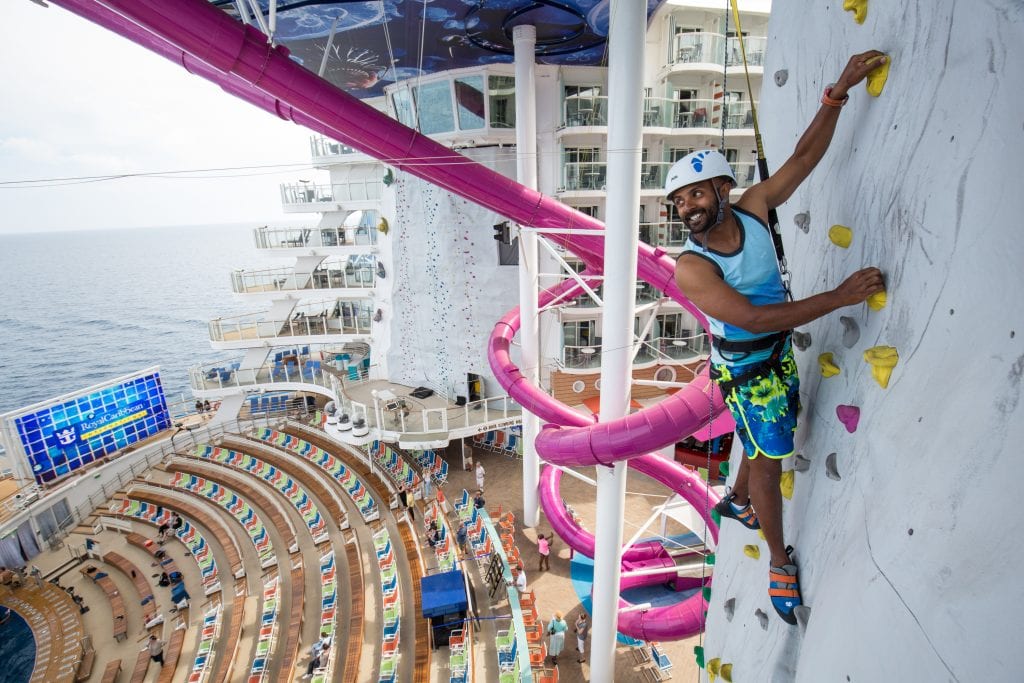 source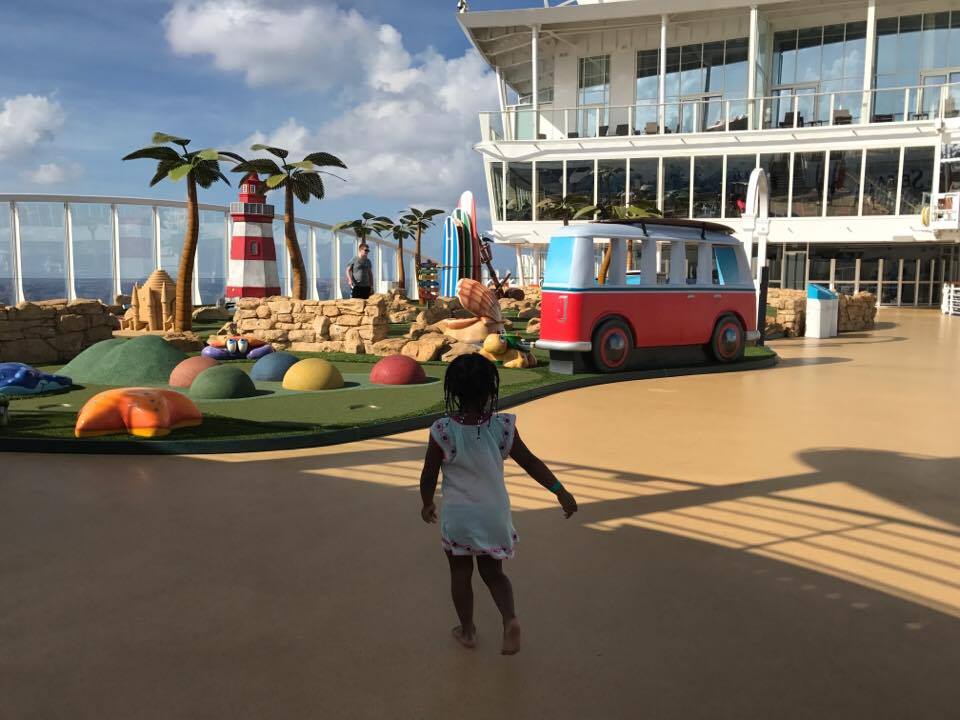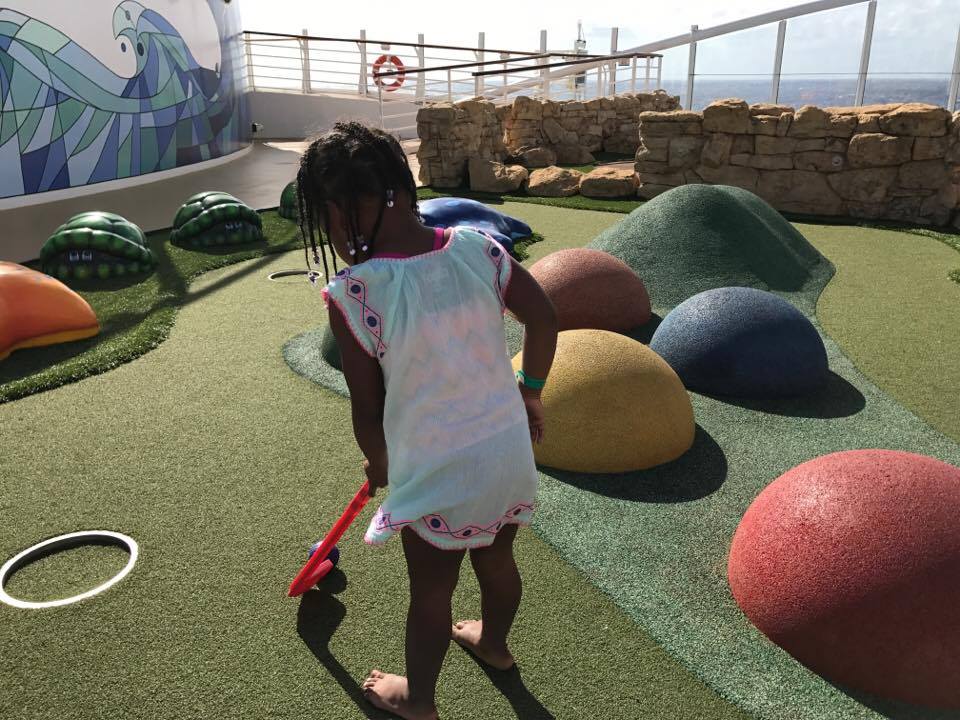 Take a tour with me of the Mini Golf Course at Night!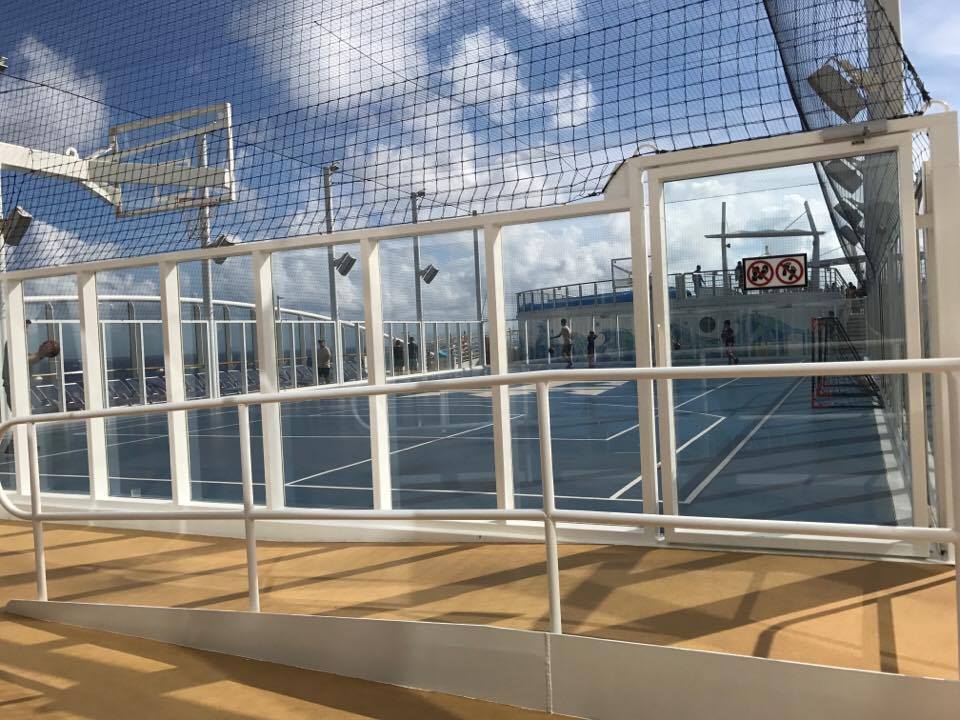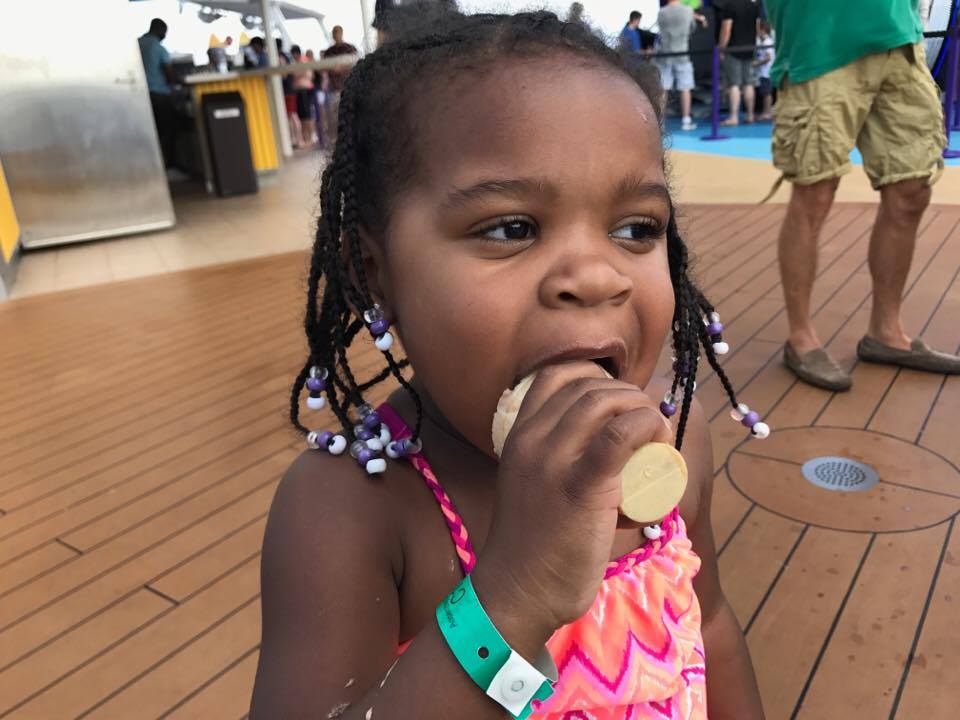 Liv requested a soft serve daily by the pool. And, I LOVED being able to say yes every time. Those kinds of included splurges are one thing I LOVE about cruising!
The Abyss may be better at night, in my opinion, but if you ever find it without a long line during the day, do, by all means, go for a ride!
Adventure Ocean
Adventure Ocean offers included kids care for children ages 3 years (and potty trained) through 17 years old. They also offer paid babysitting for younger infants who are not yet potty trained. Now, because I am always honest in these reviews I do have to say I was terribly disappointed by Royal Caribbean's Kids Club, known as Adventure Ocean. Liv is 3 years old and when we went to pick her up the first night after dinner (she was there a total of 2 hours) the staff felt that Liv was being troublesome and told me that they had
Now, because I am always honest in these reviews I do have to say I was terribly disappointed by Royal Caribbean's Kids Club, known as Adventure Ocean. Liv is 3 years old and when we went to pick her up the first night after dinner (she was there a total of 2 hours) the staff felt that Liv was being troublesome and told me that they had put her on time-out 3 times. Now, Liv is definitely a strong-willed child, but their reasoning was that she just wanted to have free play versus doing the scheduled activities. My feelings are the kid is on vacation! If she wants to play, let her! On the Disney Cruise ship, this is how it works, kids choose whether or not they want to participate. I hope that RCCL re-thinks the way that they structure their kid's activities. Our kids go to school for scheduled learning. Like us, our kids want to relax and unwind on vacation and they should be able to do that WITHOUT being put on time out.
Outdoor Aquatheater
This theater is home to some amazing acrobatic + diving stunt shows, they also show movies on the big screens. You will definitely want to check it out!!! Although, the shows are pretty abstract, sort of similar to interpretive dance. So, if you can only drag your spouse to one show I recommend checking out 'Grease'.
Solarium- Adults Only Area
Peace & quiet those are two words not used often in my vocabulary as a mother to five young kids. But, with the kids all happy at the kids club I soaked up some blissful moments in the solarium and I suggest all parents do the same. It is a vacation after all and you deserve to relax.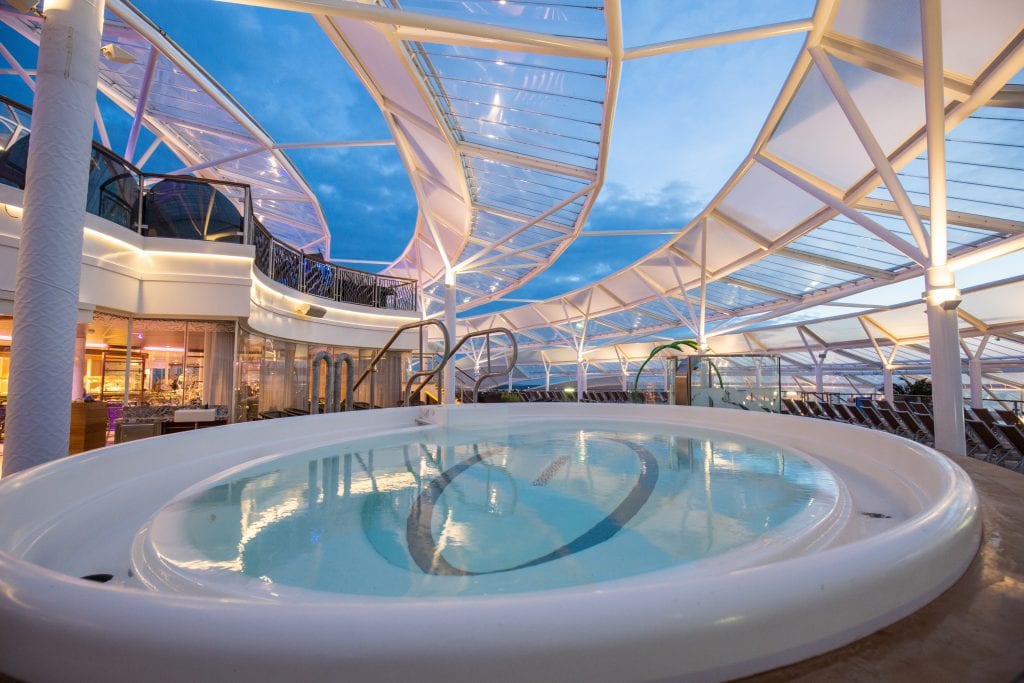 source
source
How awesome are these daybeds? My sister-in-law is demonstrating them perfectly.
The Windjammer Buffet + Hand Washing Stations
This is the main buffet on the cruise and honestly, it was quite good. They also had plenty of hand washing stations located throughout the cruise to ensure everyone stays healthy.
Royal Promenade
Incredible art, tasty food, and tons of entertainment. All located on the Royal Promenade inside the Harmony of the Seas.
source
Cafe Promenade is where the fancy coffee drinks are served. However, all cruisers can enjoy the complimentary and delicious sandwiches, cookies, and treats.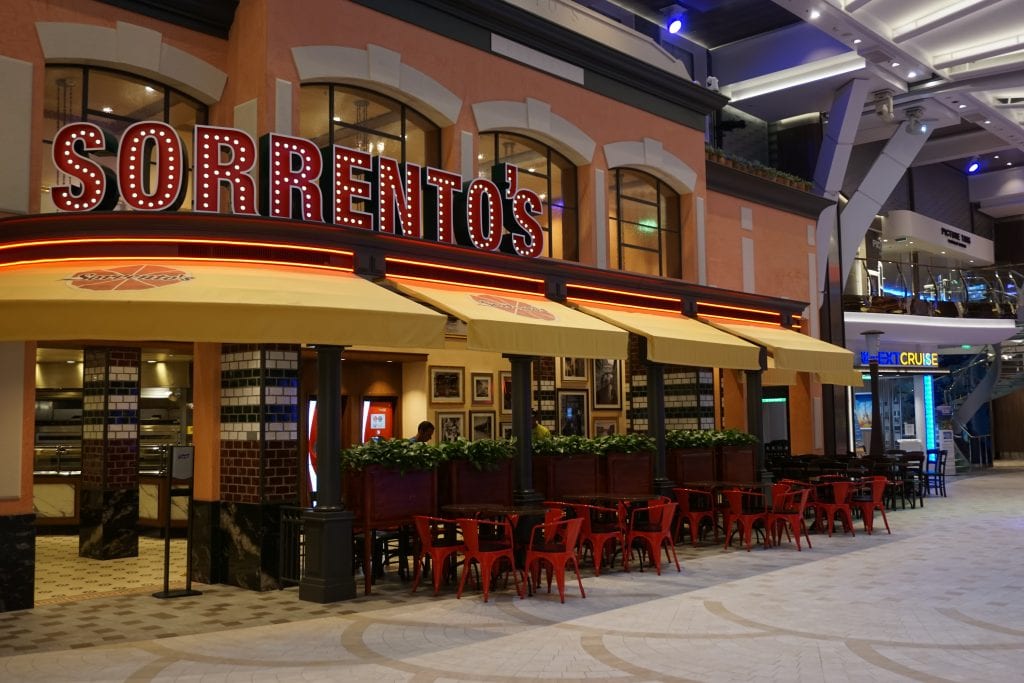 At Sorrento's all cruisers can order pizza by the slice or design their own pie. The pizza is actually really good. Our kids ate here A LOT!
source
We didn't have the chance to eat at Izumi, the Hibachi style restaurant onboard. I was pretty bummed because that is one thing we LOVE to do on the Norwegian Cruises we have been on (read more about those here). We tried making reservations to eat there but, our party was so large that we kept getting the runaround between the group booking department and the restaurant reservations. If you have a large party, I recommend booking smaller tables on your own and NOT going through the group reservations.
source
The cocktails on board were tasty! The concoction above is a new drink that they are serving onboard, I can't wait to try it!
source
The gorgeous treat above is a creation on the menu at the popular Wonderland dining experience. This is another restaurant that has a surcharge but I have heard it is quite an amazing experience and if I return to the Harmony of the Seas I will definitely make reservations to check it out myself.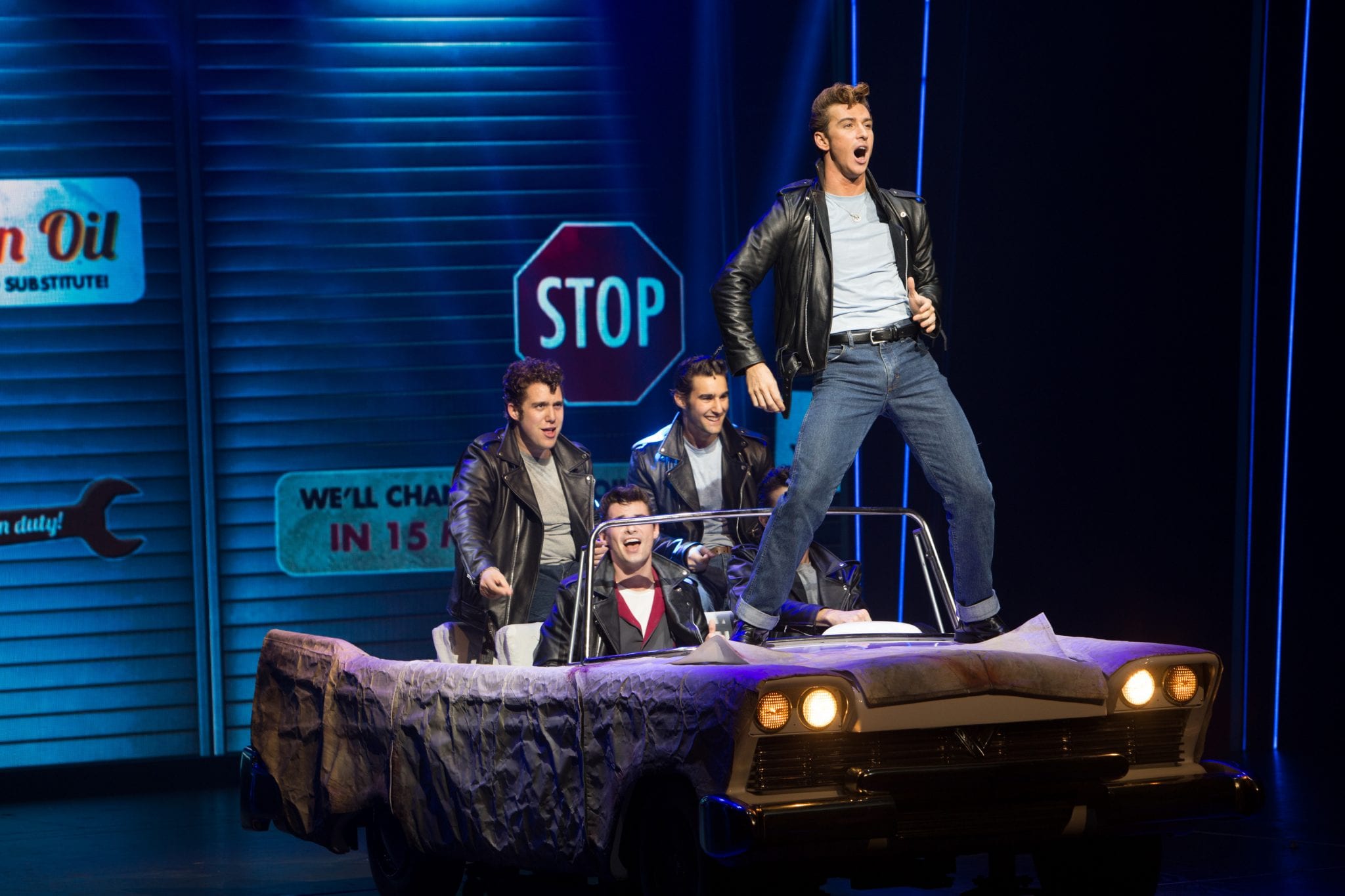 source
SHOWS
There was a ton of great entertainment onboard, but our whole group's favorite show, hands down, was 'Grease'. Make sure to reserve seats because it's a show you won't want to miss. The Harmony of the Seas also shows screenings of new Dreamworks films. While onboard, we were able to see the movie 'Trolls' which was super cute!!
Ice Skating
Another activity located near here is the ice skating rink. While we did see several fabulous shows on ice we never actually made it to the free skating. There are only a few times on the whole cruise that the free skating sessions are open to the cruise guests. Expect to wait in line 1+ hours in order to secure a return ticket. Unfortunately, because they only allow a limited number of guests on the ice per session and there are only a few sessions most guests will not get to experience ice skating on the sea. I hope RCCL extends more free skate sessions or comes up with a better plan for this activity in the future as that was one thing my kids were really bummed about missing.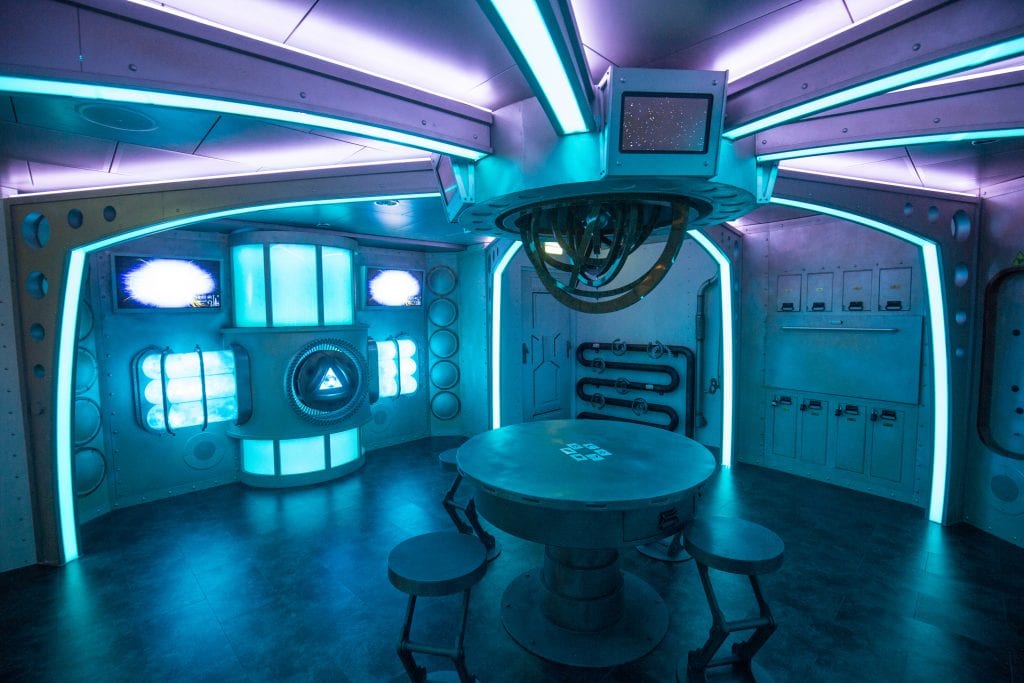 source
We've already chatted about 'Puzzle Break" but above is another glimpse inside the awesome escape room experience which is fun for the whole family. Advanced reservations required, and there is a nominal fee (I believe it was $8 per person).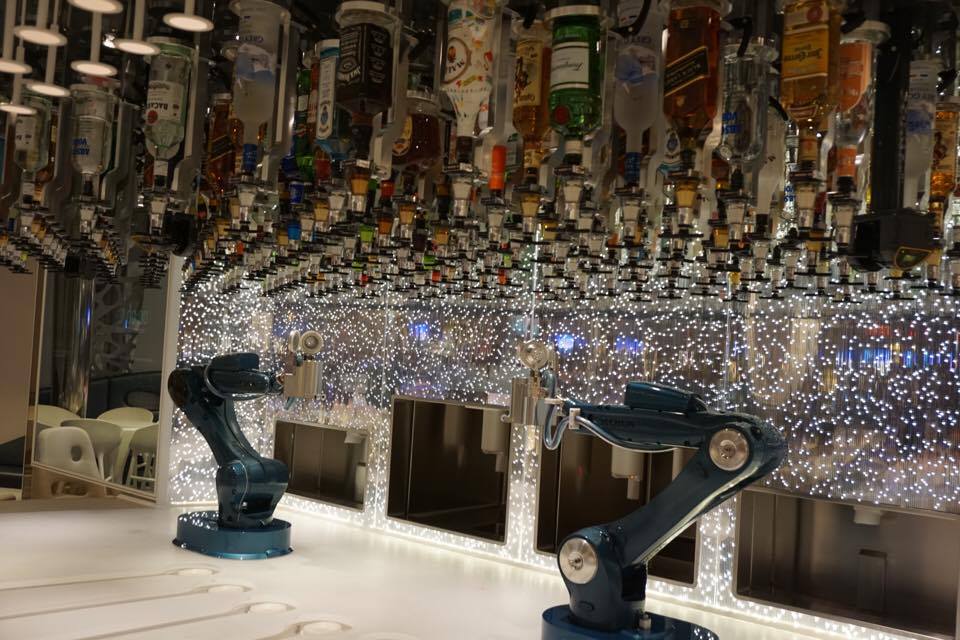 See the Robot Bartender in Action-


Harmony of the Seas Cabins
Royal Family Suite with Balcony
Owner's Suite with Balcony
Family Ocean View Stateroom
Ocean View Stateroom with Balcony *Tip- we get two of these that are adjoining vs a Family Suite, and we booked ours with the Central Park view to save even more!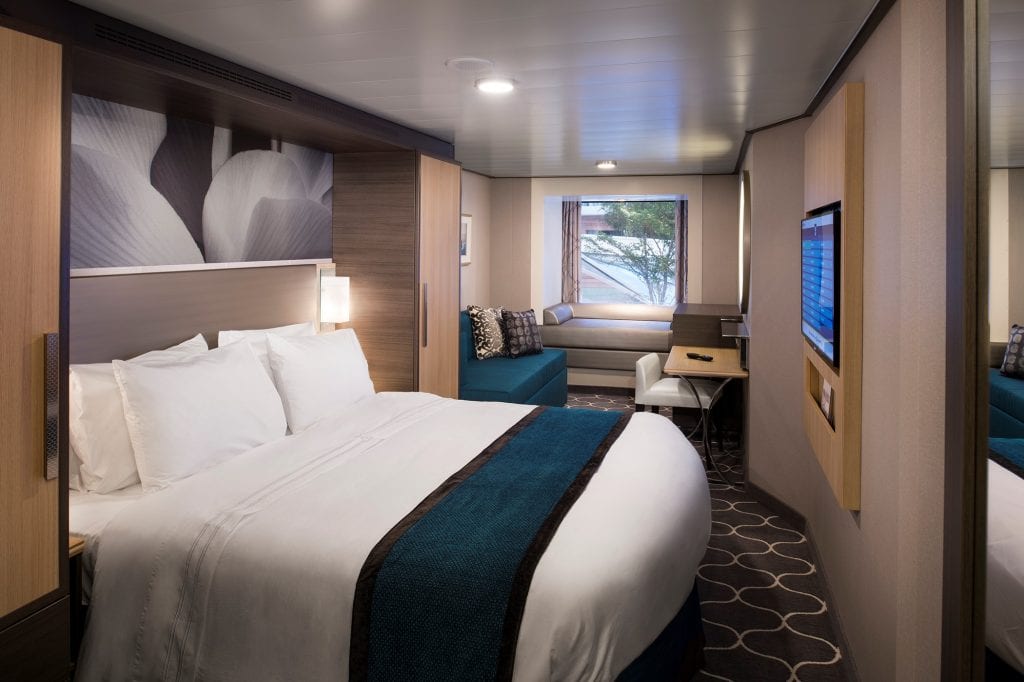 Central Park Stateroom w/o balcony
Take a peek inside our Harmony of the Seas cabin-

One of our nightly towel animals created by our stateroom staff.
An awesome welcome onboard, thank you, Royal Caribbean!!!
Our Cruise Itinerary + Take a Peek at Labadee, Royal Caribbean's Private Island in Haiti
We booked an 8 day/ 7 night Western Caribbean Cruise over Thanksgiving 2016. This was our Harmony of the Seas Itinerary:
Day 1: Embarkation Day!!!! in Fort Lauderdale, FL.
Day 2: Day at Sea
Day 3: Labadee, Haiti (see below) Royal Caribbean's Private Island
Day4: Day at Sea
Day 5: Falmouth, Jamaica- read about our amazing shore excursion with CHUKKA Adventures here.
Day 6: Cozumel, Mexico- read about our incredibly relaxing day at Mr. Sanchos Beach Club here.
Day 7: Day at Sea
Day 8: Disembark in Fort Lauderdale, FL.
Labadee, Haiti
Check out our royal welcome from these talented Haitians-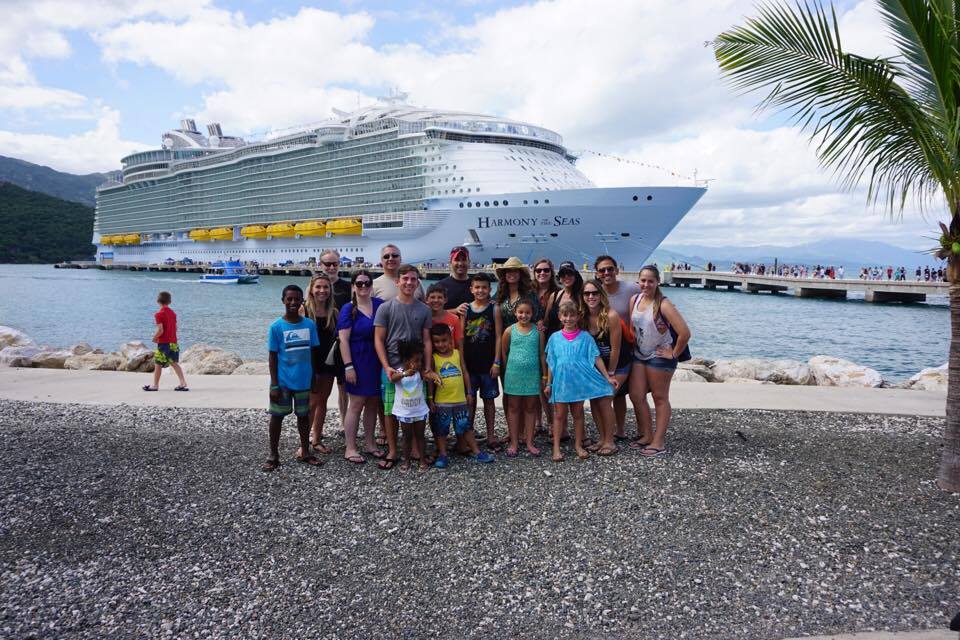 We didn't book any shore trips on Labadee because we knew you could just walk off the ship and you would be at the beach. It turned out to be a great choice as it was easy to tip a guy and get some great chairs set up right along the gorgeous water and steps away from the complimentary food and drinks. Plus, there were bathrooms and playgrounds too! And, the girls all got their hair braided in Labadee which made styling hair super easy the rest of the trip! The zipline did look pretty fun though! Maybe next time.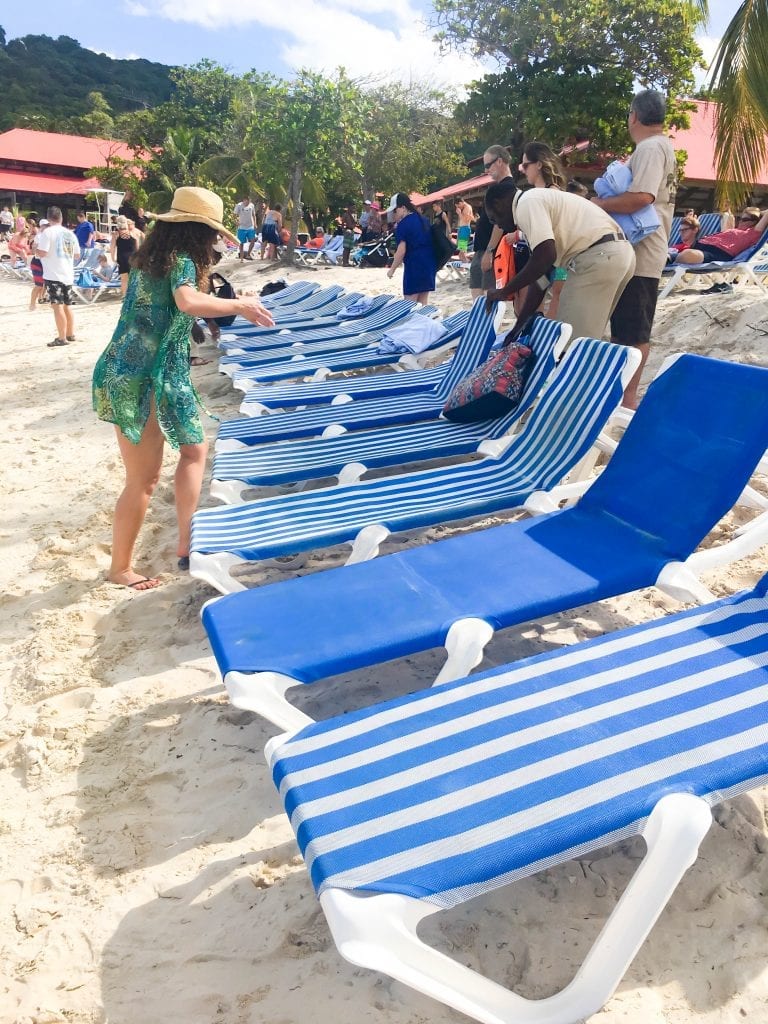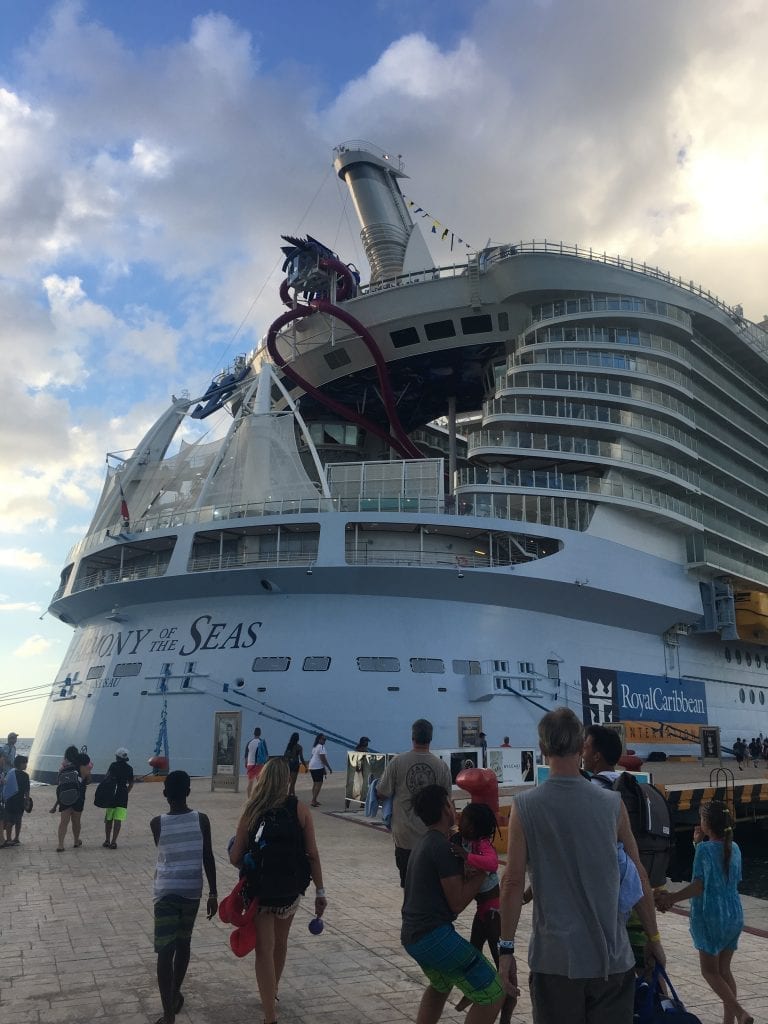 Want to learn more about cruising with kids? Check out this podcast I guest featured on for Vacation Mavens.
Pin for Later:
Have Questions about Cruising with Kids? I LOVE helping families, just leave your question in the comments or join the conversation by posting on my Facebook page.
*A special thank you to the Royal Caribbean Media and Press team for your added enhancements to our trip. This cruise was booked and paid for by me. All thoughts and opinions are, as always, 100% my own.
You may also like to read these fantastic posts:
Latest posts by Mama Munchkin
(see all)