Here's the thing- not all playsets are created equal. Over my 19-years of parenting, I've owned a few this is why I am excited to share with you the Coolest Backyard Playset I've ever owned. I mean this thing has everything to keep your littles entertained for hours, I'm obsessed!!
What Makes This The Coolest Backyard Playset?
Easy, it has all the features you want on a playset, the things that your kids will actually use and love. And, none of the features that they don't. And, it's all squeezed into one moderately sized piece. So, while it is a large wooden swing set- it doesn't take up any more of your yard than it needs to (#winning!!). And, that is just one reason this tops my chart for the coolest backyard playset ever!!
The Cedar Cove Wooden Swing Set from Backyard Discovery has a side-by-side 5 ft challenging rock wall and step ladder, the coolest high-quality web swing (plus two regular swings- 3 swings total!), and a dual slide configuration featuring both a spiral tube slide and 10 ft. wave slide!! The double slide aspect is by far one of Livvy's favorites!!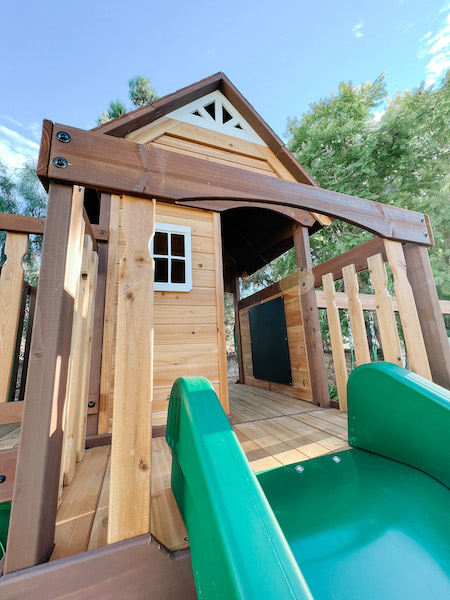 The upper fort area has a built-in chalkboard, telescope, and a lookout balcony- so fun! And, the lower play area is perfect for your little chef with a built-in BBQ, pretend sink, snack window, picnic bench (love that it is on a wooden platform), and plastic food. *We also added this fast-food kit from Amazon and I highly recommend it! It's definitely extended the playtime minutes!
Not to mention, this backyard playset is beautifully designed. It has a modern feel with just the right amount of whimsy. You will love the white trim details, gorgeous 2-tone cedar wood construction (it's 100% cedar), and durable plastic slides. It's just so aesthetically pleasing!
I should mention that, while this specific model is my personal fav and what I believe is the coolest backyard playset ever, Backyard Design offers a bunch of options all backed with the same high-quality construction, beautiful aesthetics, and awesome safety features. You can see the whole line here.
They also have playhouses, sheds, gazebos, pergolas & more to help you turn your backyard into the dream space you've always wanted. And, their quality is top-notch! Right now is a great time to start getting ready for the warmer spring/summer months ahead. Check out their full line of offerings here.
Take A Closer Look- Cedar Cove Backyard Playset
You will fall in love with this gorgeous wooden swing set, it's just so pretty to look at. Your kids, they'll love it too! But probably more for the will love the dual-slides. A 10-foot long speedy bumpy slide + a spiral tube slide. I mean, how cool!!
With three swings to choose from, there is plenty of room for friends. Liv's friends always ooooh and awww over the high-quality web swing. It's pretty neat!
Hot dog, anyone? I love that this playset came with a BBQ area which serves as a play kitchen for Olivia as well.
And, the fort on top offers Olivia a place to play house without the need of an additional backyard piece. It's a 3-in-1! Swingset, kitchen, and a playhouse for us.
We also have a lot of fun with the chalkboard and telescope too!
Playset Assembly Options
Backyard Discovery playsets offer simple, easy-to-follow instructions with the voice narrated BILT® app. When you use this app you get step-by-step interactive support for an easier installation process.
Or if you are like us and aren't too handy or you just don't have the time or want to put the playset together yourself you can also opt for professional assembly.
Backyard Discovery offers professional assembly through the GoConfigure service. It is an added fee but one I felt was worthwhile.
Our Professional Assembly Experience
I was super impressed with how smoothly the whole assembly process was. Upon ordering our slide the Backyard Discovery team helped connect us with GoConfigure. The customer service was top-notch! They got us a quote and scheduled our assembly date right away.
Backyard Discovery supplied us with a simple one-page of instructions on what to expect and how to prepare for our assembly process. It was easy peasy!
Basically, the team needs the area you would like to place your playset cleared, an adult home, kids and pets kept away from that space, access to power (within 200 ft of installation area), and that's about it.
The freight team delivers your product in boxes. Yoour scheduled assembly date is typically within 10-days of the product arriving. So, it is important to have a spot for the boxes in the meantime.
The day of your playset assembly, the team checks in to tell you they're on their way. Then they arrive and assemble. It's really that simple!
I know I can't guarantee you will receive the exact same service, but I will note we had the kindest, most respectful, and sweet assemblyman. I was shocked when he arrived solo. But, was thoroughly impressed by how quickly and efficiently he worked. The assembly process was amazing and I highly recommend it based off our personal experience.
Other Swing Set Features You Will Love!
Safety First: Backyard Discovery put safety first by using flat step ladders for safe climbing, extra-long safety handles for convenience, wider swing lanes, and slide rails 3 times higher than standard requirements
Multi-Swing Position: Backyard Discovery has a patented swing beam extender that allows for wider swing lanes and 3 full swing positions including 2 heavy-duty belt swings and web disc swing.
100% Cedar: The cedar wood construction contains a tight knot structure and a natural resistance to decay, rot and mold. Pre-cut, pre-stained and pre-drilled for added convenience
Easier Assembly: supported by the step-by-step, interactive and voice narrated BILT® app for ease and convenience during your assembly process.
Safe Play: Engineered to meet or exceed ASTM standards (code F1148-19).
Worry Free: Backyard Discovery provides a full 1-year warranty as well as an extended 5-year prorated warranty on wood
We got our coolest backyard playset ever from Backyard Discovery. Check them out and find the perfect playset & more for your family.
Latest posts by Mama Munchkin
(see all)