I think the number one question people ask me is how much does a Disney World Vacation Cost. From Park Tickets, to food to hotels, there is a lot to think about. Then I can already see the next thing people are wondering and that is How to Save Money on a Disney World Vacation. So, I have put together our best ways to save money, whether you want to save on a Deluxe hotel or just saving on basic things like souvenirs. Here are our 25 Best ways to Save Money.
Saving Money on Your Disney World Hotel Rooms!
1. Save up to 50% OFF Deluxe Resorts: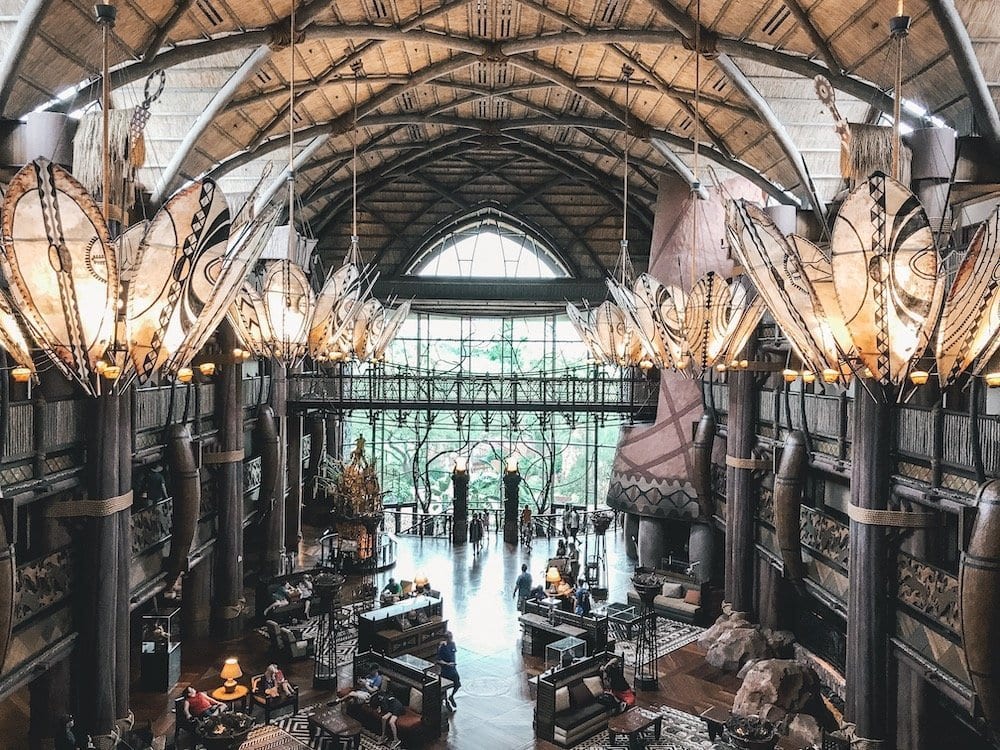 One of my favorite tips on How to save money on a Disney World vacation is by booking a deluxe room for about the same price as a value hotel. You can do this by booking a Disney Vacation Club Room through David's Vacation Rentals. Disney Vacation Club is Disney's version of a timeshare. But instead of purchasing a timeshare you can book a room from one of an existing timeshare owners.
To give you an example: Staying at the Beach Club will normally cost $2800 – $3900 for 7 nights, but if you use David's Vacation rental you will pay $1500 – $2200.
You can check out my full review on booking a Disney Vacation Club Rental Here!
---
2. Book During FREE Dining Plan with Disney World Vacation – Save $1000 – $1500 on your Vacation!
One of the best times to book a Disney World vacation is when it is offering FREE dining plans for select dates and resorts! This offer is reserved for non-discounted, 5-night/6-day vacation packages, including a Disney Resort hotel room and tickets with a Park Hopper Option.
---
3. Stay in a Suite at an Affordable Price
If you have a large family like ours, one room is not enough. Luckily, Disney has some super cute and super adorable suites you can stay in. Over at the Art of Animation Resort, you can stay in a Lion King, Cars, Nemo or a classic Family Suite for $380. These suites sleep up to 6 people and are fully themed.
---
4. Use a Disney Travel Agent
Disney Certified Travel Agents are an absolute gem for booking your Disney World Vacation. Not only do they find you the best deal, their services are completely FREE! We are not travel agents, but we do know some amazing ones. Tink's Magical Vacations is who we use for all of our Disney Vacations.
Tink's not only found us the best deal on our vacation, but also when the FREE Dining Deal came up our agent called us and asked if we want the better deal. We got our existing reservation changed to the better offer without doing a thing.
---
5. Stay in an offsite hotel or Airbnb
Another way to save money is to book an offsite hotel or an Airbnb. There are some incredible Airbnb options out there. We have done both onsite and offsite. Personally, we love onsite hotels. I love the feeling of coming back to a Disney Resort. When staying at an offsite hotel you do miss out on a few perks:
Free Parking at the Parks
FastPass Booking
60 Days in Advance
30 Days for not Disney Resort Guests
Free Transportation to/from Airport to Hotel via Magical Express
---
How to Save Money on a Disney World Vacation Theme Park Tickets
6. Undercover Tourist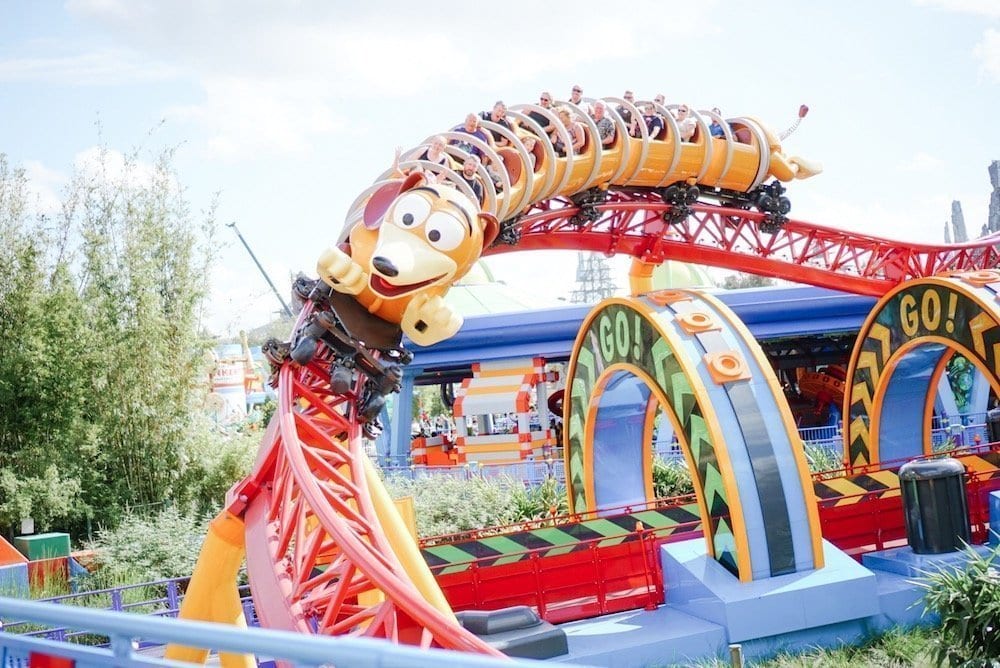 One of my most popular tips for Disney World is how to book discount tickets. Undercover Tourist offers a variety of discounted ticket options to help you save that cash money on your trip to Disney World! Their savings range varies depending on the ticket options that you chose, but you could potentially save up to $71 off a ticket! They offer Disney World 3-10 day ticket options tickets (base tickets, park hopper tickets, park hopper plus tickets, and much more! Head on over to their website to book your trip today! Check Current Prices Here!
****BONUS**** – Avoid Park Hopper Tickets
Park Hopper Tickets are not used as often as people think they are. Especially if you are staying more than 3 or 4 nights a park hopper ticket can be skipped.
---
Planning Tips to Save You Money
7. Stroller Rental
One way you can save money at Disney World is to bring your stroller, the only thing about bringing a stroller is it is often is a pain to travel with. There are two offsite stroller companies that we recommend and they will save you up to 65% off renting a stroller at Disney World. Plus, they are really nice strollers unlike the plastic things Disney provides.
Kingdom Strollers
Kingdom Strollers has been around for over 20 years and they will save you a ton of money plus they deliver the stroller to your hotel or Airbnb! You simply place your order and then meet them at your hotel at one of their 5 daily meetup times and grab your stroller. It couldn't be any easier.
---
8. Save Thousands of Dollars on a VIP Tour
Disney World VIP Tours are the ultimate way to visit Disney World. It is basically an unlimited Fastpass provided by a top-notch guide. That being said, it can be very expensive with prices at $426-$600 an hour for up to 10 people and a minimum of 7 hours. So you are looking at $2900-$4200 + park tickets for 7 hours of fun.
You can enjoy all those same benefits with an offsite vendor and save thousands of dollars. We highly recommend Magic VIP Tours, they provide all the amazing services that a Disney VIP Tour include unlimited fast passes, super informative guides at a fraction of the cost. You can get a tour for over 50% off with Magic VIP Tour.
We booked a 7 hour tour that would have cost $4,200 through Disney and the price was $1,253 with Magic VIP Tours. Once you do one of these tours they become quite addictive so be prepared. Check out all the perks of Magic VIP Tours here + mention Global Munchkins and often you will get a discount of $50 – $150 Off a Tour!
You will find them cheaper and a lot cuter.
10. Prepare for the heat and rain.
There is no reason to spend $20 on a fan or $10 on cheap ponchos. Check out my Disney World Packing List so that you don't find yourself wasting money.
11. Don't pay for transportation!
If you are staying on Disney property you can go from the hotel to the parks and travel between the parks for free. Disney has an incredible transportation system to get you around the property for FREE!
12. Book During the Offseason
This might be easier said than done with kids in school, but if you can pull it off it's totally worth it. You will not only save a ton of money by booking during the offseason, but you will also get to enjoy a much less crowded park. Here is our crowd calendar for 2021
In the Parks Money Saving Tips
13. Enjoy Popcorn for $1.50
A souvenir popcorn bucket costs $10-$17 but once you have it refills are only $1.50, so you can enjoy a tasty snack for under $2
***Bonus*** Snag a Baguette in Paris at Epcot – It only costs $2 and is a great snack to share withe the family.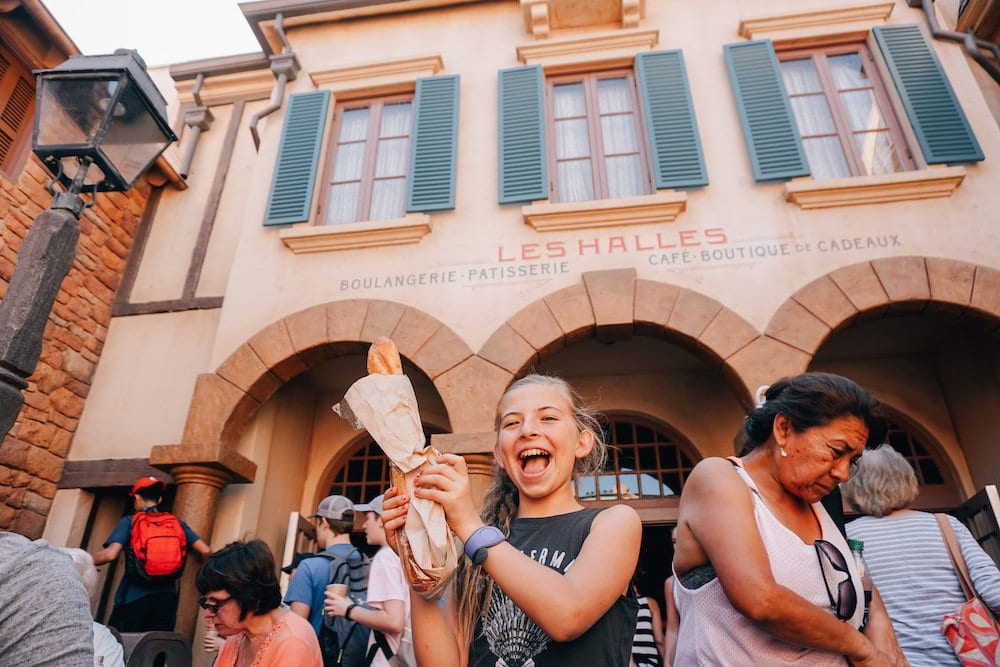 14. Buy the refillable drink mug at the hotel
Great for morning coffee, sodas, tea and hot cocoa at night! Plus, a fun souvenir to take home. I think this is my kids favorite Disney World Tip because they remind me to get the mug the moment we arrive.
15. Adults Can Order Kid's Meals
Whether you are health conscious or trying to stay on budget ordering off the kid's meal can be a great choice. There are a number of healthy options available and the portion sizes were just right for me.
16. Free Water
Free Water is available at all counter service restaurants. No need to spend $3 per bottle on water
17. Buy Souvenirs/Toys & Balloons Early on your vacation (Keep the Receipt)
On one of our early visits to Disney World I remember my son was obsessed with Zurg, from Toy Story. We got him this adorable Zurg balloon and the next day when we came off a ride it had flown away. I approached guest services and they immediately gave me a voucher for a new one.
Often times guest services will offer vouchers for lost items or broken toys that were purchased in the park. Just keep your receipt with you.
**The Food Vendors will also replace dropped food, like Ice cream bars, popcorn, even a meal, so don't worry when your little one drops the giant bucket of popcorn, Disney will gladly replace it for free.***
18. Pack Snacks and Drinks before entering the park!
Disney allows food and drink to be brought into the park (no alcohol) So pack up snacks and drinks before you enter the park
19. Get Groceries for your room
If you have a car, head to a grocery store near Disney World and grab some items for the room. Otherwise you can use services like Instacart to deliver the groceries to your room.
20. Super Secret – Quick Service Dining Hack!
If you are on the dining plan, kids do not have to order off the kids menu like they do at table service. So let your kids order off the adult meal, they will think it's quite a treat. Or if you have a little one who barely eats, pay for the kids meal out of pocket (it's a lot cheaper) and save the quick service credit for you the next time you eat.
21. Take advantage of all the Freebies
When our kids were little, the stickers and buttons and cards were a gem to keep them entertained for a while, during waits in lines or walks to the buses or trams. Throughout the parks, Free stickers are all over the place (stop by the Disney Vacation Club Booth and they always give out plenty).At guest service booths, you can get a Happy Birthday Button, I'm Celebrating Button, and many more buttons to celebrate any occasion.
Do you have any other great tips on How to Save Money on a Disney World Vacation? Comment below and we may add it to our list.
Pin for Later: How to Save Money on a Disney World Vacation – 21 Easy Ways!
Frequently Asked Questions About How to Save Money on a Disney World Vacation
How Can I Save Money on My Disney World Vacation
1. Stay offsite
2. Buy Discounted Tickets
3. Avoid Park Hopper Tickets
4. Purchase Groceries to bring in parks
5. Take Advanatage of Refillable Popcorn
6. Pre Purchase Souvenirs
7. Rent a Disney Vacation Club Rental
How Long do you have to pay for a Disney Vacation?
Once you book your Disney Vacation, you can pay in installments. The deposit is $200 and you'll be able to pay the remaining of your balance over time. Disney allows you to book your vacation as much as 450 days in advance
Latest posts by Michael Mamian
(see all)