We may receive a commission when you use our links. Global Munchkins is part of an affiliate sales network and receives compensation for sending traffic to partner sites. This compensation may affect how or where links appear. This site does not include all available offers. We appreciate you using our links!!!
There is a lot of talk out there from folks like David Ramsey that state you shouldn't have credit cards. For some people that is absolutely true. Credit cards charge ridiculous amounts of interest and if you tend to spend more than you have, then credit cards are definitely not for you. However, if you are in a place where you don't need to spend more than you make, using credit cards can get you free hotel stays, flights, complete vacations, or simply cash back and you will spend no more than you were already spending.
That being said, we are going to break down our simple credit card strategy we recommend for anyone looking for an easy strategy to earn a ton of miles without having to be the ultimate credit card guru.
Now, if you want to be the ultimate credit card guru, there is no problem with that. Check out the points guy or monkey miles, they have hundreds if not thousands of articles on earning credit card points.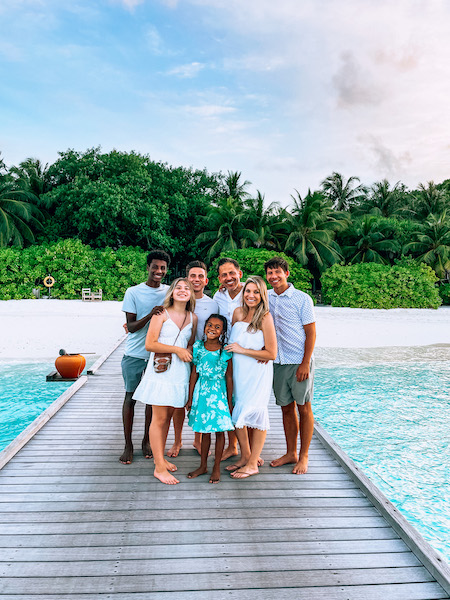 Step 1 – Pay Your Credit Cards in Full Every Month
This might be obvious to some people, but I want to make it clear. There is no rewards credit card out there that will be worthwhile if you are paying credit card interest. If you need help budgeting to make sure you do not overspend, check out mint.com for FREE planning. Mint.com will track every dollar you spend and help you budget your expenses.
Step 2 – Pay as much as you can with a Credit Card
With the exception of my mortgage and my auto loans, pretty much everything else I pay with a credit card. Now, if a company charges me a credit card fee like my air conditioning repair man or my son's college tuition, then I use my debit card.
Otherwise, everything else goes on the credit card. Phone Bills, Groceries, Clothes, Food, and Travel all get put on my credit card.
Debit cards do not count toward credit card purchases. Debit cards earn 0 points so skip that route.
Step 3 – Choose a great Everyday credit card with a low Annual Fee that has multiple Transfer Partners
When choosing a credit card, you want to find one with multiple transfer partners. It's fine to have a United credit card if you love United, but then you can only use your miles on United. Instead, choose a credit card that allows you to transfer points to multiple airlines.
The Chase Sapphire Preferred Card is the best bang for the buck credit card in our opinion.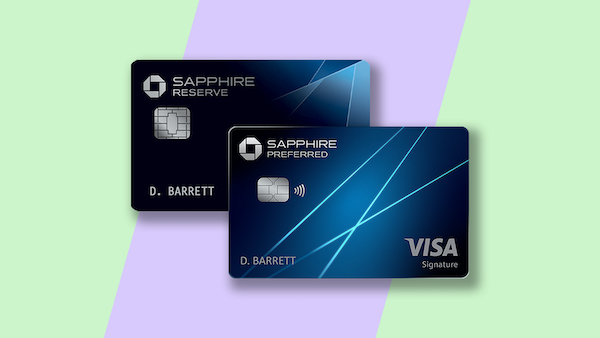 We love the Chase Sapphire Preferred® Card for a lot of reasons. The main reason is they have amazing travel partners including United, Southwest, JetBlue, Emirates, Hyatt, Marriott & more. We personally love using it for Southwest Flights and Hyatt hotel stays.
You can also use your points in the Chase Sapphire Travel portal where you get 1.25 cents per point. Most other credit cards offer a 1 cent to 1 point exchange so you get 25% more with the Chase Sapphire Preferred.
For a low annual fee of $95 you get all of the following benefits.
BENEFITS INCLUDE:
Chase Ultimate Rewards is one of the best rewards platforms out there with a ridiculous number of travel partners including United, Southwest, JetBlue, Emirates, Hyatt, Marriott & more. There are 13 Ultimate Rewards partners to whom you can transfer points.
Earn 5x on all travel purchases when purchasing through Chase travel portal
Takeout & dining out 3x on dining, including eligible delivery services for takeout & dining out
3-fold increase in online grocery shopping (excluding Target, Walmart and wholesale clubs)
Travel Credit of $50 per year on hotel stays booked through the Chase Travel Ultimate Rewards program
Anniversary Bonus of 10% Every year that you keep the card, you'll earn 10 percent more points on your total spending. In the event that you spend $10,000 in a calendar year, you'll receive 1,000 bonus points.
If you redeem your Chase Sapphire Preferred card at 1.25 in the Chase Travel Portal, you'll still get all of the benefits you've come to expect from the card.
For 1.25 cents per point, redeem at the Chase Travel Center
Complimentary Twelve-month subscription to DoorDash and DashPass
There are no fees associated with foreign transactions.
A comprehensive package of travel and purchase protection
CHASE SAPPHIRE PREFERRED BONUS OFFER
Chase Sapphire Preferred® Card currently has its best bonus offer with 60,000 bonus points when you spend $4,000 in the first 3 months. 
Step 4 – Choose a Card with 2% Back on Everyday purchases and some added perks
There are a lot of cards out there that have bonuses on different categories like gas, office supplies, or grocery stores. They are fine, but I just don't have the time to calculate which card I should use for what. In this case, I always keep a card in my wallet that offers 2% back in points which can be redeemed for travel or cash.
Capital One Venture Rewards Credit Card
The Capital One Venture Rewards Credit Card claimed its place as the best of Capital One cards. This is a simple rewards card, and that is really its strength.
You earn 2 miles for every dollar spent. These miles can be used to reimburse for travel purchases or transferred to their airline partners

Receive up to $100 credit for Global Entry or TSA Pre✓® fee – TSA Pre✓ is amazing, (you can check out my review on why we love it here)

$95 annual fee

The downside is the travel partners are not as strong as some of the other cards you will see on this list.
Current Capital One Bonus Offer:
Earn 75,000 Bonus Miles when you spend 4,000 – (a $750 Value) in the first 3 months.
Click here to view the current sign-up bonuses for cards.
These two steps alone will help you go a long way in earning miles so you can travel to amazing destinations. If you don't follow these basic steps first of paying off your card in full then having a credit card for earning miles is probably not the right choice.
---
Reviews, analyses & recommendations are the author's alone, and have not been reviewed, endorsed or approved by any of these entities.
Latest posts by Michael Mamian
(see all)