I am an avid reader myself and whole-heartedly stand behind the importance of summer reading, however my kids fight me tooth and nail every single summer. We have joined the library summer programs, I've offered to buy new books, heck, I have even tried bribing them with treats (don't judge). But, to no avail… I could not get them to enjoy summer reading. That is until this summer when Amazon offered to send us their All-NEW Fire Kids Edition Tablets for our recent Southern Beaches Road Trip. You guys… these tablets are AMAZING!!!!
My Kids Used to Hate Reading, But This Product is a Game Changer
*This is a sponsored post. Thank you for supporting Global Munchkins
I have to be honest, initially I wasn't sure how we were going to feel about the tablets because we are an Apple dominated home and the kids already each had their own iPad. However, after a few weeks of owning the new tablets I can say we are officially converted. Yes, it's true! We are now HUGE Fans of our Fire Kids Edition Tablets and the poor iPads have been put on the shelf.
There are SO many features I personally love about the All-NEW Fire Kids Edition Tablets, and there are also a bunch more features that my kids love about them (very different from my own I might add). So, let's jump right into it!
Check out the video to see the tablets in action + the kids own perspective-

Why My Kids Love Their Fire Kids Edition Tablets
One Year of FreeTime Unlimited is INCLUDED!!!
My kids love having access to 15,000 apps, games, videos, and books. Especially, since the content features all of their favorite characters from Disney, Nickelodeon, PBS Kids & More. In fact it is this feature paired with the fact that they have to read in order to unlock their videos and games each day that has helped my kids become happy summer readers.
They also love that they can download as many new books as they want, and I love that it doesn't cost me anything extra. I have already earned back the cost of the devices just in the number of books they ordered. It truly is quite the perk!
10-year-old son Shea– Shea loves watching the Animal Science videos (Xlporation Animal Science), playing LEGO Batman and Fruit Ninja and listening to iHeartRadio Family. He also like to surf the web, and read the National Geographic Books and he recently downloaded a book called The Terrible Two that he thinks is hilarious.
9-year-old daughter Ella– my Toca Boca loving 9 year-old loves that her favorite Toca Boca apps were included on her new Fire Kids Edition Tablet and she has also found new apps like Disney Karaoke, LEGO Friends and more. She has also been working her way through all of the Harry Potter books which has left her little time for watching shows (she's OBSESSED with the books) but I think she has watched a few iCarly episodes too.
3-year-old daughter Olivia– Liv is also a big Toca Boca fan so she has been playing with those apps (they have a ton of Toca Boca games). She also found apps featuring Doc McStuffins, Daniel Tiger, Minnie Mouse, the characters from Frozen and Peppa Pig. And, Liv loves that our nighttime reading has been expanded to include all types of new books. She has a blast picking out a new book each night and I am happy to escape the monotony.
Long Lasting Battery Life
As I mentioned earlier we received the Fire Kids Edition Tablets right before our big road trip so the fact that the tablets had long batteries was a HUGE bonus. The kids could play them the entire drive from point A to point B without having to plug them in.
Why I Love The Fire Kids Edition Tablets
Parent Dashboard + Discussion Cards
As a parent I can login from my iPhone, Laptop or directly on the Fire Kids Edition Tablet and set up daily goals and time limits for each child. This includes setting a bedtime meaning I can set what time the tablet will turn on and when it will shut down for the night. Educational goals for usage on books, videos, and apps. You see Amazon FreeTime has categorized all books as educational but also some movies, TV shows and apps are tagged as educational so you can set goals as to how much of each educational element you want your child to receive. You can also block entertainment content until daily educational goals are met, like reading in our house.
Additionally, Amazon recently introduced Discussion Cards on their Parent Dashboard, so now you can see conversation starters that relate to what your child is reading to help spark a discussion. This allows me, a mom of 5, to stay up to date easily with what each of my kids is doing on their tablet. I have learned so much about my kids just by monitoring what they were engaging in on their tablets and being able to start meaningful conversations with them about something they genuinely cared about.
*They also think I am some sort of spy and that I can see everything they are reading which encourages them to actually read the book. And, guess what? Since they are actively reading their books they are actually enjoying reading so much more. Go figure 😉
Kid-Proof Case + 2-Year Worry-Free Guarantee
"If they break it, send it back and we'll replace it. No questions asked." That is what it states on Amazon. I mean what parent doesn't love that type of guarantee??? Plus, the Fire Kids Edition Tablets come in a kid-proof case that helps with all the drops and slips that are bound to happen with kids. Mine have already dropped theirs plenty of times and so far not a scratch.
Awesome Content (incl. a Full Year of Amazon FreeTime Unlimited)
Get this… unlike iPads the Amazon Fire Kids Edition Tablets INCLUDE access to over 55,000 age-appropriate websites and YouTube videos, plus a year of Amazon FreeTime Unlimited, which offers more than 15,000 books, videos, educational apps, and games. All of which have been curated for age-appropriateness—at no additional cost. I know you are feeling me on this one ((raises hands in the air like she just don't care))).
Kid-Safe Web Browsing Option
No matter what filters I seem to put on the internet my kids were still coming across pages and websites that completely horrified me. So I LOVE the kid-friendly web browser that the Fire Kids Edition Tablet comes with. It allows me to give my kids some freedom while providing me with the peace of mind that everything they were viewing was age-appropriate.
Or, if you prefer, you also have the capability in the settings to disable the web browser too.
Individual Kids Profiles
As a big family I am also loving the fact that each of my kids individual profiles lives on each of the 3 tablets we own. Essentially, this means families could allow kids to share tablets. But, for us it ensures that Liv can always hop on any of the 3 tablets and be able to find her games and books. Believe me that has come in handy several times. Like when we went out to eat and left Liv's tablet at home but Ella had brought hers. #winning
HOW DO YOU GET YOUR KIDS INTERESTED IN READING DURING THE SUMMER???
Pin it for Later-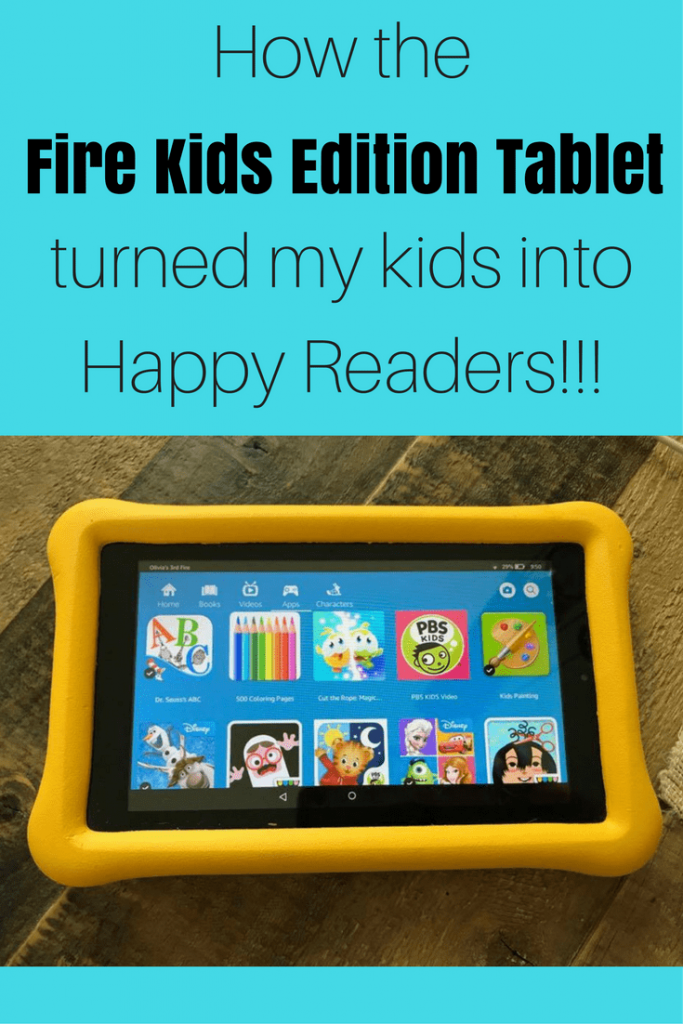 You may also like these posts:
*This post contains affiliate links. We received our Fire Kids Edition Tablets from Amazon for the purpose of this review. However, all thoughts and opinions expressed above are, as always, 100% my own.