*this post is in partnership with Walmart. All thoughts and opinions are our own.
I remember the stress of college move-in day last year. With my first freshman, I was feeling all the feels plus completely lost on what he really needed to be successful and happy at college. This year feels so different because Cam knows EXACTLY what he wants and needs- phew! I recently sat him down to get his absolute must-haves for every college student. Plus, he helped me create a FREE printable College Dorm Checklist to make move-in day a whole lot less stressful for you.
The goal of college is to be a launching pad for life, right? So, you want to make sure you've got their study & tech needs handled first.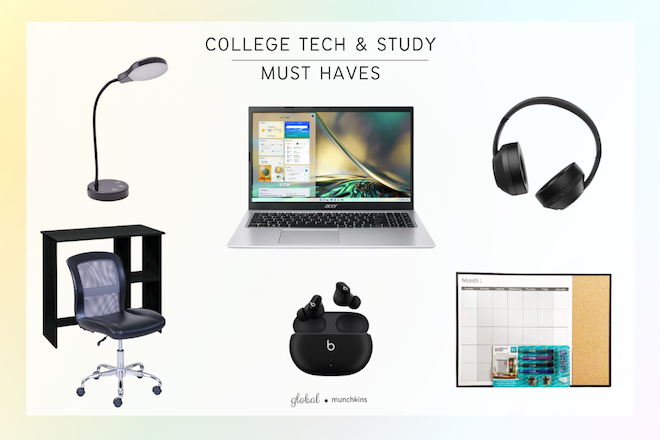 5 Things Camden Says EVERY College Student Needs
Laptop– after having an expensive laptop break after Camden dropped it while skateboarding to class we learned it's super important to have a more affordable laptop, at least to bring to class. Especially since all the assignments are web-based anyway and stored in a cloud.
Walmart has some great options like this Acer Aspire 3 with a 15.6" Full HD Display. The 802.11ac WiFi 5 provides a smooth Internet experience at connection speeds that are up to three times faster than previous generations!
Desk– obviously, your student is going to spend a whole lot of time studying- at least that's the hope! So, ensuring they have a good desk is super important. Here's the thing though. They will most likely be moving over and over so you don't want anything pricey.
That's why we recommend something like this Mainstays Small Space Writing Desk with Two Shelves. At just $32.96 you can't beat it. Plus, it's compact which is necessary when you are dealing with dorm space.
Comfy Chair– along with a desk, your student obviously needs a chair and because they are going to be spending a lot of time in it you want something comfy. Camden was really happy with the Mainstays Vinyl & Mesh Task Office Chair. If you are looking for something a little more compact Cam says the Mainstays Mesh Task Chair with Plush Padded Seat was also super comfortable.
Headphones– Cam said the noise level in his dorm room was always super loud so he really got a lot of use out of his headphones. We went with the onn. Over Ear Noise Cancelling Headphones. Cam liked that they were super lightweight, could go a long time between charges and the Bluetooth connectivity was always really good.
He did say he prefers his Beats Studio Buds for working out at the gym better than the over-ear headphones. He even claims they stay put better than his Apple Airpods which would always fall out while he was working out.
Desk Organization– organization is key to academic success, it helps reduce stress levels, and it's just essential because let's face it. Dorms are super tiny and organization helps you fit more of what you need inside them. Below are a few items Cam says he used and loved last year (and what he is taking back with him this year).
We were able to find everything we needed on our list above at Walmart. Their everyday low prices make it so much less stressful to get your college kid everything they need to head to school. Not to mention the fact that you can grab everything else they need there too like an air fryer, steamer, wrinkle-release, stain-removing pen, shower shoes and shower caddy. Those were some additional "must-haves" off Camden's list- ha! So random!

One tip we have is to use Walmart's app to order everything for store pick-up at the Walmart near your child's campus. It saves so much room if you are packing a car and definitely easier if you are flying to your student's campus. Walmart also has awesome (and quick) shipping as well. If your student's dorm allows this can also be a big-time saver and super convenient option too.
To make dorm shopping a breeze head to Walmart.com's landing page for all of your college needs. They've grouped everything your student might need from tech to cleaning supplies to toiletries and even fashion- all in one easy-to-shop spot.
You can also check out their college checklist for a super thorough peek at EVERYTHING your student could possibly need or you can download Camden's FREE printable dorm room checklist here.

Latest posts by Mama Munchkin
(see all)