Being a mom of 6 I can confidently say I have tried my fair share of products when it comes to newborns. Today I am sharing the very BEST newborn products. These are the ones I have loved the past 3-months and the ones that I have actually used a ton too.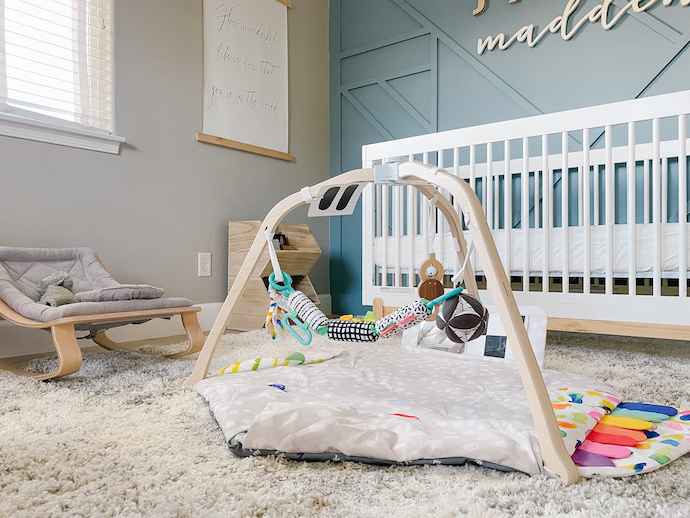 If you are pregnant or have a new baby today, you are in luck. The products out now are incredible compared to what was available when I had Camden 19-years-ago.
Hands down worth every single penny and more if you prioritize sleep. I have to admit I heard mixed reviews when I looked into getting the Snoo. Some mentioned issues with the baby transitioning to a crib, others didn't feel it helped enough. Don't listen!
I used Dr. Harvey Karp's 5 S strategy (from the popular book Happiest Baby On The Block) with all of my kids. I always received compliments about how easy my babies were, how they didn't fuss on planes (we travel A LOT!) etc… I actually went to an event just to meet Dr. Karp years ago (pic below for proof- ha!). I knew he would not let me down when it came to the Snoo bassinet and I WAS RIGHT!!
If you follow Snoo's instructions and start with the motion limiter for your newborn and then follow their guides for transitioning you are not going to have any issues. Of course, the baby will need time to adjust but they would regardless going from any bassinet to their crib and as long as you are consistent and have a good bedtime routine you will be just fine! You've got this mama!!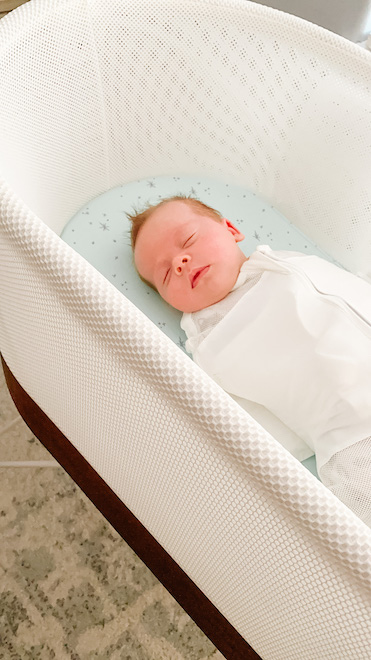 Let's backtrack a bit. Let me explain what the Snoo is, how it works, and then let's talk about Jack's sleep patterns.
What is the Snoo? How does it work?
The Snoo Smart Sleeper is a well-designed, sleek modern-looking baby bassinet. It is intended for babies 0-6 months of age and it was designed and developed to actually respond to your baby's cries.
Once it senses your baby crying it assists to comfort them. It will rock your baby and play a gentle white noise. If your baby is still fussing, it will try different rocking and noise intensities to comfort them back to sleep so you don't have to lift a finger. After baby is calmed, it automatically goes back to the baseline level, the slowest level of motion and quietest white noise. If baby can't be soothed by SNOO, it automatically turns off!
It works like magic y'all. I would nurse Jack swaddle him in the Snoo Sack (you do need to buy 2-3 of these special sleep sacks- one is included). And, the Snoo would get Jack to sleep. I didn't even need to try the 5 S's because the Snoo did them for me.
With our other babies, I would nurse and change the baby and hand them over to my husband who would then spend 30-45 min trying to get the baby back to sleep. The Snoo enabled my husband to sleep so he would have energy in the morning to deal with the 5 other kids' drop-offs while Jack and I napped. Alternatively, I could have pumped or given Jack formula so that we could have taken turns with nighttime feedings. BUT, I was getting way more sleep than I got with any other newborn so we just divided and conquered that way.
How much did it help Jack sleep?
I looked back in our tracker. Initially, at the hospital, Jack was up every hour. I thought he was going to be my toughest newborn. But, as soon as we arrived home and Jack had the Snoo I started getting sleep.
In fact, his avg. nightly pick-ups for August (he was born 8/20) were 3.7. That is 3.7 times a night on average he was waking up. The average nighttime on default is 7 pm- 7 am.
By, September we avg. 2.4 nightly pick-ups. By October that number was 1.3.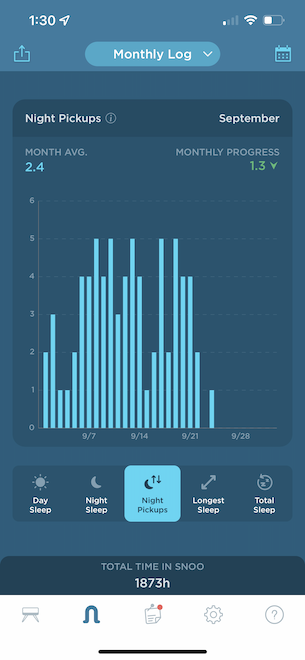 At 4 1/2 months, I noticed no sign of the dreaded 4-month regression. His past 2 months nightly pick-ups were .5!!!! You guys this is AMAZING!!! I chat with so many other moms who are suffering, trying to take care of a baby, plus other kids, work, their husband, themselves. I mean to me, if you can afford it (and the rental makes that easier) GET IT!! No questions!
We wrapped up our Snoo experience by transitioning Jack at around 5 1/2 months. I will say there is a bit of a steeper learning curve for babies coming from the Snoo and transitioning to the crib. They do need to learn how to soothe themselves and put themselves back to sleep.
However, with the help of strategies I learned from Taking Cara Babies 5-24 month sleep training course it only took about a week, 3 tough nights to help Jack get used to his new environment. Now he is sleeping like a champ.
I also recommend using the 3 steps on this post from Happiest Baby. I think they helped set Jack up for an easier transition than if you just did it cold turkey.
A few other things we did that were helpful were: naps in other locations and while on the go. He wasn't going from always sleeping with movement to no movement. We did always keep the white noise no matter where he slept thanks to this handy portable sound machine.
Should you buy or rent the Snoo?
At the time of this post (01/14/2021) the Snoo costs $1,595.00 to purchase or $149 per month to rent. If you choose the newborn package the rental is $149 for months 1-4 and only $49 for months 5 & 6.
Here are my thoughts on this. It depends! For us, rental made the most sense. We knew Jack was our last baby. Had we been planning for more children then purchasing the Snoo outright would have been an investment but in the long run, would have saved us money.
That said it is A LOT upfront compared with traditional bassinet options so if you can't do the lump sum then the rental might also be a great option for you! Snoo Rental Info can be found Learn more about the Snoo Smart Sleeper here.
Learn about the Taking Cara Babies Sleep Course I took here. *I took the 0-4 months bundle.
---
Driving, especially solo with a newborn is so stinkin' scary to me. You are constantly worried if they are okay if they are breathing etc… There are the classic mirrors that you can keep looking back at OR you can get this amazing video mirror and actually get some peace of mind!
I cannot explain the peace this video monitor gives me while driving with Jack. The picture quality is super clear, it's easy to install & use, and I honestly can't live without it. And, since they are turned around for a whopping two years it's totally worth the investment.
Get your Baby Car Mirror Monitor here on Amazon.
---
I am a firm believer in baby-wearing. I have worn all of my babies and I believe it has helped calm and soothe them, plus promoted a stronger bond between us. Plus, it helps me get shiz done- ya' know?
That said I have owned almost every carrier made, at least carrier type. BabyBjörn has been a fav since I had Camden 19-years-ago and their updated version called the Harmony has definitely been my most used with Jack.
The reasons this carrier is my top pick is 1) they can use it from birth without any additional pieces, 2) it offers great back/lumbar support, 3) Jack has enjoyed being in it the most out of all the carriers and wraps we have tried.
A few things I will note though. I feel like the BabyBjörn is missing a sunshade and a pocket to hold things like a phone, wallet, keys. I also feel like it is a bit bulky, as in a wrap would be easier to throw in the diaper bag. But, the inconvenience of putting those on plus lack of back support have me still choosing the BabyBjörn.
Check out the different colors available or purchase here.
---
If you have ever had mastitis or even just a clogged duct you know it's a pain you want to avoid and that is EXACTLY what these pills will help you do. I was having back-to-back clogs and I was so scared of getting mastitis- I had it with each of the babies I nursed at least once. So, a friend recommended Legendary Milk, and the second I felt a clog coming on I took the recommended 3x daily pills, and voila it was fixed.
It worked so well I stayed on the 2x daily regimen that is listed on the back of the bottle just to keep clogs at bay. Times where I have missed my doses for more than 12 hours- I feel it. I will start to get clogged and need to up to three until that feeling goes away. So, I know these bad boys are working and I cannot recommend them enough.
Grab a bottle here, and thank me later! *use code AMBER15 for 15% OFF your purchase!
---
My mom is a retired preschool teacher and is my inspiration when it comes to parenting. She has always told me that less is more when it comes to toys and she definitely veers towards the Montessori style. So, I was really interested in checking out what Lovevery had to offer.
Initially, I was a bit sticker shocked by the high price tag, but it was sent to me as a gift and I am SO HAPPY it was! I now believe Loevery are the BEST TOYS you can buy for your baby and I recommend them to all of my friends and family members who are expecting or have babies/toddlers.
Not only are babies entertained by Lovevery's toys but the guides that come with the baby help you, the parent, understand the developmental stages your baby is currently going through and how the toys or the play gym can help them get the most out of each stage. It's genius!
Jack adores both his Play Gym and the toys in the Play Kits we've received so far (Looker and Charmer) and he uses them multiple times every day.
Learn more about the Lovevery Play Gym & Play Kit subscription here.
*note you can pause/ cancel at any time.
---
I am a diaper bag backpack lover. I find them to be so much more convenient. That said I believe I have found the VERY BEST Diaper Bag Backpack. The PAPERCLIP not only has a modern chic look but it doubles as an actual diaper changing station, which in these times, having a sanitary and secure place to change your baby is EVERYTHING!!
The changing station rolls out in seconds, has sidewalls to keep baby's hands inside, has everything you need within reach & easy to grab, and is a full 2-feet long so plenty of room for baby. It even has an integrated wet bag in case the baby's outfit is soiled. This part is also detachable and washable!!
No detail is untouched, the clasps are a neat slide & lock, and there is an easy access zipper that really comes in handy. I also love that it has a separate (easy to access) padded laptop area with room for important docs as well.
Inside there is a large zippered pocket where I keep my keys, wallet, etc… Compartments for organizing a change of clothes, toys, nursing cover, and more. And, I love the large pocket on the side perfect for holding my water bottle and eventually his bottles and sippy cups.
Travelers will also appreciate the luggage slide which allows you to pop the diaper bag onto one of your suitcase handles helping you to be hands-free at the airport and there is an included shoulder strap should you choose to carry it like a messenger bag- but why would you do that?
I also feel good knowing the product is made from materials that are recycled, sustainable, and humane.
Get yours today on Amazon here.
---
In the beginning, when you need to track a baby's diaper changes and feedings the Talli Baby is a lifesaver! It tracks everything with the push of a button or a click on the app. The app is super easy to use and makes you incredibly prepared for doctor's visits. The app will provide data on pee diapers, pooped diapers, milestones, which breast to feed on next, and more. You can even send this data to your doctor or nanny so they know the exact schedule the baby is on.
Use Promo Code: Rookiemoms and get $10 off your Talli purchase. Check out more here.
---
Below are a few others that definitely got tons of use the first three months.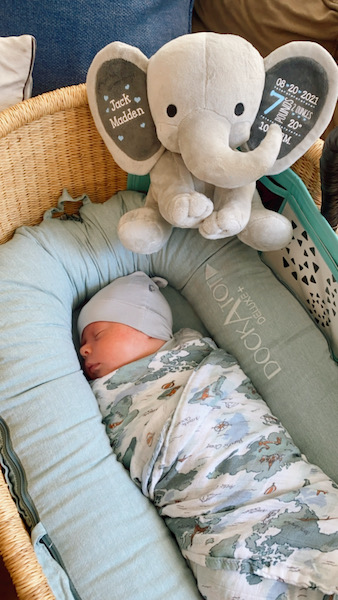 The first 2-months Jack hung out next to me in his Dock-A-Tot a lot! It is not meant for safe sleeping so I only ever had him in it when he was right next to me. But, it did free up my hands. And, nestled in this sweet rattan Moses Basket might have been my fav photo spot too.
When you have a newborn finding a spot to set them down safely is key. This Charlie Crane Levo Rocker was a favorite. When Jack was really little I would swaddle him and then buckle him in. As he grew I could buckle him and his little kicks and squirms would create a rocking motion that he loved. I use this a lot for showering. I have big glass doors so I could keep an eye on him while I showered. The modern clean look and comfort for Jack were what drew me to this piece and I am so glad I splurged on it. I can't wait to pass it down to my sister someday. It's definitely an heirloom piece.
Have more questions about baby gear?
Send me a DM on Instagram here.
I'm always hanging out over there and I am more than happy to chat!