We, like so many families are huge fans of Disney, their parks, their shows and their movies. That being said, trying to come to a consensus in our household on what the best Disney Movie is of all time. With Pixar, Marvel, princess movies and so many more, it was hard to come up with the top 32. But we did, so now it is time to unveil the brackets and let our readers (actually our Instagram followers) decide what are the best Disney Movies of all time!
You can download all the brackets here!
Pixar Bracket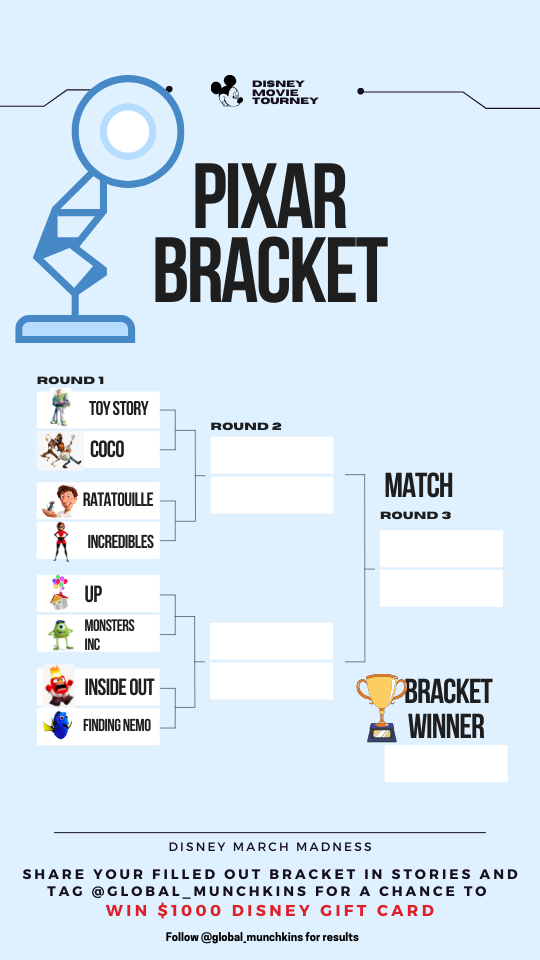 In the Pixar Bracket, there were a lot to choose from: One of the rules we put in place is only one movie from a series could be in the bracket. There were some great movies left out but we are confident with the final 8… we think
Here are the top contenders for the Pixar Bracket
Toy Story
Finding Nemo
Monsters Inc
Incredibles
Ratatouille
Up
Inside Out
Coco
Marvel Movie Bracket
Now, this was a real tough one. There are so many great Marvel movies to choose from. We followed the same philosophy, only one movie from each series (even though they all are technically the same series)
Here are the top contenders for the Marvel Bracket
Avengers Infinity War
Black Panther
Spiderman No Way Home
Guardians of the Galaxy
Thor Ragnarok
Iron Man 3
Captain America – Winter Soldier
Black Widow
Disney Princess Movie Bracket
In the Disney Princess Movie Bracket, well there is a plethora to choose from. You've got the current hits like Frozen and Moana, but then the classics like Mulan and Beauty and the Beast. Tough choices were made but here are your final 8
Here are the top contenders for the Princess Movie Bracket
Frozen
Beauty & The Beast
Little Mermaid
Moana
Tangled
Aladdin
Mulan
Princess & The Frog
Disney Animated Bracket
This bracket is for all the movies not under the Pixar or Princess bracket, but are simply just great animated movies
Here are the top contenders for the Disney Animated Bracket
Lion King
Peter Pan
101 Dalmations

Lilo & Stitch

Dumbo
Big Hero 6
Zootopia

Princess & The Frog
That is all, you can follow along on our Instagram and vote for your favorites and we will post the winners as the bracket gets filled out.
You can download all the brackets here!