*This post is in partnership with THINX. All thoughts and opinions are my own and I wore THINX before I created this post 😉
Female anatomy has always fascinated me, I mean the fact that we can create life inside our bodies- that's pretty incredible! So, when it came time to talk to my daughter about periods I was actually excited. Although, she was a little more hesitant. But, we both lived through the talk that most dread and I am really happy about how well it went, so I thought I would share a few tips with you. Including a safer and more eco-friendly alternative to tampons and pads. Did you know that THINX launched period panties today just for teens and tweens? What a game changer!!
My Best Tips for Talking to your Daughter About Periods
1 Talk Soon, and Talk Often
It's never too early to talk to your child about their body and its functions. In fact, by starting the talk early you build a natural relationship about personal hygiene and children feel less intimidated coming to you with questions.
Another good reason to start the talk early is it prevents girls from feeling scared or alone if they start their period before you've had the chance to talk to them. The average age girls start their periods is 10-16 years old and more girls are starting earlier.
2 Remind Them Periods are a Natural and Normal Part of Womanhood
For some reason, it still seems to be taboo to talk about periods. To me, that seems strange because it's just a normal part of growing up and becoming a woman. However, most young girls will be hesitant about the conversation and will need assurance that menstruation is a normal part of growing up and something every girl goes through.
3 Don't Leave Out the Details-
Here is the thing as cringe-worthy as some details of menstruation are, clumpy, brown etc…, it's important to cover them so your daughter knows what to expect. Most girls idea of a period is similar to what they would see on the back of a bandage.
You don't want them to think something is wrong when their result is different so it's best to be open and honest from the get-go. The alternative is they will most likely turn to the internet and you do not want them getting information about their bodies while they are unsupervised online.
4 Side by Side Talks are Easier
This is a parenting tactic I often use when I am talking to my kids about difficult situations. I try to take a walk with them or sit with them side by side and this is because eye contact can create too much pressure.
5 Talk About Period Products
I remember one of my friends in high school telling the story of how she had placed the entire tampon applicator inside her body the first time she used one because she didn't realize you were not supposed to. So, talking about period products from the get-go and going over exactly how to use them is super important.
NEW THINX Period Underwear for Girls
Speaking of period products have you tried THINX period underwear? They are seriously the best thing since sliced bread- may be better! No more worries about leakage, they are super comfortable and they are better for you and the environment and they are PERFECT for younger girls and teens.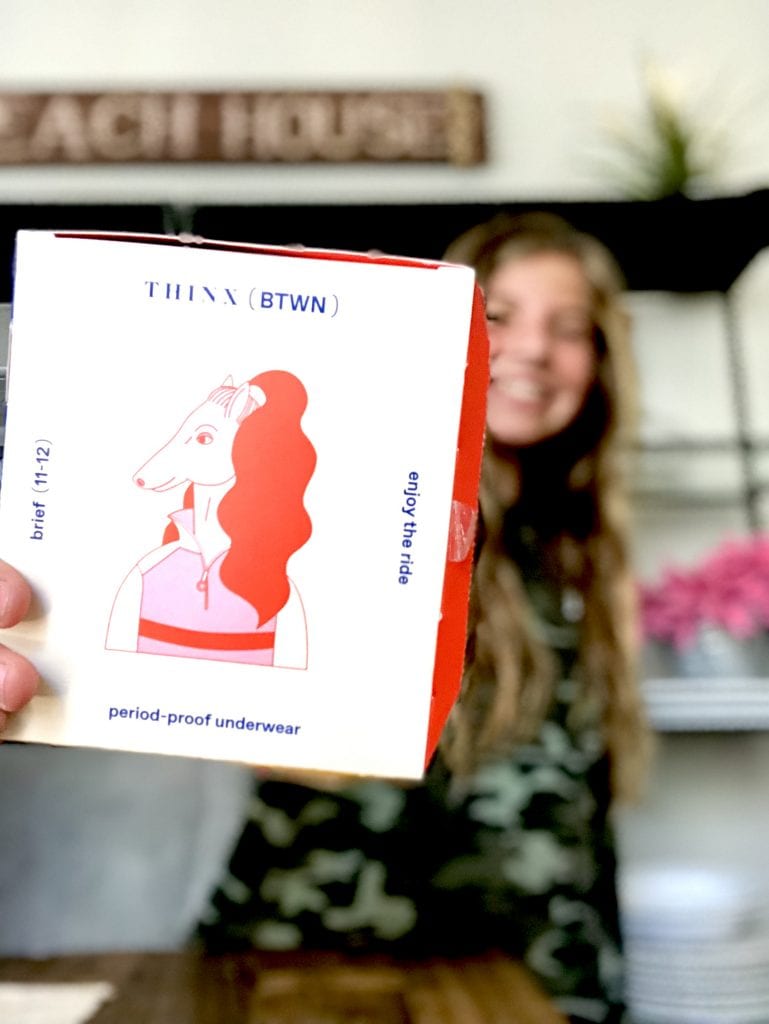 THINX is washable, reusable underwear made with special technology to absorb your period without chemicals. And, yes they really work, and no they don't smell.
I have loved using my THINX underwear and I actually, just recently, mentioned to my husband how awesome it would be if they made them in sizes for younger girls. I knew they would be perfect because I remember being embarrassed about bringing pads and tampons to school and I would constantly tie jackets around my waist while on my cycle just to make sure no one would see any staining in case I leaked through.
Well, THINX was clearly thinking of the same situations because they just launched THINX (BTWN) for young people with periods. They come in youth sizes 9-10, 11-12, 13-14, and 15-16 and right now they have three styles, two colors and one print. You can buy a single pair, but they have such a fantastic warranty I ordered the 3-pair starter pack for the day that my daughter needs them.
Reasons THINX (BTWN) Rock!!
No more worrying about leakage-

With THINX's 4-layer period-proof technology girls don't have to fret about leaks, stains, or period surprises. This is especially helpful for

young girls who are still getting used to tracking their cycle which is typically unpredictable at first too.
THINX (BTWN) Are Comfortable-

Trust me! I absolutely love wearing my THINX panties because they feel like regular underwear. A nice swap from a bulky pad or tampons which can irritate sensitive areas. THINX also allow girls to continue comfortably with their active lives doing anything they would normally do when they aren't on their period.

Safe Alternative to Harmful Period Products-

Do you have any idea the number of chemicals that are in most tampons and pads? I have done some research and I can tell you the data is frightening. That is actually the reason I ordered my THINX panties in the first place and why it was important to me that THINX came out with a line for young girls. THINX (BTWN) are made with no harmful chemicals. Instead, the body of the underwear is made with organic cotton and the layers are lined with cotton so a natural, breathable fiber is all that touches sensitive areas.

Sustainable, Better for the Planet!-

I have talked about the importance of sustainability quite a bit on my blog and this is just one more reason I love THINX. Instead of disposable pads and tampons, THINX products are reusable and can last up to 2 years creating much less waste than traditional period products. So, not only are THINX panties better for you, they are also better for the environment too.

Easy to use-

Remember the story of my friend with the tampons? Well, with THINX (BTWN) there are no special tricks or confusing steps to learn. They just wear the underwear like they normally would wear any pair of underwear. In fact, they can be worn all day long! They are also easy to care for all you do is rinse, wash and hang dry.
SAVE $5 when you order THINX (BTWN) today. Click HERE and use code MUNCHKINS5
So, there you have it you are loaded with lots of info + a really awesome product to help you be a rockstar when it comes to having that period talk. Let me know how it goes or if you have tips and advice to add by leaving me a comment below.