This year the holiday season has come up quicker than we have all expected. We wanted to save you the time, so we have put together the perfect holiday gift guide for 5-8 year olds who you need to buy for this holiday season. It can be hard to keep up with all the items that are released all throughout the year, so we put together our favorites for you that the kids in your life are sure to love.
The Perfect 2020 Holiday Gift Guide for 5-8 Year Olds
FurReal Moodwings Snow Dragon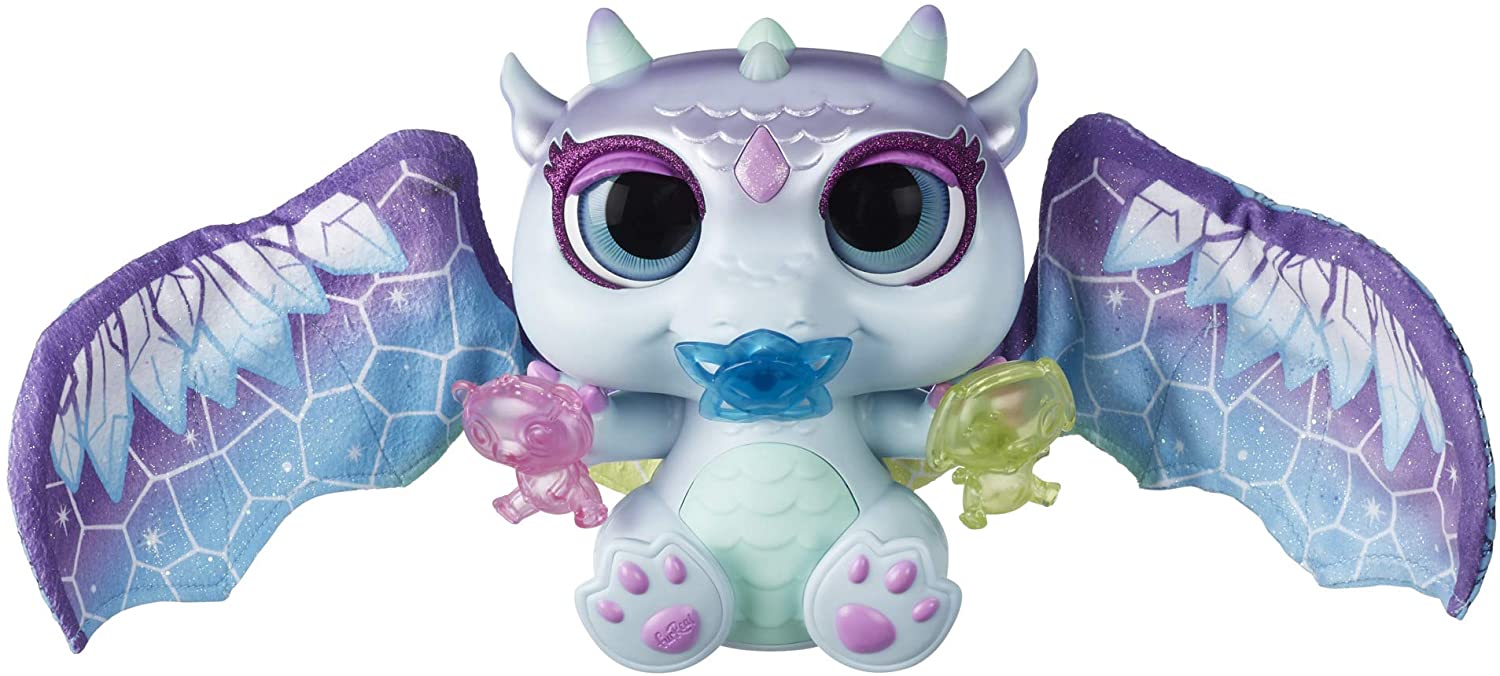 The FurReal Pets Snow Dragon has many moods. Wake her up to discover her adorable personality and find out what mood she's in. She could be anything from sleepy to cranky, hungry to happy. She has color-changing eyes and tummy that reveal her mood, so you know at a glance how to care for her. She comes with 3 surprise accessories, they will be able to discover which bottle, pacifier and toy they have to care for their dragon!
---
Fire Tablet
A fire tablet is a great gift for kiddos and is an educational gift that is not just for the kids, but also helps parents out as well. The fire tablet comes with FreeTime and it has parental controls including setting times the tablet turns on and off and educational goals that allow parents to block everything but educational games, book, and videos for a certain amount of time.
---
The Elephant Organics PJ Sets
Liv absolutely loves pajamas and she changes into them whenever she can! Some of her favorites are The Elephant Organics, she loves how soft and cozy they are! They are made from 100% Organic Cotton! They have tons of sets for your pj loving girls and boys too!
---
Pillowie Sets
This is an all-in-one, blanket, stuffed animal, pillow and comes with a carrying case! It's perfect for on-the-go travel, whether it's camping, road trips or sleepovers at grandmas! They come in cute designs like, Forest Friends or Monsters! Right now they add in a bonus mask with any set you purchase!
---
Osmo Educational Learning Games
Osmo is hands-on learning in the digital world and offers a variety of different options for your kiddos. They have starter kits for different ages that the kids use their tablet to interact and play educational games. They have the Little Genius Starter Kit for ages 3-5 and the Genius Starter Kit for ages 6-10.
---
Madame Alexander- Kindness Club Dolls
The Kindness Club dolls are the perfect gift to engage your child in imaginative play and to teach kindness and empathy. Girls with big hearts and even bigger dreams, looking to make the world a better place, teaching caring and respect for all people. I love the message these dolls have and we could all use a little more kindness!
---
Paint by Numbers
All you need is water for this one and it is a great activity for all the kids to do as a fun activity while learning numbers all the while creating a masterpiece. The paints are actually on each individual page and there are 20 pages of fun!
---
Paint by Stickers
This is a great gift for the creative kiddos-that is also mess free and comes with glitter stickers!
---
Magnet Blocks
This is a great educational toy and they are always a hit amongst the kids! The perfect gift for 5-8 year olds. They really heighten their creativity and they can use the magnet blocks to build castles, houses and whatever their imagination creates. These Magnet blocks spark creative and open-ended play.
---
Baby Alive Grows Up
With this one you get one of 2 surprise dolls and she actually grows. Yes, I'm serious. It will be your kids' new favorite doll and they will be so excited to find out which one they got and watch how she grows with each step. She sits up and says her first word, she grows taller and her hair gets longer. Watch your child care for her as she goes from newborn to first to baby firsts to big girl moments.
---
Melissa & Doug Ice Cream Parlour
This 28 piece wooden ice cream playset that comes with scoopers, cones, cups, an ice cream counter, some fake $1 bills and a menu. This is a great gift for kids to engage in fun childhood imaginative play and create their own little ice cream shop.
---
Kiwi Co.
Gift this creative box of fun and learning which is delivered monthly! This box provides hands-on fun and projects in science, art and more. They have different crate options to choose from and the Kiwi crate is geared towards 5-8 year olds. You can change the crate as the kids get older and get other projects to learn about geography, culture, create and craft, science, engineering and more! Lucky for you I have a discount code for Kiwi Co that you can use this holiday season.
---
Guardian Bike
Surprise your kiddo with the safest bike on the block, Guardian Kids Bike. It has sure stop brakes, is lightweight and comes in a variety of designs so you can pick out the one that your kid would love. They are designed by kids for kids!
---
Cardboard Playhouse
What a fun, creative project for the kids. They can customize and color everything to their imagination. It's an easy set up for the parents, sturdy and durable for indoor and outdoor play. Choose from a variety of options for your kids to enjoy creating their own playhouse!
---
Bubble Machine
Kids love bubbles so what better gift than a bubble machine and even better is the cute frog character. It has 8 rotating bubble wands for up to 500 bubbles per minute! It's child friendly for indoor and outdoor play and easy to use!
---

BlissLights Skylite
This Skylite will light up your kids room and project a field of drifting blue stars against a transforming blue nebula cloud. With soothing aurora effects that create a relaxing environment in any room, the SKYlite makes a standout gift for adults and kids alike. Simple button controls make it easy to cycle through light effects, adjust brightness, or start/stop the rotating motion.
---
Check out more of our holiday guides for this holiday season below!