If you have 15-year-olds in your life, you know they aren't always easy to impress! This can be particularly challenging when it comes to choosing the best gifts for 15-year-old boys and 15-year-old girls, so we've compiled this helpful list to help you through the holiday season.
Best Gifts for 15-Year-Old Boys
PlayStation 5 Console
If you're choosing a gift for a gamer, you can't do better than the PlayStation 5 Console. Not only does it offer lightening speed, but the custom CPU, GPU and SSD with integrated I/O means this PlayStation can do things previous iterations cannot. It will bring your teen an immersive gaming experience with incredible graphics. It also offers support for haptic feedback, adaptive triggers and 3D audio technology.
---
Xbox Series X Console
If your gamer is an Xbox fan, the Xbox Series X can play thousands of game titles from four generations of consoles – and they all look and play best on the X Series. It uses Velocity Architecture, custom SSD and integrated software for faster gameplay and greatly reduced load times. Its graphic processing power means more realism and immersion in games, too.
---
NBA 2K 22 Xbox X
This Xbox X game is the special "Mamba Forever" edition of NBA 2K 22, so not only is it an exciting new iteration of a fan-favorite sports game, but it also commemorates Kobe Bryant after his untimely death in early 2020. This edition also comes with 100,000 in virtual currency, 10,000 MyTEAM points, MyTEAM packs and digital items for your MyPLAYER, too.
---
Madden NFL 21 Xbox X

The football fan in your life will absolutely love this latest edition of the classic game. Madden NFL 22 for Xbox X is titled "Face of the Franchise: Rise to Fame" and it allows your gamer to imagine they are transcending NFL history and rising to greatness. It allows players to master all-new running enhancements and live playbooks, and it's upgraded from past versions to allow players to feel full control and responsiveness. All of these features make it one of the best gifts for a fifteen-year-old!
---
Marvel Avengers for PS4 (Free Upgrade for PS5!)
Teens love the Marvel Avengers, and this teen-rated game offers players a unique adventure for iconic superheroes including Captain America, Iron Man, the Hulk, Black Widow and Thor. Marvel Avengers for PS4 edition allows your teen gamer to unlock powerful skills and new gear, too, and it includes a free upgrade for PS5. Up to four players can assemble virtually to play in tandem and defend Earth from escalating threats.
---
HyperX Cloud Stinger Gaming Headset
This gaming headset is the ultimate accessory for the videogame fan in your life, and this one offers signature memory foam for extra comfort. The HyperX Cloud Stinger Gaming Headset also offers a swivel to mute feature, noise cancellation microphone and intuitive volume control. It's compatible with PC, Xbox One, PS4, Nintendo Switch, and mobile devices.
---
Airfly
These are perfect for all the teens in your life! The Airfly is a wireless transmitter and receiver that can transmit audio from in-flight entertainment, gym equipment, gaming devices or TVs! It is compatible with their Airpods, earbuds or wireless headphones and the battery life with last 16+ hours.
---
HK Army Customizable Paintball Jersey
Buying for a paintball player? This dry-fit paintball jersey offers performance and comfort. It's made in the USA with high-tech fabric technology that puts this company on the frontline of paintball accessories. It's ultra-lightweight and moisture wicking and, best of all, it's customizable with a name and number.
---
HK Army Track Jogger Paintball Pants
These HK Army Track Joggers are the perfect compliment to the HK Army paintball jersey above, but they're also sleek and stylish on their own. Made in the USA with performance material, they have waterproof zipper pockets and cuffed ankles with waterproof zipper openings.
---
Champion Hoodie
Do you know a teen who lives in hoodies? This is a great addition to their collection! The Champion Hoodie is made of brushed-fleece and it comes in 13 vibrant colors, each with the Champion script logo across the chest. This hoodie is warm, comfortable and practical, making it one of the best gifts for 15-year-olds.
---
Hiboy Electric Skateboard
You may not be familiar with the e-skateboard craze, but your teen probably is! This electric skateboard comes with a wireless remote to operate its single-hub motor and it achieves a top speed of 12 miles per hour. This board is cruiser shaped and has a 30-inch deck, and it's light-but-solid materials make for extra stability when turning or accelerating.
---
Apple AirPods Pro
When it comes to earbuds, Apple makes the cadillac version. If your teen is a gamer, avid music fan or loves listening to podcasts, these noise-cancelling AirPods Pro are a fantastic gift. They are customizable in three sizes, and the technology actually matches sound to the shape of your ears for the best listening experience on the market. Though a pricier item on our list, Apple's performance is king and these will get year after year of use.
---
Dr. Dish Basketball Shot Trainer
Sometimes, the best gift for a 15-year-old is something that shows them you believe in them. If you have a hard-working basketball player in your life, this gift allows them to train like a pro from home to improve shot arc and muscle memory. There's a special holiday bundle available, along with a monthly membership. Dr. Dish promises easy set-up and fast delivery, too.
---
Bottle Bash Game Set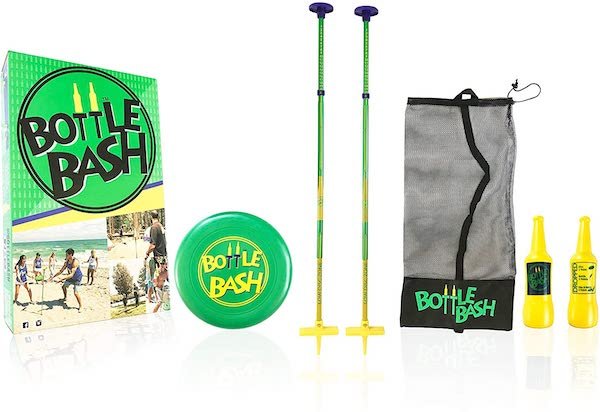 This is a family fave in our house! This game is endless backyard fun for the whole family and our teens absolutely love it. The game set up is quick, easy to travel with and it's a great active, team game!
---
Crossnet Volleyball Set
Crossnet is four square meets volleyball and is another family fun fave for backyard fun! Easy to travel with, can be played on any surface and has adjustable nets. *Bonus* it comes with a travel backpack, so it's perfect to take on those beach or camping trips!
---
Best Gifts for 15-Year-Old Girls
Initial Necklace
This dainty initial necklace is both stylish and thoughtful. It is hand-stamped by a talented maker and can be personalized with one, two, three or four letter charms. The gold-filled charms come with a 14k gold-filled shimmering link chain with a spring ring closure. Since these are made to order, you can assure your recipient that it's a one-of-a-kind necklace made just for her.
---
Bath Bombs Gift Set
These luxurious bath bombs are a great gift for a 15-year-old girl who already has all the latest technology and on-trend accessories. The set comes with twelve bath bombs, each with a different fragrance, such as jasmine, red plum and peach blossom. They are all-natural and non-toxic, and they come with real flower petals inside! These bath bombs are long-lasting and promise moisturizing and soothing effects, too.
---
Face Anything Face Mask Kit from Rael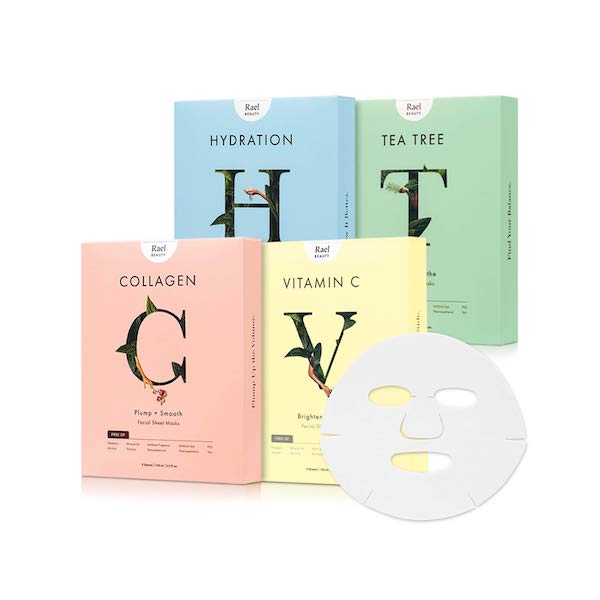 This is a great gift for the teens in your life, as we know their skin is ever-changing. This kit comes with 20 face mask sheets made with botanical ingredients and bamboo yarn! This set includes: Collagen Sheet Mask Set, Hydration Sheet Mask Set, Tea Tree Sheet Mask Set, Vitamin C Sheet Mask Set
---
Pura Vida Moonstone Ring
Rings are the teen accessory of the moment, and this delicate double-stone design from Pura Vida is a beautiful addition to a 15-year-old girl's jewelry box. Not only is it nickel-free and hypoallergenic, but purchases of this Moonstone ring also support local artisans in Costa Rica, so it offers great style plus good vibes.
---
iPad Air

The latest generation of the iPad is chock-full of features teens love – a liquid retina display with enhanced color, touch ID for security and Apple Pay, too. There's also a powerful 12MP back camera and a 7MP FaceTime camera in front. It comes in five colors and is available with WiFi or WiFi and Cellular.
---
Apple Pencil 2nd Generation
For teens, tech is the gift of the moment – and this Apple Pencil won't disappoint. It easily turns an iPad into a notepad, drawing canvas or anything else your 15-year-old can imagine. It writes with the fluidity and responsiveness of a traditional writing instrument, making it great for taking notes in class, journaling or artistic endeavors. It runs on a lithium battery, which is included. This is one of the perfect gifts for 15-year-olds!
---
Polaroid Portable Pocket Printer
This isn't the Polaroid you grew up with! This bluetooth-connected pocket photo printer will allow your teen to easily print pictures from their iOS or Android phone – and they're customizable, too! It uses super-fast wireless printing technology, meaning photos print in 50 seconds or less. Note that it requires Hi-Print paper that is not included with the purchase.
---
Fujifilm Instax Mini Instant Camera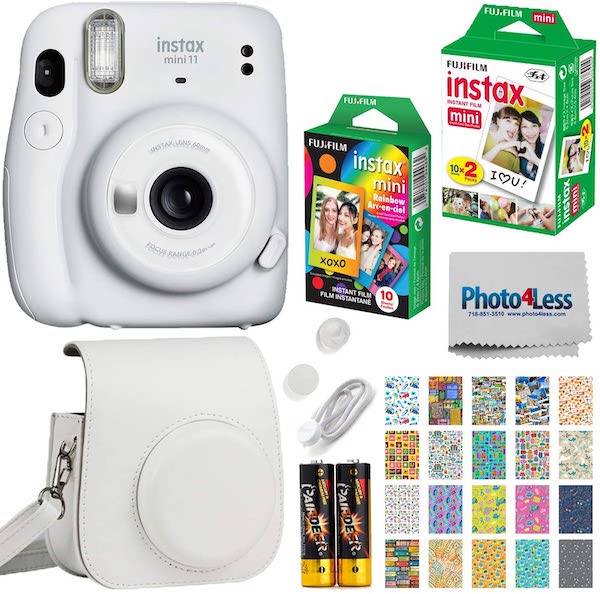 This tiny camera is packed with features! It lets your teen express creativity with printed, sticky photos anytime and anywhere. The Instax Mini film is so small it's credit-card-size, meaning it's easy to carry with you in a pocket or purse. It has a built-in selfie mirror and one-touch selfie mode, making those self-portraits a cinch, too.
---
Pottery Barn Plush Bean Bag Chair
Give your teen the softest seat in the house! This faux-fur Bean Bag Chair is luxurious and cozy, and it's made to look like real fur in a gorgeous blush color. It's filled with high-density foam beads that are made to last without getting compressed permanently over time, and the cover is removable for easy cleaning, too.
---
Jessica Simpson Faux Fur Slippers
These cozy and comfortable beauties have everything your 15-year-old girl is looking for in her new favorite slippers! Not only are they a brand name she already knows and loves, but they are stylish faux-fur with memory foam and an anti-skid sole. They also come in nine colors to suit any girl's taste.
---
DIY Planner Set
This practical gift also allows your teen to nurture her creativity. While phones and apps make it easy to keep track of daily to-do's, writing things down by hand is the best way to remember – and to use more imagination in the process. This DIY Planner Set isn't just about daily to-do items either; it also serves as a goals planner for your go-getter.
---
Custom Drink Tumbler
These tall tumblers with straws are simply adorable – and they're practical, too! They can be used for hot or cold beverages, they come in six fashionable colors, and they're made of stainless steel with a 22-ounce capacity. Best of all, you can personalize them with your girl's name!
---
Bluetooth Speaker Alarm Clock
Talk about multi-functional! This bluetooth speaker is also an alarm clock, a bedside lamp and an MP3 player. It can even be used for hands-free phone calls! The brightness of the light can be adjusted, and the alarm clock feature offers an easy-snooze function. It has a rechargeable battery with an ultra-long life, making it functional as well as a beautiful addition to a teen's room.
---
Fjallraven Backpack
A trusted brand, an iconic design, and functionality for everyday use make the Fjallraven backpack a great gift for a 15-year-old. It has a main zippered compartment, a front zippered pocket and two open side pockets, and it's both dirt- and water-resistant, too. Ergonomic shoulder straps make it easy to carry, while maintaining style and function.
---
Hasbro Games
Monopoly, Deer Pong, Jenga, Speak Out, Clue, Rubik's Impossible
You know we love family game night and these games are just a few of our favorites. Playing games is engaging and fun for everyone involved. Give the gift of games to your teens this holiday season, and it's something they can enjoy with their friends or family. It's a win-win for everyone!
---
Teens can be notoriously hard to shop for, but with this gift guide, you're sure to find the best gifts for the 15-year-old boy or 15-year-old girl in your life!
Check out more of our holiday gift guides below for everyone in your family!
Latest posts by Brittany H
(see all)