When I'm traveling I want to make the absolute most out of my days. Many times this means packing a bag early in the morning that will be full of anything you could possibly need until late in the evening. Having to stop for necessities during the day will just slow you down, cost more and none of us want that. While this holds true for all travelers, it is especially important for families. Little munchkins need more throughout the day than you can possibly imagine, from snacks to wipes to band-aids. Because we know how important it is to have all these things easily available to you, we've broken down how to find the best daypack for travel. The main difference between a daypack and a backpack is size. They're typically a little bigger and designed for long-term wearing, which you definitely need whether you have kids or not.
The Best Daypack for Travel! [A look at the 10 Best Choices]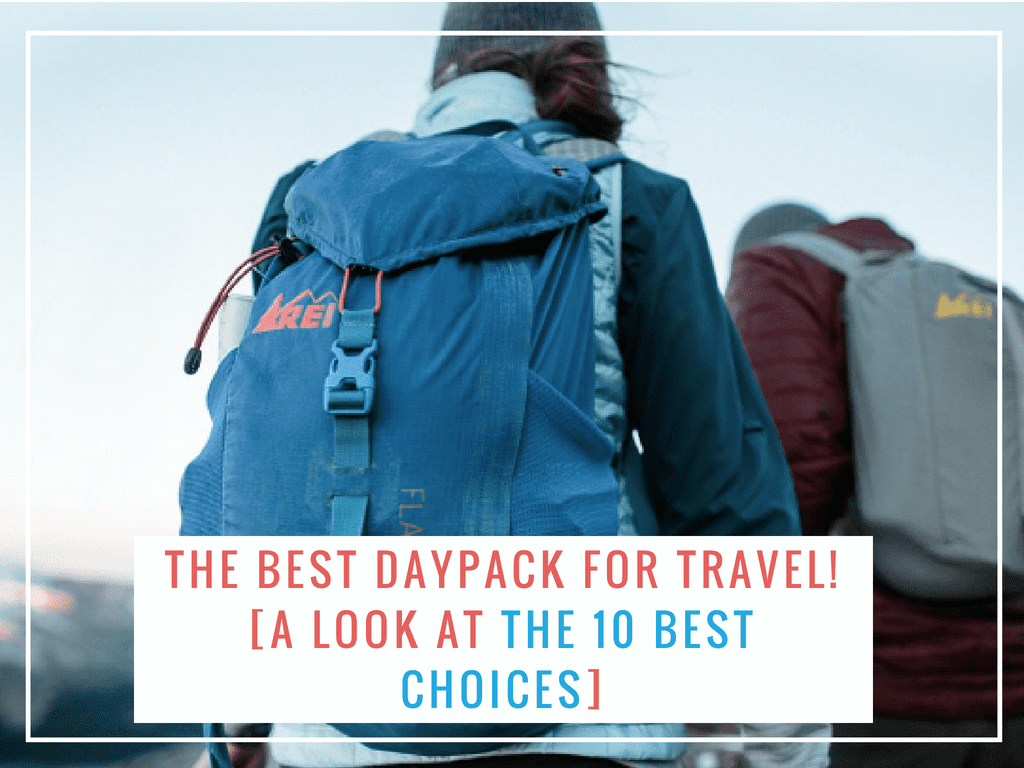 What to Look for in the Best Daypack for Travel
Activity-Specific Features
The things you are going to want in your daypack will vary greatly depending on what your adventure includes. For example, if you will be hiking you probably want lots of good space to store water bottles and something that won't weigh you down. When you know you'll be roughing it often, you should look for a pack made of durable materials that won't wear even if you're pushing through a jungle.
If you'll be in the snow, there are certain daypacks that you can clamp skis, a snowboard, or snowshoes right on to. On the other hand if you'll be documenting your travels or taking breaks at a coffee shop, a secure laptop pouch might be at the top of your priorities. When flying with your daypack you will want to ensure it meets carry on guidelines.
Don't be afraid to go try some daypacks on. Many stores that sell them have employees who can help you find the pack most suited to your needs, but also one that fits you well. They are also there to teach you how to adjust the bag, and let me tell you when they are adjusted right it can make a huge difference in your capability to carry for long hours. Surprisingly, the fit isn't so much about your height but instead your torso length.
Depending on how much you'll need to carry, you will need to pay attention the holding capacity of the daypack. They typically range from 10-50 liters, and a sweet spot for families is usually right around the middle at 25.
Daypacks can open many different ways; from the top, the bottom, the front, the sides. It's really just a personal preference as to what you find the easiest. I would recommend trying out one that opens from the sides because they are easy to open while on someone else's back.
The Best Daypack for Travel: Top 10 Choices
My top choice is the Eagle Creek Wayfinder Backpack Mini. I love the fleece lined tech pocket for stashing my smartphone or travel documents when we are traveling abroad. The exterior zippered pocket with keyfob is essential for all the mamas that want to remember where they put their keys (also comes in handy to store some hair rubberbands too). There are plenty of pockets and flaps to keep everything organized and a super stretchy side pocked to store your water bottle so that you can stay hydrated on the go. Plus, most importantly it is super comfortable and small enough to not be obnoxious while still allowing you plenty of room to store necessities!!
Eagle Creek also has a cross body version that is great if you are traveling where pickpocketing is common. I often prefer a cross body when I travel internationally.
This daypack is comfortable, durable, and very lightweight. It offers a whole 20 liters of cargo storage, but is the perfect size to carry around for a wide variety of occasions. It has two exterior zip pockets making it very easy to organize all you and your kiddos stuff. Check current prices here!
---
This is the pack for the true adventurer. It's built to last and for you to be able to carry all day long, especially while hiking. The whole back panel is made of a breathable mesh. The exterior stretch pockets are perfect for any items you need to easily reach. Plus, it has a built-in hydration pack. Check current prices here!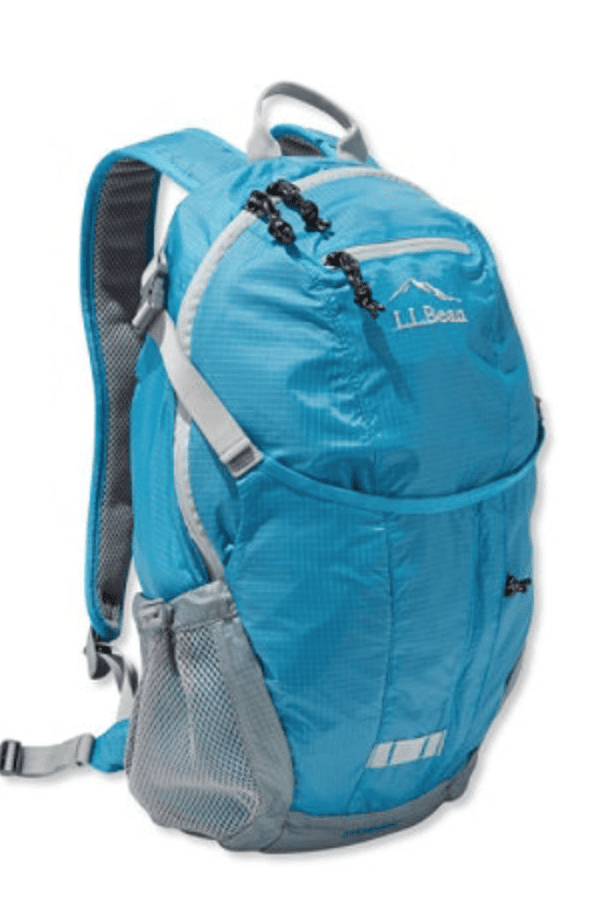 ---
This daypack is a perfect choice for traveling because it folds down really small making it possible to put it into your luggage. When you get to your destination you can unfold it and use it daily. We love how many pockets it has and the breathable mesh material it's made of. Check current prices here!
---
You might be looking for a different way to carry your daypack than the typical 2 back straps, if so check out this Patagonia. It's a sling that goes across your body distributing weight very well. It comes in quite a few colors so you can find your perfect match. Check current prices here!
---
This pack might not hold as much as some of the other popular daypacks, but it's light and easy to stuff everything into making it a great option for families. We love how flexible it is, making it part of our best daypack for travel guide. Sometimes it's just best to keep things simple. Check current prices here!
---
Fjallraven makes some of the most popular, trendy bags on the market. This daypack is just as urban looking, but is actually super functional for any sort of adventure. They're really durable and made of a waxy water resistant material. It has one large compartment, a small zippered front, and water bottle pockets. The last great feature is all the really cool colors this pack comes in. check current prices here!
---
This pack can open from the front or the top making it one of the most convenient to access. It's just the right size for a day trip. It has a great frame for support and a comfy cushioned back. It's also made with keeping you organized in mind with plenty of pockets and loops to give everything you have a spot. Check current prices here!
---
Patagonia is known for their duffle bags, which is exactly what they kept in mind when making this daypack. It's is made from the exact same material which is extremely durable. It has plenty of pockets making it easy to keep things organized. Check current prices here!
---
Some say go big or go home. We know you aren't about that go home, so check out this Osprey Men's Aether 85 Backpack. It comes in 3 sizes, each able to hold enough for a whole camping trip. It is specially made to mold to your body as you wear it making it easier to carry and has more plenty of support. No wonder why it made our list of the best daypack for travel! Check current prices here!
You might also enjoy
The Best Travel Pants for Women [18 of the Best Pairs]
The Best Lightweight Underwear + Other Travel Gear You Didn't Know You Needed!
Best Packing Cubes & Why You NEED Them in Your Life
Pin for later – The Best Daypack for Travel! [A look at the 10 Best Choices]