Recently, we sailed on the Norwegian's newest ship, the Norwegian Bliss. There's no vacation that feels more like an escape from the stresses of the real world than a cruise, and the Norwegian Bliss is pretty much at the top of their game in helping you unwind and have fun. We have been on quite a few cruises and have found that for our family one of the things that make cruising so great is that we don't have to worry about food or drinks. Norwegian Bliss restaurants serve up some of the best food I have ever had at sea and with such a wide variety of options, your taste buds will never be left unsatisfied.
A Look at the 15 Incredible Norwegian Bliss Restaurants + Amazing Treats
Dining Options
You might be curious as to how dining works on the Norwegian Bliss as you may have heard the commercials about their freestyle dining. The traditional experience on a cruise is to dress up and go to a fancy sit down dinner every night, typically at the same table with another group of people the cruise has paired you with. Norwegian has changed that all up to give you complete freedom in what you want your dining experience to be. The sit-down dinners are still an option, but so is going wherever you want whenever you want. The best news for families; no dress code!!
When you dine in one of the "main dining rooms" on board anything you want is included in the cost you paid for the cruise. As for all the specialty restaurants onboard, they either have a la carte pricing or per person fee. You can buy a specialty dining package which will prepay for 3-14 specialty meals in advance. Many times, they have special promotions which include the specialty dining for free, so look out for their "Free at Sea" promotions. Check them all out at current pricing here.
Norwegian Bliss Restaurants- A Look At All the Delicious Places to Dine
Cruise Restaurants – The Classics – Included with Cruise Fare
Garden Cafe
This pretty buffet-style restaurant will probably be a top stop for your families aboard the Norwegian Bliss. They serve breakfast, lunch, dinner, and you will probably be able to find just about anything you are craving on their long list of dishes. You can pick up a number of entrees per usual, or visit their "action stations" where you can get omelets, waffles, or pasta made to your liking.
Their ethnic food options and desserts are always a big hit, and will get your kiddos to hopefully try something new. In my case I absolutely loved their Indian cuisine, it was top-notch. The other thing I loved was their wide selection of desserts that I have never seen onboard another cruise ship. They had an entire section for just peanut brittle and chocolate bark, it was fantastic! Whether you're just a little hungry or starving from a day packed full of adventures, the Garden Cafe is sure to meet exactly your needs. And yes, all this food is included in the price of your cruise and you won't need reservations.
Savor Main Dining Room
Like we stated in the dining options section, the main dining rooms are all food included and Savour is the first one we'll let you know about! They serve traditional cuisine, but everything has a bit of a special flare thanks to their incredible chefs. They serve dinner only from 5:30-Midnight, and you can dress resort casual at all times. Just follow the no jeans or shorts rule after 6 PM.
Taste Main Dining Room
This is one of the main dining rooms on board, so anything eaten here is already included in the cost of your cruise. They have amazing chefs who change the menu daily, so you can try all kinds of new foods. They serve breakfast (7-9), lunch (noon-2), and dinner (5:30 to midnight). You're free to dress resort casual while dining in Taste, just no shorts or jeans after 6 PM. No reservations required here!
The Haven Restaurant
This restaurant is solely for those guests staying in the Haven Suites, so know if you do go that route when booking this will be one of the big perks. The dining room is absolutely gorgeous and follows the rules and setting of the other main dining rooms aboard the ship.
The Local
It might just be me, but I love some pub food, and the Local is a great place to kick back and unwind with some food that warms your belly. Check out the yummy pot pie or prime rib at The Local where all food is included in your cruise price. It's open 24/7 for all your late night cravings and they rotate some great dinner specials through. Their are also arcade games and their mini bowling alley (extra charge) right next to the pub so your kids can have some fun while you finish your meal.
The Manhattan Room
This is the 3rd main dining room onboard Bliss, so as with the other two all the food is included in your cruise cost. Only dinner is served in the Manhattan Room and it goes from 5:30-Midnight. They follow the same rule of no jeans or shorts after 6 pm. When you step in, you'll feel like you've been transported to a restaurant for New York socialites. There's even an elegant dance floor that takes up the middle of the restaurant. No reservations are required for the Manhattan Room either.
Room Service
While room service isn't exactly included in the cost of your cruise, you can order whatever you would like for just a $7.95 service charge. They offer a pretty wide menu and even the option for a full breakfast. Sometimes it can just be fun to be treated like royalty and have food brought right to your door. It's also open 24/7. Note: If you are sailing in a suite or The Haven this $7.95 charge will not be applied to your orders.
Specialty Dining
O.k., now let's get to some of my favorite places. All restaurants listed below serve items that will be at an extra charge, however like I said before, look for the FREE at SEA cruise promotion to get some or all of these meals included. Also, children under 3, always eat free and children 4-12 who can eat free off of the Kid's Menu offered at all restaurants. Children 4-12 can eat off a Speciality Kid's Menu also offered at each restaurant for a discounted fare, as well.
Cagney's Steakhouse
We have had Cagney's Steakhouse several times on Norwegian, on the Escape, Getaway, and now the Bliss. This restaurant is simply amazing. Jumbo crab cakes, mouth-watering steaks, crafted cocktails, and truffle fries make up some of the finest food on board. It is set at the back of the ship, so you might find yourself with an incredible view of the ocean.
Food Republic
I wish I could say I dined at Food Republic, but our we simply did not have enough time on our cruise. The Food Republic is the place to go if you're looking to taste flavors from all over the world, and if there is one thing I love, it's international cuisine. They also always have delicious sushi on the menu. Plus, a fusion of foods and cultures from around the globe, including Peru, China, Japan & More
Margaritaville
Margaritaville is a mindset, not just a place, and it's exactly the mindset you will want to have while cruising. Having Jimmy Buffet's Margaritaville onboard is a real treat. Make sure to stop in for their famous cheeseburgers and margaritas, however, I think the real hit is their giant plate of Nachos, absolutely incredible.
La Cucina
If you are in the mood for a little Italian, fuel up the night before an adventure at port with some yummy pasta dishes at La Cocina. They've got all the traditional dishes as well as some incredible stuff with a twist, like lobster fettuccine. It's a nice dining room setting where you have the option of sitting inside or outside.
Le Bistro
While I didn't get to try out Le Bistro on this Norwegian Ship, I did get to try it out on the Epic. My daughter absolutely loved Le Bistro, but this is also a perfect setting for a date night, with floor to ceiling windows and plush velvet chairs. The cuisine is French inspired and as with pretty much everything on the ship… absolutely delicious.
Los Lobos
Los Lobos is Norwegian's first Mexican Restaurant at sea, and they didn't miss the mark. Chips, salsa, and all the traditional flavors of Mexico can be found at Los Lobos. They have handcrafted margaritas which are always delicious and are known for their carne asada marinated in guajillo chiles and tequila. This really is a great place to dine if you are craving some Mexican Cuisine.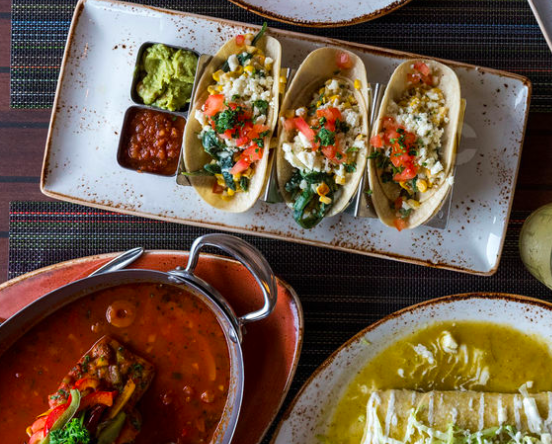 Ocean Blue
Ocean Blue is another restaurant located on Norwegian's one of a kind waterfront. Thus you have the option of sitting inside or outside to enjoy your meal. As the name suggests, Ocean Blue offers incredibly delicious fresh fish dishes that are served to perfection.
Q Texas Smokehouse
If you find yourself hearing some live country music, then you are most likely near Q. Every night a live country band plays some toe-tapping music at the first of its kind BBQ restaurant at sea. This is one of the reasons I love Norwegian cruises so much, are places like this where you simply can't believe you are on a cruise ship. You feel like you are somewhere like Nashville, in fact, Norwegian actually did an "American Idol" style tour through Nashville to find the band that plays onboard the ship. Pretty Incredible!
Teppanyaki
One thing I can say about Norwegian Cruise is their Teppanyaki show is the best out of any place I have ever been. My kids insist we book a table at Teppanyaki because it is absolutely their favorite place to eat. The chefs are incredibly talented and are also hilarious. You have to check out the Teppanyaki restaurant onboard because not only is it fun, but it is so delicious. It's a set price of $29.95 per person, but oh so worth it and it is included if you have an upgraded dining package.
The Specialty Sweet Treats & Coffee Spots!
Starbucks
That's right you won't have to leave behind your Starbucks craving to sail on the Norwegian Bliss. This is the first ship with a Full size Starbucks right on board. So, you can enjoy the full menu that Starbucks has to offer. It's also probably one of the prettiest Starbucks locations you will ever visit with stunning ocean views. They serve their usual coffees, teas, and baked goods but on top of those items, you could also sip on a glass of wine.
The Bake Shop
You will be able to find just about any dessert or pastry you could want at The Bake Shop. Definitely check out their cupcakes and macaroons. After all, you are on vacation so indulge yourself a little!
Coco's
The one thing you will find out about the Norwegian Bliss, is they have some of the best chocolate you will ever find. That is because all their chocolate is made right on board using their $500,000 chocolate machine. You can find that machine at Coco's one of the more visually stunning sweet shops I have ever seen. You can find a wide array of chocolate treats but the real treat is their incredible milkshakes, topped with all sorts of delicious chocolate and candy. It both looks and tastes incredible.
Dolce Gelato
Gelato is pretty much the key to any leisurely vacation in my opinion and Dolce Gelato knows just how to churn it. There's no doubt it'll be on of your kid's favorite spots and maybe secretly yours as well.
You might also enjoy
12 Incredible Things You Did NOT KNOW About the Norwegian Bliss + Photos
5 Things Families will Love about the Norwegian Getaway
The Ultimate Guide to the Best Cruise Lines Sailing Today!
Pin for later – A Look at the 18 Incredible Norwegian Bliss Restaurants!