Falmouth Jamaica excursions are a blast! When choosing the right cruise for your family I highly recommend you take into consideration both the ship itself and its itinerary. Specifically, check to make sure there are a variety of activities onboard, check out the pools and waterslides on the ship, and how the dining works. Once you decide on which ships you like start investigating the itineraries. You will want to look for cruise ports that are family-friendly, offer a variety of excursion options, and one that is full of happy locals. Falmouth Jamaica fits that bill just perfectly.
3 Reasons Falmouth Jamaica Excursions Rock!
Falmouth Jamaica is a Family-Friendly Port
It was love at first sight as we departed our ship and entered the Falmouth Jamaica port. First of all, there was no tendering required so we simply walked off the ship onto the dock. The port itself was clean and offered a variety of shops, restaurants, and had clean restrooms. The transportation around the island was organized and simple to understand. All of which makes Falmouth Jamaica a wonderful port for families. While you could quite literally just walk off the ship, hang out with the kids in the port, and then get right back on the boat I highly recommend you check out one of the Falmouth Jamaica excursions instead.
While we did go out and explore, and I implore you to do the same, there have been ports where we chose to stay onboard the ship to save some cash and so that the kids could explore the ship and hang out at the pool without the crowds. That is why you want to book a cruise ship that offers plenty for kids and parents to do together. Two Norwegian Cruise Ships we think are perfect for families are the Getaway and the Epic. You can read about our past cruises on those ships
here
and
here
.
There are many Falmouth Jamaica Excursions to Choose From
One of the things we love most about cruising is the ability to check out multiple destinations easily with kids. I mean what is more simple than waking up each day in a new place? Especially without all the hassle of packing up and traveling in between stops! Cruise Excursions are one of our favorite ways to explore the cruise ports and Falmouth Jamaica has some incredible shore excursions for families. Check out these photos of our recent excursion. We zip lined, went off-roading in ATVs, river rafting and more!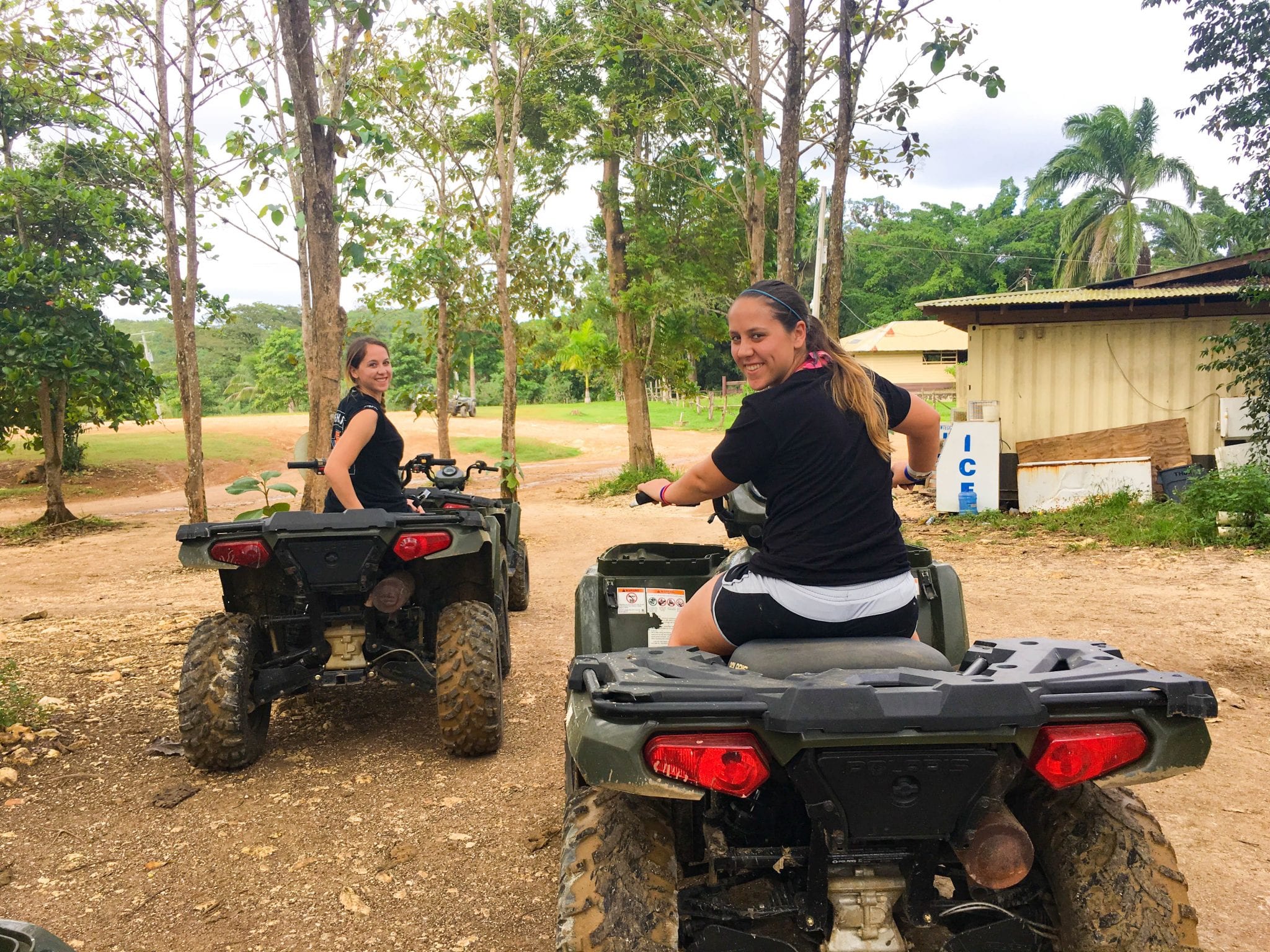 Check out our Falmouth Jamaica Excursion below-
The People of Falmouth Jamaica are Amazing!!
What I might love most about Falmouth Jamaica though are it's wonderful, warm, kind-hearted, and undeniably happy personalities. Every person we met went out of their way to help us, make the kids laugh, and ensure we were enjoying their beautiful island. We also learned that Jamaicans love to sing and know how to have a good time. One of my favorite memories was singing along with our tour guide on our way back to the ship after one of the best days ever.
Listen along below-
If you are looking to book a cruise you should definitely consider one that ports in Falmouth Jamaica. I can guarantee it will be a trip that your family will not soon forget. Norwegian Cruise Line offers some wonderful Western Caribbean itineraries that include stopping in Falmouth Jamaica.
You can check those out right here
.
What factors do you consider when choosing the right cruise ship for your family? Let me know in the comments below.
Pin it for Later-
*Disclaimer- this is a sponsored post in partnership with Norwegian Cruise Line, however, all thoughts and opinions, as always, are 100% my own.