Every time we find ourselves in Tempe, I am in awe of how much there is to do. All these activities paired with sunny blue skies, delicious food, and a laid back culture make this city a wonderful place for families to visit. While we have done our fair share of lounging by the pool, shopping, and attending sporting events in Tempe on our most recent trip we ventured into something a bit different. Ella and I were able to explore the culture and arts that Tempe has to offer, and let me tell you it was loads of fun! Not only did we get to adventure outdoors to experience all Arizona's beauty, but we even got a little taste of Broadway by seeing Wicked at ASU Gammage. It really was a trip that gave us the best of both worlds and has us anxiously awaiting our next trip to the Grand Canyon State.
Explore Culture and the Arts in Tempe Arizona
Tempe Center for the Arts
We began our trip at the Tempe Center for the Arts. We knew this place was going to be cool from the moment we walked up to it as the building itself is really something to look at and it sits right on Tempe Town Lake. It is a publicly owned performing and visual arts center. They have multiple theatres and an art gallery. The Tempe Center of the Arts opens their arms to all visitors and truly has something that everyone will enjoy with their multitude of present art forms. Schedule a tour or take a look at the calendar here.
Gallery at TCA (Tempe Center for the Arts)
The Gallery at TCA is where you will find their art exhibits. The exhibit they had during our visit was called ReTrO REACTION (pictured above), and we thoroughly enjoyed it. It was all about how Arizona artists find their inspiration. I must say, both of us did leave feeling pretty inspired ourselves. This space is so welcoming and the staff makes sure that you are engaged as a guest. On top of that, they are extremely kid friendly. Admission is always free! How cool is that?
Burst of Butterflies Art Studio
After getting our artistic juices flowing at Tempe Center for the Arts, it was time to get our own hands dirty at Burst of Butterflies.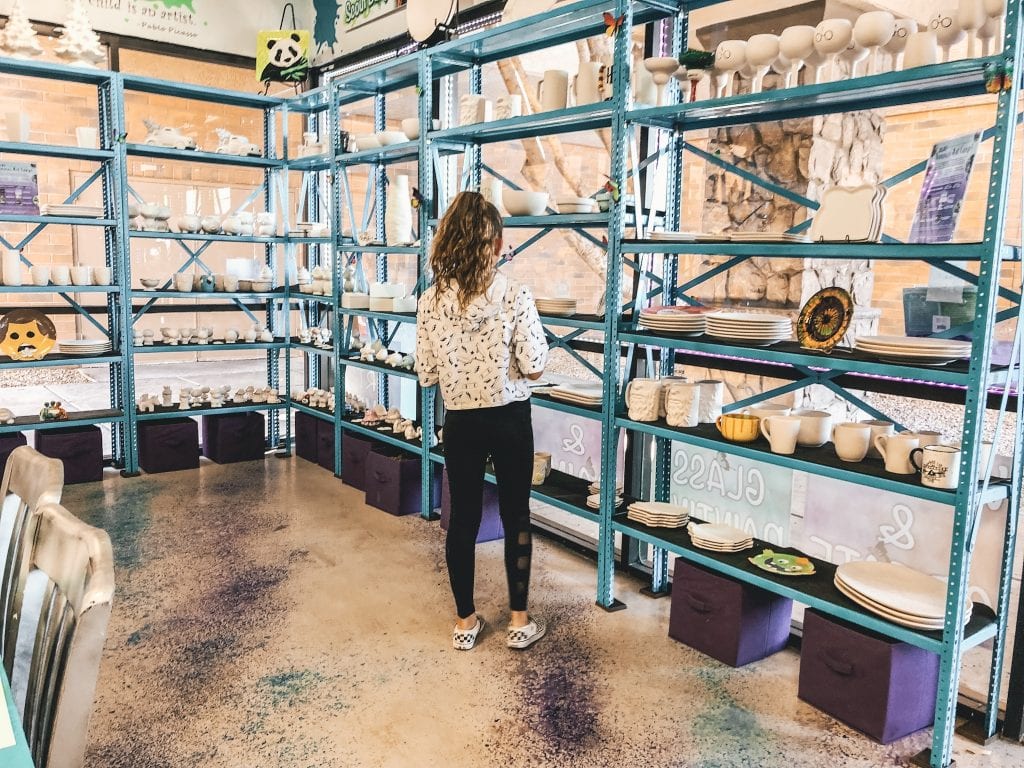 You can stop in any time to do a canvas painting, pottery painting, or a variety of other things like glass fusing. The staff here are very helpful and will give you tips on how to create a masterpiece, so even if you are far from an artist yourself you can walk away with a very cool piece. Check out their current weekly specials here!
Yoga to the People
We can't say no to yoga, especially when it's practiced in a space as cool as Yoga to the People in Tempe.
We attended their mid-morning Power Vinyasa Flow Class and it was the perfect way to kick off our second day. They offer 3-6 classes daily, so you can experience this no matter what your schedule looks like. Learn more at their website.
Desert Botanical Garden
The more you pay attention, the pretty the desert seems to get.
The Desert Botanical Garden is a great place to walk around and see all the plant life Arizona supports… all 50,000 of them.
They really do an incredible job with their exhibits. You can explore on your own, book a tour, or attend one of their many events. Ella and I happened to visit during their Butterfly exhibit which was perfect because Ella is obsessed with butterflies.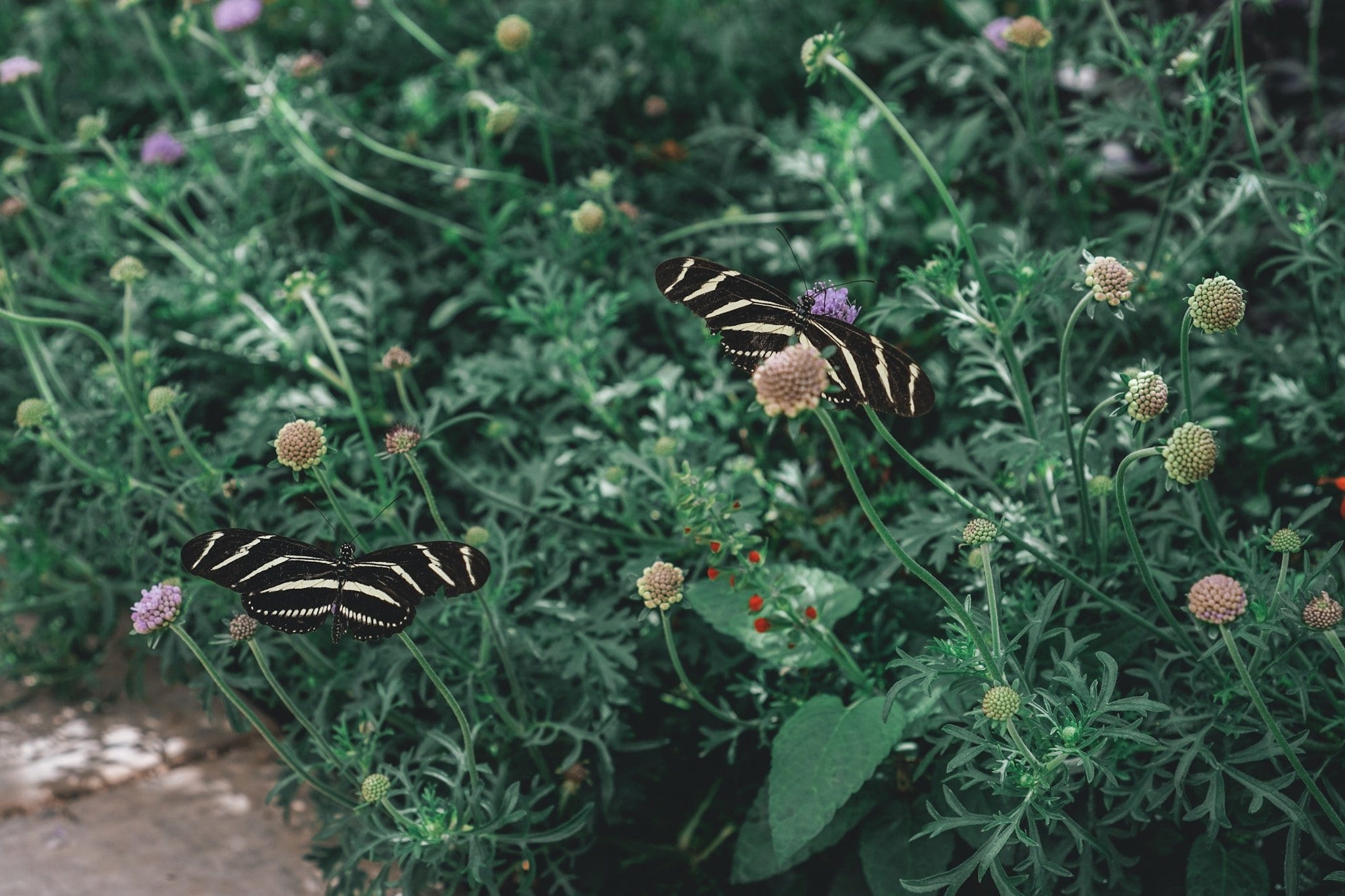 For current exhibits and events see here.
6th Street Market
6th Street Market is a great place to experience a bit of Tempe's local flavor. There are plenty of vendors, food trucks, and live music to enjoy. This season they have even added a farmer's market making it easy for you to chow down on even more deliciousness while you are there too. Check out the local jewelry artisans because they make some pretty amazing pieces and it's a wonderful way to commemorate your visit! 6th Street Market is open every Sunday from 10 am-3 pm.
ASU Tempe Campus
This addition might throw you off just a little bit, but trust me the ASU campus is a really cool way to experience the true heart of Tempe. The campus is so big and welcoming to guests of all ages, and there is always something going on.
You will see everything from art exhibits to students standing up for their rights to live music in front of their union. Ella and I set off on a mission to find the Secret Garden located right in the middle of campus, and while we aren't so sure it's a secret to students anymore these days it was still super fun to find. Not to mention, it's one of the prettiest and serene spots in the city.
While you're on campus be sure to take a stroll down Palm Walk, it is one of the most iconic parts of the campus and you really get to feel the hustle of university life. Oh, and did I mentioned the university also has its own art museum? Be sure to check that out as well!
Tempe Town Lake
Offering both on land and in the water fun, Tempe Town Lake is a must stop spot when visiting this city. You can take a walk along the water or rent a bike through the Grid Bike Share program. If getting on the lake is more your speed, there are paddleboards and pedal boats available to rent at Boat Rentals of America. Ella and I were loving the NEW swan pedal boats. We didn't have time to try this during this visit but our good friend Claudia from The Travelling Mom did. Check out her Instagram post below, aren't the swan boats the cutest?
View this post on Instagram
ASU Gammage
We got to see WICKED at ASU Gammage and we are both still so excited over it. ASU Gammage is a 3,000 seat hall designed by Frank Llyod Wright that sits right on the university campus. It was so much fun to be able to see a Broadway musical while in Tempe!
South Mountain Park and Preserve
You can't truly experience Tempe without at least a little hike. We got to go to the South Mountain Park and Preserve which is full of scenic desert trails. We just hiked, but you can also go mountain biking and horseback riding within the park. Dobbins Lookout is one of the highest points in the park and very popular for its unobstructed views of the Valley.
These views are definitely worth the hike! The closest trail that you will find to Tempe is the Pima Canyon Trailhead.
F.A.B.R.I.C.
Just to start, I have never been more impressed with an incubator space! F.A.B.R.I.C. is an amazing place doing some pretty cool things in the world of business and fashion design.
I love that they open their workspace up for tours and show people what a cool thing it is that they are doing.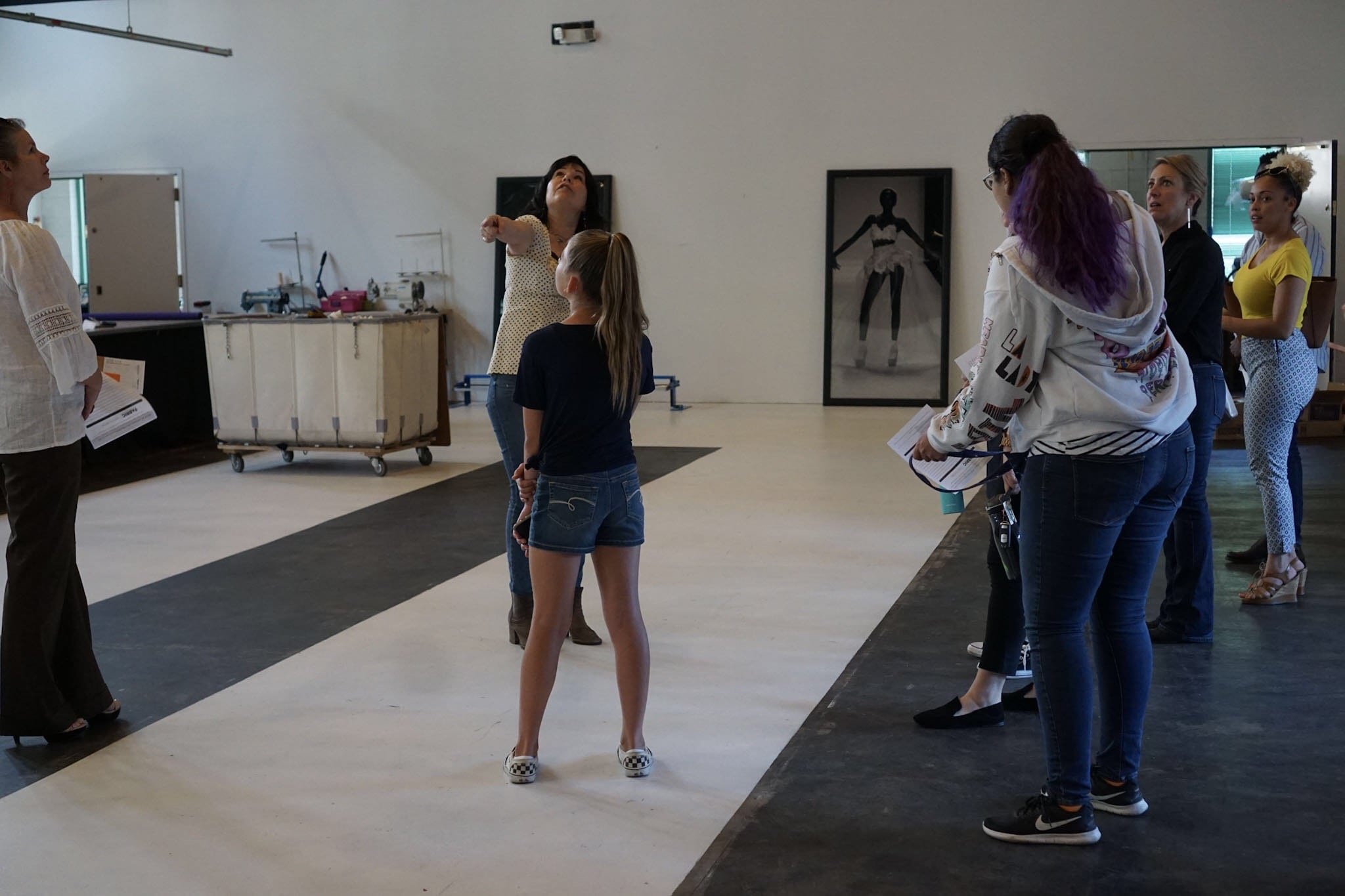 They help fashion brands not only startup but also go into manufacturing all under the same roof. It is a haven for emerging designers.
Tempe Festival of the Arts
If the Tempe Festival of Arts is not a testimony to how deeply this city appreciates its art and culture, then I do not know what is. Twice a year, once in the spring and once in the fall, the city hosts this beautiful event right downtown. It goes on over a three day weekend and there are over 375 artisans of all sorts. It is great if you're looking to buy, but equally fun even if you just go to take a look around. The city brings in live music, street performers, and has tons of interactive programming for kids. Learn more about the festival here.
Don't Forget to Check Out Tempe's Public Art 
Something unique about Tempe is their love for the arts. As you stroll or drive around the city you will no doubt run into their diverse collection of permanent and temporary public art. On our recent trip, we took a public art walking tour and it was fascinating to learn how artists (both local and internationally) bid to get their chance to design a public piece of art.
Even Ella got caught up in the beauty and history that encompass the Tempe public art scene. Some of her favorites included the Charles Trumbull Hayden Memorial (above) and the Above the Crowd piece below. I loved that the kids could interact with some of the pieces like Above the Crowd. Ella and her friends from Walking On Travels had a blast climbing all over the structure while eating their paletas (see more about those below).
Above the Crowd is a tribute to former Mayor Harry E. Mitchell. The concrete and tile base below the statue act as a timeline that represents the former Mayor's 24 years of public service.
The tiles contain representations of fragments of historic news articles, budgets and blueprints occurring during Mitchell's time of service to the city.
You can find more information on Tempe's Public Art here and a map of the different works of public art around the city here.
Good Eats to Fuel Your Arts & Culture Adventures
Scramble– (pictured above) Tempe loves their breakfasts and this new spot definitely is one you won't want to miss with their delicious Brizzas (breakfast pizzas), fluffy pancakes and refreshing smoothies.
Yupha's Thai Kitchen –It is never a bad time for Thai food in my book, and Yupha's is seriously delicious.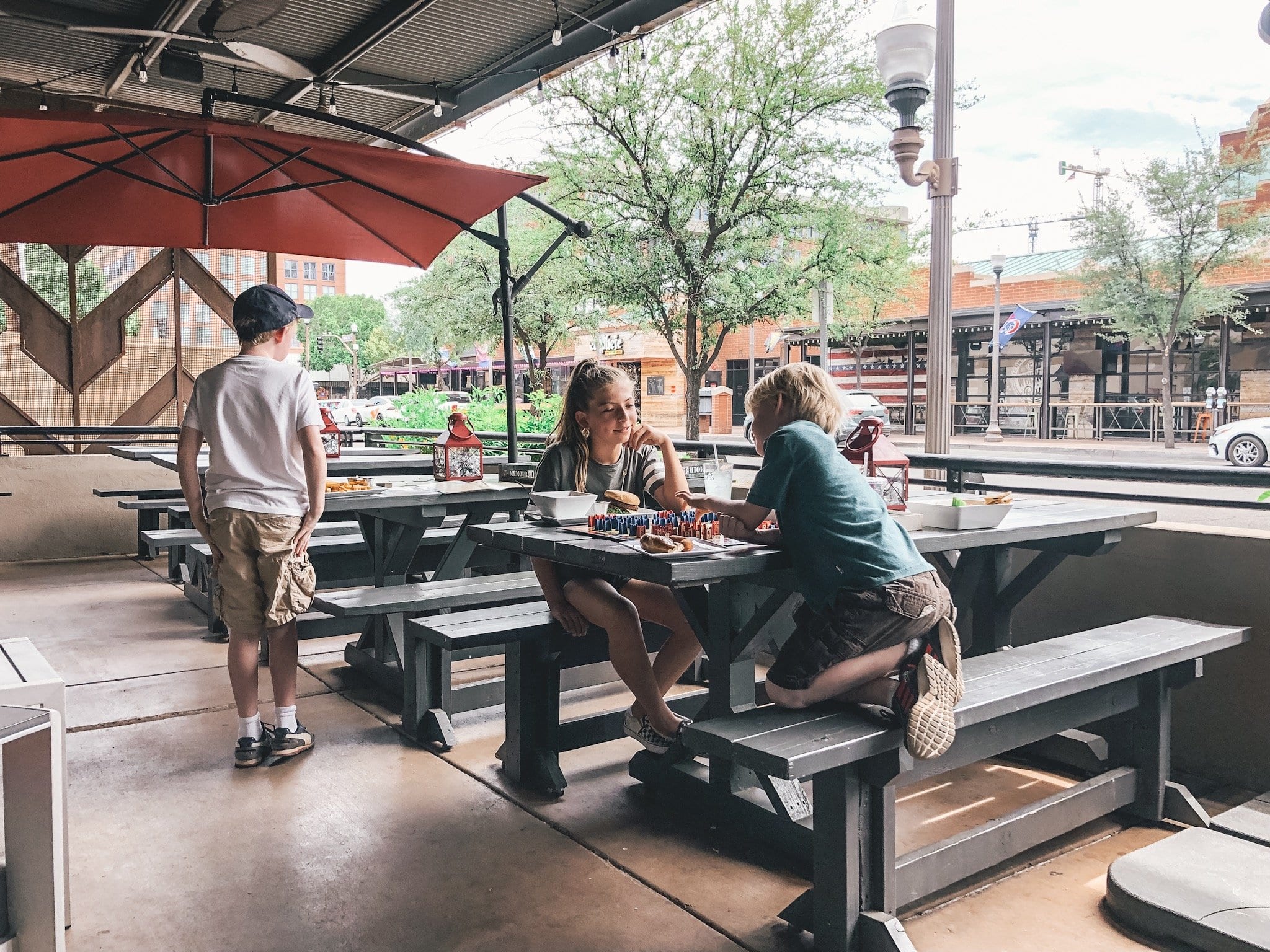 Snakes & Lattes– (pictured above) Food, drinks, and gaming… this would be my boys' heaven. But, I actually really enjoyed it as well! I love trying unique places when I am visiting a new town.
The Original Chopshop Co.– Chopshop is a go-to spot in Tempe for locals, and once you visit yourself it will become your go-to too. We stopped in after our yoga class and I had a delicious healthy burrito.
Tempe Public Market Cafe-

(pictured above) This cafe is brand new and absolutely delicious. They have a large menu with plenty of options for kiddos. Make sure to check out their happy hour too!
The Dhaba

– Tempe has some really great Indian restaurants, and the Dhaba is one definitely worth checking out.
Kung Fu Tea– (pictured above) This little boba shop is the perfect spot to grab a sweet treat. We highly recommend the paletas. They're delicious!
Have you visited Tempe lately?
*Tip- make sure to check out Tempe Tourism for awesome ideas on things to do, places to eat, and current events.
Looking for more great Tempe Articles? Check out the following.
*This post is in partnership with Tempe Tourism, however, as always all thoughts and opinions are 100% my own.