Visiting Tempe with kids is a blast, especially if you know about all the incredible hidden gems to uncover while you are there. Lucky for you, Ella and I just returned and we are spilling the beans on all of our favorite things to do in our Ultimate Guide for things to do in Tempe with Kids to make your trip planning a breeze.
The ULTIMATE Guide to Tempe with Kids
*This is a sponsored post in partnership with Tempe Tourism. Thank you for supporting GM.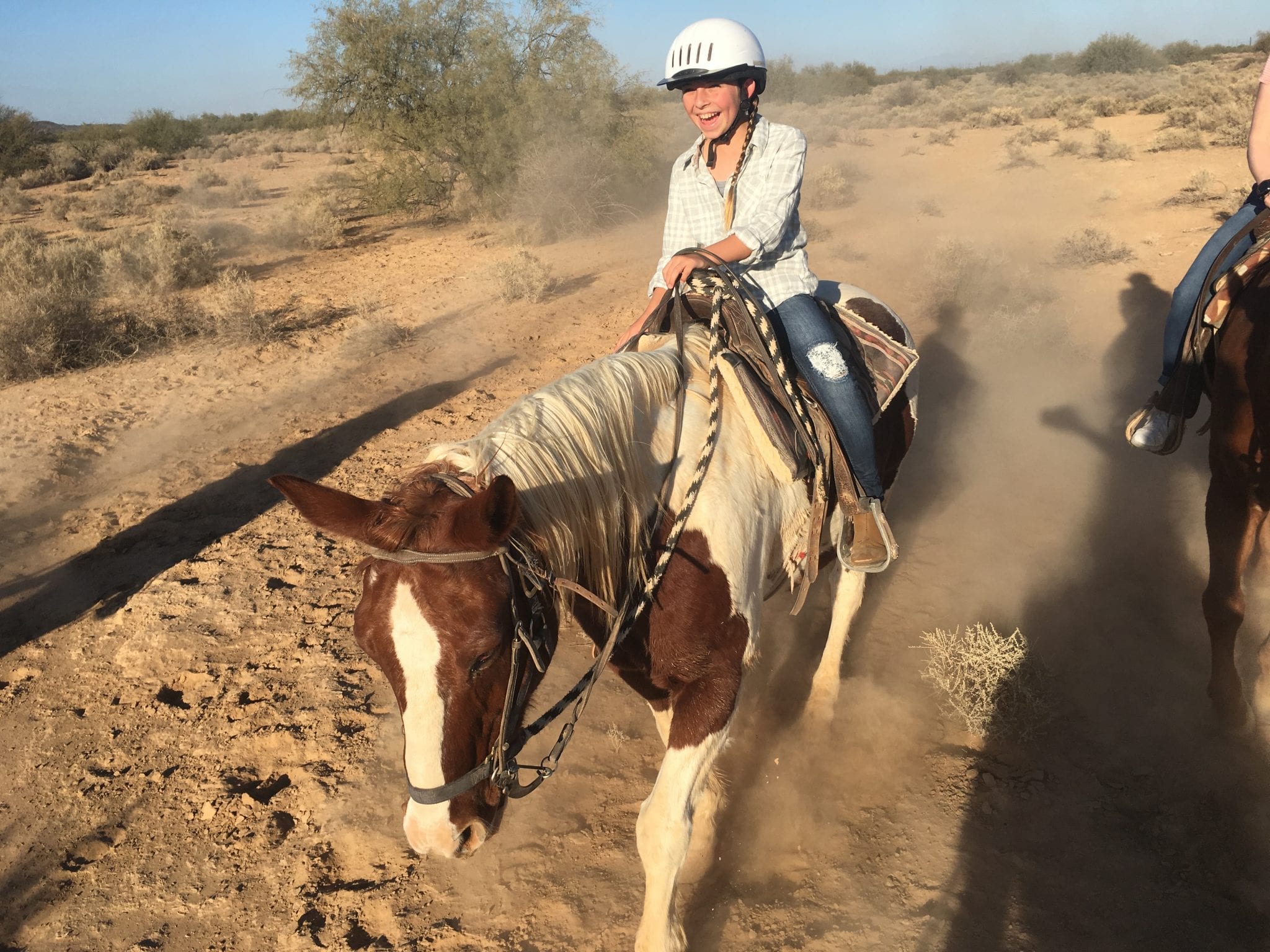 There are plenty of reasons to visit Arizona with your kids. First off they get 330 days of sunshine a year, they have over 175 miles of bike trails, tons of amazing family-friendly attractions, and amazing kid-friendly eateries including a restaurant with a slide inside of it!! See Ella's favorite things to do in Tempe below-
Getting There
Just 4 miles from Phoenix Sky Harbor International Airport, Tempe is a super convenient destination. Pair that with the fact that they also have lower domestic itinerary fares than most U.S. International Airports and you've got yourself a perfect budget-friendly vacation spot for the family. Once you arrive at the airport it is also very convenient to make your way to your hotel using the PHX Skytrain from your terminal to the Valley Metro Rail which can transport you straight to Tempe. Many hotels also offer complimentary shuttle service from the airport to your hotel as well.
If you are not flying in you can easily make your way here in a car. There are many different freeway systems connected to Tempe including Interstate 10, U.S. 60, Loop 101 & Loop 202. Find a list of sample drive times on the Tempe Tourism website here.
Transportation
While you are in Tempe transportation around town is super easy. You can get around by walking, hopping on a shared bike through Grid Bike, taking the Valley Metro Rail, or utilizing the Tempe public bus system. Of course, you can also catch an Uber or rent a car, like we did, as well. *Random Fact- we saw several self-driving Uber cars being tested while we were in Tempe which we thought was super cool! A few locals told us if you are lucky and happen to get one your ride is FREE!
Things To Do in Tempe with Kids
Head on a Trail Ride at KOLI Equestrian Center- Kids ages 6+ will love hopping on a horse and hitting the trails at KOLI Equestrian Center. On our trail ride, we came across jackrabbits, a coyote, and WILD HORSES!!! You can bet it was a dream come true for Ella and me. I also loved our knowledgeable guide who taught us about the history of the native tribes who inhabited the land we were riding through.
Visit the Phoenix Zoo- Families will love checking out all the amazing animals at the Phoenix Zoo from the beautiful Asian elephants, to the stunning Sumatran tiger, of course petting the adorable goats is pretty fun too. I recommend upgrading your admission and checking out some of the unique animal experiences including feeding the giraffe, petting the stingrays, and taking a ride on a camel. If you have dinosaur lovers you should definitely check out the Phoenix Zoo's dinosaur exhibit 2 Travel Dad's raved about it over here and it looked super fun!!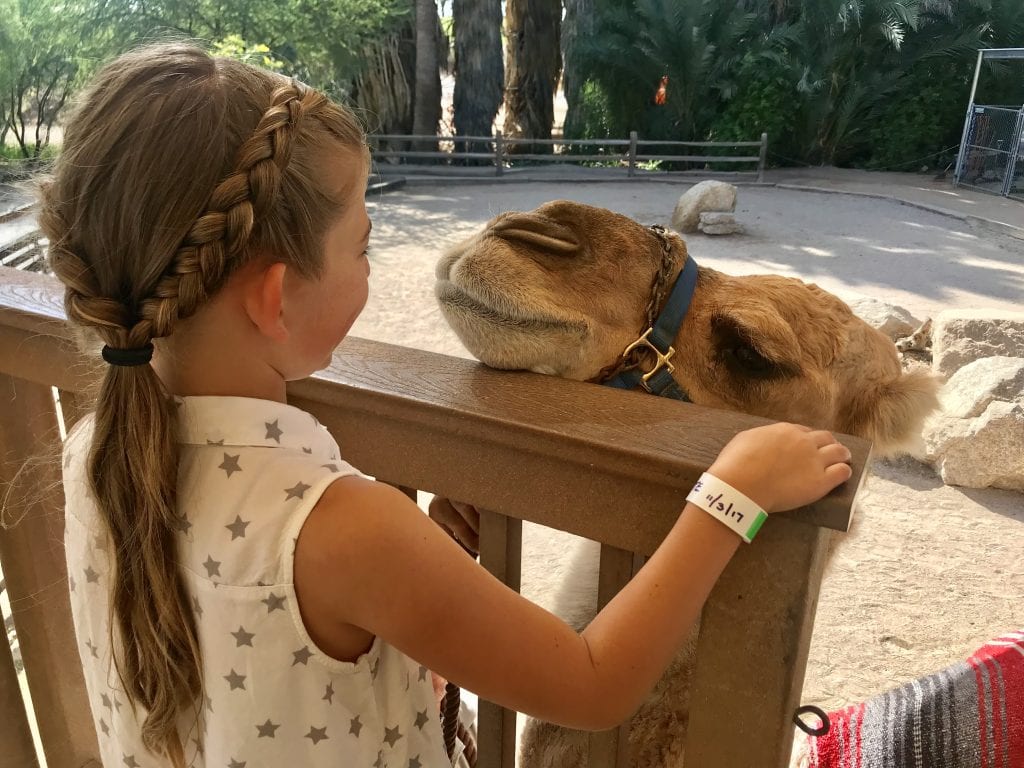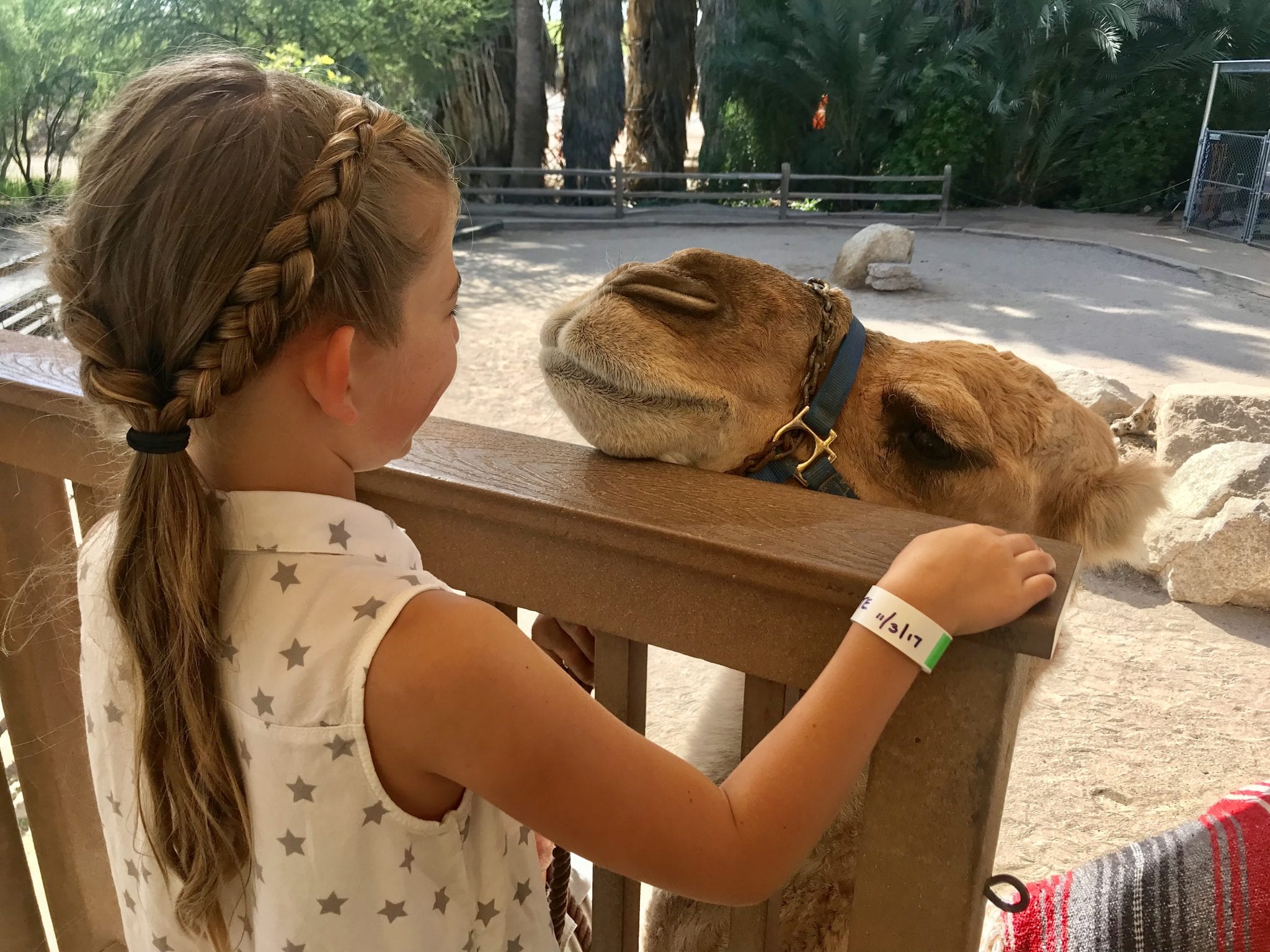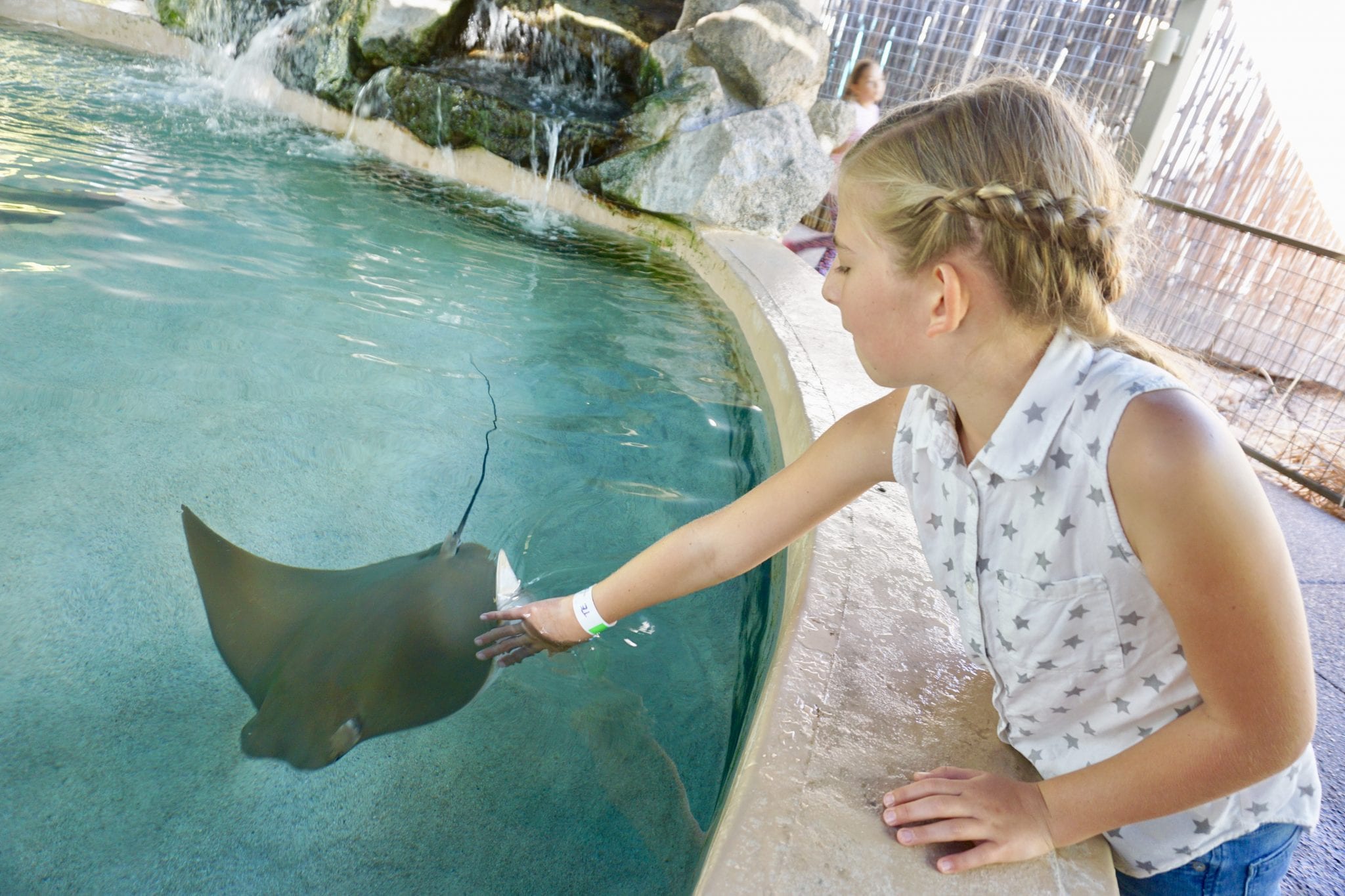 Take a Baking Lesson at Tracy Dempsey Originals (for older kids)- older kids and teens that love to bake will have a blast at one of the baking classes taught by Tracy Dempsey Originals. Of course, everyone will love stopping by and picking up some of Tracy's delicious creations too. *Pro Tip- make sure to try Tracy's famous Bacon Pecan Brittle, it's out of this world AMAZING!!!
Watch a play from Childsplay AZ- You can also add in an educational aspect and check out Childsplay AZ. Ella and I saw a wonderful play called "Tomas and the Library Lady" while we were there. The play brings to life the inspiring true story of Tomás the son of migrant workers who meets a librarian who changed Tomás' life forever by introducing him to the world of books.
Kayak or Boat in Tempe Town Lake- Did you know Tempe has its own lake? It's actually a reservoir that takes up part of the dry riverbed of the Salt River but regardless its a ton of fun for families. Rent a kayak, peddle boat or SUP from Tempe Boat Rentals. Ella and I had a blast on the peddle boat and I was happily surprised by how easy it was to maneuver one with a child.
Hike "A" Mountain- the popular "A" mountain, actually, Hayden or Tempe Butte is a great spot to hike. There are several paths up the mountain and once on top, you can check out the entire town. Kids also love getting to see the 60-foot letter "A" placed on top by Arizona State University. Every time we passed the mountain driving around Tempe, Ella would remind me that she climbed to the top of that mountain.
On our quick trip, we didn't cover all the amazing things to do in Tempe with kids. Here are a few more activities that we are hoping to cross off our list on our next trip.
Hop on a bike, there are over 175 miles of trails
Play Laser Tag at Stratum
Take the kids to the Hall of Flame Fire Museum
Visit Legoland Discover Center & SeaLife Aquarium-
Rent a Surrey Bike at Tempe Town Lake
Visit the Halle Heart Children's Museum
Go Bowling at Main Event Tempe
Go hiking at Papago Park
Visit the Desert Botanical Garden
Catch a Professional Sporting Game- Cardinals Football, Coyotes Hockey, Diamondbacks Baseball (*Read our AZ Spring Training post here)
Going Out to Eat in Tempe with Kids
There is no shortage of kid-friendly restaurants in Tempe. In fact, Tempe is FULL of tons of delicious places to eat with your kids. Here are a few Ella and I have enjoyed while we were in town. *You can also check out our Mill Ave. Restaurant Favs here or our Top 10 Tempe Marketplace Restaurants here.
Snooze AM Eatery- Okay, full disclosure, I am a HUGE fan of breakfast. I could literally eat pancakes for every meal, although my waistline would definitely increase- ha! That said Snooze AM has the BEST pancakes in town! Their Upside Down Pineapple Pancake with Cinnamon Butter is EPIC!! Of course, you also can't go wrong with their choose your own flavor Pancake Flight or their massive Breakfast Burrito. Ella wants me to tell you that the hashbrowns are AMAZING too!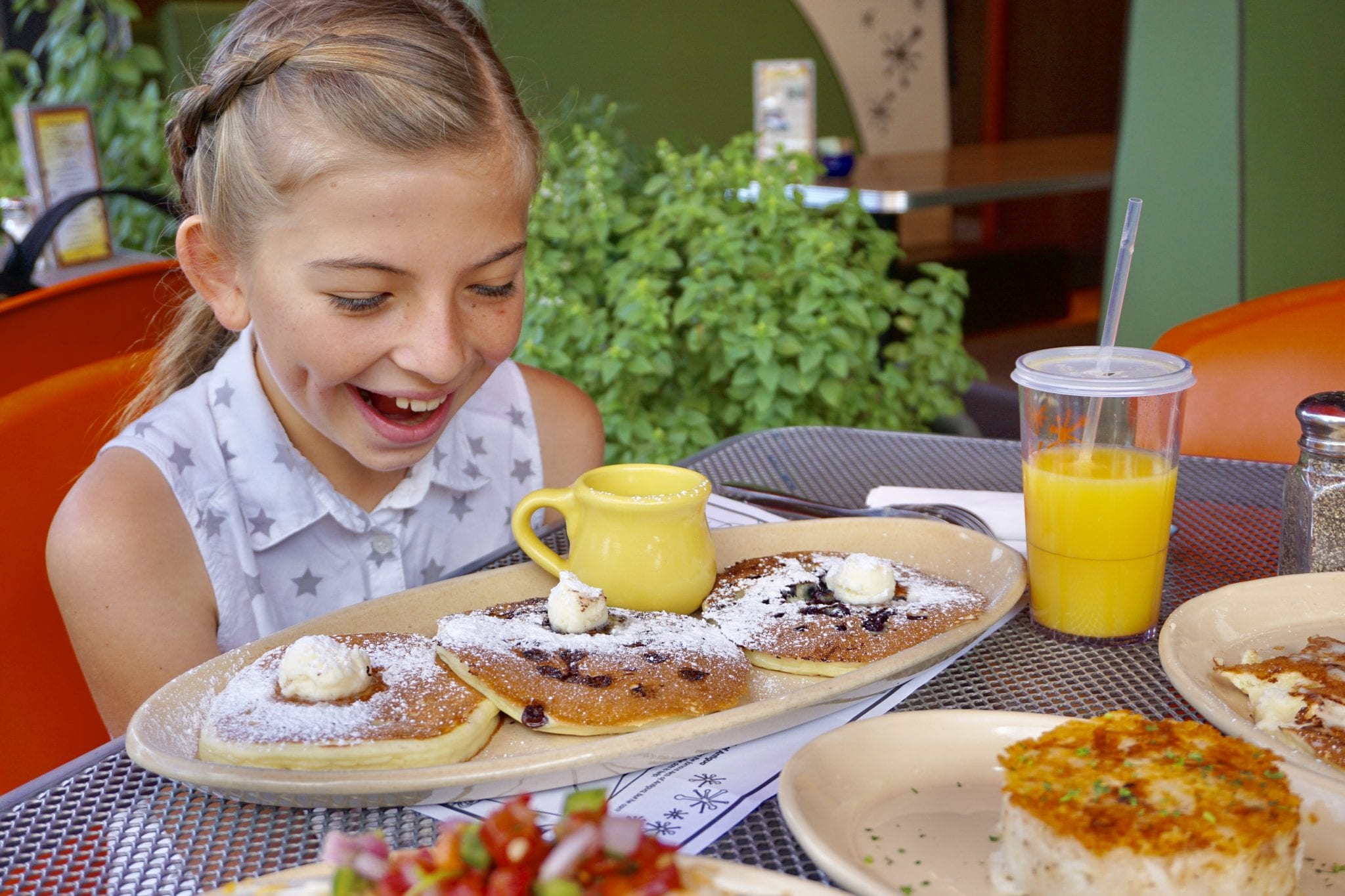 Matt's Big Breakfast- If you are like me you can never get too much delicious food at breakfast. Luckily, Matt's Big Breakfast serves up all the morning bests in large portions that will fill you up. Plus, they use quality ingredients like cage-free eggs from humanely-raised chickens, grain-fed natural Iowa pork, and local organic produce when possible.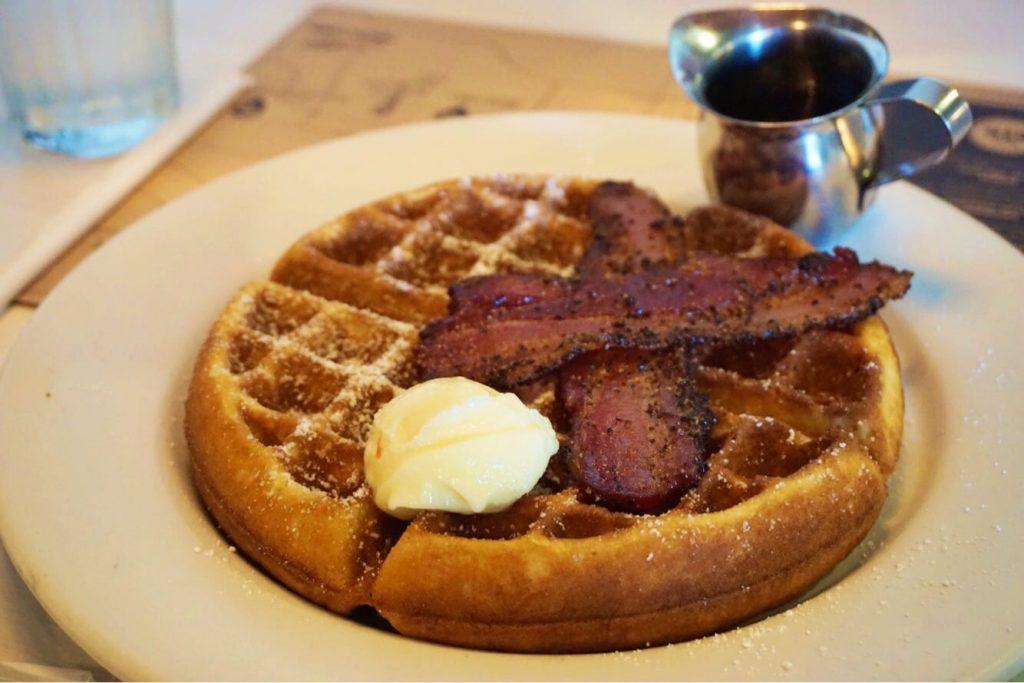 Culinary Dropout at The Yard Tempe- This massive eatery has, in my opinion, some of the best dishes in all of Tempe. *BONUS- they also have a kids menu, offer happy hour Monday-Friday 2-5 pm, and have fun games! Try their Sherry Glazed Beets with Goat Cheese as a starter (see below), then dig into BBQ Pork Belly Nachos or a Seared Tuna Salad. Oh, and don't forget to try their Soft Pretzels with Provolone Fondue… that was wicked good! Of course, if you ask Ella she will tell you their kid's menu butter noodles are to die for- ha!
NCounter- Looking to grab something quick and healthy? NCounter is your go-to spot! Here you can find breakfast, lunch, and brunch served all day long. That includes their delicious brunch cocktails by the way. Check out their Urban Salad (the grilled veggies are ridiculously delicious) or if you need something a little more hearty I hear the Natie Bomb is an incredible sandwich. Ella recommends the chicken noodle soup with a side salad. But, they also have kid food like grilled cheese available too.
Cafe Lalibela Ethiopian- Okay this may not be on everyone's agenda but if you haven't tried Ethiopian food with your kids I think you should definitely check it out. I mean a restaurant where you get to eat with your hands, that is every kid's dream come true. Try the Doro Wat or Shiro for an easy first timer dish.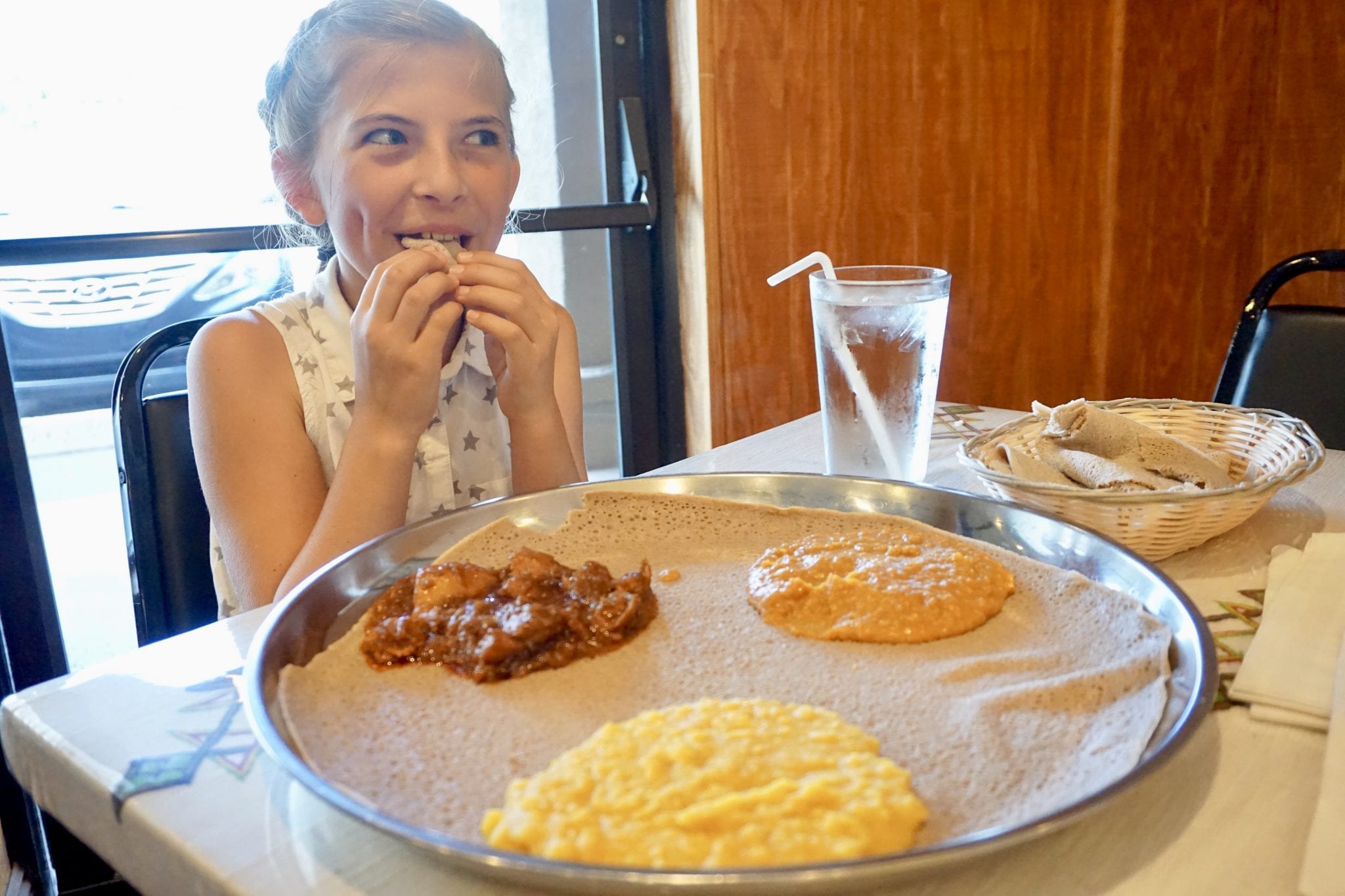 Rustler's Rooste- This is a must do while visiting Tempe with kids even though it technically is in Phoenix right next door. Rustler's Rooste has a slide INSIDE the restaurant that kids, and grown-ups, can slide down upon entering, a real-life bull outside to greet you, and the kids are given giant cans of cotton candy for dessert!! Families will also get a kick out of ordering the rattlesnake appetizer, yes, you can actually eat rattlesnake for real! And, as Ella stated in the video above Rustler's Rooste cactus fries were her favorite!
Pedal Haus Brewery- Another awesome brewery to visit is Pedal Haus. I just love the ambiance here and the kids love the grass area with games like corn hole. *Pro Tip- dine on the patio and order one of the house craft brews.
Sparky's Old Town Creamery- Ella couldn't stop talking about the delicious creamy creation she put together at Sparky's. This cute independent ice cream shop offers a wide selection of ice cream & sorbet flavors but, what kids will love, is the ability to choose different candy toppings to get mixed in.
Here are a few additional places we have visited, and loved, on previous trips to Tempe with kids in tow.
The Original Chop Shop Co.- My sister attends ASU and she was the one who pointed me in Chop Shop's direction and I have been coming here ever since. They have the BEST Acai Bowls, Protein Bowls, and their Avocado Toast is on point! This is also a fantastic option for those traveling with allergies or dietary restrictions. They have Gluten Free, Dairy Free, Lactose-Free, Soy Free, Vegetarian, and Vegan options available.
Postino Wine Cafe- Another recommendation by my sister, a Tempe local, Postino's is the perfect place to grab appetizers and a glass of wine. And, YES kids are welcome here too. They have fun kid-friendly menu items like the PBJ Bruschetta.
Oregano's- Pizza, Pasta, and The Original Pizza Cookie make Oregano's a perfect spot for everyone in the family. Of course, the massive serving sizes help too!
Earl of Sandwich- The Earl is a great place to stop for a quick sandwich or breakfast on the go. It is reasonably priced and perfect for picnics at Tempe Town Lake.
Gordon Biersch Brewery- I just love a brewery, the relaxed vibes, happy people, and they also are typically very family-friendly too, as is the case with the Tempe Gordon Biersch. Grown-ups will enjoy the craft beer selection, garlic sweet potato fries, and Fish Tacos while little ones check out the kid's menu. Of course, Ella would tell you their butter noodles are amazing.
The Baked Bear- Next to breakfast, dessert is my favorite meal, and yes, it can be classified as a meal. Don't argue! Regardless if you are a sugar addict like me or an occasional splurge-er you have to try The Baked Bear. Their freshly baked cookies, donuts and brownies sandwich their creamy ice cream flavors in a magical dessert paradise for your mouth.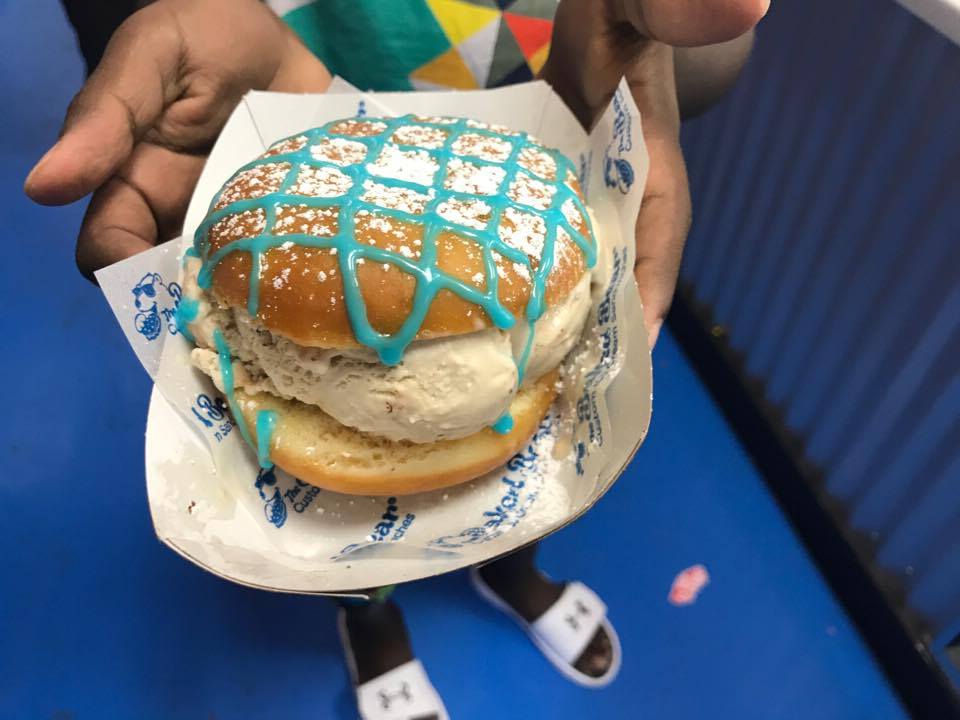 Where to Stay in Tempe with Kids
There are a ton of awesome hotels that can accommodate your stay in Tempe with kids, in fact, you can find a huge list of them on Tempe Tourism's website right here. Ella and I stayed at the Tempe Mission Palms Hotel which was conveniently located in downtown Tempe right on the corner of Mill Avenue which is home to 100 shops & restaurants!! With complimentary valet, a beautiful rooftop pool, lovely courtyard with relaxing fountains, spacious rooms, several restaurants, and excellent customer service the Tempe Mission Palms Hotel is a great pick for families. It also appeared to be great for large groups as we ran into a wedding party and a large business convention group during our stay.
Check out Ella's room tour below and see how spacious our room was.
Copy Our Exact 3-Day Itinerary in Tempe
Day 1

11 am- Check into the Tempe Mission Palms
12 pm-Hike "A" Mountain
1 pm- Lunch at NCounter
2:30 pm- Rent a paddleboat at Tempe Town Lake
4 pm- Head to Tempe Marketplace for some shopping
6 pm- Dinner at Pedal Haus Brewery
8 pm- Grab dessert from Sparky's Old Town Creamery

Day 2

8 am- Breakfast at Snooze AM Eatery
10 am- Phoenix Zoo
12 pm- Visit Tracy Dempsey Originals and try one of her delicious treats
1 pm- Cafe Lalibela for lunch
2 pm- Hit the pool at the hotel
3:30 pm- Trail Ride at KOLI Equestrian Center
6 pm- Dinner at Rustler's Rooste

Day 3

8:30 am- Breakfast at Matt's Big Breakfast
10 am- Tomas and The Library Lady (Childsplay AZ)
12 pm- Lunch at Culinary Dropout
2 pm- Check out of the hotel & head home
Have you, or would you like to visit Tempe with kids? Tell me in the comments below and if you have visited tell me about your favorite kid-friendly Tempe activity.
You may also be interested in this post about Things to do in Tucson with Kids from our friends at Crazy Family Adventure.
Pin it for Later-
You may also like one of these related Tempe posts-
Thinking about adding a stop at the Grand Canyon? You'll love this post from Y Travel Blog about The Best Tips for Planning a Trip to the Grand Canyon with Kids.
*Disclosure this is a sponsored post in partnership with Tempe Tourism.
Latest posts by Mama Munchkin
(see all)