So, when my I sent my destination editor Emilee, on her Icelandic Adventure, safety was of utter importance. I spent many an hours looking for the right hotels, tours and rental cars to make sure she would be safe on her amazing adventure. Iceland Car Rental Adventures was by far and away the best choice.
Iceland Car Rental Adventures- a review of Route 1 Car Rental
Why Route 1?
When you are traveling in a new country, it can be easy to just stay with what is comfortable and familiar, especially when you are traveling with a family. This is why many visitors to Iceland don't leave the city limits of Reykjavik. However, there is so much more to see in Iceland. This entire island is filled with jaw-dropping beauty. Discovering a new country, like Iceland, with your family is an incredible experience. However, ensuring that all of your munchkins are safe is even more important.
Iceland's weather and road conditions are constantly changing, and this can scare some families from road tripping around the Ring Road. However, we are here to tell you that you can and should travel Route 1 with your family. You just need to make sure you choose the right rental car company. Our destination editor, Emilee, chose Route 1 Car Rental. As far as Emilee is concerned, "there is not another rental car company she would travel within Iceland. They were the best of the best."
[bctt tweet="In Iceland, there is a popular saying that goes, "If you don't like the weather, wait 5 minutes". Learn more about why Renting a Car in Iceland helps you travel deeper- " username="globalmunchkins"]
1) Multiple Drop Off & Pick up Locations –
With these constantly changing weather and road conditions, you need to make sure you have a car that can keep you and your family safe on your adventure. Route 1 Car Rental offers a variety of different vehicle options to fit your family's travel needs. They have a few pick-up and drop-off locations, so wherever you want to get your car, they have got you covered! Also, unlimited mileage is included in all rentals. This is HUGE if you want to plan a trip around the Ring Road.
2) 24 HOUR Support!
Route 1 Car rental offers 24-hour support. If you run into a problem, they will be there to help you! Route 1 Car Rental is more than a car rental company. They are your lifeline in Iceland. They know their country, and they are happy to be of assistance in any way that you need it.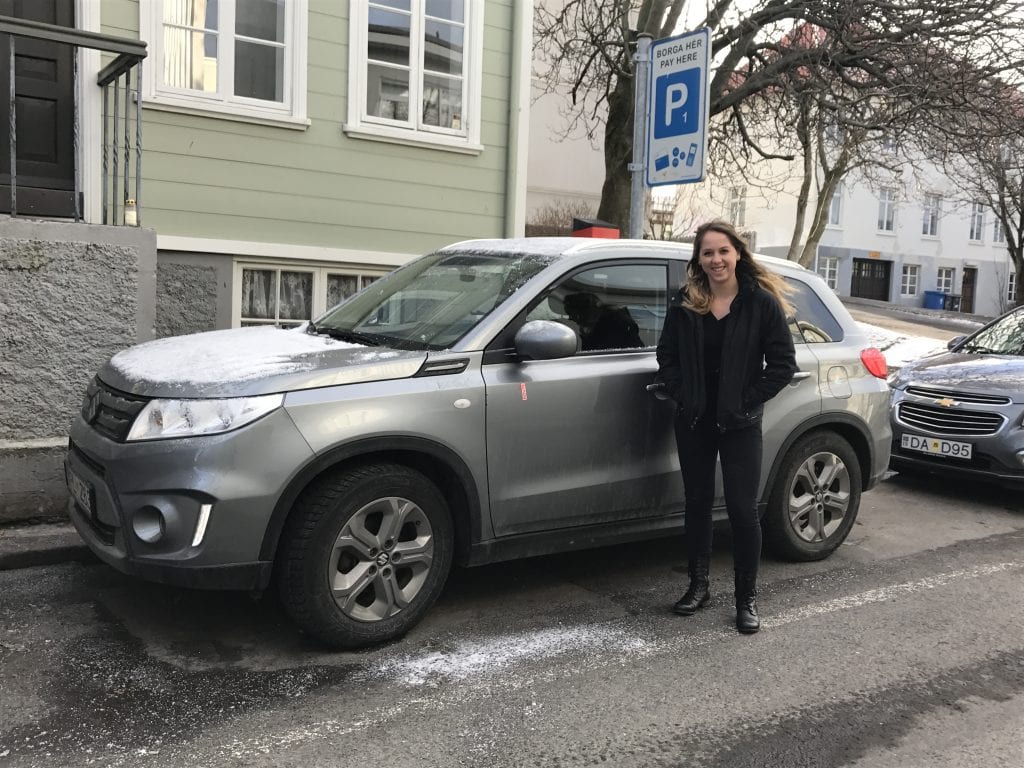 3) Service
When Emilee arrived, Diego from Route 1 Car Rental met her at the airport. He gave her the keys to a Suzuki Vitara Automatic (perfect car for a road trip around Iceland, if we do say so ourselves). He also gave her a packet full of information on road conditions, Iceland's emergency information, and other important safety tips. Route 1 Car Rental genuinely cares about your safety. They prepare you with all of the information you need to know so that you can enjoy your trip around the Ring Road.
4) Availability of WiFi
Finally, we highly recommend renting wifi for your vehicle! GPS services like Apple Maps, Google Maps, and Waze work in Iceland! Emilee used Waze to travel around the Ring Road and it made her adventure so much easier. This wouldn't be possible without the wifi unit that Route 1 Car Rental offers.
Overall
Experience all that Iceland has to offer by taking a trip around the Ring Road. You can be confident that Route 1 Car Rental has got you and your munchkins covered.
Pin for Later-
*Special thanks to Route 1 Car Rental for partnering with Global Munchkins. All thoughts and opinions expressed above are, as always, 100% our own.
You may also like these posts about Iceland-
https://globalmunchkins.com/destinations/when-traveling-around-the-golden-circle-stay-at-heradsskolinn-boutique-hostel/
https://globalmunchkins.com/destinations/icelandic-mountain-guides-skaftafell-glacier-walk-ice-climbing-revie/
https://globalmunchkins.com/destinations/touring-arcanum-glacier-tours-review/