Disneyland is a place for magical, memorable experiences. From the rides to the characters and even the interactive lands, there is much to do at The Happiest Place on Earth. In recent years, Disney dining has upped its game, but breakfast still tends to get overlooked. Many guests skip breakfast in Disneyland for extra time in the park. Little do they know, many of the restaurants will create memories that rival those you could make in the parks themselves! Plus, they set you up to be fueled for a day full of fun. Below are 13 of the best places to enjoy a fun and delicious Disneyland breakfast on your next trip.
13 Tasty Disneyland Breakfast Options + Our Clear Favorites
Disneyland Breakfast Character Dining
Character dining is a great opportunity for you and your littles to get up close action and memorable interactions with some of their favorite Disney characters without the hassle of waiting in line. You can find characters in several Disney restaurants and hotels, but the ones below offer the most bang for your buck: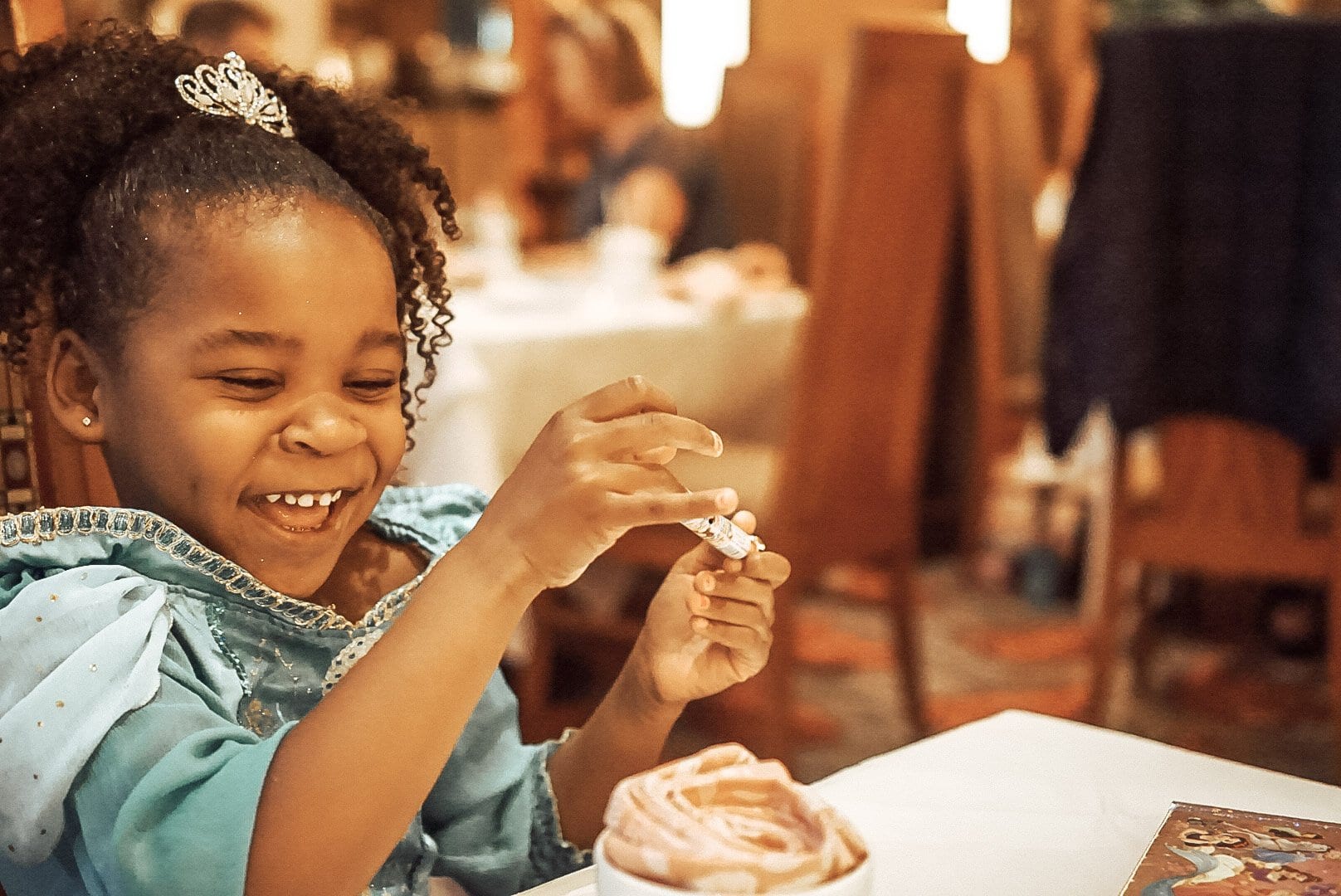 This is a must for anyone looking to get in some one-on-one princess time. Enjoy a delicious three-course breakfast with engaging activities and visits from princesses throughout the meal. Round out your breakfast with a photo opportunity with your favorite Disney heroine before starting your day in the park! Check out our Full Review Here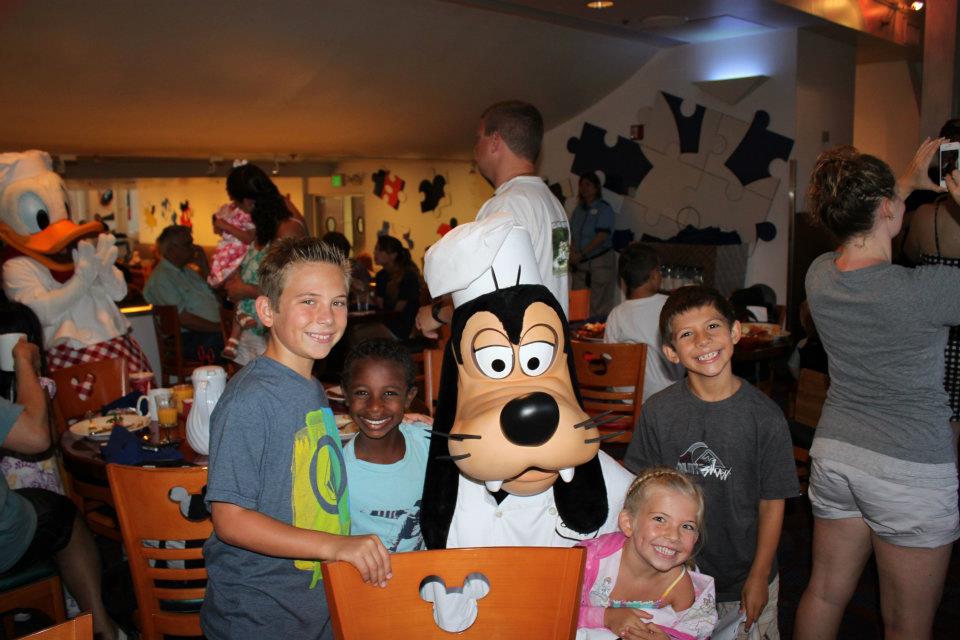 Goofy's Kitchen is a great choice if you have picky eaters! With five different breakfast stations, everyone is sure to find something they'll love. This breakfast is located at the Disneyland hotel and includes character visits from Goofy, Mickey and more. Be sure to grab your photo op and autographs as characters walk from table to table.
Who doesn't love a themed Disneyland breakfast? Join Donald and his pals in their beach attire for some breakfast buffet fun. This buffet is a great cost-effective option to get a hefty start to your morning. There is lots of yummy food and hilarious character interactions. You can find this great opportunity at the PCH Grill within the Paradise Pier Hotel.
Mickey's Tales of Adventure Breakfast Buffet at Storytellers Cafe
If you're in the mood for a breakfast with the classic character bunch, Mickey's Tales of Adventure Breakfast Buffet is the way to go! You will munch breakfast staples such as omelets, Mickey-shaped waffles, and delicious fruits and scones. This breakfast can be found at the Storyteller's Cafe next to the Grand Californian. This allows you to skip the crowds while still getting time with your favorite Mouse and his friends.
This breakfast is your quintessential character dining experience. It is located in the beautiful Plaza Inn within Disneyland. Your breakfast reservation will include a number of photo ops with your favorite characters, delicious foods to satisfy your palette, and a perfect view of Main Street. You won't want to miss this unique experience! Plus, there are characters that you might not be able to easily find within the park. You might see Chip and Dale or Tigger, Fairy Godmother, Brer Fox, and Daisy Duck among others!
Delicious Breakfast Options in Disneyland & Downtown Disney
If character dining isn't your preference, Disneyland also has a number of sit down breakfast options. Of course, they provide all the taste and fun in a different setting during your stay at the park.
A favorite dining place by both park goers and annual passholders alike is Steakhouse 55. Known for their incredible dinner menu, Steakhouse 55 also offers a robust breakfast menu that is sure to fill you up before a long day in the parks. In addition to classic breakfast staples, you can also enjoy crispy chicken and waffles, a decadent pork belly chilaquiles, or if a liquid breakfast is more your style, an Ultimate Bloody Mary or two can add some zest to your morning. Find Steakhouse 55 in the Downtown Disney District.
Carnation Cafe is a staple for classic American Breakfast. If you're in the mood for a slower morning in the parks, Carnation Cafe is a must. Opt for an outside table near the fence and enjoy the view of park-goers getting an early start to their day while you dine on fluffy french toast and sip your coffee before heading over to knock out a few Disneyland favorites like the Matterhorn or just enjoy the scenic view of the castle.
Catal – Winner for the Best Disneyland Breakfast!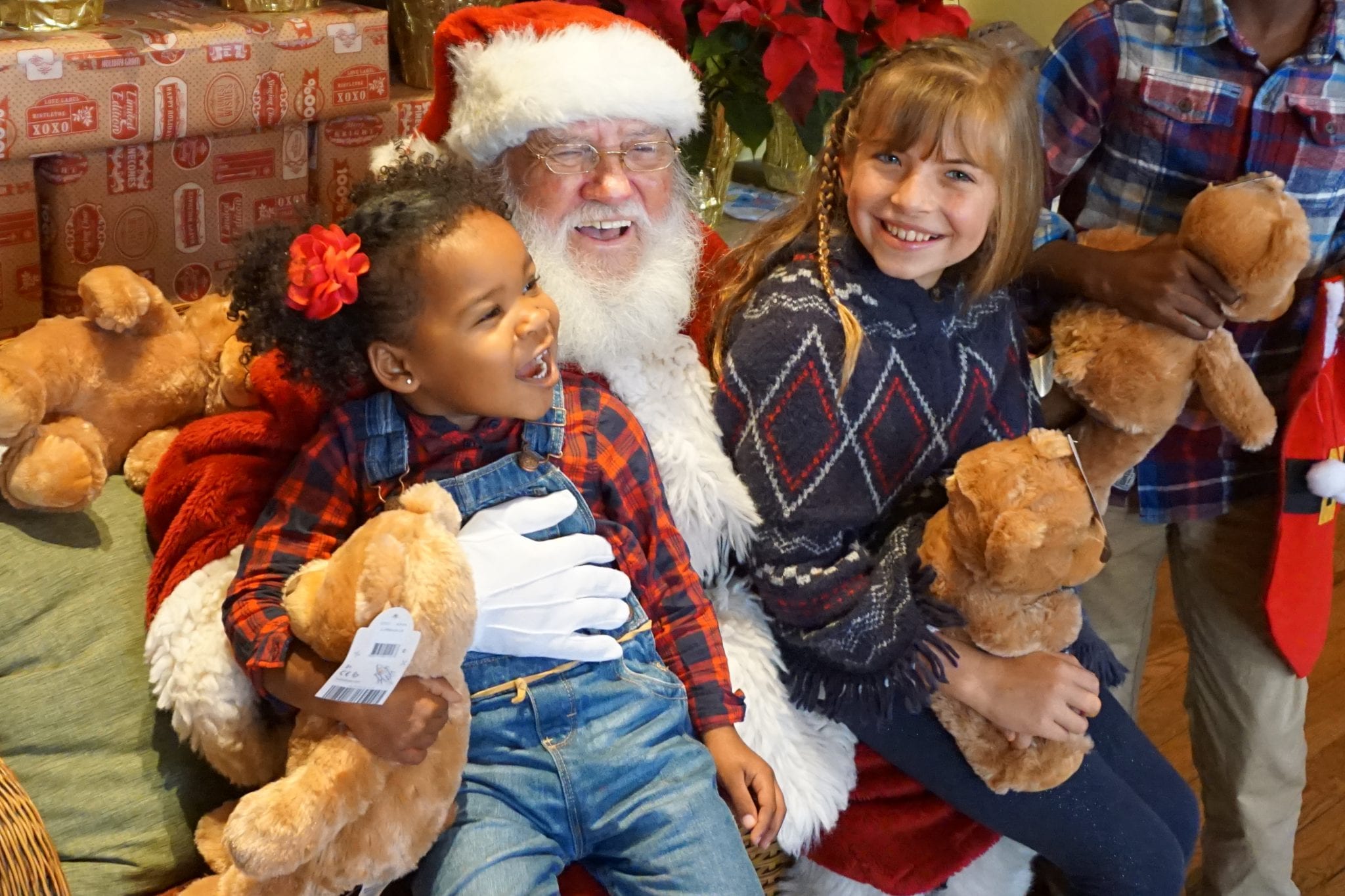 Catal is relatively new to the dining scene in Downtown Disney. However, it brings forth some heavy-hitters in the world of breakfast. This place is perfect if you're looking to grab a nice sit-down breakfast. The distance from the main gate helps to keep things relatively low-key, making for a stress-free dying experience for you before a fun-filled day at The Happiest Place on Earth.
Grab-n-Go Disneyland Breakfasts
Sometimes a quicker approach to breakfast is needed to really make the most out of your day. Disneyland offers a wide selection of "On the Go" dining options that allow you to get your meal and keep pushing to help you cross off all those attractions and experiences on your Disney to-do list.
Jamba Juice
In recent years, Jamba Juice has expanded from just being the well-known smoothie chain to having a wide range of breakfast choices and smoothie bowls that make for a protein-rich start to your day. Several favorites include the Carribean Passion smoothie and their PB Banana Toast. Best of all, Jamba Juice prices are always affordable, saving you money to buy those Mickey ears later in the day!
Get a taste of New Orleans Square before you even set foot within the park. Ralph Brennan's Jazz Kitchen Express offers may of the delicious samplings of its sit-down restaurant counterpart without the long waits. The food here is easy to carry, making it perfect for grabbing as you head over to the monorail to take you inside the park. Enjoy tasty french toast dipping sticks and hearty breakfast burritos while you streamline into the park just outside of Tomorrowland with a full stomach.
Flo's V8 Cafe
If you find yourself in California Adventure, swing by Flo's V8 Cafe in Radiator Springs for some great counter service breakfast choices that are all available for mobile order through the Disneyland app. Utilizing this feature really helps to make your dining process that much more efficient and effortless, allowing you to maximize your time in the park. The breakfast options here tout clever names for nostalgic breakfast favorites, earning the title of a must-stop place in DCA.
Galactic Grill
Galactic Grill does breakfast r i g h t. Even the pickiest of eaters will be able to find something to eat at this quick-serve restaurant. From their loaded breakfast sandwich to their kid-friendly Power Pack, you are sure to leave with a full stomach. If you or your party struggle with dietary needs, this place is also a great stop! Their menu provides nutritious and tasty meal options for Gluten/Wheat allergies, egg allergies, fish/shellfish allergies, milk allergies, soy allergies, and peanut/tree nut allergies to ensure that there truly is something for everyone to enjoy.
You can find all their allergy-friendly options here!
That's a Wrap on the Best Disneyland Breakfast Options
Whether you're on the go, looking for a sit-down option, or wanting to stretch your Disney magic just one step further, Disneyland offers a variety of breakfast options that are sure to bring a whole new level of fun and memories to your trip to the parks. All the restaurants on this list come in at varying price points, allowing something for every wallet without having to sacrifice any of the fun. Be sure to include one of these spots on your next
Map of Disneyland Breakfast Locations
If you need help planning and booking your Disneyland Vacation reach out to our friends at Tink's Magical Vacations they are true Disney Experts, their services are FREE and will most likely save you time and money!
Have questions about Disneyland? Feel free to ask in the comments or send us a Direct Message on Instagram!
Latest posts by Michael Mamian
(see all)