There are very few times a year that aren't good for a family trip to Disneyland. The weather in southern California is pretty ideal year-round but it can get somewhat cold and quite hot. Whether you have an Annual Pass and go often or are trying to get the most out of your yearly family, we've got a guide to help you streamline your travel preparations and give you a pain-free packing list so you can focus on making memories. After years of experience and hundreds of trips to the Happiest Place on Earth (check out our favorite tips here), we've created the Ultimate Disneyland Packing List to save you time and money while visiting the Disneyland Resort.
Disneyland Packing List Necessities
When planning for a trip of this size, it can be intimidating to find a place to start. (By the way, if you need help planning your trip, contact our friends at Best Day Ever Vacations. They are truly Disney Experts, (we thought we were until we met them) and not only are their services FREE, but they will save you both time and money.) 
Here is a list of all the necessities you will need for a trip to Disneyland. Some of these, you may not have even thought of! Keep in mind, the list below is for a week-long stay at Disneyland. Be sure to plan accordingly for longer or shorter stays.
First off, we will start with clothing. This category is probably the easiest to plan for! If you are more of the efficient type, we recommend bringing clothing items that are versatile and easy to mix and match to get more life out of your outfits while bringing less. California is known for being comfortably warm during the day, but the nights can still be chilly, especially when waiting for parades and fireworks! A light jacket or sweater is a good idea no matter what part of the year you are visiting.
Women's Apparel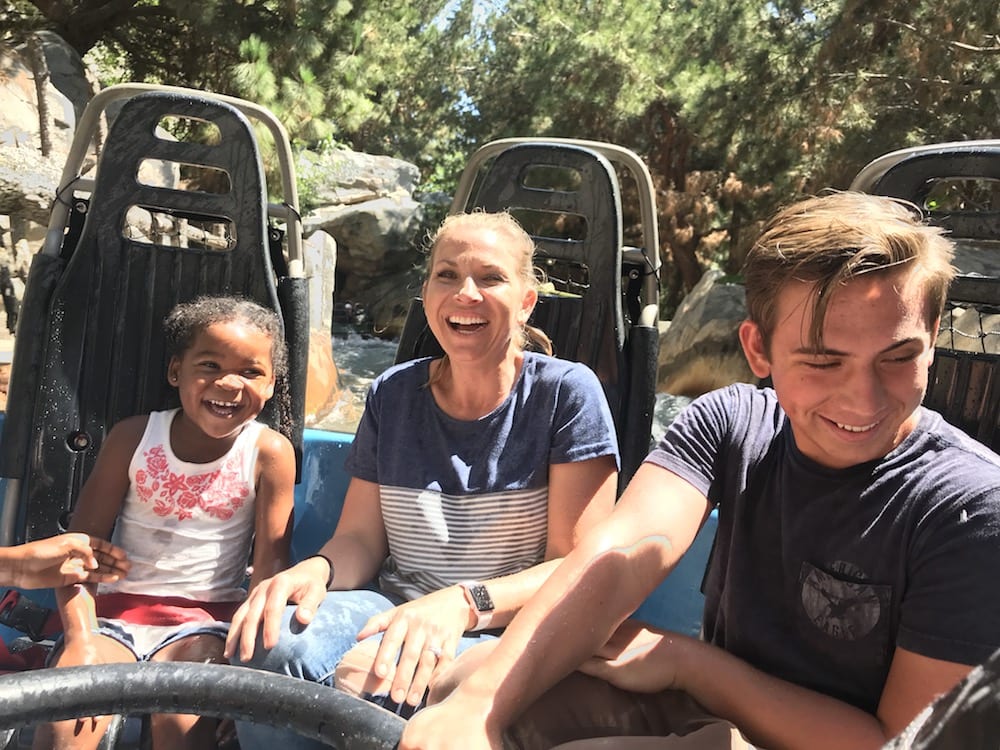 4-6 Shirts
1-2 pairs of shorts
1-2 pairs of jeans
2 sundresses
2 lightweight jackets or sweatshirts
7 pairs of undies
Bras
2 pajamas
1-2 swim + cover-up
Toiletries
Mickey Ears
Medicine/ vitamins
Sandals
Comfy Sneakers
Backpack/ Fanny pack for parks
---
Men's Apparel
4-6 Shirts
2 pairs of shorts
1-2 pairs of jeans
1-2 short sleeve dress shirts
1 lightweight jacket or sweatshirt
7 pairs of underwear
Toiletries
2 pajamas
1-2 swimsuits
Sandals
Comfy Sneakers
Medicine/ vitamins
*Both of these apparel lists are for one week of Disneyland
More Necessities to Add to Your Disneyland Packing List
Wet Wipes
Sunscreen
Sunglasses
Hand Sanitizer
Band-Aids
Medication
Cash & Credit Cards
Wet Wipes
Disneyland Packing Necessities for the Weather
If you're planning a trip to Disneyland during the Spring or Summer time, bringing along some sun and rain protection will be your best friend! During the Spring, you can almost guarantee some April showers to be hitting the parks throughout the day, so those umbrellas and ponchos will definitely come in handy. Alternatively, you can repurpose that poncho to keep you dry during a few rounds of Splash Mountain or Grizzly River Rapids. Be sure to pack your umbrella during the summer months as well to beat the heat. Especially midday, an umbrella will help block that California sun from tiring you out and giving you a rough sunburn.
Uncommon Must-Haves for Your Disneyland Packing List
Portable Parade Blanket
As mentioned above, California is lovely, but the cold can be pretty biting come nightfall. Having a small, portable blanket is a huge lifesaver! You can find ones like this one on Amazon and clip them to your stroller or toss them in your bag. You won't even realize it's there until you need it. This especially comes in handy for parades and keeping warm after being drenched on Splash Mountain!
Portable Charger
With technology being a huge life-line for us and a huge tool within the parks for photo opportunities, fast passes and more, it's so important to keep your phone charged and ready to go. Invest in a portable charger that you can rely on. This one is my favorite charger.
It charges your phone quickly and has at least 6 charges in it for multiple phones. Additionally, purchase an expandable USB Wall Charger for your hotel room! Outlets are known for being few and far between in hotel rooms, so bring this extension to ensure everyone gets the power they need to their phones and devices. Check it out here!
You might not know this, but you can actually get free water throughout both of the Disneyland Resort parks! No questions asked. Use this opportunity to keep you and your family hydrated without having to spend money on pricey water bottles throughout the day. Bring in a reusable water bottle (remember, plastic or metal only! Glass isn't allowed in the parks) and fill up all day long. Need some convincing on investing in a reusable bottle? The cost of a Dasani or Smart Water in the park can run you between $3 and $5 each time. After 3-4 purchases, you've already spent what you would have on a reusable alternative.

Snacks to Add to Your Disneyland Packing List
Bringing snacks can save you literally hundreds of dollars on your trip to the Happiest Place on Earth. If you're traveling from out of town or out of state, we recommend taking a quick trip to Target or CVS in Anaheim before heading into the park to stock up on some easy to store snacks that you can pull out throughout the day.
Easy Snack Items to Pack
Granola Bars for Energy
Dried Fruit
Trail Mix
Uncrustables
Pretzels
Lollipops
Goldfish Crackers
Fruit Snacks
Fresh Fruit
Disneyland Packing List For the Baby
Even for the most experienced Disney-goers, doing Disneyland with a baby is a whole new adventure. Check out these helpful items below to make bringing your little one effortless and fun.
Backpack Diaper Bag
Traveling with little ones can be quite the task, so we recommend trading out your traditional diaper bag for one that doubles as a backpack. Not only will it be easier to carry around the park, but it'll save your back and be all the more convenient. Check out a full list of the top ones here.
Strollers
A stroller is a must if your park group includes children under 5 because of how much walking goes into a day (or week!) around the parks. One thing to keep in mind is that Disneyland has a new stroller limitation policy to help reduce issues with foot traffic, so be sure to check that your stroller fits within their new requirements. You have the option to rent a stroller that will fit within these regulations from Disneyland as well. This is a great option for those traveling from out of state and doesn't want the logistics of flying with a stroller.
Another thing you are going to want to add to your Disneyland packing list is a stroller fan. If you are heading in the springtime or summer we highly recommend bringing a stroller fan. It's a nice simple way to help keep your little one cool. You can snag one here.
Other Things to Remember
Baby Food
Baby Snacks
Diapers & Wipes
Burp Cloths & Bibs
Changes of Clothes
Blankets
Extra Layers
Baby Toys
Blankets
JUST FOR FUN – Disneyland Packing List Items
If you go to Disneyland and don't leave with any accessories and mementos to remember the trip by, did you even really go? We love picking up souvenirs, but have noticed that there
One of my kids' favorite things about Disney World was the little accessories they got along the journey. And I definitely would say to pick up some souvenirs for your kids. However, there are several things in the park that you can easily pick up beforehand to save your pocket, but keep the memories flowing!
Automatic Bubble Wand
Bubble wands are guaranteed to bring joy to anyone coming in contact with them, no matter what age, but especially with kids under 7. These wants are perfect for keeping your little ones entertained while walking between attractions or waiting in a long line. As an added bonus, bringing your own into the park means that your kids won't beg you for once they see another child with one! Here are some great ones available on Amazon.
*Avoid getting ones with a trigger as Disney does not allow these.
Princess Dresses & Character Costumes
Costumes are not cheap by any means at Disneyland, so if possible, get your costumes ahead of time for them to wear into the park! You can buy them directly from Shop Disney (usually at a discount!), from Amazon, or even your local party store. Pair this with some DIY Bippity Boppity Boutique makeovers before heading to the park and you'll have yourself some very happy kids!
Tip: things like hair pieces, glitter, props and some Youtube tutorials can really help take their costumes to the next level and make them feel like a real princess, pirate or character from their favorite Disney movie. Check out all our favorite items here.
Disney Family Shirts
Matching shirts serve a variety of uses when planning your Disney vacation! Not only do they make for fun family photos to look back on, but they make it really easy to identify your tribe in the crowds at the parks. You can check out our full list of Disney Family Shirts here!
More Fun Items for Your Disneyland Packing List
Mickey Mouse Ears (Adorable Ones Available on Etsy)
Toy Cars
Light up Toys
Every trip to Disneyland is different, but we've found that the items on this list remain must-haves on each trip we take! Especially on our longer trips, these items have proven time and again to be huge lifesavers! When you're planning your next Disneyland vacation, be sure to reference our Ultimate Disneyland Packing List to make your vacation stress-free and memorable!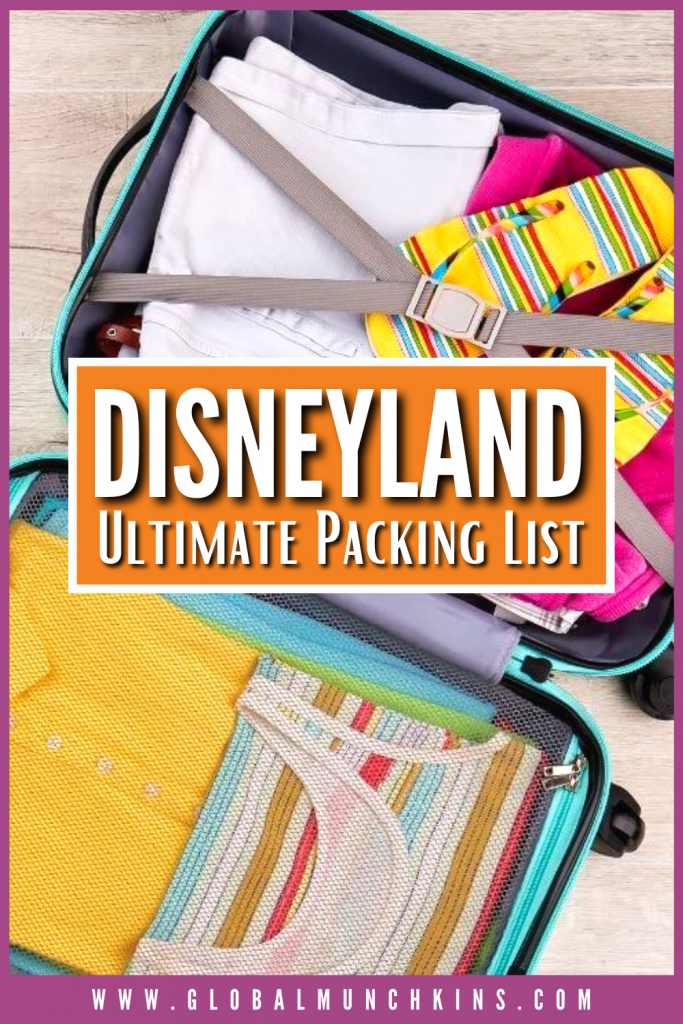 Check Out Our Other Disney Tips and Tricks:
What You Can & Can't Bring into Disneyland & Items Will Surprise You!
Disneyland Holiday 2019- Complete Guide + Tips To Have the Merriest of Times!
Disneyland vs Disney World! Which is Best for Your Vacay?
Latest posts by Mama Munchkin
(see all)